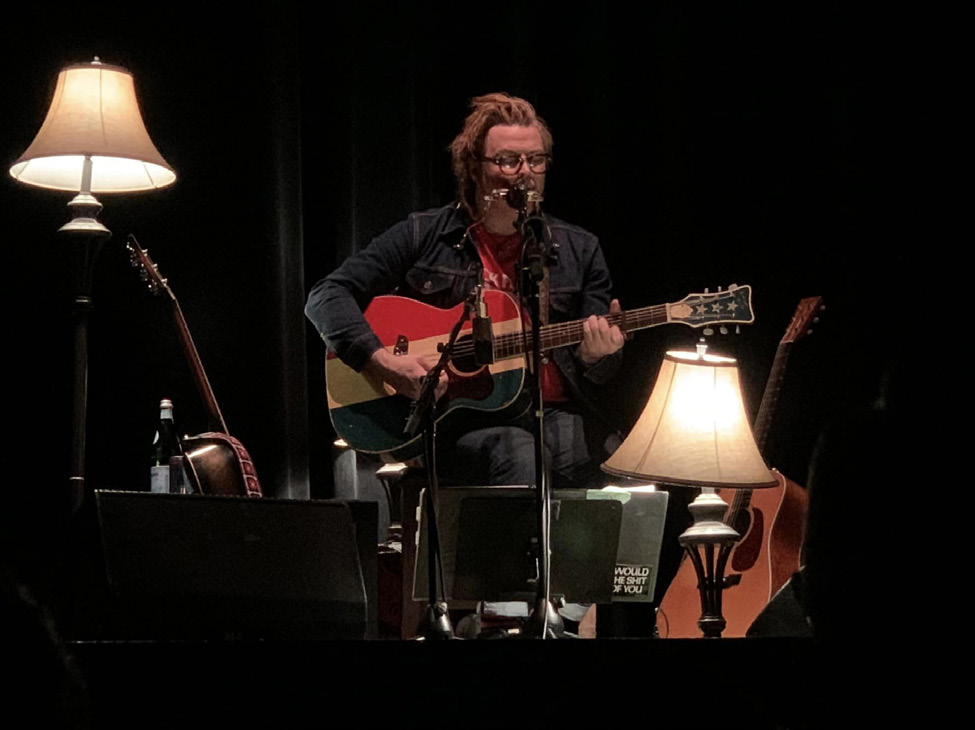 Ryan Adams at Parx Casino – Bethlehem, PA
---
Greetings Rockers 'N' Rollers! Singer songwriter, Ryan Adams, visited Bensalem, PA on March 30th for an intimate show at Parx Casino. Adams began his career in 1990 and has released 24 studio albums. He is an incredible artist and fantastic singer who is constantly creating music. Of his many talents, Adams often covers songs from other musicians which possibly become better than the original versions. In 2015, he covered Taylor Swift's album '1989' in its entirety and gained notoriety for his version of Oasis' song "Wonderwall." Supposedly, Adams covered The Strokes debut album 'Is This It' but has never released it publicly. Ryan Adams just concluded his solo tour in Europe and returns to the USA for 45 shows with his band, The Cardinals, and plays in Reading, PA on August 4th.
MTV's Headbangers Ball host, Riki Rachtman, visited Central PA for a spoken word performance at JB Lovedrafts in Mechanicsburg on April 5th. The former television and radio personality reminisced heavy metal stories with Guns 'N' Roses, Faster Pussycat, Skid Row and many others, as well as famously wild nights at his notorious Hollywood bar, The Cathouse. The Super High-Tech Jet Fighters played Tellus 360 on April 15th, as part of Lancaster's Launch Music Festival, the evening also featured Blind Accuracy, No Trigger and Brendan Kelly of Lawrence Arms.
April 6th consisted of a trip to Philadelphia to see rising band, The Bobby Lees, at the Kung Fu Necktie bar. The Bobby Lees are fairly new to the world, originating in 2018 from Woodstock, NY and had Jon Spencer produce their third studio album, Skin Suit. The band has toured recently with Future Islands, The Black Lips and the Chats. HU University brought the return of Houndmouth to Harrisburg on April 20th to XL Live. Houndmouth first visited HMAC's Capitol Ballroom in Harrisburg in November 2022. The alternative blues and rock band from Indiana became known for their hit song, 'Sedona', which they performed on Late Show with David Letterman in 2015. Harrisburg was the first night of Houndmouth's current month-long tour which also stops at Baltimore's Soundstage on May 2nd.
Foo Fighters will open Washington DC's Atlantis on May 30th followed by 43 other major artists including George Clinton, X,Joan Jett, The Pixies, Billy Idol, Tegan and Sara, Gary Clark Jr. among others. The new club, which pays homage to the original 9:30 Club, cost $10 million to build and is a 450-capacity venue. The Atlantis is owned by I.M.P., a preeminent independent concert promoter who also books The Anthem, Merriweather Post Pavilion and the 9:30 Club. The original 9:30 Club had a capacity for 200 and featured some of DC's greatest performances including, R.E.M., Nirvana, Dolly Parton, James Brown, Fugazi, Public Enemy and many more. Foo Fighters have also unveiled six new amphitheater dates: Spokane, WA (Aug 4), Salt Lake City, UT (Aug 8), Stateline, NV (Aug 10), Virginia Beach, VA (Sept 19), Phoenix, AZ (Oct 3), El Paso, TX (Oct 5).
Fresh off a residency in Las Vegas, Boy George and Culture Club announced a North American tour for the summer of 2023. Supported by fellow 80s hitmakers Howard Jones and Berlin, the tour will visit 25 amphitheaters, including Philadelphia's Mann Music Center on July 30th. Sting has announced 20 dates for his North American tour "My Songs World Tour." The former-Police frontman will also tour Japan, South Africa, United Aram Emirates, Australia and New Zealand. Sting plays Jones Beach Theater in Wantagh, NY on September 8th. Greta Van Fleet will spend the second half of 2023 globe trotting as the band unveils their "Starcatcher World Tour" in support of their upcoming album due to be released on July 21st. Arena dates include: Washington DC Capital One Arena September 11th, NYC Madison Square Garden September 12th and Philadelphia Wells Fargo Center September 19th. The band visited Hershey's Giant Center in July 2022. Greta Van Fleet will also be joining Metallica in Mexico City September 20th and 27th, 2024.
Eric Clapton unveiled a diverse, star-studded roster of artists performing at the seventh installment of his Crossroads Guitar Festival, which will take place over two nights at Crypto.com Arena in Los Angeles, California, September 23rd-24th. The event features 41 acts, including The War On Drugs, Santana, Sheryl Crow, Gary Clark Jr., John Mayer Trio, Buddy Guy, ZZ Top, H.E.R., Joe Bonamassa, Robbie Robertson, Jimmy Vaughan and Del McCoury Band. This year's Crossroads Guitar Festival marks the first time it is being held on the West Coast.
Northern California's Mr Bungle return to concert stages in September for its first tour in the post-pandemic era, dubbed "Ipecac Recordings' Geek Show," including its first East Coast swing in 23 years. Led by vocalist Mike Patton (Faith No More) and hailing from Eureka, California, Mr. Bungle will hit cities including Baltimore (September 5th), Philadelphia (September 6th) and New York (September 8th). The tour features the band's lineup of Patton, Scott Ian (Anthrax), Dave Lombardo (Slayer), and original members Trevor Dunn and Trey Spruance. Mr. Bungle, known for its iconoclastic style that melds metal, thrash, avant-garde jazz, ska, disco and funk.
The Smashing Pumpkins will soon embark on a 26-date tour with support from Stone Temple Pilots and Interpol. "The World Is A Vampire Tour." "I grew up in a world where I needed to know like Siouxsie and the Banshees and The Cure existed, it meant there was a place for people like me to hang out and belong," Billy Corgan said in a statement. "That's what 'The World Is A Vampire' is about. Bringing back that sense of community. If you don't fit in, you belong here." Dates include: Holmdel, New Jersey (August 24th), Wantagh, NY (August 30th) and Bristow, VA (August 31st).
Music executive, Seymour Stein, passed away at the age of 80 of cancer and left an indelible imprint on the modern record business. Stein co-founded Sire Records and was the Vice President of Warner Bros Records. He signed and began the careers of the Ramones, Talking Heads, Richard Hell and the Void-oids, The Dead Boys, The Pretenders, Depeche Mode, The Smiths, The Cure, Soft Cell, The Replacements, The Ocean Blue and Madonna. Stein commented on hearing the Ramones for the first time: "It was like sticking my hand in a live electric light socket. The jolt went right through me." Madonna once stated, "Every time he signs somebody, he's taking a chance. And there aren't many people in the entertainment industry who do that anymore." Stein also helped resuscitate the careers of Lou Reed, Brian Wilson, Jimmy Scott and Roky Erickson.
More than six months after rapper Coolio was found lying unconscious on the bathroom floor at a friend's house in Los Angeles, a cause of death has been determined. The "Gangsta's Paradise" standout, died of an accidental overdose of fentanyl, heroin, methamphetamine on September 28th, 2022 according to the LA County Coroner. Three bags of drugs and drug-related paraphernalia were found at the scene, where police collected "a baggy with a brown powdery substance, foil with burn residue, saline and a spoon with residue." Born in Monessen, Pennsylvania, Artis Leon Ivey, Jr., the rapper known as Coolio was 59.
Mick Mars, who served as Motley Crue's lead guitarist for 41 years, is suing the band in a series of claims. Paperwork was filed through Mars' attorney claiming Motley Crue has deliberately withheld information about the bands businesses that he has a 25% ownership share in. Mars gave up his touring duties due to complications with his ongoing battle with Ankylosing Spondylitis but otherwise would remain a member of the group. However, Motley Crue stated Mars had "retired" completely from the band, ousting him against his will. Bassist, Nikki Sixx, commented "Sad day for us and we don't deserve this considering how many years we've been propping him up. We still wish him the best and hope he find's lawyers and managers who aren't damaging him. We love you Mick."
MAY CONCERTS:Yeah Yeah Yeahs – Washington DC Anthem May 3. Billy Idol – Baltimore Rams Head May 3. Crocodiles – Philadelphia Kung Fu Necktie May 5. Crocodiles – Baltimore Metro May 6. Menzingers – Harrisburg HMAC May 13. The Virus – Philadelphia Fire May 13. The Hives – NYC Raquet May 16. Tom Jones – Baltimore MGM National Harbour May 19. Cheap Trick – Lancaster American Music Theatre May 24. Blink-182 with Turnstile – Hersheypark Stadium May 27. Foo Fighters – Washington DC Atlantis May 30.