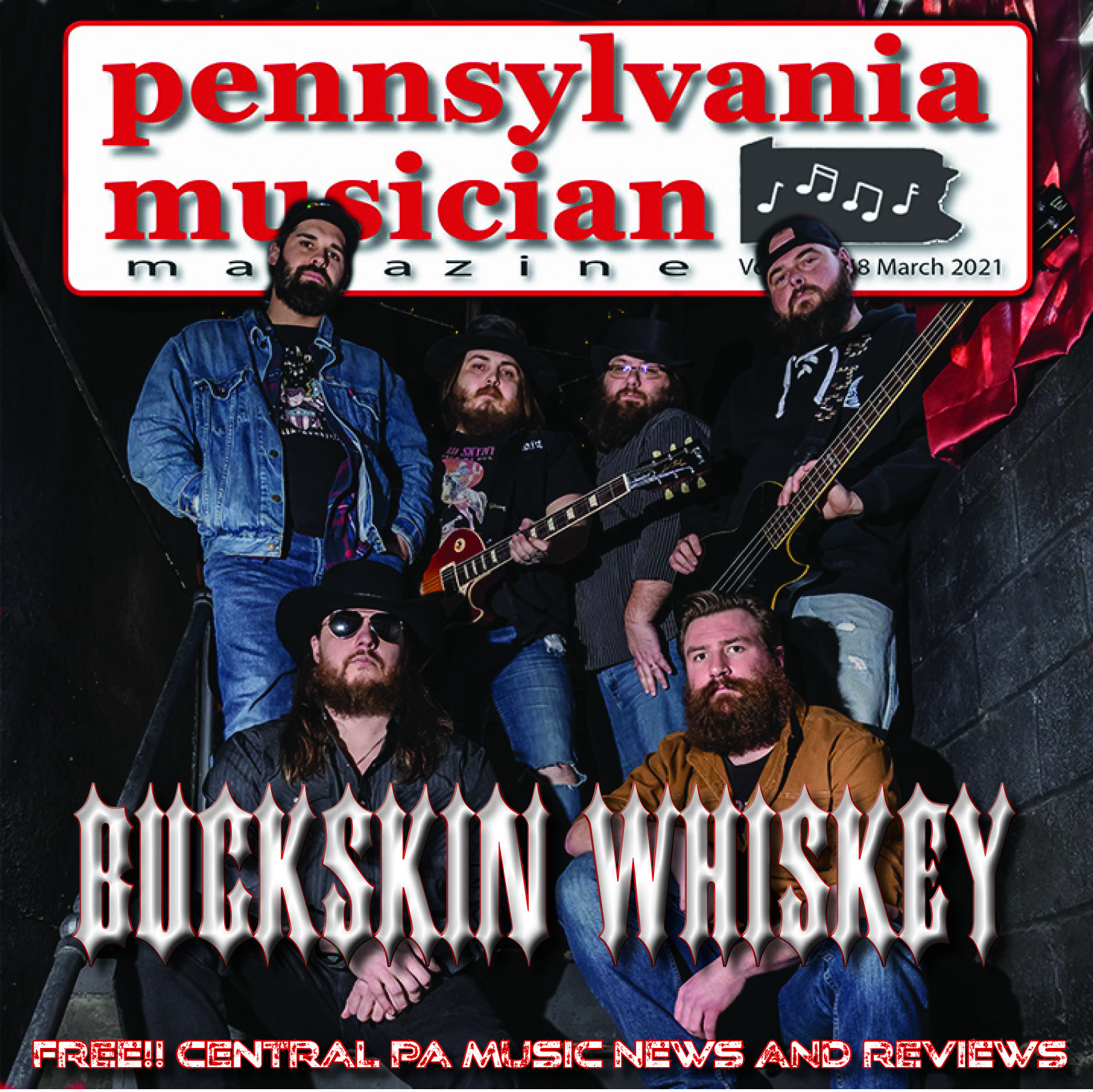 ---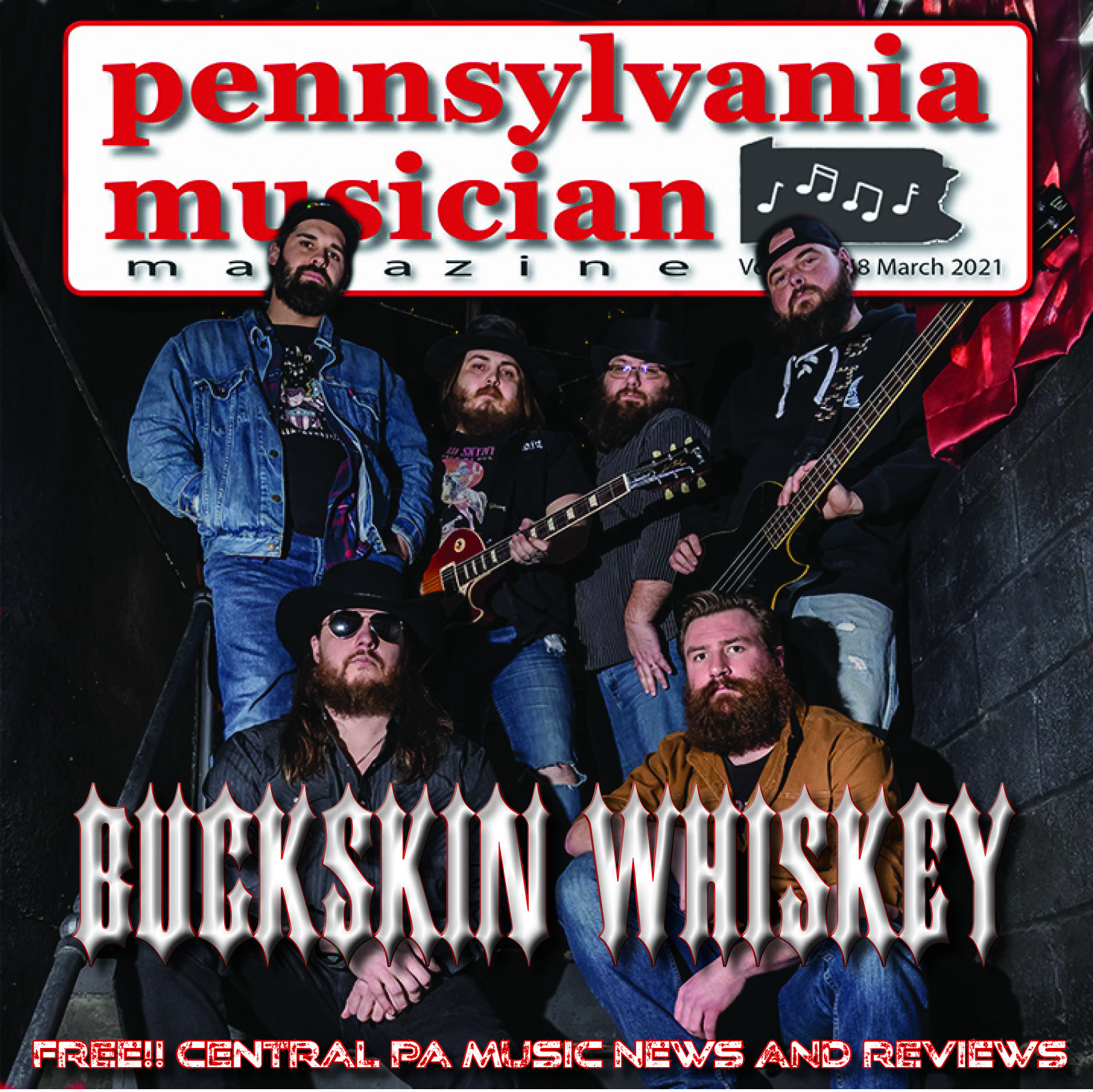 Buckskin Whiskey:
Distilled to Perfection and Ready to Roll On Down the Line
Cover Story By: Rachel Rocks Photos By: Chris Rider Photography
Distilled from south Central Pennsylvania, Buckskin Whiskey plays a great combination of Southern Rock and Outlaw Country. The band was formed when singer/guitarist Josh Saussaman reunited with his childhood friend Bryan Sentz (bass) and drummer Dan Almoney in 2019. After several successful appearances, guitarist and steel player Koedee Gordon was brought in to add yet another dimension to the group's evolving sound. Prior to the Covid-19 pandemic in 2020, Buckskin Whiskey found themselves without a lead guitarist. The group was fortunate enough to add Zach Beers, formerly of high profile bands Smokin' Gunnz and Fast Lane as their new full time lead guitarist. Zach was able to bring a lot of insight to the band with his former experience, especially after playing with Smokin Gunnz. Their newest member, Alex Cassel, was originally hired for some studio work when they were working on their EP, when the band heard him playing in studio, they immediately knew he needed to be a permanent fixture in the band.
Through the quarantine and shut downs in the first half of 2020, the group continued to communicate and put together over 3 hours worth of material. They currently are playing a majority of covers with a few originals mixed in. They are happily creating more original music and fine tuning the songs they do have on their set list, but their ultimate goal is to have more original music and less covers. As restrictions eased the group made their public debut for a sold-out camp ground at Steel Steeds Motorcycle Camp in Central PA. That show was followed by other successful appearances throughout the summer, including the 20th Anniversary of the Kettle Creek Music Festival in Renovo, PA, where they had a helicopter land right behind them while they were playing "Call Me the Breeze" on stage, a surreal "rockstar" moment for sure.
Buckskin Whiskey didn't let the pandemic slow them down, they knew they had to 'Roll On' with their ideas, and they started writing original music. Josh and Zach are the main lyric writers, but it is a band wide collaboration on every song. Each person writes their own parts, and eventually a song is made. With amazing technology it is easy to work on a song collaboratively, even when you can't actually be together. On January 8, 2021 they released their debut single, "Roll On". They didn't mess around on "Roll On" and they pulled out all of their tricks, even having a different lead singer on each verse. It helps you realize quickly their depth as a band. They also have the soaring guitar solos, with 2 guitarists and now with Alex, 4 singers, keys, slide steel, acoustic guitar, drums, bass, etc.. the sky is the limit. They have done all of their recording with Logan Summey at Rock Mill Studios. Their debut EP, "Roll On" is almost completely ready to go, and will be released on 4/20/2021. So far, I've only heard 3 out of the 5 songs, and the diversity of every song definitely keeps my interest piqued and I can't wait to hear the whole thing finalized in all of its glory! The EP will be available on all major digital platforms, and they will also have hard copies for sale along with some special merch.
On April 22nd they will be grabbing their EP and hitting the road on a little mini tour, eventually winding up down at the MAM Concert Series Showcase in Alachua, Florida. They also have a few local shows booked throughout the area. You can check out their website, www.buckskinwhiskey.com for their full schedule. Buckskin Whiskey understands that in order to be successful it really needs to be 80% Marketing and 20% Playing. When you do get to play though, no matter what you always have to play at 110%! If you go to their website or their Facebook page you will see they've already done quite a few special radio show broadcasts. In April they will even be on Jim Price's Homegrown Rocker show. If you would like to get Buckskin Whiskey scheduled at your venue or for your special event, please give Steve a call at 717-829-6464 or email steve@shenanigator-entertainment.com.
All 6 members of Buckskin Whiskey are so happy to be in a band that all works together so smoothly, and they all have the same goals in mind. When going for a goal it really helps to have everyone on the same page and all lines of communication open. They are also very grateful for all of their family and friends that have helped them achieve their musical dreams. Obviously, these guys are very dedicated to their music, and it helps to know your family is right there supporting you along the way. Even though Buckskin Whiskey is a new band, they've already been getting plenty of attention. They were nominated for a CPMA (Central PA Music Award) for the Best New Band of 2020, the awards show has been pushed back to July 1st, 2020. They've also had quite a bit of airtime for their debut release of "Roll On". The guys are very grateful to Slick Willy on slickwillyradio.com, and www.rockingthevalley.com for the airtime. They are only just getting started, but the boys of Buckskin Whiskey are ready to roll on throughout the state, across the country and beyond. Make sure and check them out at www.buckskinwhiskey.com or at Facebook.com/buckskinwhiskey.