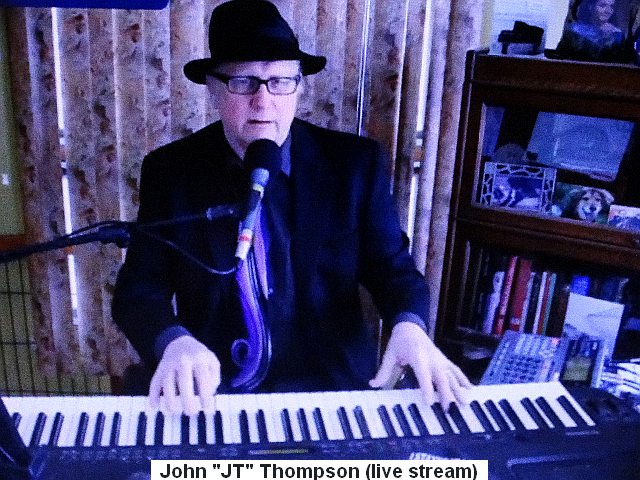 ---
By: Jim Price
With spring's arrival this month springs the hope of light on the horizon, and the beginning of the end of the ongoing COVID-19 pandemic. Arriving warmer temperatures will open the outdoors for live music events to increase, and ongoing restrictions on indoor live music venues will hopefully be lifted as conditions continue to improve. Several festival, fair and concert organizers have already announced plans for later in the year, and many observers are pointing toward later summer and fall for things to return to some semblance of normalcy.
While adhering to COVID-19 restrictions and guidelines, McGarvey's in Altoona has been able to resume some live music in recent weeks; including the return of New York City-based Tool tribute group Schism last month. Radio job duties prevented me from seeing area Alice In Chains tribute Deny Your Maker open the show, but eyewitness accounts said that their performance went well. I arrived early into Schism's set, and witnessed as the cast of singer Angelo Rivera, guitarist Keith Williams, bassist Michael Shaw and drummer Donald Pusateri brought the full fury and technical prowess of a Tool performance. Schism mixed Tool classics with material off the group's latest album, 2019's "Fear Inoculum." Schism roused the audience with established Tool favorites such as the set-opener "Stinkfist," "Aenima," "Schism," "Prison Sex," "Forty Six and 2," "The Pot" and "Sober." They also did several of the lengthier exercises off the new album such as "Pneuma," "7empest," the title track "Fear Inoculum" and "Invincible." A repeat highlight from their first visit to McGarvey's in 2019, Schism welcomed fan guest guitarist Kayla on stage to display her six-string skills on renditions of "Vicarious" and "Lateralus." When the audience called for the encore, Schism finished the show with an early Tool number, "Jerk-Off." Once again, Schism demonstrated amazing skill and brash firepower as they tackled Tool's complex dynamics, arrangements, instrumental tenacity and lyrical cadences. They brought feverish responses from the audience, and left many lower jaws dangling toward the floor in amazement.
McGarvey's also hosted last month's two-band "F**k Cancer Benefit" in memory of area musician Alec McCracken. (Alec, who most recently played bass with Clearfield metalcore rockers Deadside, passed away in late December at age 36 after battling cancer. Proceeds from this night's show went to his family.) Kicking off the night were Baltimore area-based metal rockers Offensive. Guitarist and singer Leon Sohail, guitarists Chris Coleman-bey and Blake Shannon, singer Darrick Sword, bassist Eric Van Valkenburgh and drummer David Cherry brought the firepower as they mixed their own power/thrash metal original songs with hard-hitting classics. An instrumental prelude led into a classic metal volley, as Offensive roared to life with Iron Maiden's "Wrathchild," Black Sabbath's "N.I.B.," and the Metallica double-dose of "Seek and Destroy" and "Four Horsemen." The group did several of their original songs, including numbers off their latest CD "Inhabitants of Purgatory" such as "King of the Underworld" and "Tales of A Fallen," plus "Blind Ambition" and a few more. They also did versions of The Misfits' "Dig Up Her Bones," Metallica's "For Whom the Bell Tolls," Judas Priest's "Breakin' the Law," Black Sabbath's "Paranoid" and others. Offensive's execution was powerful and tight, and their triple-guitar threat delivered heated solos and strong guitar harmonies. Next was my first look at San Francisco Sex Toys…From the distant easterly Bay Area suburb of Brockway, PA, San Francisco Sex Toys – singer and guitarist Johnny Dressler, lead guitarist Vilhelm Skalickalottapuss, bassist Freddie Fist and drummer Stereo Shredrock – introduced a hard-hitting sound with an all-original set that mixed rock, punk, grunge, metal and stoner rock elements. Their tunes varied between faster and slower assaults. I didn't catch many of their song titles, but two of their tunes were "Monster of Your Dreams" and "Ready to Go." I liked San Francisco Sex Toys' stripped-down, bare-bones style and their overall enthusiasm as they threw caution to the wind and brought the noise. This was a good night of live rock in celebration of Alec McCracken; turnout was decent, and some money was raised toward Alec's family.
Maybe it's because I finally watched the movie "Groundhog Day" for my first time ever last month…But I experienced a similar sense of déjà vu in recent weeks, as I kept running across Dave "Redawg" Solinski and Rick Ramsey in different band situations, all at McGarvey's. Rick and Redawg were two-thirds of Disorganized Crime when they visited in January. Living up to the 'disorganized' part of their name, Rick on lead vocals and guitar, Redawg on bass and Ed Hofer on percussion did a free-wheeling, unpredictable variety of song material this night – mixing up everything from Tool's "Schism" to The Toyes' "Smoke Two Joints," to songs from Stone Temple Pilots, Grateful Dead, Pearl Jam, Rage Against the Machine and more. But while the song list was haphazard, their performance was punchy, enthusiastic and fun.
Rick and Redawg also were two-thirds of a new collaboration with drummer Ben Frick called RRBBRR (pronounced like 'rubber'), who opened for Downshift at McGarvey's last month. RRBBRR also mixed up a wide variety of tunes, pulling out versions of The Doors' "LA Woman," Pearl Jam's "Alive," a funky read of Buffalo Springfield's "For What It's Worth," Rage Against the Machine's "Bullet in the Head," Grateful Dead's "Scarlet Begonias" and more. Rick was fearless up front, sinking his full intensity and mood into each tune. Playing their first show in many months, Downshift was clearly excited to bring their brand of hard-driving rock back to the stage. Launching with a version of Ghost's "Square Hammer," singer Travis Dick, guitarists Rob Lynn and Jordan Ferraro, bassist Josh Michael and drummer Randy Wilson churned out two sets of high-octane rock and roll that kept the audience fired up. Downshift shifted through numbers from Foo Fighters, Smashing Pumpkins, Buckcherry, Nirvana, Tom Petty, Billy Idol, Alice In Chains, Ozzy Osbourne, Kenny Wayne Shepherd and more. These guys were in good form; Travis' vocals capably handled all song duties set in front of him, Rob and Jordan executed meaty guitar riffs and searing solos, and Josh rumbled his steady bass lines along Randy's commanding beats. Along the way, Rick Ramsey helped with lead vocals on Downshift's rocked-up version of Paula Abdul's "Straight Up" and Poison's "Talk Dirty to Me," and Downshift slammed the lid on their hearty performance with the Metallica medley of "Enter Sandman," "King Nothing" and "Am I Evil."
And Redawg was in a third band I saw recently, The JC3, as they brought their good-time performance to McGarvey's in late January, capping a live band double-bill. I only got to catch the last couple of songs from the first band, Johnstown's Van Waylon, but what I heard sounded great, especially their powerful spin on "With a Little Help From My Friends," which had the audience loudly cheering their approval. The JC3 – guitarist and singer "JC" John Charney, Mike Davis on drums and vocals, and Redawg on bass and vocals – soon picked up the ball and ran with it. John led off by playing a verse of Tracy Chapman's "Give Me One Reason" on guitar, before the full band fired into the song. From there, The JC3 played a wide mixture of sounds and made them all sound good. Bob Marley's "Get Up Stand Up," Stone Temple Pilots' "Plush," Motley Crue's "Home Sweet Home," Dire Straits' "Sultans of Swing," Van Halen's "Dance the Night Away" and Stevie Wonder's "Superstition" were among the songs the group brought to life this night. Highlights were frequent, from the extended jam excursion on Steve Miller Band's "Fly Like an Eagle" to a punchy read of "Got My Mojo Workin'" to the Mike-sung edition of Kiss' "Strutter" to the encore finale, as the group ended the night with Prince's "Purple Rain." It's always a pleasure to witness John work his guitar strings; blending technique, soul and emotion to make his instrument sing gloriously through the entire two sets. Breaking out the drum kit from his Hi-Tyde days, Mike's drum work was steady and powerful, and Red provided busy work on the bass strings to keep everything sounding full and action-packed. The JC3 connected well with the McGarvey's audience, and will return to McGarvey's on May 8.
Providing the silver lining on a Saturday evening last month when roads and sidewalks were a bit icy, Rick Wertz and Michelle Saad Barnes – The Silver Linings – brought their acoustic blend to McGarvey's. I arrived in time to catch their final set. Rick stepped onstage first to start off with a few solo tunes; among them Crosby Stills Nash & Young's "Wooden Ships" and Garth Brooks' "The Dance." Michelle then joined in, and the pair performed their distinctive takes on Blind Melon's "No Rain," Nickel Creek's "Reasons Why" and more. Rick added another solo number later with his mild acoustic spin on Foo Fighters' "Times Like These," before the duo finished with one more song. I enjoyed what I heard – both Rick and Michelle worked well together, their voices blended nicely, and their renditions of various favorites and even a few songs I didn't recognize all sounded good, fresh and consistent. The Silver Linings provided musical warmth on this icy night, and I look forward to seeing them again.
Young and rising Altoona-based quintet Hot Fudge Mondaes headlined a triple-bill at McGarvey's last month. Sets from Jack Pilch and Dr. Chance Bartleby & the ? opened the evening, before Hot Fudge Mondaes – singer Jacob Mowery, guitarists Breydon Bremer and Anthony Del Biondo, bassist Kevin Neely and drummer Christian Wesner – roused the crowd with their blend of original numbers and select covers. The group mixed elements of punk, grunge and indie-rock flavors into their original songs, which this night included "So Far From Fine" and several others. The group also broke out a few covers, including Nirvana's "In Bloom," Poison's "Talk Dirty to Me" and – going shirtless – closed the night with Rage Against the Machine's "Killing in the Name." Hot Fudge Mondaes brought the enthusiasm, with Jacob constantly moving and going all out to engage the crowd. Hot Fudge Mondaes delivered a fun set, and they return to McGarvey's on April 16.
I journeyed to Bedford in late January to catch my first look at Letters From Tomorrow as they performed at Bella Terra Vineyard (formerly Briar Valley Winery). This group features some familiar names from the Bedford music scene – Heidi Showalter on lead vocals, Don Showalter on guitar, Ron Showalter on drums and Artie Burtnett on bass. Together they mixed up a nice variety of acoustic-geared rock, pop, country and blues favorites, with a few surprises thrown in. Letters From Tomorrow kept the wine-sipping audience happy with tunes from Robert Palmer, Fleetwood Mac, Miranda Lambert, Stray Cats, Allman Brothers, Pretenders, GoGos, Cranberries, The Knack, The Bangles and more. Some of the highlights and surprises included takes on "Sweet Home Chicago" and Kiss' "Hard Luck Woman," Heidi's soaring voice on the Allmans' "Soulshine," Ron singing lead on Jim Croce's "You Don't Mess Around with Jim," Artie fronting the group on the Doobie Brothers' "Long Train Running," and the big surprise for me – the group pulling out and nailing UFO's "Doctor, Doctor!" Letters From Tomorrow was on the mark both vocally and instrumentally, and kept it fun for the onlookers throughout the show.
Bill Ferrell brought his acoustic sounds to Oak Spring Winery in Altoona during the winery's "Friday Wine Down" last month. With a supportive audience in the house, Bill mixed up a variety of classic rock, folk and country favorites with a few instrumental workings along the way. In his own distinctive acoustic style, Bill presented numbers from Johnny Cash, Bob Seger, CCR, Little Feat, Pink Floyd, Eric Clapton, Neil Young, Chris Stapleton, John Denver, The Band, Crosby Stills & Nash and more. He showcased his acoustic guitar talents with versions of John Williams' "Cavatina" (from the film "The Deer Hunter"), the latter half of Derek & the Dominoes' "Layla," and one or two other instrumental numbers. And he pulled out a few pleasant surprises, such as his acoustic takes on Bruce Springsteen's "Rosalita,' "Hurricane" (performed by Levon Helm), Leonard Cohen's "Hallalujah" and the audience-rousing version of John Denver's "Take Me Home Country Roads." It's always a pleasure to witness Bill working his guitar strings, and his voice was in good form as well. Watch for Bill's return here, as he crosses the Oak Spring Winery's performance stage regularly.
From the online realm…As reported last month, a multitude of Pittsburgh area musicians converged to record a special song, "SOS2020," to raise funds for the National Independent Venue Association's Emergency Fund to help out Save Our Stages and preserve independent live music venues in the Pittsburgh area. Furthering that effort was the SOS PGH Concert Series, a series of online concerts which happened over four successive Thursdays in January and February. I caught the first and last concerts of that series; the first, on January 28, featured the bands Middle Finger, The Cheats and Royal Honey. Four members strong, Middle Finger launched the music with a four-song set of bristling, high-octane punk rock. The Cheats followed with their scathing brand of sleaze-edged punk rock, doing some of their original numbers such as "It's Alright," "Got Lucky," "Hammersmith Palais," "Pittsburgh Cockfight" and more. Royal Honey finished this show with their hard-driving, original rock'n'roll. Featuring drummer Eric Rodger, who wrote the song "SOS2020," Royal Honey played grooving and swaggering rock, including such songs as "Dirty Romance," "The Noose," "American Jive" and more. During the first series finale on February 18, Pittsburgh's Murder for Girls opened with their mix of indie, punk and garage rock sounds. Guitarists and singers Stephanie and Tammy Wallace, drummer and singer Michele Dunlap and bassist Jonathan Bagamery did driving, fuzzy, melody-based original songs, including a few from their latest album, "Done in the Dark." Five members strong, Stone Cold Killer continued with their set of catchy, guitar-driven hard rock, before The Legendary Hucklebucks stormed the series home with their scorching brand of rock and rockabilly. Singer Ted Bundy unleashed his fire-and-brimstone vigor and vinegar as he howled out Hucklebucks anthems such as "Honky Tonk Angel," "Don't Feed the Rats," "Chop Top Bop," the "Ballad of Johnny Devil," "B-Movie" and more. A second four-week concert series, with artists to be announced, will begin on April 8. For more information, visit the website www.sos2020pgh.org.
Also on Thursday nights, The Palace Theatre in Greensburg has started their online Virtually In the Palace (VIP) Experience concert series on Facebook, which runs through this month. I checked in to see Habatat's performance last month, and was pleasantly surprised at the group's current musical direction. Singer and guitarist Ryan Woods, guitarist and trumpeter Josh Covert, bassist Kris Lupher, drummer Justin Banks, and the brass section of Mere Kae Powells on trombone and trumpet, Tom Buchko on trombone and Neal Skacel have expanded their realm beyond blues and jam-based rock to include elements jazz and funk flavors. Habatat demonstrated their expansive sound over two sets, doing original numbers such as "City Minute," instrumentals "Jebediah" and "Counterfeit," the reggae-toned "Turnaround," "Supernova Overdrive," "Disillusions," "Gold" and more. Ryan sang with a commanding soulful growl, and the group's instrumental talents shined throughout the performance. In between sets, concert emcee Adam Seifert of the Westmoreland Cultural Trust conducted a question-and-answer segment with the band to learn their story and explore their musical career.
Washington, D.C. blues legends The Nighthawks celebrated their 49th year as a band during a January performance that live-streamed via "Can't Stop the Blues," a virtual blues venue that for the past year has presented performances from various blues artists most Thursdays through Sundays on Facebook. The Nighthawks – founding member, singer and harmonica man Mark Wenner, drummer and singer Mark Stutso, guitarist and singer Dan Hovey and bassist Paul Pisciotta – played numerous original songs plus a variety of blues-flavored favorites, resulting in a fun display of moving, grooving blues. Some of their original tunes included "Back to the City," "Damn Good Time," "Guard My Heart" and a few others. Dan fronted the group on "The Cheap Stuff," a song that he wrote while with his previous band, GHz (Gigahertz); and Mark Stutso sang two songs he co-wrote with Pittsburgh's Norman Nardini, "Three Times Your Fool" and "Heartbreak Shake." The Nighthawks also offered their own flavor on versions of Jimmy Rogers' "Walking By Myself," The Temptations' "I Can't Get Next to You," Levon Helm's "When I Go Away," Chuck Berry's "Sweet Little Sixteen," Buddy Johnson's "A Pretty Girl, A Cadillac and Some Money" and more. All four of these guys can carry a tune, and each excelled on their instruments – Mark Wenner is still a master on the harmonica, Mark Stutso powered the groove with his beats, Dan displayed excellent guitar work, and Paul knew how to work his four strings to help drive the songs forward. The Nighthawks had me grooving in my chair, and it was enjoyable to watch them do their thing. On the down side, "Can't Stop the Blues" announced days after this performance that they will be discontinuing their virtual concerts later this month.
John "JT" Thompson does virtual live-streaming performances on Facebook from his "Phydeau's Place" abode in Bellefonte every Sunday afternoon. As snow fell on January 31, John presented a "Snow Day Blues" performance, tickling the ivories and singing his blend of original songs, classic rock, blues, boogie-woogie and jazz. John did established and newer originals; including "Why Can't You Be True," "Just Over That Wall," "Dance Little Sister Dance," "Down at Daniel's" and the title song from his 2012 CD "This Way That Way"; and newer numbers such as "Boomers Lament," "The Beach Song," "Wipe Away Your Tears," "Breakfast in the Morning Sun" and a song written by his wife, "Sweet n'Lo Mama." Some of John's covers this day included his unique takes on Marc Cohn's "Walking in Memphis," Bob Seger's "Sunspot Baby," Avery Parrish's jazz standard "After Hours," Amos Milburn's "Bad Bad Whiskey" and others. John's bright performance and jovial mood kept the presentation fun, and cameo barks from his dog lent to the happy mood as well.
Longtime Bedford musician Chad Patterson presents weekly live stream performances on Facebook every Tuesday evening. During his first Tuesday performance last month, Chad celebrated classic hits of the 1960s and 70s during his one-hour set, strumming and singing tunes from the Eagles, CCR, Van Morrison, the Beatles, Dr. Hook & the Medicine Show, Simon & Garfunkel, CSNY, Badfinger, Neil Young and more. He broke out a few you don't often hear performed on local stages, such as Donovan's "Mellow Yellow," Percy Sledge's "When A Man Loves A Woman," Gerry Rafferty's "Baker Street" and his acoustic arrangement of Led Zeppelin's "Black Dog." Chad sounded good on all of it, giving a steady and relaxed presentation that kept the online audience happy. Catch Chad's weekly live stream Tuesday evenings starting at 7 p.m.
I also caught portions of live stream performances in recent weeks from Johnstown's Dave Distefano, Washington, D.C.'s "Queen of the Blues" Stacy Brooks via the Blues Society of Central PA's weekly Thursday virtual jam, and North Carolina bluesmen Jon Shain and F.J. Ventre via the "Can't Stop the Blues" virtual venue.
On a sad note, the Pittsburgh music scene lost a popular performer, as singer and bandleader Jimmy Sapienza passed away February 6 after a battle with kidney disease at age 71. Jimmy was well known throughout western PA for fronting his long-running group Jimmy Sapienza and Five Guys Named Moe, who played classic hits and standards from the swing music era, including tunes from Louis Jordan, Louis Prima, Frank Sinatra, Dean Martin, Louis Armstrong, plus his own original tunes as well. He and his band performed during such events as the Italian Food Festival at Delgrosso's Amusement Park in Tipton and Flood City Music Festival in Johnstown. Jimmy also donated his talents to the community, and was a part of The Sonny Pugar Memorial's "Music Smiles" program, which brings music to patients in hospitals and other facilities…And the Altoona area music scene mourned the passing of musician Paul Dixon on February 10 following a 5-year battle with ALS (Lou Gehrig's Disease). He was 60. A Dubois native, Paul played guitar with a number of bands over the years, most recently with the Altoona-based bands Inside Out and Kicked In. We at the "Homegrown Rocker" send our sincere sympathies out to the families and friends of both men.
News and notes… The Clearfield County Fair has announced Jackyl, the The Kentucky Headhunters, comedian Larry the Cable Guy and country performer Russell Dickerson as grandstand performers when the annual fair returns August 2-7…A special multi-night online benefit event is being organized to help save popular Pittsburgh area blues music venue Moondogs in Blawnox. The "Save Moondogs – Virtual Event Fundraiser" will feature performances from both local and national blues performers who have performed at Moondogs over its 30-year history; more details about the virtual event will be announced shortly…In a surprise announcement, popular Altoona-based rock band Faded Flowers disbanded after a nearly one-and-a-half-year run on local stages, citing musical differences…Two members of Faded Flowers, singer and guitarist Michael Wertz and bassist and singer Hunter Karns, have formed The Jaded Lips, which unveiled their first song and video last month, called "Where Do We Run"…Guitarist and singer Wynton Huddle has parted ways with Lancaster psychedelic modern rockers Medusa's Disco to further his solo career, and is relocating to Nashville…Ted McCloskey has released his third album of songs inspired by the COVID pandemic and the tumultuous past year; the new album, "The Lost Season Sessions Vol. 3 – Waiting for the Cavalry," was issued via Ted's Bandcamp page…Altoona's Railroad City Murder Machines have released their second album; entitled "Goodbye Songs," it is currently available digitally through online platforms, and the hard copy CD will be available later this month…and Warren-based heavy metal rockers Afraid Of Human have announced they are set to enter the recording studio to record their second album.
Please send correspondence and recordings to: Jim Price, 1104 S. Catherine St., Altoona, PA 16602. You can also e-mail me at jptheprofessor@gmail.com. And if you're into social networking, look me up on Facebook. SUPPORT LOCAL MUSIC! And keep WASHING YOUR HANDS and WEAR THOSE MASKS!