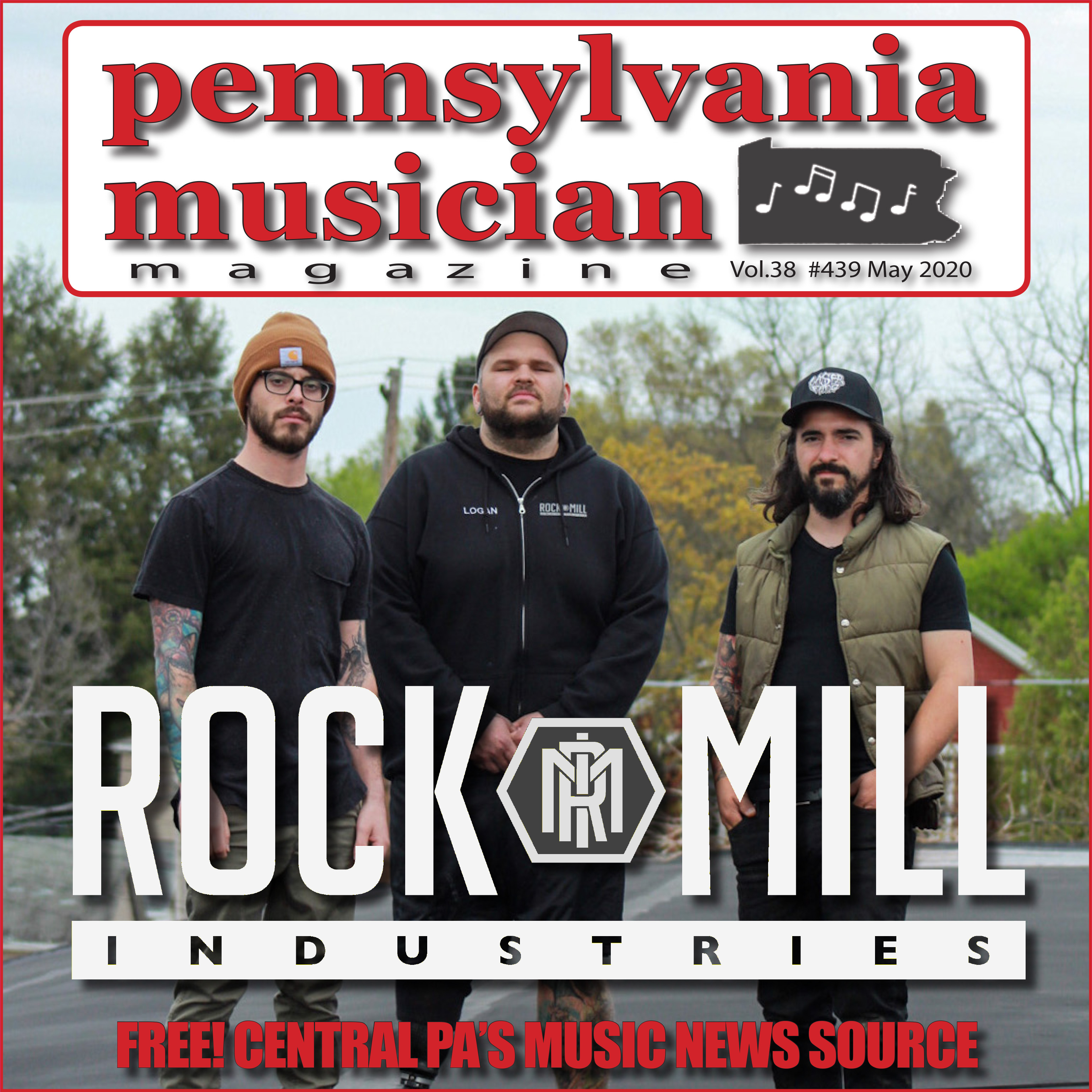 ---
By: Rachel Rocks
Rock Mill Industries in Mechanicsburg, PA has been created to be a one stop shop for bands to get everything they need from recording to merch to videos, and even tattoos. Logan Summey started his Rock Mill Studios in 2013. Then, around 2015, Brandon Vartenisian and Greg Hildebrand all started throwing around ideas until their visions became a reality in January 2016 when Rock Mill Industries was born. Their original idea was to build a recording studio, offer live sound/event production, then to start screen printing and a merchandise outlet for musicians.
The next step was to start looking for a building. Whatever building they found they knew there had to be plenty of room to expand. They lucked upon a 1,000 sqft old office building and a 10,000 sqft warehouse with plenty of room to grow! The building is over 100 years old and has generations of history in the town of Mechanicsburg. The community has been supportive, and their landlord has let them do what would normally be insane for anyone else in a similar situation. It seems they were meant to be there from day one. They feed off of positive energy and they are working hard to breathe new life into the community and the local music scene.
The core of Rock Mill Industries has grown to be a branding and merchandise outlet. They have found their niche providing everyone from musicians, non-profits, schools, business owners, and beyond with a premium quality product. They're constantly pushing themselves to grow and refine their craft and now are considered by many as one of the top merchandise suppliers on the east coast.
Rock Mill Industries is essentially the parent company, kind of like a mall that you go to and shop between the different stores inside the mall. Inside Rock Mill Industries you will find the following: Rock Mill Ink: Custom Merchandising, Screen Printing, Embroidery, Vinyl, Design Work, Rock Mill Studio: Recording Studio & Video Editing Suite, Rock Mill Sound Stage: Podcast, Rehearsals, Video Sound Stage, and Rock Mill Institute: Private and Group Music Lessons for all ages: Drums, Guitar, Bass, Piano, Vocals, most "rock band" related instruments.
Aside from the 4 things that RMI offers, they have a bunch of other tenants within the building that provide a variety of services too. Noah Higgins of Higgins Media and Josh Nesmith of Nesmith Films specialize in videography and cinematography. Justin Hershey of Hershey A/V Solutions specializes in Live Event Production, Professional Audio / Video Installations. Todd Williams of Laser Fang Tattoo Emporium Extrordinorium just recently opened a private tattoo shop, along with Greg & Tara Hildebrand from Honey Bee Friendly who has a workshop for bee hive equipment along with a serve safe commercial kitchen and bottling facility. A Podcast called Darker With Daniel records and films once a week in the Rock Mill Sound Stage. Every day is like an episode of Rob Dyrdeks Fantasy Factory but their own version. With so many services within their company and under one roof, there are obviously package deals available. If you record, print merch, or rehearse with Rock Mill, they will definitely take good care of you.
Rock Mill Industries was supposed to have their Annual Rock Mill Community Day on May 24th, but unfortunately it is now postponed until hopefully the Fall of 2020. Last year I was able to attend their Community Day where they opened their doors to welcome neighbors, friends, family, and clients to come check out their building, eat some free food, and listen to some great music. I've known most of the Rock Mill guys for years, but I never had a true appreciation for what they are up to until I toured their facility. When you look at the front of the building you think, oh, this is cute, then when you start walking inside you feel like you're on a game show where you are like, and what's behind Door #3? I was shocked when I saw their rehearsal space, it alone is around 1,000 sqft! If you are sick of rehearsing in a crammed storage unit or basement and you want a place where you can move and REALLY rehearse, that alone is worth checking out. Remember, you can bundle things together, or you can just go there for one thing specifically, they are very accommodating, and they will help make things easier for you and/or your band or business. You can contact them for any of their services through their email: info@rockmillindustries.com, or give them a call, 717-691-1059.
As most people know that are reading this article, this Covid-19 Pandemic has taken a huge toll on the music community, from bands to businesses like Rock Mill. As a business owner it's not easy to get the grants, loans, etc. they don't have unemployment. Plus, if you are just starting out and don't have years of filing taxes it is hard to prove exactly what you are worth, or how much money you are missing. Some of the guys still play in bands and have lost quite a few gigs because of this craziness. As artists do, they got creative and came up with Rock Mill Relief, which offers financial relief to our employees who have been out of work. To help support the Rock Mill vision and the guys behind the scenes here, go to www.rockmillindustries.com/relief to buy a custom shirt or hat. Proceeds go to our musicians in need. The shirts and hats are definitely a collectible item to remember this crazy time.
Of course running a business is hard work and they know they can't do it alone, so the guys would like to thank their wives, friends and family, and the clients for each tenant at Rock Mill, their landlord and everyone that has helped lend a hand over the years growing Rock Mill to what it is today. An extra special thank you to Justin Hershey of Hershey A/V Solutions for always lending an unconditional helping hand to everyone at RMI.
Are you tired of trying to DIY, then reach out to RMI! All of the guys would love to talk about your goals and help you achieve them. You can check out their website, www.rockmillindustries.com, and keep an eye on what they are up to, and follow them on Facebook and Instagram.