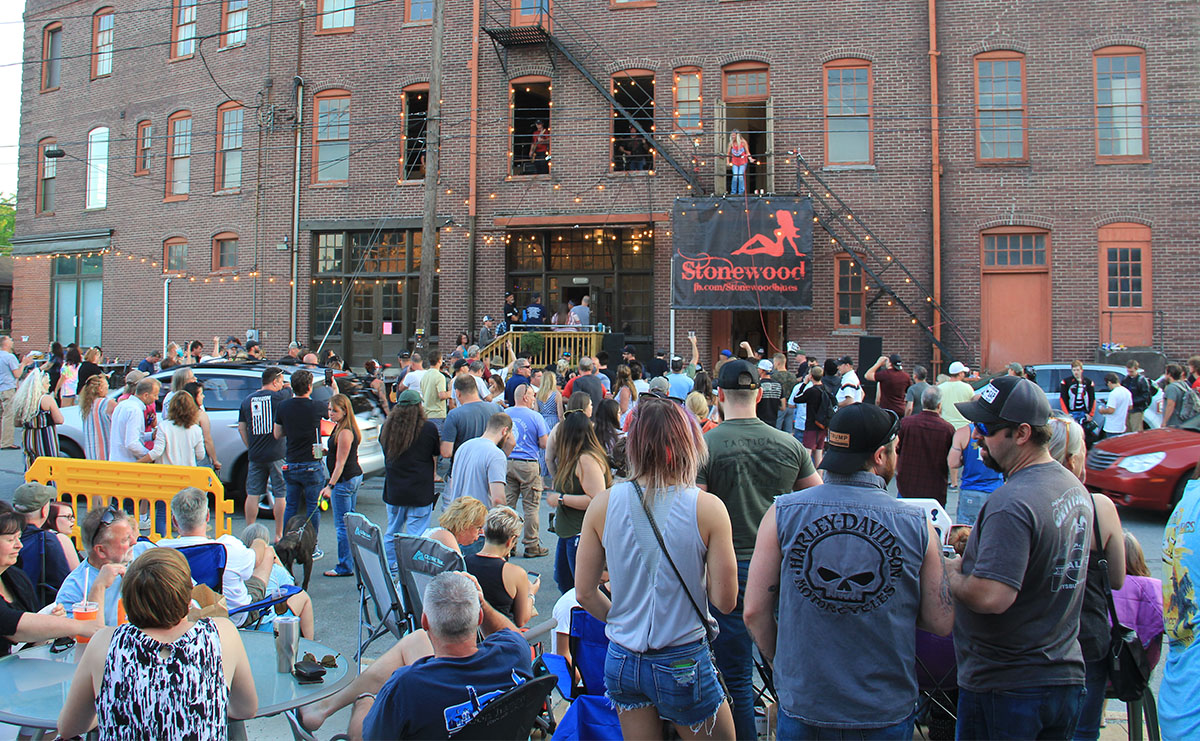 ---
Out and About or maybe In and Grim…
By: Rachel Rocks
In my best signing voice.. "We all live in a Yellow Quarantine…" I am still in total disbelief that this is all still happening, at first it was interesting, but now it just sucks. The only interesting/fun part of the quarantine is seeing how artists are being creative and still entertaining us to the best of their ability. We've been trying to support take-out from restaurants as much as possible too. All business owners including us here at the PA Musician Magazine, have to get creative to keep surviving.
We are thankful for all of our new "likes" and "Follows" on Facebook at PA Musician Magazine. We are also on Instagram @PAMusician. We are finally closing in on 9k likes.. If you haven't already, click on over there and like us, love us, whatever makes ya happy!
It was another month of super creative live streams all over Facebook. People are getting stuck sitting in their houses so they are getting creative about where they are streaming from; I've seen everything from Ed Varner by the fire pit, to Jason Carst hanging on the deck, and Olivia Farabaugh was even floating in her pool! Plus, I watched a live stream from DMC Duo when they literally played locked inside the deck area at the Fredericksburg Eagle Hotel. No one else was allowed in, but they could wave at people through the door, one person even showed up in full snorkel gear to give them a wave, and caught Darrell off guard in the middle of a song. There are plenty of "Live from my Living Room" streams, but one of my personal favorites is Thirsty Thursdays with Derek Henry. He pushed it back from 8-9 now, but it's just awesome to have something fun and consistent to look forward to. It's awesome to have the Virtual Tip Jars. It's great to be able to give back to the musicians for their entertainment. Some musicians are even using their tips as donations to other needs in the area, like the PA Food Bank, or even a venue that has always supported them in the past. A super cool part about the live streams is that you can be watching or listening to music anytime.. anywhere.. Nancy Mancine who used to live and rock here in the Harrisburg area now lives in Georgia and she has had a blast watching all of her old friends jamming out. She loved Penntera's show from their practice room, and loved seeing Ryan Sohmer and Dave Venet from the SynD'Cats jamming around the campfire through the River 97.3's live stream with Glenn and Amy. Music connects people, we all need music to feel complete.
It's so hard watching venues struggle to stay open. Some like XL Live that don't have a huge kitchen, just their little snack bar, have no way of making a couple bucks to be able to pay their bills. Some bars are expanding their kitchen options trying to come up with some way to bring in orders. Stoney Creek Inn up in Dauphin has been doing family meals where all orders for the meal of the week are ordered by Wednesday with pick-up on Sunday, it allows the venue to only have to purchase as much food as they already know they sold. Other restaurants have limited menus available, and have limited their hours. I'm sure you've all seen it and are aware of how businesses are trying to cope/survive, it just important that we call continue to support them as much as we can.
Well if you didn't know what Zoom was before the Pandemic, or you never hit that little Video button in Messenger, chances are you do now! We've had family chats on zoom, happy hours with friends, birthday parties, and my husband is even holding Boyscout meetings for his Troop. It has definitely come quite popular and it is a great way to stay connected. The Blues Society of Central PA have been doing a zoom every Thursday at 7pm, where different blues musicians play their songs and talk about how the songs originated, etc. It's a great way to stay together and keep jamming! My friend, Tim Lengel, who is a solo musician and also plays with the band Timmy's Creep Show, started a new Zoom video show, that even has their own Facebook Page called, "Let Us in Your Living Room." He's already done 5 shows, and plans to do more on June 13th and 27th. Basically he has a zoom meeting with Original artists throughout PA, and even the United States, where they take turns playing music, discussing music, and just sort of having a roundtable of musicians to talk to. It's quite interesting and a great way for the musicians to work together and collaborate new songs, ideas, and even tours for the future. If you would like to join in on one of their "Let Us in Your Living Room" chats reach out to them on Facebook and let them know. They are always looking for more artists. Unfortunately, it does have to be original music so he doesn't have to worry about licensing, etc.. Another cool collaborative zoom was shared by Bobby Gentilo Music, it was a song called "Neighbor Neighbor" done by 12 Artists over 5 Continents with the story line that when people of the world come together, the world becomes better. It's quite a powerful song. Another great way Rod Goelz is using Zoom is to continue teaching music lessons in isolation. Rod teaches guitar, bass, drums, mandolin, and uke. If you want to learn a new instrument while you are stuck at home, now is a perfect time to do it. Reach out to Rod or anyone you know that gives lessons, and hopefully they will make it happen. Speaking of learning an instrument.. Woodshed Guitar Works in Carlisle had two electric guitars purchased in their shop, but then given back as a donation to be given to someone who has always wanted to play guitar, but didn't have the means to buy one. So if you, or your child, grandchild, etc.. has always wanted to play, now is their time to shine. Reach out to Chris at Woodshed to see if the guitars are still available and start jamming!
Another great way to support your favorite musicians is by purchasing their music or merch. I recently saw on Facebook that Strangest Hearts just released a new CD. I paid for it through Paypal and it was even delivered to my porch! It's a great new album, and since I have a car with a working CD player, I'm excited to have new tunes to jam to! I also recently bought one of the new Penntera shirts on their website, I see that Defiant now even has beach towels!! Suicide Puppets recently added all new merch, even Voodoo dolls and other fun gadgets and gizmos! Check out their websites and see what's happening. I know there is so much to keep track of, but we all have to work together.
As our counties shift from Red, Yellow, Green.. etc.. bands are starting to play out live more and more and I'm so excited!! The Honky Tonk Medics are doing their first drive-in concert at CJ Hummels. I can't wait to hear how that goes. The parking lot is sold out, so I'm sure it will be a great show! Today I'm heading down to see Stonewood at the Burning Bridge Tavern in Wrightsville. My friend Mike Eagan sent me a message about how the Burning Bridge Tavern is hosting bands and then putting tables outside where the fans can watch the show, that is supposedly played through the windows of the gorgeous building. It looks very interesting. I'm so excited to check it out! I actually had to charge my camera batteries!! WHOOHOO!
The Stonewood show at Burning Bridge Tavern definitely didn't disappoint. I've never been down there and had no idea what to expect, but I definitely wasn't expecting what we saw. There were literally hundreds of people there, filling all of the curbs/sidewalks and flowing into the street. It was amazing and beautiful to see so many people enjoying live music. It just proves how so many people miss live music. Stonewood did an amazing job. It was a super cool set up where the band actually played from the 2nd story windows of the tavern itself. Shannon was actually out rockin' on the fire escape, but it didn't take too long til she was down front, rockin' in the street! Even the owner of the Burning Bridge Tavern apologized for the super long beer, food, and restroom lines. No one expected it to be so packed. Hopefully the Burning Bridge continues having bands and ultimately starts to advertise his shows in the PA Musician Magazine.
Another exciting show to look forward to this month is the Suicide Puppets playing Live on Facebook from Assorted Studios in York. These guys always have plenty of tricks up their sleeve, and I'm sure this will be a great show to tune in to. They are playing Saturday, June 6th at 8pm. This show is actually a benefit for Operation Build Up. Operation Build Up surprises struggling veterans in need with vehicles and homes to prevent veteran homelessness and suicides. With 2 of their members being veterans themselves, it helps this cause hit home even harder. Make sure and tune in on June 6th, and donate if you can!
I'm sure as the state continues to open up you will see more and more shows popping up at your favorite restaurants, breweries, wineries, etc.. Please keep an eye out and when you see live music get out there and support it. We are super grateful for all of the support we continue to receive. If you know of something interesting happening, even if YOU are the something interesting, please let me know. I'm always looking for new and exciting music to check out. Hit me up at RachelRocks@pamusician.net. If you see me online feel free to chat. Haha! LOVE YOU ALL!! Please keep fighting the good fight! We will prevail, we will get through this to the other side.