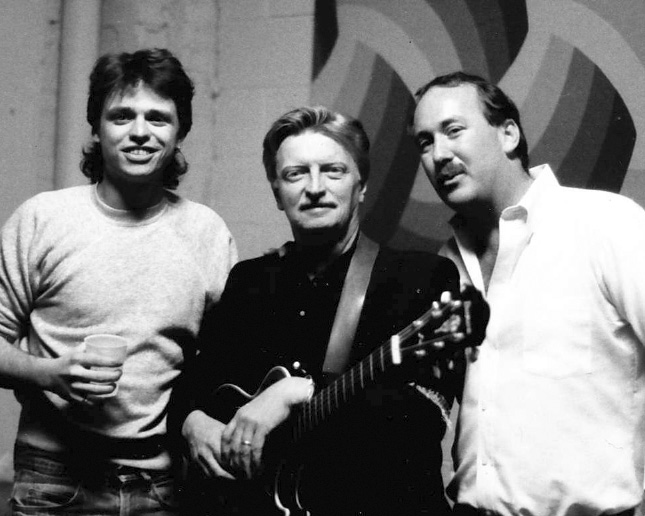 ---
By: Josh Noll
Hello Pa music lovers welcome to another issue of the PA Musician Magazine. It's April and Spring is here! Please tell mother nature to put the snow squalls away! I really don't need any white out conditions on the delivery trail this month. I can't really complain about this winter too much. What snow we did have didn't affect my monthly deliveries.
March had a pretty big event for the area, The Central Pennsylvania Music Hall Of Fame induction and awards ceremony took place on the 24th. It's a pretty big event and Brandon Valentine really out did himself this year with a new venue. The Hershey Theatre was the perfect location and made everyone feel like they had stepped into Hollywood for the evening. There were six inductees into the CPMHOF; Les Brown, The Emperors, LIVE, The Del McCoury Band, The Pixies Three and Third Stream. Congrats to them all! I would also like to Congratulate all the nominees and winners from this years Central Pa Music awards. While I can't mention them all I will give a big congrats to Defiant for winning "Best Metal Band"! They have had a great year and are not showing any signs of slowing down. To catch Defiant LIVE and in person. Head over to the winner of "Best Venue", HMAC as they open up for the legendary Doyle on April 6th.
Also a big winner this year was Chris Rider Photography for "Best Rock Photographer", second year in a row. Defending his title against the likes of Rachel Rocks, Francis Axsmith, Doctor D and Rock Documented. It was for sure an honor for the paper having two nominees in the category as this is pretty much what we do. Chris really deserved the win as his photos skills continue to grow with all the hard work he has been putting in.(Maybe next year Rachel Rocks, LOVE YOU!). Go to page 14 to check out some of his latest photos and if you're a band or artist looking for some promo shots give him a ring.
The "Whitey Noll" Lifetime Achievement Award went to John Harris this year. John has given his life to the local music scene and we, at the PA Musician Magazine, know that without his help in the early years we would not exist. John was always a big supporter of the paper and the local music scene. I can say that the best concerts I have attended were put on by Harris; Metallica at Williams Grove with Suicidal Tendencies and Danzig I mean come on people. Not to mention I had all access passes! This show was over twenty years ago and Harris is still booking national acts over at XL Live and other venues. Thanks Uncle Harry for all you have done.
Last big thank you to Brandon Valentine for creating the event and honoring all the PA musicians past and present with this awesome event. The whole thing went off nice and smooth like a jazz concert. Luckily the only crazed person running up on stage and taking selfies was Rachel Rocks, no Will Smith smackdowns. If you missed it this year or if your band or venue was not included. Be sure to go and like and follow the CPMA's facebook page so you can keep up to date and when the time comes, get your band and fans involved. Its hard for them to seek out all the great bands but by participating in the fans voting you can get noticed and hopefully be included next year.
Now let's look at some events coming up to add to your calendar of events. Racehorse Tavern is hitting spring hard starting off the month on the 1st with "Original Music Night" featuring Blind Accuracy, Fink's Constant, Muggsy Jr and Nick Cove & the Wandering. Followed on the 9th with National act Tantric! Racehorse always has live music both inside at night and during the day on his 4 season patio area. Add to that a newly paved parking lot, just in time for Bike Nights starting April 21st. Its a big month for Racehorse so get out there and show some support.
Reverb in Reading has some epic shows coming up like GWAR!! on June 17th! On Saturday April 16th they are hosting the "IRock Radio Birthday Bash 2022"! Featuring From Ashes to New, Fire From the Gods, Blind Channel, Kingdom Collapse and Above Snakes. IRock Radio is celebrating 8 years and doing it in style so get your tickets now and don't miss this show.
Lots of great shows coming up check out page 2 for a list of shows coming up at the Susquehanna Valley Event Center and the Bears Picnic Events. Start planning your summer around your favorite festivals and shows. To get geared up for festival season, check out page 3 for our new advertiser Coexist Glass Gallery in Steelton PA. They are a premium smoke shop with plans to expand into a coffee shop as well. They are working on the Steelton Cannabis Health Expo. The event will take place on June 4 and will be a family friendly environment with info on Cannabis education, dispensaries and much more with live music performances throughout the day.
Well that's it for this month as always please advertise!! Let us help you with promoting your event, band, business, venue, radio station, etc. WE ARE HERE TO SERVE YOU! Email Joshnoll@pamusician.net or call or text 717-636-4203. Have a great day! Over and out.