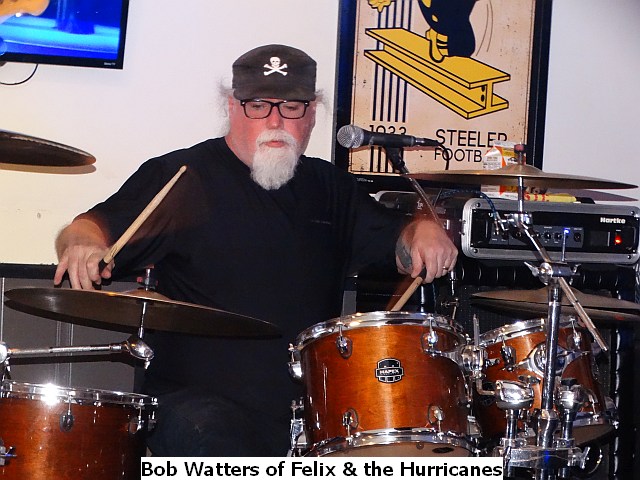 ---
By: Jim Price
Although howling winds and snow squalls are blasting through outside as I compile this month's article, spring warmth should win control of the weather battle in coming weeks, and live music should begin its migration outdoors by the end of this month. (Huntingdon's Mayfest happens on April 30, and the 75th Pennsylvania Maple Festival in Meyersdale takes place during the last two weekends in April.)
In the meantime, lots of live music highlights have been happening indoors in recent weeks…One of the big highlights in recent weeks was Skid Row's visit to Altoona's historic Mishler Theatre in late February before a sold-out house. This was an excellent concert…The current edition of Skid Row – original guitarists Dave "Snake" Sabo and Scotti Hill plus founding bassist Rachel Bolan, along with singer ZP Theart (the original frontman for DragonForce) and drummer Rob Hammersmith – lit up the Mishler stage with a spirited set of their best-known tunes, taken mostly from their first two albums, their self-titled 1989 debut and 1991's "Slave to the Grind." Setting the tone with "Slave to the Grind," the group fired through numbers such as "The Threat," "Piece Of Me," "Livin' on a Chain Gang" and "Big Guns" before arriving at their first Top Ten hit, "18 and Life." After following with "Makin' A Mess" and "Rattlesnake Shake," Rachel addressed the audience, expressing appreciation for being able to again entertain audiences after two years of not being able to do so due to COVID-19. He thanked everybody in attendance for enabling him and the rest of the group to be able to earn their livings performing music on stages. He then fronted Skid Row on their version of the Ramones' "Psycho Therapy" (from their 1992 remakes EP "B-Side Ourselves"). After the power ballad "In A Darkened Room," Dave the "Snake" addressed the crowd, expressing his thanks for their support and leading everyone in a "team chug" before he and Skid Row launched into an extended version of "Monkey Business," with he and Scotti Hill sharing and dueling guitar leads in an exciting display. This launched the homestretch of the performance, as Skid Row performed their other Top Ten hit, "I Remember You," followed by the fast and furious "Riot Act" and the finisher, "Youth Gone Wild," which erupted into a crowd sing-along. You could tell Skid Row was happy to be back in front of audiences, as the COVID-19 shutdown gave them a renewed appreciation of being able to play music entertain people. (Skid Row announced late last month that they now have a new singer, as Sweden's Erik Grӧnwall has replaced ZP Theart.)
It seems more and more like St. Patrick's Day has expanded into an entire season. It definitely seemed that way this year, with almost the entire month of March featuring St. Patrick's and Irish-related events. The season started early last month in these parts with McGarvey's welcoming the return of Chicago-based Celtic rock greats The Tossers, headlining a four-band bill. Pittsburgh's Bearded Bastard Irishmen kicked off the fun with their rowdy, high-powered set. With Stephen Weiss now playing violin, frontman Jimmy Bastard and the Irishmen tore through many of their Celtic-geared punk-rocking favorites; including their version of "All For Me Grog," "Drinkem' Drankem' Drunkem,'" the pirate-themed rocker "Mutiny," "Sail On, Sail Away," "Red," "Whiskey, Rum, Bourbon, Beer" and the title to their most recent album, "Drinkin' to the Dead" to end the set. Local Irish rock favorites Full Kilt continued with their blend of rocking Irish music and Irished-up rock tunes. Singer and guitarist Mike Zerbee, bassist and singer Chris Myers, fiddle player Mandy Passmore-Ott and drummer Jake Yarnish played their versions of Irish favorites like "Johnny Jump Up," "Irish Rover" and "Whiskey You're the Devil," along with their Irish-flavored takes on the Rolling Stones' "Paint It Black," Queen's "Fat Bottomed Girls," Jethro Tull's "Locomotive Breath" and others. Next was New Jersey-based Crazy & the Brains, who introduced a unique sound reminiscent of 1980s-era new wave punk with touches of Iggy Pop and Clash flavors. Five members strong, Crazy & the Brains triggered cheering and dancing with their versions of Iggy Pop's "Punk Rocker," Jim Carroll Band's "People Who Died," and original songs like "Break Free," "Hot Sauce," "Oh Oh I Love Her So" and more. And The Tossers finished out the night with their distinctive Irish pub rock and folk sound. Arriving on the stage decked in McGarvey's main man Rich McGarvey's "Father Rich" attire, singer and group founder Tony Duggins led The Tossers on an assortment of their tunes, ranging from tough rockers to sullen pub ballads. The group did several numbers from their latest album "Smash the Windows" such as the leadoff instrumental "Humors of Chicago," "Erin Go Bragh," "Mairi's Wedding" and "The Horses," as well as songs from their previous albums such as "Tell Me Ma" and "Wherever You Go." Tony sang it all with his gruff, rugged style, lending a distinct personality to The Tossers' signature sound. All four bands provided the packed house with a merry and rowdy good time.
After not being able to happen the past two years due to COVID-19, the Gallitzin Fire Company's 12th annual St. Patrick's Day Party returned to the Gallitzin American Legion's Oriental Ballroom during the weekend before St. Patrick's Day. It was again great to see a large crowd, decked out in green, back and having a fun night of food, refreshments, door prizes, 50/50's and musical entertainment from Full Kilt and the Giants Of Science. Before the music, the event's organizer, longtime Gallitzin firefighter Chris "Dauber" Cox, shared a few words; battling cancer for nearly a year, Chris encouraged everybody to have a good time and share their photos from the night with him, before sharing a toast with the crowd. Full Kilt then took care of the Irish music side of the evening, playing two sets of Irish folk and pub favorites, original songs, fiddle tunes and Irish-flavored renditions of classic rock and pop hits. Some of their highlights included their audience participation "clapping contest" version of "Whiskey in the Jar," other audience participation numbers such as "The Old Dun Cow," "The Scotsman Song," "Mary Mack" and Smokie's "Living Next Door to Alice" (complete with audience-improvised "Where the f#@% is Alice" response). Full Kilt also pulled out tunes from Dropkick Murphys and Flogging Molly, Irish takes on numbers from Charlie Daniels Band, Queen, Rolling Stones, and a version of "An Irish Party in Third Class" from the movie "Titanic." The Giants Of Science then triggered the dance party portion of the night, filling the floor in front of the stage with their blend of mostly 1980s rock and pop favorites. Kicking off with Gary Numan's "Cars," the Giants Of Science cast of singer and guitarist Mick, bassist and singer Johnny 5, keyboardist and singer Scotty B and drummer Steve kept the music continuous over two sets as they did favorites from James, REM, Tom Petty, Simple Minds, Modern English, The Cure, Men At Work, Soft Cell, Bruce Springsteen, Chumbawamba, Frankie Goes to Hollywood, GoGo's, A-ha and many more. Hats off to the Gallitzin Fire Company, the Gallitzin American Legion, all the volunteers who helped out, both bands, the production crew of Ray Buksa and Greg Cveykus for the great sound and illumination, everyone who attended, and "Dauber" for organizing this night which put smiles on the faces of many people…An excellent time!
On St. Patrick's night, I checked out The Dillons from Johnstown as they performed at The Brick On Front in Cresson. Ed and Ruschelle Dillon both sing, with Ed on bass and Ruschelle on acoustic guitar, and Jason Selfridge plays lead guitar. The Dillons kept spirits happy with their blend of favorites from the likes of John Mellencamp, Joan Jett, Poison, Eagles, Rolling Stones, Neil Diamond, Pink Floyd and more. Both Ed's and Ruschelle's voices were in good form, and they often blended for some sharp harmonies, while Jason executed clean and precise guitar leads throughout the evening. Some highlights included Ruschelle's renditions of Blondie's "One Way or Another" and Fleetwood Mac's "Landslide," and Ed singing Johnny Cash's "Folsom Prison Blues," Pink Floyd's "Comfortably Numb" and A Thousand Horses' "Smoke."
Since 2004, Mac's Irish Bash – named in memory of former civic leader and Altoona city councilman Dick "Mac" McEldowney – has raised more than $325,000 to help out area students in their academic endeavors via the McEldowney Academic Scholarship Fund. I finally got to experience this local St. Patrick's Day tradition for my first time when this year's event took place at Altoona's Blair County Convention Center the night after St. Patrick's Day. A large audience of mostly green-clad celebrants filled the venue to enjoy food, drink, basket giveaways, merriment and live music. Johnstown sextet The Irish Pretenders kicked off that music, performing traditional Irish and Celtic folk and pub songs, classic rock and more. Led by singer and guitarist John Skelley, the Irish Pretenders did a wide variety of material over their two sets, including Irish numbers such as "All for Me Grog," "Leave Her, Johnny," "Whiskey Row," "Sailing Ships and Sailing Men," "Home Boys Home," "The Boys of the Old Brigade," "A Nation Once Again," "Red Rose Café," "The Boys of Wexford," "Whiskey in the Jar" and others. They also performed their own variations on CCR's "Bad Moon Rising," John Denver's "Take Me Home Country Roads," Steve Earle's "Galway Girl" and "Copperhead Road," and more. Shallow 9 then took the stage to commence the dance party, doing a variety of pop, rock, funk, hip-hop and dance hits. Singer Erika Marino-Ankeny, guitarist and singer Ryan Weaver, lead guitarist Greg Larrimore, bassist Mitch Neuder and drummer Todd Harshbarger immediately filled up the dance floor and kept it churning over three sets with tunes from Cee-Lo Green, Paula Abdul, Outfield, Pat Benatar, Tom Petty, Lady Gaga, Wheatus, 4 Non Blondes, Charlie Puth, Alanis Morisette and many others. Shallow 9 also broke out several funk, dance and rock medleys, and got their Irish up with a version of the Cranberries' "Zombie." Mac's Bash was again a big success, with a large amount of money raised to help college-bound students in their educational endeavors.
Closing the book on my St. Paddy's weekend and season was Felix & the "Hurr-O'Canes" at Altoona's Black & Gold Tavern. Each Sunday night is an adventure – namesake, singer and guitarist Felix Kos, bassist and singer Jeff Clapper, and drummer and singer Bob Watters never use a setlist, allowing the audience vibe to guide their song selection on any given night. This week's edition started out bluesy, with the Hurricanes doing numbers from Freddie King, Albert King, Eric Clapton and Jimi Hendrix. They broke into a version of Glen Campbell's "Raindrops Keep Falling on My Head," ventured southern with tunes from the Allman Brothers, ZZ Top and Charlie Daniels Band, and did original tunes such as the instrumental "Whirlwind," "Black Widow," the Memphis-inspired "Beale Street," the solemn "Strength and Courage" and the soulful "Walking A Straight Line." The Hurricanes upped the ante as the night went along, with Felix making his guitar cluck and pick around like a chicken on the requested rendition of "Rocky Top," the group showing their hard rocking chops on Focus' "Hocus Pocus" and Black Sabbath's "Fairies Wear Boots," and honoring the St. Paddy's season with an Irish tune – Van Morrison's "Brown Eyed Girl." See Felix & the Hurricanes every Sunday at the Black & Gold Tavern, and watch for some big show announcements from the group in the weeks ahead.
Every so often, work and play collide when I'm on the monthly PA Musician delivery trail…While delivering my Cambria County route during a Sunday afternoon last month, I did a lunch break at the Stadium Pub & Grille in Johnstown, where popular duo The Evergreens was in the midst of a matinee performance. This show almost didn't happen, as guitarist and singer Laurel injured her left hand the previous day, and was uncertain if swelling would subside enough to hold her guitar. Fortunately, the swelling did diminish, and she and drummer Amanda entertained the enclosed outdoor pavilion audience with a wide variety of rock'n'roll and pop favorites. Laurel and Amanda have crafted their own distinctive style and identity, giving upbeat and cheerful treatments to numbers by Bruce Springsteen, Soft Cell, the Beatles, CCR, Proclaimers, Pretenders, Tracy Chapman, Tommy James and many more. The Evergreens keep their repertoire unpredictable and fun – this day gearshifting from Oasis' "Champagne Supernova" into CCR's "I've Heard It Through the Grapevine," and from Cher's "Gypsies, Tramps & Thieves" into Outkast's "Hey Ya!" The Evergreens maintain a busy performance schedule throughout the region, including frequent daytime shows – so watch for them in your neighborhood.
On most Saturdays, I have a game plan – I know what show(s) I plan to check out, and I almost always stick with that game plan. But during winter season, the unpredictable can happen. The weather forecast for one Saturday last month called for up to 8 inches of snow, plus gusty winds and falling temperatures. I had work duties scheduled at my radio employer (Q94) this day – recording an interview and running the console for a high school basketball game broadcast. With the snow forecast, I expected both were going to need to be postponed, and I would be relegated to couch potato duties for the day. Well, the winter "bomb cyclone" event under-performed, the snow total never approached 8 inches, road conditions were manageable, and both of my radio duties went on as scheduled. So since I was now at the station, I decided to catch some live music afterward. Not only did I catch live music, but I ended up attending THREE shows this evening, starting with my first-ever visit to Altoona's Iron Pint Brewing Company, where the acoustic duo of Matthew Sheedy and Rob Reffner were entertaining. Both strumming acoustic guitars and singing, Matthew and Rob played a wide mix of song material – including tunes from Michael Jackson, Old Crow Medicine Show, Deep Blue Something, Oasis, Green Day, Weezer, Red Hot Chili Peppers and more. They also performed the unexpected – including renditions of Dispatch's "Bang Bang" and "Two Coins," Incubus' "Certain Shade of Green" and John Butler Trio's "Good Excuse." Matthew and Rob's acoustic style was rhythmic and soulful, and they kept their music and overall pace upbeat. An added bonus was the guest acoustic duo of Julian Saborio and Ryen Beam performing during set breaks. These two were talented as well – Julian played guitar while Ryen sang on numbers from Dobie Gray, Pink Floyd, the Cars, Prince and more.
After departing the Iron Pint, I headed to another venue I had never visited…Under new ownership, Wilson's Fish Bowl Inn in Altoona is now running occasional acoustic entertainment, so I stopped by to enjoy food and the sounds of R.S. Williams and Tommy X's – better known as Railroad City Murder Machines frontman Randall Williams and X's For Eyes frontman Tom Noel. Both strumming acoustics and singing, Randall and Tom presented a unique mixture of well-known and lesser-known numbers. Both shared and swapped singing duties through songs from John Denver, Merle Haggard, Marshall Tucker Band, The Cure, Outfield, Weezer, Dolly Parton, Sublime, Tom Petty and more. But they also broke out such numbers as Frank Turner's "Substitute," the Misfits' "Saturday Night" and several other acoustic punk numbers.
And since Altoona's 4D's Lounge was on my way homeward from the Fish Bowl Inn, I stopped in to see Zac Grace – the musician I was interviewing earlier that afternoon at my radio gig – on the stage. Zac and his band – guitarists Ben Eberhart and Brad Lego, bassist Eric Wertz, keyboardist Nate Beatty and drummer Matthew Stevens – performed a blend of Zac's original songs and country favorites. Zac introduced some of his newer originals, such as "Stay Here or Stay Gone" and his latest single "PPL I Drink With." And he and the band did numbers from Luke Bryan, Chris Stapleton, Hank Williams Jr., Kentucky Headhunters, Brooks & Dunn, Kenny Chesney, Kip Moore, Garth Brooks and Toby Keith. And they also broke out some rock'n'roll; doing Stealer's Wheel's "Stuck in the Middle with You," John Mellencamp's "Hurts So Good" and Lynyrd Skynyrd's "Gimme Three Steps." Zac closed out the night with his original song, "This Is the Day," with its hopeful dream of pursuing your dreams. So I ended up seeing three shows on a day where I thought I would see none – Sometimes, things don't go as NOT planned!
JOOS in Altoona again hosted a showcase of the area's rising musical talent during their "The Clearing" event in late February. I arrived in time to hear the last two songs from the night's first performer, singer Ang Michaelle. Ang displayed a shining, soul-packed voice and confident stage presence on the two original songs I heard from her. She cited Lauryn Hill as an influence on her final song. Next up was Nik Mik, the solo incarnation of Lloyd frontman Nick Munyons. Nik's songs were generally short, sweet and to the point; conveying thoughts, emotions and wonder. Nik lives his songs on the microphone, and it was easy to realize that his singing was an extension of his persona. Next was my first look at southern Blair County-based singer and songwriter Shane Nycum. Shane's style of acoustic music was upbeat, as he performed modern rock-toned original songs with touches of funk and hip-hop. His presentation was sharp and confident, and he received a good response from the audience. Area singer and songwriter Braden McDannell followed with his distinctive folk rock/pop style. Braden mixed newer original songs with material from his 2020 album "East and West," displaying interesting melodies and focused vocal cadences. Some of Braden's songs included "At the Door," "No Sense," the newer "If and When," "Slow Down" and more. I had seen the next performer, Sasha Frost, in his electronics solo project Memory Collector, but witnessed him perform acoustic this night as he did a two-song set. Sasha did two numbers from Modest Mouse. Closing the evening was Vehement, the experimental music soundscape project of Brandon Spradling. Vehement explored the sonic possibilities of instruments, channeling a squeezebox and electric guitar through a myriad of distortion, tones, reverb and other effects. The results were intriguing, at times even hinting at some of the sonic experimentation of Syd Barrett and early Pink Floyd. "The Clearing" exposed the creative spirits of its five featured musicians in front of a supportive and appreciative audience.
TV Blonde brought their exciting party show to McGarvey's in late February. The group has a new lead singer these days, as Dallas James replaces the retiring Jackie Wesley. Dallas appeared right at home with TV Blonde's high-energy show, and handled the group's wide variety of song material well. TV Blonde's dance floor party mix included numbers from Katy Perry, Fountains Of Wayne, Loverboy, Green Day, 4 Non Blondes, Ramones, Roxette, No Doubt, Prince, Outkast, DNCE, Abba and many more. TV Blonde's mix of music, energy, wit and humor blend with lively visual production, including a busy light show and a TV monitor that shows constant scenes of people dancing from TV shows, movies, commercials and more. It all amounts to a potent and fun show – be on the lookout for the new-look TV Blonde in your neighborhood soon!
Also at McGarvey's, I saw an exciting punk-rocking triple-bill in late February. I arrived in time to catch the last couple of songs by openers Bad Luck Lover Boys. Both were new songs that sounded strong, and I expect to see Bad Luck Lover Boys again shortly. Next was Columbus, Ohio's The Plan B's. Featuring Joey Z on lead vocals, Josh T on guitar and vocals, Matty B on bass and Scott M on drums, The Plan B's drilled a mix of old-school pop punk, punk and ska with reckless abandon, firing off original numbers like "Off the Edge," "You Stink," "Parachutes," "F— Ups & Grown Ups" and "Everyday Thing." The Snipped then unleashed 'dadcore' to end the night, as they played songs from their latest album "Tales from the Workbench" and a few select covers. Mike Wax, Jeff Reid, Frank Conrad and Justin Burket tore through songs off the new CD such as "Goddamn Shame," "The Mine," "No Time to Waste," "Be That Way," "Back in the Day," their hard-edged update of Bruce Springsteen's "Born to Run" and more. The Snipped opens for Richie Ramone at McGarvey's on April 1.
And I got to see Lloyd early last month at McGarvey's, part of a triple-bill with Treaties and Skyline Drive. Vocalist Nick Munyons, guitarist Devon Johnston, bassist Brandon Pry and drummer Matt Savino unleashed agitated rock that mixes elements of grunge and angst. They showcased original numbers this night, such as "More Pain," "Earth" and more. Against his bandmates' hard-edged sonic backdrops, Nick again demonstrated his chaotic stage persona; letting the moment's vibe carry him as he moved about the stage, sitting and laying down while running the gamut of emotions from subdued to emotional bloodletting.
I don't have the budget or the work schedule freedom to travel to St. Thomas in the Caribbean to check out a live performance any time in the foreseeable future, but thanks to Pittsburgh-rooted country duo Willow Hill and the innovation of live-streaming, I could experience such a show online. Willow Hill – the husband and wife pairing of C.T. and Alexandra Fields – is currently performing shows in St. Thomas through the end of this month. The duo's performance at Villa Fortuna just before St. Patrick's Day was live-streamed on Facebook. Alexandra on lead voice, tambourine and keys, and C.T. on guitar and backing vocals played their original songs, such as "Don't Threaten Me with a Good Time," "More Like a Memory," "Can't Have My Best" and "Are You Whiskey." They also did a version of Dolly Parton's popular "Jolene." Alexandra's voice and enthusiasm were in good form, and she and C.T. were instrumentally strong. An arriving tropical rain shower brought a quick conclusion to the performance. Willow Hill will head to Belize for some shows in early May, before returning to the U.S.
I also got to check out recent performances from Lloyd and The Snipped, both at McGarvey's.
News and notes…Images Of Eden announced that they have hooked up with guitar legend Michael Schenker for his 50th anniversary tour, as he supports his new album "Universal." Former Mr. Big singer Eric Martin is also on the tour, which will hit Pennsylvania in the fall…After a dozen years of entertaining area audiences with classic rock'n'roll, the band Cottonmouth announced that they are stepping away from area stages…After performing as an instrumental trio, The Pines have announced that Daman Mills is stepping aboard to handle lead vocal duties…Harrisburg's Steel announced that Kyle Stuhler will take over the lead microphone, replacing former frontman Chris Redding…Pittsburgh singer and songwriter Bill Deasy releases his new album, "If the Creek Don't Rise," this month…The area music scene was saddened by the passing of Johnstown area musician David Single on February 21; he was 53. David was a talented multi-instrumentalist, vocalist, songwriter, arranger and producer, and he was fluent in many styles of music. David is best remembered for his tenures in popular Johnstown-based groups The Boys and Ribbon Grass, where he played keys and sang. He also recorded several CD's and cassette albums, including jazz and Christmas albums.
Please send correspondence and recordings to: Jim Price, 1104 S. Catherine St., Altoona, PA 16602. You can also e-mail me at jptheprofessor@gmail.com. And if you're into social networking, look me up on Facebook. SUPPORT LOCAL MUSIC!