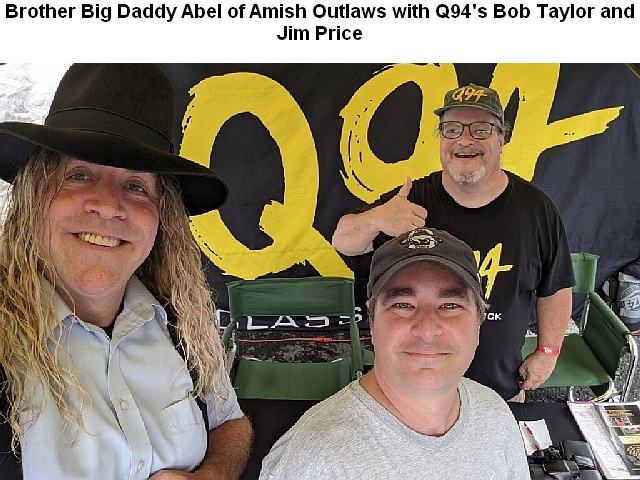 ---
By: Jim Price
Summer flies when you're having fun…After the long wait for live music to make its return as summer arrived, we now face the start of summer's homestretch this month, with the return of school, Labor Day and autumn on the horizon. Enjoy the outdoor live music while it's here!
A big music scene highlight happened indoors early last month, as the second Central Pennsylvania Music Awards (CMPA's) and Central Pennsylvania Music Hall Of Fame (CPMHOF) induction ceremony took place at downtown Harrisburg's Whitaker Center for Science and the Arts. A red carpet event likened to a local music Grammy Awards, the CPMA's recognized bands, musicians and other members of the regional music industry who made their mark in the past year. Awards were handed out in a multitude of categories. Among the top achievers were The Small Town Titans, who took the awards for Best Hard Rock Band and Album/EP Release of the Year for their album "The Ride," and their singer, Phil Freeman, who captured the Best Male Vocalist Award. Some of the other winners included The Jeremy Edge Project for Best Rock Band, Penntera for Best Tribute Band, Colebrook Road for Best Bluegrass Band, Colt Wilbur Band for Best Country Band, Nate Myers & the Aces for Best Blues Band, Suicide Puppets for Best Metal Band, Devon Beck for Best New Band/Artist, Madison Ryan for Best Pop Band/Artist, and D-Bo's "I Can't Breathe" for Song of the Year. In addition, as part of the ceremony, The Badlees, Jeffrey Gaines, Halestorm, The Pentagon, and Jimmy and Tommy Dorsey were inducted into the Central Pennsylvania Music Hall Of Fame. And I had the honor of presenting the Lifetime Achievement Award posthumously to Pennsylvania Musician Magazine founder and publisher Whitey Noll; with Robin, Josh, Rachel and Andrea Noll accepting the award. For the complete list of awards, visit the website www.cpmhof.com.
As the event's emcee, I was able to witness all the live music highlights of the June and July concert weekends of the PA Roundhouse Rally, which took place at Roundhouse Harley-Davidson near Duncansville. Presenting a festival atmosphere, the PA Roundhouse Rally featured motorcycle vendors, demonstrations and events, as well as food and refreshment vendors, and live music throughout the weekend. Proceeds from the PA Roundhouse Rally help out local charities, including local veterans organizations, youth charities, local volunteer fire companies and more. Happening June 24-26, the June weekend kicked off on Thursday with Pittsburgh's Sourmash on the stage. Billed as "The Baddest Biker Band on the Planet," Sourmash got the weekend started in rocking fashion, firing off their own hard-rocking original songs and classic rocking favorites. Singer and guitarist Tim Henry, guitarist Nick Farine, bassist Dave Stanoszek and drummer Matt Knapp did numbers from Grand Funk Railroad, Deep Purple, Bad Company, Lynyrd Skynyrd, Joe Walsh, Kiss, .38 Special, Blue Oyster Cult and many more. Along the way, Sourmash performed the long versions of Lynyrd Skynyrd's "Free Bird," the 14-minute version of Peter Frampton's "Do You Feel Like We Do" and The Who's "Won't Get Fooled Again" (their closer) all in the same show! Sourmash also played at Johnstown's Thunder in the Valley that same weekend; watch for more area appearances by this group in the coming months.
Friday's leg of the PA Roundhouse Rally featured two groups, as popular local rock bands Cotton Mouth and Downshift delivered the entertainment. Leading off the afternoon, Cottonmouth – drummer and singer Kenny Slovikosky, Kirk Tonkin on guitar and vocals, and Travis Harpster on the bass strings – performed a variety of classic rock favorites, including tunes from Kenny Wayne Shepherd, ZZ Top, Ted Nugent, Allman Brothers, Red Hot Chili Peppers, Johnny Rivers, Ramones, Bad Company, Steve Earle, Lynyrd Skynyrd, the Doors and more. A few of their highlights included their version of Steve Earle's "Copperhead Road" (which morphed into "Cottonmouth Road"), and Kenny's drum solo during their performance-closing edition of Deep Purple's "Smoke on the Water." Cottonmouth's onstage energy successfully got some folks dancing, grooving and having a good time. Soon after, Downshift cranked up the party with their mix of rock and metal classics spanning the 1980s to today. They filled up the floor area in front of the stage as they did numbers from Smashing Pumpkins, Ghost, Foo Fighters, Billy Idol, Local H, Alice In Chains, Nirvana, Green Day, Poison, Ozzy Osbourne, Metallica and more. Some of their highlights included their rocking send-up of Paula Abdul's "Straight Up," and toward the end, their three-song Metallica medley of "Enter Sandman" into "King Nothing" and "Am I Evil."
The final day, Saturday, featured three musical acts: MAD Acoustics, Jack Squat and headliners Cowboy, the Kid Rock Tribute. MAD Acoustics started off the music with – as the name would suggest – acoustic rock and country sounds. Strumming acoustic guitars, Matt Gardner and Dylan Wetherson immediately had a couple dancing in front of them as they started off with the ever-popular "Wagon Wheel" (the couple was reportedly celebrating a wedding anniversary). The duo also performed numbers from Oasis, Luke Combs, Tom Petty, Morgan Wallen, Foster the People, Lynyrd Skynyrd, Incubus, Bob Dylan, Steve Miller Band, Three Doors Down and more. Jack Squat soon followed, bringing the rock to the stage. Featuring four seasoned area musicians – Ron Dalansky on guitar and vocals, lead singer and guitarist Scott Imler, bassist Todd Batzel and drummer Dan McConnell – Jack Squat cranked out rock anthems from the 1970s through 1990s, including some you don't often hear on local stages. Scott demonstrated his high-ranged howl on vocally-challenging numbers like Whitesnake's "Slide It In," Billy Squier's "Lonely Is the Night," Cinderella's "Somebody Save Me," Judas Priest numbers like "Heading Out to the Highway" and "Green Manalishi," Dokken's "Alone Again" and "Breaking the Chains," and – for the finale – Krokus' "Long Stick Goes Boom!" Jack Squat also brought forth numbers from Goo Goo Dolls, Alice in Chains, Thin Lizzy, Tesla, Kiss, Black Crowes, Nazareth, AC/DC, Guns N'Roses, Scorpions, Boston and more. And Cowboy – the Kid Rock Tribute escalated the party further with their performance. Five members strong, Cowboy brought the energy, look and music of a Kid Rock performance. Frontman Josh was strong in the Kid Rock role, and he and band performed lots of Kid Rock's established favorites and deeper cuts as well. Opening (and during the encore, closing) with "All Summer Long," Cowboy did favorites such as "Low Life," "Jackson, Mississippi," "Tennessee Mountain Top," "Son of Detroit," "So Hott," "American Bad Ass" (sent out to all emergency responders), "Bawitdaba," their title song "Cowboy" and more. They also did their own variation of Guns N'Roses' "Paradise City," blended with "Wasting Time"; and they celebrated Hank Williams, Jr. with their sing-along rendition of "Family Tradition." Cowboy was a major hit with the Roundhouse audience, who stuck around and hollered long for an encore at the end of the night.
The July PA Roundhouse Rally happened July 15-17, with each day building up to the climactic finale on Saturday night as a winner's name was drawn for the Harley-Davidson Low Rider motorcycle being given away by the PA Roundhouse Rally. Thursday had its own excitement, though, as Altoona native Jimmy Mowery and his group, The New High, played an exciting set of many of his original songs plus a few popular covers. A contestant who advanced through several stages of Season 16 of NBC Television's "The Voice," Jimmy and The New High blended power pop, rock, punk, alternative and hip-hop flavors into a smooth-sounding, energetic mixture. Opening with their take on Third Eye Blind's "Semi-Charmed Life," Jimmy and the group grabbed the attention of onlookers and passers-by. They did a number of Jimmy's originals such as "Youngblood," "Playing the Game," "Coming Attraction," "There's Not A Reason," "Disappear" and more. They also did renditions of DNCE's "Cake By the Ocean," Jimmy Eat World's "The Middle," Fall Out Boy's "Sugar, We're Goin' Down," Yellowcard's "Ocean Avenue" and Don Henley/The Ataris' "Boys of Summer." The gathering of dancers in front of the stage grew as the performance went along, and when the crowd called for an encore, Jimmy and the New High returned for one more song, their take on Panic! At the Disco's "I Write Sins Not Tragedies."
Two bands graced the PA Roundhouse Rally stage on Friday. Altoona area country performers 100 Proof began the music during late afternoon, and sounded strong on their mix of contemporary country hits and favorites. Singer RJ Payne, guitarists Todd Belardi and Denny Yon, bassist Moose and drummer Dave Russell escalated the fun with rowdy numbers from Toby Keith, David Lee Murphy, Brantley Gilbert, Darius Rucker, Eric Church, Jon Pardi, Chris Stapleton, Chris Janson, Lee Brice, Jason Aldean and more. Some of 100 Proof's highlights included their merger of Trace Adkins' "Honky Tonk Badonkadonk" into Big & Rich's "Save a Horse, Ride a Cowboy," and their feisty Jason Aldean homestretch run to close out their show. The Giants Of Science braved fierce stormy weather and traffic backups, but made it to Duncansville to bring their party to a happy audience. The lab cast of frontman, ringleader and guitarist Mick, Scotty B on vocals, keys and keytar, bassist and singer Johnny 5, and drummer Steve commenced their 1980s-intensive party with Gary Numan's 1980 hit "Cars," and proceeded to celebrate mostly 1980s hits and favorites, with a sprinkling of 1990s and 1970s classics along the way. They fired up the dance floor with tunes from Sublime, Stone Temple Pilots, Simple Minds, Tom Petty, Men at Work, Gin Blossoms, Tommy Tutone, Modern English, Flock of Seagulls, Soft Cell, Bruce Springsteen, Men Without Hats, Frankie Goes to Hollywood, the Bangles, John Mellencamp, Aha, Eddie Money and more. The Giants Of Science successfully fired up the dance party and made the crowd happy.
Excitement and anticipation built through Saturday, leading up to the Harley giveaway. Music helped to build that excitement, beginning with Lauren & Joe. The husband-and-wife tandem of Lauren and Joe George opened the afternoon with their acoustic mixture of favorites, spanning rock'n'roll, country, folk, pop and more. Lauren displayed an excellent voice as she sang lead on most of the tunes, belting out with power, range and confidence. Joe strummed the acoustic guitar, and showed a solid voice on the tunes he sang as well. Opening with Pat Benatar's "Hit Me with Your Best Shot," Lauren & Joe mixed popular tunes from Little Big Town, George Michael, Hall & Oates, John Prine, Sister Hazel, Elle King, Janis Joplin, Lady Gaga, Cranberries, Sinead O'Connor, Adele and many more. Next was longtime local classic rock force Half Tempted. Singer and guitarist Ron Dalansky, guitarist and singer Jimmy Mincin, bassist Todd Batzel and drummer Doug Stephens launched with Free's "All Right Now," and proceeded to celebrate hard-rocking favorites from the 1960s through 90s. They fired up numbers from Tom Petty, Kenny Wayne Shepherd, Kiss, Greg Kihn Band, AC/DC, Poison, Jimi Hendrix, John Mellencamp, Ramones, Cheap Trick, April Wine, Black Sabbath, Lynyrd Skynyrd, Grand Funk Railroad and others. Some highlights included their Kiss double-shot of "Detroit Rock City" and "Deuce," and their Black Sabbath double dose of "Paranoid" and "Iron Man." Everything Half Tempted did sounded solid and strong, and lured folks onto the dance floor along the way. Then making their Altoona area debut and taking the party up to the Harley giveaway were The Amish Outlaws. "Straight Outta Lancaster" and onto the stage, The Amish Outlaws brought musical thrills, chills, lots of energy and touches of humor along the way. Six members strong and decked in Amish straw hats, work clothes and suspenders, this group brought a wide variety of music to the stage, tapping rock, pop, country, soul, hip-hop, new and classic metal, oldies…pretty much everything including the kitchen sink! Four of the six members sang – lead singers Brother Hezekiah X and Brother Big Daddy Abel, as well as guitarist Brother Snoop Job and keyboardist Brother Amos Def. Rounding out the roster were bassist Brother Eazy Ezekiel and drummer Brother Jakob the Pipeplayer. They brought the party out the opening gate and never left off the accelerator, keeping the large PA Roundhouse Rally crowd festive, moving, grooving and happy. Their tunes included such wide-ranging favorites as Queen's "We Will Rock You/We Are the Champions," Pitbull's "Fireball," Prince's "Kiss," the Rolling Stones' "Honky Tonk Women," Billy Ocean's "Caribbean Queen," Luke Bryan's "Country Girl (Shake It for Me)," Backstreet Boys' "Rock Your Body," Ratt's "Round and Round," System Of A Down's "Chop Suey!" and much more. They also broke out a triple-shot of tunes from the movie "Grease" including "You're the One That I Want," "Greased Lightning" and "Summer Nights," Journey's "Faithfully" (Brother Hezekiah X displayed an incredible singing voice), and their night-closing Black Sabbath-Ludacris mash-up edition of "War Pigs" The Amish Outlaws constantly bantered with the crowd as they generated the musical party, and kept this crowd feverishly happy from start to end. (If you missed them, the Amish Outlaws play McGarvey's on Thursday, August 5.) Then the moment everybody had been waiting for, as Douglas Geist's name was drawn, and he won the Harley-Davidson Low Rider motorcycle!
My emceeing duties during June's Pennsylvania Roundhouse Rally events didn't allow me to take in this year's Thunder in the Valley in Johnstown until that event's final day, Sunday. But I did get to check out The Boomers as they generated merriment with onlookers at downtown Johnstown's Central Park. The trusty trio of lead singer and bassist Bob Helbig, guitarist and singer Dave Nichols, and drummer and singer John Shimko fired up hits and favorites from the 1960s, 70s and 80s. Greeted with a happy audience of spectators and dancers, The Boomers proceeded to pull all stops to keep the crowd happy. The group mixed up numbers from ZZ Top, Jimmy Buffett, Steppenwolf, Del Shannon, Roy Orbison, BTO and many more. They also performed a Tommy James & the Shondells medley of "I Think We're Alone Now," "Hanky Panky" and "Mony Mony"; and fused tunes from The Hollies, The Champs and CCR into another medley. The Boomers' voices were in good form this day and their harmonies sounded crisp, and Dave put on a guitar clinic throughout their performance, demonstrating excellent slide work on Santo & Johnny's "Sleepwalk," plus a variety of effects and tones as well.
After seeing The Boomers, I headed across town to Johnstown's Roxbury Bandshell for their weekly Sunday concert series. Kicking off the double-bill was Wounded Moose. Joining the roster of singer and guitarist Dan Stonerook, guitarists Klanch and Bill Venet Jr., and drummer George Feathers were members of Dan's new collaboration called Moonshine Jasmine – singer and guitarist Megan Pennington and bassist Ty Cannon. The combined cast of musicians performed a variety of Americana, folk and blues songs, including a few original tunes along the way. Some of their numbers included versions of Johnny Cash's "Ring of Fire" and "Folsom Prison Blues," Steve Miller Band's "Dance Dance Dance," 4 Non Blondes' "What's Up" and more. Providing the nightcap performance was the new-look edition of Johnstown's Krazy Kat Daddies. Joining remaining member Gary Faidley on bass and vocals are lead guitarist and singer Billy Stoppe, and drummer and singer Rick Rock. Krazy Kat Daddies broke out the rock'n'roll, doing numbers from Stevie Ray Vaughan, Neil Young, Del Shannon, Tom Petty, CCR and more. Billy showed excellent guitar work throughout their set, including solo fireworks and even a guitar rendition of the "Star Spangled Banner." Vocally, Krazy Kat Daddies sounded strong as well. Their vibrant energy prompted calls for an encore at show's end, which the group answered with versions of Badfinger's "No Matter What" and Joe Walsh's "Rocky Mountain Way."
Following the discontinuation of the popular "Alive at Five" summer concert series at Altoona's Railroaders Museum, "Alive at Five" sound engineer Brian McConnell of Freelance Audio took the reins and started a new concert series successor, the "Rockin' the Yard" concert series, which stages six concerts in Altoona's Jaffa Shrine upper parking lot throughout the summer. I caught the second concert of the series in late June, which featured Def Leppard tribute Rock Of Ages and Jack Squat. Jack Squat commenced the show with their celebration of hard rock classics from the 1970s to 1990s, including tunes from Whitesnake, Tesla, Thin Lizzy, Grand Funk Railroad, Kiss, Billy Squier, Cinderella, Black Crowes, Nazareth, Judas Priest, AC/DC, Scorpions, Dokken and more. Scott Imler brought the soaring vocals and polecat howl, and both he and Ron Dalansky flashed some guitar fireworks along the way. New York City-based Def Leppard tribute Rock Of Ages continued the rocking party with favorites from throughout the Def Leppard catalog (sans the Leps' "On Through the Night" debut album). Singer Mike Ledesma (in the Joe Elliott role), guitarists Jesse Near and Damiano Christian, bassist Rik Nevone and drummer Don Huerter started off with "Stagefright," and continued with Def Leppard classics such as "Rock! Rock! Til You Drop," "Too Late for Love," "Let's Get Rocked," "High 'n' Dry (Saturday Night)," "Let It Go," "Rocket," "Love Bites," "Bringin' On the Heartbreak," the band's title tune "Rock of Ages," "Hysteria," "Foolin,'" "Women," "Armageddon It," and capping the main set, "Pour Some Sugar on Me." The band delivered the energy, and singer Mike kept the crowd festive and focused even as a steady rain briefly fell during part of their set. When the crowd demanded more, Rock Of Ages answered with "Photograph" to close out the night.
I headed to Indiana for the July 4 holiday, and took in the Star Spangled Celebration at the Indiana County Fairgrounds (known as Mack Park), which benefited the YMCA of Indiana County and the Mack Foundation. The celebration featured live country music throughout the day, leading up to the evening's fireworks display. I missed the first two groups, Told Ya So and Wild Card, but arrived in time to see Indiana native Andrew Mack, singing and playing acoustic guitar accompanied by his wife, Julie, on fiddle. This couple sounded smooth as they performed a mix of Andrew's original songs plus various country covers. Some of their original numbers included "Fiddlin' Around" (spotlighting Julie's talents), "Whatever It Was," "Country on Me" and "Now I Do." They also did numbers from George Strait, Chris Young, Eric Church, Luke Combs, Billy Currington, Alabama, Chris Stapleton, Johnny Cash and more. Following on the grandstand stage was Indiana's 7 Mile Run. Featuring singer, guitarist and keyboardist Brian Miller, lead guitarist Greg Orr, rhythm guitarist Barry Little, bassist Ange Giavedoni and drummer John Bodnar (a sixth member, acoustic guitarist Danny Haynes, was missing this day), 7 Mile Run performed two sets. The first showcased their robust blend of country covers, including songs from Brooks & Dunn, Randy Houser, Justin Moore, Dwight Yoakam, the Mavericks, Toby Keith, Luke Combs and more. 7 Mile Run sounded strong, presenting their music with purpose and enthusiasm that energized the grandstand audience. After the first set, a solemn and reverent Missing Man ceremony took place to remember American servicemen who are prisoners of war or missing in action. This led into 7 Mile Run's nightcap set, which focused on songs about America. The group performed such numbers as Chris Higbee's "Angry American," Toby Keith's "Courtesy of the Red, White & Blue," John Denver's "Take Me Home Country Roads," their original song "Night to Remember" and more. This set culminated with Aaron Tippin's "Where the Stars and Stripes and the Eagle Fly," during which both Greg and Barry launched into a harmony guitar rendition of the "Star Spangled Banner," and the fireworks display began with the band on stage.
Polka funtime broke out at Altoona's Unter Uns Musical & Entertainment Society last month when the Alex Meixner Band paid their latest visit. This was a fun night, as Alex and his band – guitarist Jimmy Meyer, drummer Tom Haller and Chris Heslop on saxophone and clarinet – played numerous polkas, waltzes and obereks, honored requests, and again demonstrated that they could turn any song into a happy-go-lucky polka party. This night such songs included AC/DC's "Thunderstruck" (with Alex doing Angus Young's signature opening riff on accordion), Neil Diamond's "Sweet Caroline" into the George Baker Selection's "Una Paloma Blanca," the ever-popular Ozzy "Crazy Train Medley" (which veers from Ozzy Osbourne's "Crazy Train" into the Monkees' "Last Train to Clarksville," Duke Ellington's "Take the A Train," Patsy Cline's "Crazy" and Glenn Miller's "Chattanooga Choo Choo"), the Guns N'Roses' "Sweet Child O' Mine" medley, and the intriguing mash-up of Henry Mancini's "Baby Elephant Walk" into Aerosmith's "Walk This Way" and Katrina & the Waves' "Walking on Sunshine!" (I also heard a brief snippet of Falco's "Rock Me Amadeus" show up in the middle of another song!) Other highlights included guest Zupe fronting the group on "Pitiful Pierogi," a tune from Zupe & the Polka Commandos' "Na zdrovie (Nostrovia)" album that Alex and his 'commandos' helped out on…renditions of Louis Armstrong's "Hello Dolly" and the fiddle tune favorite "Orange Blossom Special"…Alex performing "Amazing Grace" on his "hose-o-phone," and his solo trumpet finale rendition of "The Star Spangled Banner." And after the end of the official show, Alex continued to perform solo to dancers on the floor. This was a joyful, happy night, and a whole lot of fun!
The 20th annual Bikers for Barkers motorcycle ride took place last month, again raising funds for the Central PA Humane Society to support care for homeless dogs and cats in Blair County. The ride finished at the Blue Knob Clubhouse at Blue Knob All Seasons Resort. Live music was part of the ride after-party, as the group Ages performed. I caught part of their opening set. Featuring the father-and-son tandem of Jerry Naugle on drums and Jacob Naugle on bass, plus Mike Castine on lead vocals and Tyler Bryan on lead and rhythm guitar; Ages performed classic rock favorites of the 1960s, 70s and 80s. Their selection this day included songs from Cream, Steppenwolf, ZZ Top, Neil Young, Jimi Hendrix, Stevie Ray Vaughan, Black Crowes and many others. What I heard from Ages sounded solid, and the group kept the ride participants happy. Hats off to all the riders and volunteers who participated in this year's Bikers for Barkers ride to support the shelter's animals!
Other performances I saw in recent weeks included the Goddamn Gallows, bringing their fire-and-brimstone brand of "punk rock gutterbilly" to McGarvey's…Rodeo Radio bringing their alt-country mix to McGarvey's, and two shows from Hot Fudge Mondaes as they appeared at Altoona's 4Ds Lounge and McGarvey's.
And a correction from last month; I inadvertently misidentified Fuse's bass player – Rick Hartman now works the four strings for Fuse, not Rich George (his predecessor). With the number of musicians I keep track of in carrying out this endeavor, it occasionally happens. My bad!
The area music scene was saddened with the passings of two more members in recent weeks…The State College music and radio community was saddened by the passing of musician and radio personality "Cosmic" Ray Cromie on June 30. Ray was a fixture on Penn State college radio stations for more than four decades, and hosted his "Avant Garde" program, which showcased experimental music and spoken word creations that were off the beaten path from mainstream commercial music. He also performed his own experimental music in various music art projects as well…And Tim Michrina, recently the guitar player for the band The Sitch, passed away unexpectedly on July 6 at age 31. Originally from Johnstown, Tim enjoyed the arts and playing guitar, and was also a teacher in the Northern Cambria School District. Our condolences go out to the families and friends of both men.
News and notes…Several benefit concerts have been taking place recently to help Chris Silvagni, the guitarist for both Harpo and Sucker Punch, who was recently diagnosed with pancreatic cancer. An acoustic music benefit show for Chris took place July 17 at Hull's Landing Restaurant & Lounge in Muncy. Two more benefits – another one at Hull's Landing followed by one at Williamsport's Valley Inn, then happened on July 31. At press time, a bike run was set to happen on August 1, ending at Susquehanna Valley Big Twins near Lock Haven, with several bands performing. All proceeds go to the Chris Silvagni Foundation to help Chris in his cancer battle…The organizers for the annual Pickin' for Wishes bluegrass festival fundraiser for the Make A Wish Foundation of Greater Pennsylvania and West Virginia recently announced that the 8th annual event, which usually takes place at the Cresson Sportsmen's Club, has been postponed until 2022 due to continued concerns for Wish families and children because of COVID-19…And the former Rex Theater in Pittsburgh will continue on as a live music venue under a new name; 10 months after shutting its doors due to financial hardships incurred during the COVID-19 pandemic, a new owner is taking over the venue with plans to reopen it in September under the new name Enclave.
Please send correspondence and recordings to: Jim Price, 1104 S. Catherine St., Altoona, PA 16602. You can also e-mail me at jptheprofessor@gmail.com. And if you're into social networking, look me up on Facebook. And continue to SUPPORT LOCAL MUSIC!