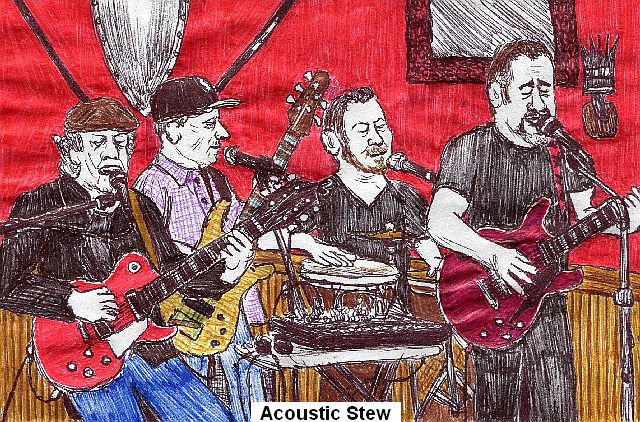 ---
By Jim Price
Maybe the rodent was right…That glowing sphere reappeared in the sky, and temperatures hit the mid-50s as the March article deadline arrived last month. Perhaps Phil the groundhog was correct, and we are getting an early spring (after what has been a comparatively tame winter).
The pre-spring sunshine and warmth graced one Saturday late last month, resulting in ideal conditions for soup and chili sampling in downtown Bedford. Postponed from January due to bad weather, Downtown Bedford, Inc. presented the 7thannual "Feel the Heat Wing & Chili Cookoff" at eight locations throughout downtown Bedford, as local eateries presented their best chilis and soups for sampling, with participants' votes deciding the winners. Seven of the locations featured live acoustic music to accompany the sampling. My "Feel the Heat" journey began at HeBrews Coffee Co., where Chad Patterson was strumming and singing a mix of classic rock hits and favorites. Chad entertained chili and soup samplers plus coffee connoisseurs alike with tunes from CCR, Neil Young, Sonny & Cher, Van Morrison, the Eagles and more. I next encountered live music at LIFeSTYLE Restaurant, where Eric McCrum performed. Eric gave a jovial presentation, playing favorites from the Eagles, Michael Jackson, Dave Matthews Band, a youngster's request for music from "The Lion King" and more. This was Eric's first performance of the day, his next would be at 3:30 a.m. on Sunday morning at Penn State's Bryce Jordan Center, entertaining a packed house at Penn State's THON dance marathon with his band, Vision to None. At Pigeon Hill art studio, Hobo Stew was performing old-time American folk and standards, armed with a banjo and fiddle. Some of his selections included Charlie Poole's "Sweet Sunny South" from 1929, "My Favorite Things" from "The Sound of Music," the traditional "Whisky Before Breakfast" and more. Across Juliana Street at Founders Crossing marketplace, Happy Hour – the duo of singer Sarah Mellott and singer/guitarist Tom Fix – played their mixture of acoustic country, rock favorites and original songs. Both displayed excellent voices; Sarah showed her clear and potent voice on her original song "Oak Wood Truck" and Alanis Morisette's "Hand in My Pocket," while Tom sounded sharp on Elton John's "Rocket Man." The pair also did songs from Florida-Georgia Line, Zac Brown Band, 4 Non Blondes and more. I then headed to Oak Spring Winery, where RAM Acoustics strummed acoustic guitar and sang original songs. Locality art space featured Dawn and the Sound Alchemist. Accompanied by her son Levi on keys and guitar, singer and guitarist Dawn Custer played a mix of original songs and covers, including a version of the Beatles' "Blackbird." And as the chili and soup sampling neared its conclusion, I arrived at Briar Valley Winery, where singer and guitarist Samantha Press performed some of her original songs plus a rendition of Peter, Paul & Mary's "Puff the Magic Dragon." The mix of tasty chilis and soups with the various acoustic performances made for a good time. When votes were tallied, Bedford's Golden Eagle Inn won both "Most Creative" awards for both their chili and soup; 10/09 Kitchen won for best flavor chili, while Homewood at Spring House Estates won for best flavor soup.
After spending that afternoon savoring soups and chilis in downtown Bedford, it was only fitting that I capped the night with a serving of Acoustic Stew as they performed at the Castle Pub in Ebensburg. Ed Hofer filled in on hand percussion this night, smacking the skins as regularly-scheduled drummer Kim Dull was on the disabled list with shoulder issues. Ed, singer/guitarist Jaime Dubetsky, Tim Homerski on guitar, vocals and flute, and Bill Kibler on bass and vocals mixed together a nice stew of sounds this night, spanning classic rock, country and more. Their vocals and musicianship were strong; it's always a treat to see Tim working his woodwinds on numbers like Marshall Tucker Band's "Can't You See" and Jethro Tull's "Locomotive Breath," and the group also rode Grand Funk Railroad's "I'm Your Captain" to a full-throttled, intense finish. Bill also sang lead vocal on a number, fronting Acoustic Stew on Alabama's "Mountain Music." Also sounding good were tunes from the Grateful Dead, Chris Stapleton, Allman Brothers, Eric Clapton, Zac Brown Band, Peter Frampton, The Band and more.
McGarvey's in Altoona celebrated the New Year a second time in late January, this time marking the beginning of Chinese Lunar Year 2020, the Year of the Rat. The Zero Club provided the musical entertainment while a Chinese food buffet was served. The crowd saw the newest lineup of The Zero Club this night, as singer Stacy Feighner and guitarist Tony Feighner replace Rick Ramsey in the roster; joining lead singer and percussionist Mike Davis, guitarist Bob Gray, bassist Josh Yahner and drummer Dave "Redawg" Solinski. Stacy's addition allows The Zero Club to expand its scope to cover female artists, as she led the group on hits from Elle King, Blondie, Joan Jett, Lita Ford, Pat Benatar, Scandal, Cyndi Lauper and more. The Zero Club also fired up the dance floor with numbers from The Knack, J. Geils Band, Devo, Rick Springfield, Loverboy, The Cars, Bryan Adams and others. Guest (and McGarvey's doorman) Kevin Siegel stepped in behind the drum kit for Alice In Chains' "Man in the Box." The updated edition of The Zero Club sounded strong and steady through it all, and kept the dance floor busy throughout the night. Watch for this group as they perform on Cambria, Indiana and Blair County stages.
McGarvey's also hosted a benefit last month, as bands, musicians and friends showed their support for cancer patient Jen Johnstonbaugh during the "Heaviest Fundraiser Ever" benefit. Jen, the wife of area drummer Darl Johnstonbaugh,is undergoing treatments for marginal zone B cell lymphoma. I wasn't able to arrive early enough to see show openers Roadkill, but they got the show off to a rousing start with their brand of "rot and roll." I did arrive in time to see the next performers, the Donny Burns Duo, pairing namesake Donny Burns with his 3rd Degree collaborator Nick Stahlman. Singing and slinging guitars, the duo mixed original songs with classic rock favorites from Led Zeppelin, Neil Young, Pearl Jam, Stone Temple Pilots, Guns N'Roses and more. Next was my first look at Tyrone-based foursome E.N.D., who stepped up the musical aggression with their early thrash metal-rooted sound. Lead vocalist and guitarist Will Zimmerman, guitarist Eamonn Sweeney, lead vocalist and bassist Erik Schlosser and drummer Alec Plumley generated thrash metal brutality with fierce rhythms and guitarwork, go-for-broke velocity and scathing vocals. Some of E.N.D.'s songs included "Suffocate," "Drink 'Til You Punk," "Suicide Warriors" and a torrid take on Rob Zombie's "Dragula." Caleb Bernstein then briefly performed some instrumental guitar passages, before Black Sun closed out the benefit. Singer Todd McKeone, guitarist Jason Feathers, bassist David Mollica and drummer Nate Woods churned out powerful, surging original assaults that blended the dynamics and ferocity of power metal with complex time signatures and rhythms, angular melodies and intensifying levels of angst. Black Sun took each number and rode it to leviathan, pummeling crescendos, enveloping audience members in the raw emotion as each song progressed. The benefit also featured door prizes, and raffled off a large drum set donated by Darl. The benefit was successful and raised money toward Jen's medical costs; hats off to Darl, Brian Coho, Todd McKeone, McGarvey's and all who supported this afternoon of music for a great cause!
The PennSOULvanians introduced their expanded roster in late January at McGarvey's, headlining a triple-bill that included opening performers Chill Bundlez and Kai. Joining the core duo if singer/guitarist Chet Denny and rap artist Michael Thomas are guitarist Nate Nagle, keyboardist Brett Fanelli, sax player Lyndsey Reilly and drummer Todd Harshbarger. The new-look PennSOULvanians brought an even brighter presentation to the stage, with livelier grooves and a funkier presence. Chet's voice was smooth and soulful, and Michael's raps and cadences rode the group's rhythmic backdrops well. The PennSOULvanians showcased many of their original songs, including "Anxious," the slower and soulful "Make It," the funky ""Girl You Deserve to Be" and more. The PennSOULvanians have taken yet another step forward with this new incarnation, and this group is well worth checking out in the months to come.
Another rapidly rising force on this area's music scene is Faded Flowers. In the process of recording their first release and quickly winning fans with their rousing live shows and upbeat brand of infectious rock, Faded Flowers has built much forward momentum since their arrival on stages last year. With Randy Servello behind the drum kit, Faded Flowers fired up the party last month at McGarvey's. Randy, singer Mike Kensinger, lead guitarist Jarrett Bickel, bassist Hunter Karns and rhythm guitarist Mike Wertz mixed catchy, rocking original songs with a wide-ranging variety of cover material. Among their original tunes this night were the harder-rocking "Souls," the slow-builder "Shoot the Moon," the uptempo "Out of My Head," "Imagination," "Unkind" and "Back in Your Arms." Their songs provided a blend of hooks and melodies, driving rhythms and Mike Kensinger's clear, up-front vocals and presence. The group also did great work on their cover material, integrating tunes from Queen, Collective Soul, Elvis Costello, Led Zeppelin, Stone Temple Pilots, Depeche Mode, Foo Fighters, Prince, David Bowie and Tom Petty into their own style and flavor. With Mike Wertz singing and rapping lead, and Hunter and Jarrett swapping instruments, Faded Flowers broke out a fresh take on Snoop Dogg's "Gin and Juice," and they saved their most popular cover until last, finishing with The Darkness' "I Believe in a Thing Called Love." Faded Flowers inspired hearty cheers, and drew increasing numbers of audience members onto the dance floor as the night progressed. These Faded Flowers are blooming brightly on area stages; catch a show and discover them soon!
Black Cat Moan is also a rising band name well worth checking out. During their latest performance at McGarvey's last month, Black Cat Moan captivated audience members with their uplifting brand of blues-based music. With blues as their foundation, Black Cat Moan explores funk, jazz and rock flavors, blending them into an enthralling, original style and sound. "Saint" George Byich on guitar, Ron Bonsell on drums and Brad Jamison on bass bring sharp musicianship to the stage, setting the groove-driven launching pad for singer TK Mundok's freewheeling performances. This man seizes the moment during each song and rides the vibe to maximum heights, connecting to audiences with his blend of voice, nonstop stage movements and personality. Black Cat Moan mixed new original songs with numbers from their latest album, "Symbols." One of the new numbers this night was "Sophia," and they also did their take on the traditional blues standard "Rollin' and Tumblin,'" which they recently recorded to open the 400thepisode of the "Rollin and Tumblin" radio program on WYEP in Pittsburgh. The group also did their popular "Is What It Is" off "Symbols," as well as one of their earliest numbers, "Anna Lee." This band's future looks bright, with more recording and a busy show schedule setting up for spring and summer. Watch for Black Cat Moan on stages throughout western PA and beyond in the months to come.
Pittsburgh punk-rocking force The Cheats slammed the lid on a Super Bowl-eve, four-band bill at McGarvey's early last month, presented by Turbojugend Rail City. (Turbojugend is a worldwide punk rock-centered community that sprung from the international fan club of Norwegian deathpunk band Turbonegro. There are now 2,300 Turbojugend chapters around the world, and Rail City is the Altoona area's chapter.) Local punk favorites The Flannels and X's For Eyes, plus Pittsburgh's Middle Finger all fired up the party leading up to The Cheats' set. Former Eviction frontman Todd (Porter) Cheat, "Philthy Phil" Irvin on bass, Devin Holiday and Rob Senomar on guitars, and Kyle Cheat on drums hammered high-powered, short and sweet punk anthems from their catalog, mixing a number of new tunes with some previous material. I didn't catch too many song titles, but some of the new tunes included "Lookin' So Tough" (about women with Joan Jett haircuts), "I'm the One She Loves to Hate" and "Novocaine." The Cheats' performance was full-throttle and caution-to-the-wind, and Todd kept the crowd centered on the stage action with his powerful vocal howl and wit. The crowd demanded more at set's end, and The Cheats responded by breaking out one of their older tunes, "Day After Day," to slam the lid on the night. These guys were tight and exciting, and delivered a feverish, fun set. The Cheats are currently recording a new album, "Cussin,' Cryin' and Carryin' On," with an early summer release expected.
An established component in Altoona's vibrant punk rock scene, the Railroad City Murder Machines recently released their self-titled CD. The group celebrated music from that album during last month's "V-Day Hangover Show" at McGarvey's. Pittsburgh's Middle Finger opened the night before my arrival, but I did get to see the second group of the night, local "dadcore" punk rockers The Snipped, as they debuted a number of new high-velocity punk anthems along with songs from their "#dadcore" CD, and even gave a "dadcore" update to Bruce Springsteen's anthem "Born to Run." The Railroad City Murder Machines – guitarists and vocalists Cheeze and Tim Mort, bassist Danny Mort and drummer Bill Mort – fired off brisk, punk-fueled songs from the album, including "Old Ghosts," "Backsleeve," "These Streets," "El Rey," "Unforgivable" and more. The Railroad City Murder Machines' blend of high-energy rock, catchy song hooks and tight execution fired up the crowd, who demanded one more song at night's end. The group responded with their punk-fueled reboot of Phil Collins' hit "In The Air Tonight." Railroad City Murder Machine is also a rising name that is winning fans on this area's music scene; watch for their frequent appearances at McGarvey's.
In the mood for a headbanger's ball, I caught up with Cambria County 80's metal specialists Sunset Strip during their Valentine's Day performance last month at the Bakerton Athletic Association. Bringing 80's hair metal and arena rock to audiences for a dozen years, the current edition of Sunset Strip includes the founding core of singer Scott Mulligan and bass man Frankie Lyxxx, joined by guitarist Scott Sensebaugh and drummer Dan Way. Sunset Strip triggered the dance floor party with anthems from AC/DC, Bon Jovi, Cinderella, Poison, Tesla, Autograph, Judas Priest, Whitesnake, LA Guns, The Cult, Motley Crue and more. The group also threw in a few surprises along the way, including their version of The Sweet's early 1970s hit "Little Willy," Velvet Revolver's "Fall to Pieces" and "Slither," and broke out Iron Maiden's "Wasted Years" toward night's end. This edition of Sunset Strip still delivers the hard-rocking thunder, and Scott Mulligan still brings the party to the crowd, rallying folks out of their seats and onto the dance floor.
Alyssa Hankey is a rising name, spreading her distinctive brand of acoustic folk-based music on stages throughout western PA and beyond. I caught the latter part of her late January performance at Altoona's Railroad City Brewing Company, where a nice-sized audience was present to appreciate her talents. Armed with acoustic guitar and her hearty, husky voice, Alyssa sang original numbers, including tunes from her latest album "American Spirit," along with some select covers done in her own distinctive voice and style. Alyssa uniquely blends folk, blues, country and classic rock elements into her original style, channeling influences ranging from Bob Dylan to Bruce Springsteen to Janis Joplin. Some of Alyssa's original songs this night included "The Flood" off the new CD, as well as "Blowing Smoke" and a few others. She also applied her signature style to renditions of Bruce Springsteen's "Thunder Road" and The Band's "The Weight," which ended the night. I obtained Alyssa's "American Spirit" CD after the performance, and Alyssa even included an official Alyssa "hankey" (handkerchief)! Alyssa maintains a busy performance schedule throughout western PA, and also hits the road to share her music across the country.
And after the Kansas City Chiefs won Super Bowl early last month, Felix & the Hurricanes provided the musical post-game celebration during their weekly Sunday night shindig at Altoona's Black & Gold Tavern. The Sunday night lineup of singer and guitar man Felix Kos, drummer and singer Bob Watters and bassist and singer Pat McGinnis played their unpredictable mix of classic and southern rock, blues, country, folk and more. Always part of the fun of watching the Hurricanes is seeing where they musically go next. Felix usually cues the rest of the group with his guitar, and his bandmates and audience hang on for the ride. This night, the group shifted between numbers from John Prine, Robben Ford, The Doors, Neil Young, Cream, Allman Brothers, George Thorogood, Marshall Tucker Band, The Clarks, ZZ Top, Little Feat, Delbert McClinton, Fabulous Thunderbirds and many more. Highlights included Felix's guitar fireworks on Bob Seger's "Turn the Page" and the Allmans/Molly Hatchet's "Dreams I'll Never See," his slide guitar skills on Jimmie Rodgers' "T for Texas" into the James Gang's "Funk No. 49," Bob singing lead on Confederate Railroad's "Trashy Women" and more. Felix & the Hurricanes opened a Leap Day concert for former NBC "The Voice" finalist Josh Gallagher late last month at Altoona's Mishler Theatre.
News and notes…Afro N'At, Chris Vipond & the Stanley Street Band, The Roof, Space Koi, John Peacefire, Rik Golden, High Street Drifters, Wolfgang Moon, Wilted and others will perform during the Cre814 Winter Carnival, happening March 7 at the U.S. Hotel in Hollidaysburg…The former Crowbar live music venue in State College is again under new ownership, and has reopened as Stage West – State College…Former area musician Aeb Byrne, who played keys and flute during the early years of State College band favorites The Nightcrawlers, plays flute on Stone Temple Pilots new acoustic-geared album, "Perdida," which was released last month…Only months after releasing their "Snake Eyes" CD, Johnstown heavy metal specialists Darkness On The Radio parted ways last month…The Pittsburgh music scene lost a pioneering reggae musician last month; Uzell Finney, Jr., a founding member and guitarist of Pittsburgh longest-running reggae group The Flow Band, passed on Feb. 11 after a battle with prostate cancer at age 65…And Baltimore blues performer Reggie Wayne Morris, who performed at Pennsylvania college campuses and other venues in recent years, passed away on Feb. 4 at age 66.
Please send correspondence and recordings to: Jim Price, 1104 S. Catherine St., Altoona, PA 16602. You can also e-mail me at jptheprofessor@gmail.com. And if you're into social networking, look me up on Facebook. SUPPORT LOCAL MUSIC!