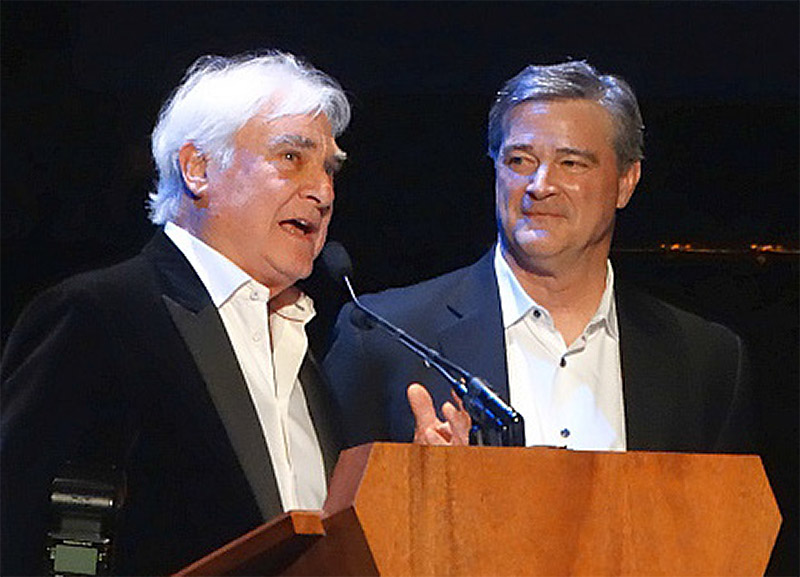 4th Annual Central Pennsylvania Music Awards
---
In last month's article I was raving about the return of warmer weather and the return of live music to the outdoors. But outdoor live music during this time of year has a risk factor, as rain and the last vestiges of winter cold can still wreak havoc on early season outdoor events. As I write this, I'm looking forward to doing emceeing duties at one outdoor festival event and attending another outdoor event this weekend (the last weekend in April). The forecast says rain, heavy at times, both days. But the show must go on, and I'll plan and prepare accordingly.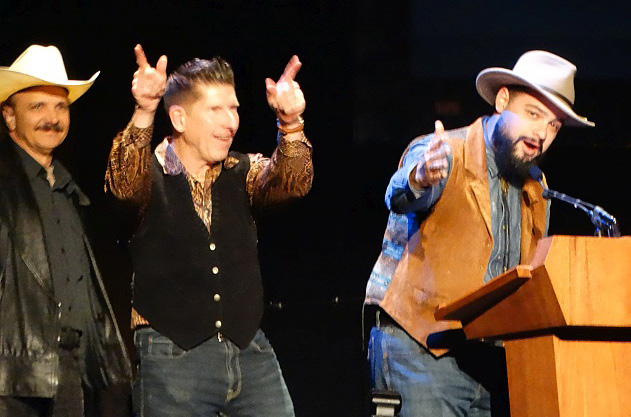 All of the shows I attended since last month's deadline were indoors, and thus no rain…One of the big highlights was attending the 4th annual Central Pennsylvania Music Awards (CPMA's) and Hall Of Fame induction ceremony in late March at the Hershey Theatre. Witnessing who took away top honors in the 2022 CPMA's was again exciting, as awards were presented live for 35 different categories; 11 additional awards were presented during the pre-show red carpet event in the theatre's lobby area. Multiple award winners included Cody Tyler & Gypsy Convoy, taking awards for Best Country Band and Album/Ep of the Year for their "Stare Your Demons Down" album; Bobby Gentilo, taking the awards for Best Blues Band and Best New Band; LeahBeth Evans of The Frost Duo, who won Best Female Vocalist while the duo won Best Jazz Band/Artist; and Hunter Root won the Best Songwriter award, while his band, Medusa's Disco, captured the Best Rock Band award. This year's Whitey Noll Lifetime Achievement Award was presented to longtime sound production professionals The Clair Brothers. For a total list of award winners, visit the website www.cpmhof.com. The awards were presented in between Hall Of Fame inductions; famous for their 1971 Top-20 hit song "Timothy," The Buoys were the first band inducted; three of the group's surviving members received the award and performed acoustic versions of both "Timothy" and the follow-up single, "Give Up Your Guns." Inducted immediately after them was Harrisburg-based band The Legends, which Dan Hartman was affiliated with before he left to join the Edgar Winter Group. The next inductees were York-based 1950s and 60s soul and doo wop group The Quin-Tones, who performed their 1958 nationwide Top-20 hit "Down the Aisle of Love. Although not present, Poison frontman Bret Michaels and jazz artist Steve Rudolph were recognized for their inductions. Breaking Benjamin was then inducted into the Hall Of Fame; guitarist Aaron Fink, bassist Mark Klepaski and drummer Jeremy Hummel received their award and thanked the audience for their support during the past two decades, and the group Ignite The Fire performed a rendition of Breaking Benjamin's "Breath." The final induction to close the night was presented to Harrisburg-based 1970s pop and funk group The Maxwell Project. The current group continues to entertain audiences with classic R&B, funk, soul and dance music; known as Maxwell in the 1970s, the group issued three albums and enjoyed regional airplay with the hit songs "Radiation Funk" (created in the aftermath of the Three Mile Island nuclear incident) and "A New Star." The Maxwell Project performed "A New Star" and ended the night with their fusion of Morris Day & the Time's "Jungle Love" and Mark Ronson & Bruno Mars' "Uptown Funk."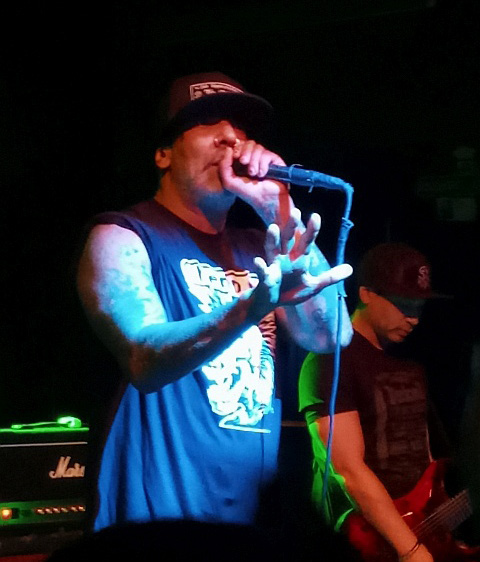 California rockers (hed)PE returned to McGarvey's in Altoona last month, headlining a Monday night triple-bill. Altoona's Hate Grenade led off the bill before I arrived; New York City's Rebelmatic was just getting started when I entered the venue. The rowdy roster of vocalist Creature, guitarist Alkatraz, bassist Karnage and drummer Ramsey Jones lit up the crowd with their high-powered, all-out blend of funk, punk and hardcore. Their music was heavy and volatile, but it grooved and kept folks moving. I didn't catch many of their song titles, but some of Rebelmatic's songs this night included "Blood and Gold" and "Blown Away." (hed)PE then ignited the house with their feisty mix of rock, punk, hip-hop and reggae. Frontman Jared Gomes, guitarist Nathan Javier, bassist Kurt Blankenship and drummer Jeremiah "Trauma" Stratton did songs from throughout their career, opening with "Game Over" and proceeding through such numbers as "Peer Pressure," "Killing Time," "Let's Ride," "Pac Bell," "Sophia" and more. The group ran the gamut from intense to grooving, with Jared breaking out his melodica from time to time. (hed)PE's homestretch included their version of the Ramones' "I Wanna Be Sedated" (from their latest album, "70s Hits from the Pit"), followed by their popular radio song "Bartender" and the finale, an extended slow-burning take on "Renegade," with Nathan riding the song's repetitive riff to set up for an explosive finish.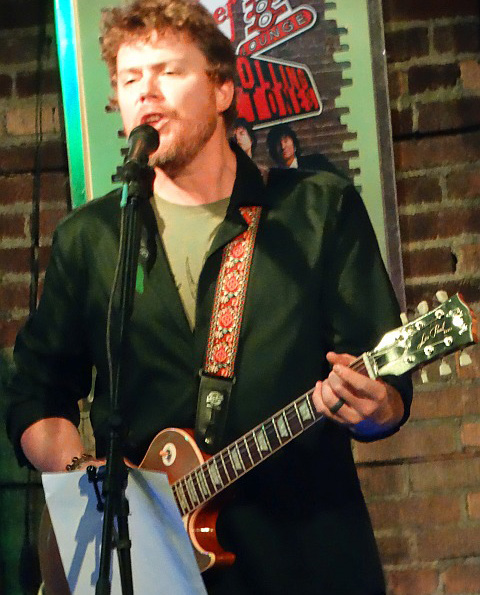 I also caught some local musical theatre at McGarvey's last month, as "McGarvey's Theatre" hosted 39 Tigers Productions' presentation of "The Great American Trailer Park Musical." Directed by Rich McGarvey and Tony Malvoisin, the two-act musical – written by David Nehls and Betsy Kelso – presented a hilarious adventure set in the fictitious Armadillo Acres Trailer Park in Florida, weaving a tale of abduction, a stripper, infidelity and magic marker-huffing that would make Jerry Springer quiver. Obviously, music was a part of this production, and the cast – Quinn Allen as "Betty," Andrea Taylor as "Lin," Ally Piper as "Pickles," Michelle Barnes as "Jeanie," Coryell Barlow as "Pippi," Travis Ross as "Norbert" and Jake Kibler as "Duke" – all displayed excellent singing voices on the various songs that helped to connect the story and transition between scenes. The pit band behind the music – keyboardist Jessica Heckman, guitarist Nate Nagle, bassist Aaron Kenawell and drummer Mike Vatavuk – sounded tight and consistent throughout the production. Theatre returns to McGarvey's in August with 39 Tigers Productions' presentation of "Glengarry Glenn Ross."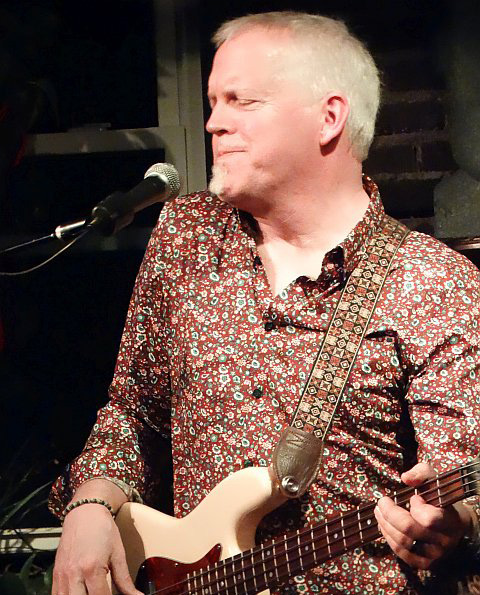 Mother Nature attempted a bad April Fool's joke with violent wind and thunderstorms on April 1, but that did not thwart me from catching my first look at Mr. Pocket as they performed at the LaunchPad in Philipsburg. Formed several years ago, Mr. Pocket – lead singer and guitarist Nate Sopic, bassist and singer Jason Sopic, lead guitarist and singer Tom Zattoni, and drummer and singer Mike Hughes – introduced the large audience to their wide-ranging selection of rock, blues and Americana original songs and covers. Their setlist was diverse, as Mr. Pocket tastefully tackled numbers from Stevie Wonder, The Band, Queens Of The Stone Age, Gin Blossoms, Oasis, the Pixies, Dire Straits, Tom Petty, Wallflowers, John Hiatt, Peter Gabriel, Jason Isbell, Drive By Truckers and much more. The group was vocally strong, and their instrumental arrangements and musicianship provided consistency and their own stamp on the material they performed. Some of their unexpected song highlights include versions of Mudcrutch's "The Wrong Thing to Do," Uncle Tupelo's "New Madrid," Warren Zevon's "A Certain Girl," REM's "What's The Frequency Kenneth," Crosby Stills Nash & Young's "Almost Cut My Hair" and more. Mr. Pocket kept the audience engaged and excited, enough so that the crowd called for more at night's end, resulting in a three-song encore to cap the evening. LaunchPad owner Shawn Inlow's house band, Stone Man, will perform the release show for their debut CD, "Heartbreaks," at the LaunchPad on May 6.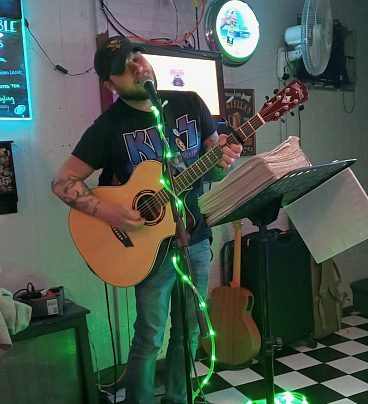 After completing my monthly PA Musician delivery route through Cambria County last month, I spent the evening enjoying some Johnstown area performers, beginning with Justin Garman at the Stadium Pub & Grille. I caught Justin's last set; brandishing acoustic guitar and harmonica, Justin sang a variety of original songs, 1960s and 70s favorites. His song list was interesting, as he performed a number of songs not often covered on area stages, and did them in his own hearty and expressive style. Some of his highlights included a version of Elvis Costello's "Deep Dark Truthful Mirror," Bruce Springsteen's "Blinded By the Light," Jimmy Ruffin's "What Becomes of the Brokenhearted" merging into the traditional song "I Bid You Goodnight," and the night-ending audience clap-along version of Bill Withers' "Lean On Me." Justin also sang numbers from Eric Clapton, Neil Young, Fleetwood Mac, the Allman Brothers and more. Justin continues to be a frequent flyer on Johnstown area acoustic stages.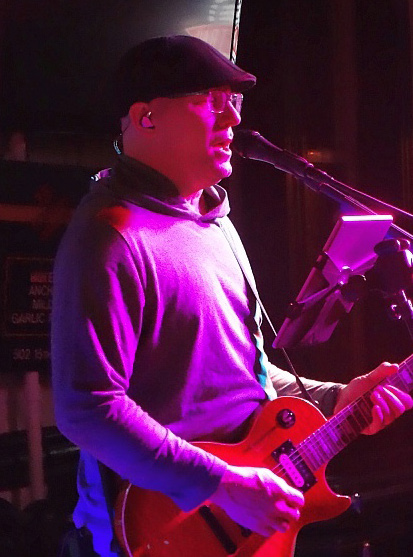 A rising name during recent months in the Johnstown area music scene has been The SuperAlrights, who I checked out last month at the Windber Hotel in Windber. Wil Fine plays bass, Mike Lux plays guitar and Kraig Maldet plays drums; all three sing. "The world's okayest alt-rock band," The SuperAlrights specialize in 1990s-era rock. Their song list this night featured a blend of favorites plus a few surprises. The group did plentiful 90s favorites from Foo Fighters, Oasis, Nirvana, Goo Goo Dolls, Sponge, Bush, Gin Blossoms, Everclear, Toadies, Collective Soul and others. They also pulled out some almost-forgotten 1990s gems like School Of Fish's "Three Strange Days," Dishwalla's "Counting Blue Cars" and Screaming Trees' "Nearly Lost You." The SuperAlrights had fun playing all of it, and the Windber crowd fed off that enthusiasm and kept the dance floor busy through the course of the night. The SuperAlrights have become frequent flyers on Johnstown area stages, and plan to expand their reach to other areas in the months ahead. They return to the Windber Hotel on May 27.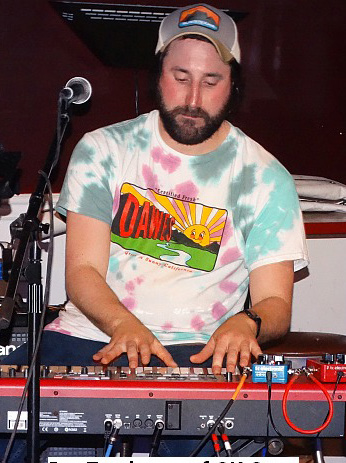 OK Otter and Donny Burns & the 3rd Degree teamed up for a double-bill last month at The Bar in Boalsburg. This was my first time seeing OK Otter, who has established a steady presence on Centre region stages. Singer and guitarist Mike Doyle, keyboardist Joe Tombasco and drummer Rob Bonsell introduced a distinctive, piano-driven alt-pop rock sound with catchy melodies and often playful lyrics. OK Otter performed several numbers from their 2022 album "Dad Rock 2," including "Drinking Outside," "Richie Tozier" and "Wendy Peffercorn," plus newer numbers such as "A Little Bit More," "Knock at the Door" and "Midnight Mass" (inspired by the Netflix TV show). The group threw in a few covers toward set's end, giving their own flavor to Burt Bacharach/Hal David's "Always Something There to Remind Me," Dead Or Alive's "You Spin Me Round (Like a Record)" and Dire Straits' "Walk Of Life." Donny Burns & the 3rd Degree followed with three sets. Namesake Donny on lead vocals and guitar, Nick Stahlman on guitar and vocals, bassist James Arroway and drummer Rob Chisholm performed all original songs during their first set; playing the entirety of their 2020 debut album "Satisfied" before introducing four new songs from their forthcoming new release – "Polythemus," "Ripple," "Fear and Trust" and a currently untitled newest number. The group fired up the rocking dance party in their latter sets, doing favorites from Guns N'Roses, Tom Petty, Aerosmith, Van Morrison, Sublime, a dance-inducing rock, funk and disco medley and more. Donny Burns & the 3rd Degree will anchor the 10th annual Wam Bam Mountain Jam near Port Matilda on July 1.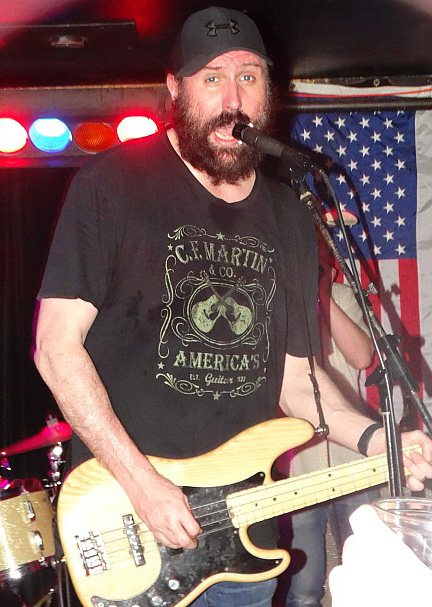 After departing The Bar, I headed into downtown State College to check out Lowjack during their weekly Friday performance at The Brewery. The house was packed due to being the Friday eve before Penn State's annual Blue-White football game. Lowjack kept the crowd festive – lead singer and bassist Jason Davoli, guitarist and fiddle player Dan Collins, keyboardist Joe Tombasco (who played with OK Otter earlier) and drummer Jake Shaffer played a wide variety of classic and modern rock and pop favorites, original songs and requests. The Brewery crowd partied down as Lowjack cranked out the favorites, including songs from Billy Joel, The Killers, Red Hot Chili Peppers, Rolling Stones, Modest Mouse, Lynyrd Skynyrd and many more. The group also honored requests for Red Hot Chili Peppers' "Under the Bridge," Gotye's "Somebody That I Used to Know" and Matt Maeson's "Hallucinogenics." Guest Nate Cutshall joined the band onstage a few times to wail harmonica, including on versions of Chuck Berry's "Johnny B. Goode" and the Wallflowers' "One Headlight." And Lowjack did several of their own tunes, including "In My Head," "One Last Kiss" and "I'm Coming Home to You." Lowjack is a mainstay on downtown State College stages, playing every Thursday and Friday at the Brewery, and Saturdays at the Phyrst.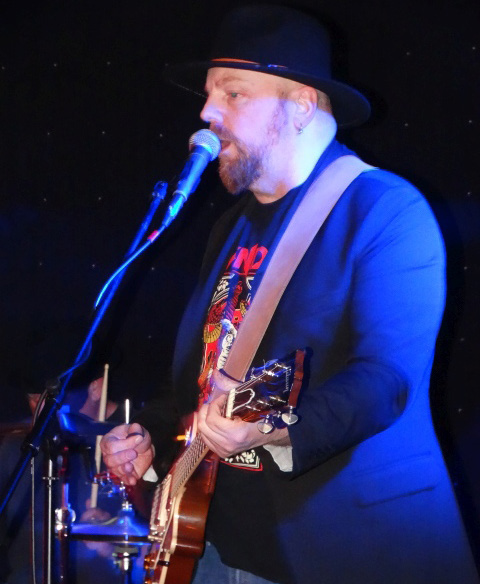 After releasing their double-album set "Saints and Souls" Volumes 1 and 2, the Jeremy Edge Project returned to Altoona's 4D's Lounge in late March to celebrate music from the albums and multiple blues and blues-rock gems. Jeremy on lead vocals and guitar, John DeLowery on bass and Ray Gieda on drums did many bold and blues-rocking songs from the new albums, including "No Way Home," "Ghosts of the Living," "Better Way," "South of the Border," the soulful "Coral Castle," "Move On" and others. They also triggered dancing with many of their blues-rooted cover fare, including numbers from Cream, Doors, ZZ Top, George Thorogood, Blackfoot, Black Crowes, Stevie Ray Vaughan, Led Zeppelin, Free, Jimi Hendrix and more; they also gave the slow-dancing crowd a treat with a version of The Commodores' "Easy." The Jeremy Edge Project again gave a powerful performance; Jeremy demonstrated his guitar skills early and often, generating some amazing solos and shredding along the way. And the rhythm section of John and Ray delivered the rumble behind Jeremy; Ray sounded especially thunderous on the group's night-ending rendition of Black Sabbath's "War Pigs." If you haven't yet checked them out, the Jeremy Edge Project returns to the 4D's Lounge on May 27.
The full-band edition of Altoona's Walkney took the stage at the 4D's Lounge in late March. Originally slated as a double-bill, sickness forced the other band to bow out, opening the door for the debut performance by solo singer and guitarist Dominic Frucella. Dominic made the most of his opportunity, prompting applause as he did a mixture of acoustic originals and favorites. His style encompassed popular folk, country and soul; his originals this night included "Country Blues" and "Southbound," and he did nice work on songs from Bill Withers, Chris Stapleton and John Denver, helped out on a few by banjo player Mike Wallace. Walkney – singer, guitarist and founder Derek Mrdjenovich, bassist Nate Nagle and drummer David Applas – performed two sets featuring numerous original songs. The general style was hard-rocking modern pop. Some of the original numbers were newer songs such as "I Don't Care," "Is Anybody Out There," "Because of Love" and Derek's solo acoustic number "Run Away," which he sent out to his Aunt Marsha. Walkney also did a few covers, including their own distinctive rendition of the Steve Miller Band's hit "Fly Like an Eagle."
The area's youth band movement has been on the rise during the past couple of years, and I took my first look at one of the latest young bands to generate some buzz, Havoc, as they performed last month at Cresson's Shovel Head Tavern. Six members strong, the Nanty Glo-based group kept the audience happy with their mix of classic and southern rock favorites. Waylon on lead vocals and guitar, lead guitarist Wyatt, singers Darian and Abby Rae, bassist Johnny and drummer Jozi Lee showed their skills and versatility on a range of material, spanning tunes from Lynyrd Skynyrd, Hootie & the Blowfish, Tracy Chapman, Bruce Springsteen, Bob Dylan, Faster Pussycat, Kid Rock, Georgia Satellite and more. Havoc also introduced a few of their own original songs, such as "Gone" and "Nashville Blues." Other highlights included Waylon and Abby Rae blending their voices on Kid Rock/Sheryl Crow's "Picture" and Fleetwood Mac's "Landslide," Abby Rae's strong voice on the Cranberries' "Zombie," the audience sing-along version of Garth Brooks' "Friends in Low Places," and – after the Cresson crowd demanded an encore – the ever-popular "Tennessee Whiskey" to close out the night.
Bedford's Bella Terra Vineyards recently moved to a new address, and I visited the new location last month to catch the latter half of the performance by the father-and-son tandem of Rhyne and Tabyn McCormick on the outside deck. Rhyne sang and played acoustic guitar, while Tabyn jammed on electric guitar. Together they entertained onlookers with a mix of classic rock and pop covers done in their own style, plus a few originals. Some of their surprises included a slow and bluesy acoustic take on Michael Jackson's "Billie Jean" to open the third set, versions of the Beatles' "Don't Let Me Down," Prince's "Little Red Corvette," Tom Petty's "Learning to Fly," John Brim/Van Halen's "Ice Cream Man," Dwight Yoakam's "Fast As You," plus numbers from Van Morrison, the Rolling Stones, John Mellencamp and more. They pulled out one of Rhyne's Red Eye Kings original songs, "Secret," with Tabyn having fun with the reverb on his guitar, and another original song, "Spark in Your Heart." Rhyne and Tabyn return to Bella Terra Vineyards in June.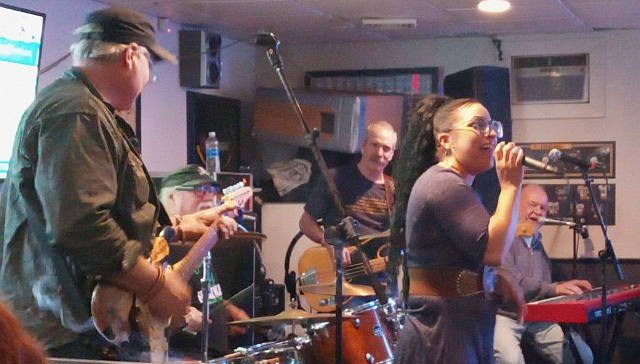 And I was again reminded that every weekly episode of Felix & the Hurricanes' Sunday shindig at Altoona's Black & Gold Tavern packs a different musical adventure. I caught two episodes last month…Guest Dave Villani added his signature organ groan to the Hurricanes' April 2 performance, joining lead Hurricane Felix Kos on guitar and vocals, Bob Watters on drums and vocals, and the group's Sunday night bassist, Pat McGinnis. Dave displayed his jazz chops during the 'Canes version of "Freeborn Man," and the frequent solo trade-offs between Dave and Felix provided constant excitement…And when Felix lost his voice before the April 16 episode, guest guitarist Tom Fronauer and bassist Pat handled the lion's share of singing duties, with guest John Shimko stepping in to contribute his best Molly Hatchet growl on versions of "It's All Over Now" and "Dreams I'll Never See."
The area music scene was saddened in recent weeks with two passings…The Altoona area music scene was saddened by the passing of longtime area musician Barry Yeager on April 5; he was 73. Barry was the owner of Panda Productions, which provided sound and lighting for various events. Barry's involvement with area band projects extends back to the 1970s. He most recently was the keyboard player for Altoona-based classic rock group Kickin.'…And longtime area musician Kyle Pickett passed away late last month. Kyle fronted and played guitar with numerous band projects during the past several decades; including Amacitia in the 1980s, the Meenies, his own self-named band and others. Kyle made a number of recordings of his original music, including several vinyl albums with Amacitia. He was a popular fixture in the regional music scene and collaborated with others.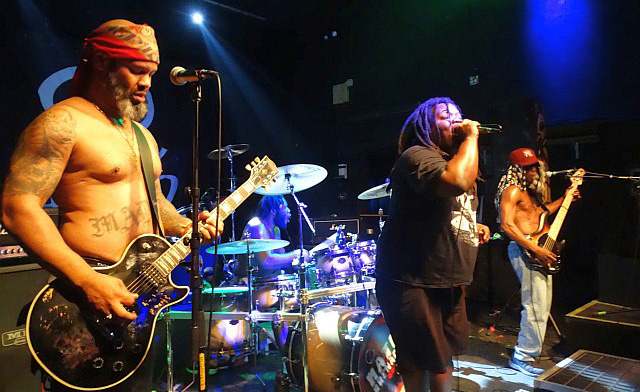 News and notes…Organizers of Johnstown's Classic Vinyl Concert Series have announced the albums they will perform for their next concert. Comprised of musicians throughout the greater Johnstown and surrounding areas, the Classic Vinyl Concert Band will next take on both Michael Jackson's 1982 album "Thriller" and Prince's 1984 album "Purple Rain"; the concert takes place on Oct. 28 at the State Theater of Johnstown, and tickets go on sale May 5…The Pennsylvania Heritage Songwriting Contest continues to accept entries for its 2023 edition. Songs must have a Pennsylvania namesake, theme or reference, and can be about a location, person, event or story tied to Pennsylvania. Deadline for entries is May 15; winners for the top three songs will receive cash prizes plus the opportunity to perform their songs during the 2023 Smoked Country Jam Bluegrass Festival at Quiet Oaks Campground near Cross Fork June 15-17. For more information, visit www.smokedcountryjam.com/phsc/… Altoona-based punk rockers Abstentious announced that guitarist Brayden Adams is departing the group to continue his academic pursuits; the group will continue on, and will release their new album, "The Album…Ever," on May 5, with a release show (and Brayden's last show with the group) on May 7 at McGarvey's…Stacy & the Rejects are seeking a new drummer and bass player to start playing with the group in late summer or fall; the group's current drummer and bass player, Mike Davis and Josh Yahner, are leaving the group to concentrate on their original music endeavors and their Alice In Chains tribute project, Deny Your Maker…Singer Ryen Beam announced that he recently parted ways with Altoona area indie rockers The Nerves; Ryen left the group to focus priorities on his health and family…Homer City-based rockers Post Traumatik have completed recording sessions for their forthcoming brand new album, called "Saint Traumatik"…and Wax Mekanix, the creative alter ego of former Nitro drummer and singer Tim Wilson, has submitted his new album to Philadelphia-based indie record label Electric Talon Records; that album should be available later this year.
Please send correspondence and recordings to: Jim Price, 1104 S. Catherine St., Altoona, PA 16602. You can also e-mail me at jptheprofessor@gmail.com. And if you're into social networking, look me up on Facebook. SUPPORT LOCAL MUSIC!