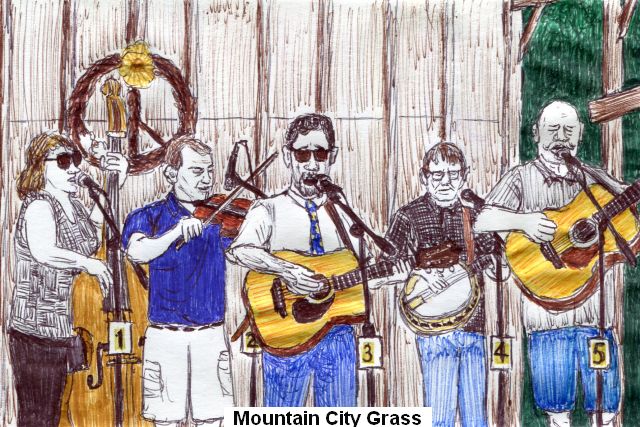 ---
By Jim Price
Another summer has transitioned into fall, and as colors begin to appear on some trees around my hometown of Altoona, summer festivals are transitioning into fall festivals, with a few more weekends of live music remaining before arriving cold temperatures chase everything back indoors.
During its first seven years, proceeds from the annual Pickin' For Wishes benefit concert have enabled the Make A Wish Foundation of Greater Pennsylvania and West Virginia to grant 43 different wishes for young people dealing with debilitating and life-threatening health conditions in Cambria, Blair and Huntingdon Counties. Now a highlight of the late summer season, this year's Pickin' for Wishes happened in late August at the Cresson Sportsmen's Association. This was a great day all around, as four groups – Mountain City Grass, Hickory Bottom Band, Hillbilly Gypsies and Mama Corn – provided bluegrass sounds throughout the day. (Tree performed the night before.) Each group performed twice during the course of the day, with Mountain City Grass kicking off the music at high noon. This group's current edition – Denny Cerully on vocals and acoustic guitar, Kate Cerully on upright bass, Jason Dodson on fiddle, Jeff Bell on banjo and Ed Decker on guitar – celebrated bluegrass tradition as they dug into the catalogs of The Stanley Brothers, Flatt and Scruggs, Jimmie Martin, Bill Monroe and more. They performed plenty of time-tested bluegrass favorites with a relaxed and jovial presentation, and helped set the day's happy tone. Next was the Hickory Bottom Band, featuring members from Bedford and Somerset Counties. Mark Bollman on mandolin and vocals, Christina Bollman on guitar and vocals, Roger Grimm on guitar and vocals, Tim Custer on banjo and Dan Smith on upright bass mixed a variety of folk, bluegrass and country numbers, plus original songs from their recently-issued CD. Some of their original numbers this day included the "Shanksville Stomp" and "Troubled Angel." They also performed numbers from Country Gazette, Merle Haggard, Dan Seals, Roseanne Cash, Dave Evans and others; and they also grassed up versions of B.J. Thomas/Blue Swede's "Hooked on a Feeling," Pure Prairie League's "Amie," The Coasters' "Rhythm of the Rain," and – for the finale of their last set – an instrumental take on "Somewhere Over the Rainbow." The Hillbilly Gypsies picked up the tempo during their two sets, having fun and showing dazzling musicianship as they mixed traditional folk and bluegrass numbers with a few surprises along the way. Singer and guitarist Trae Buckner, wife Jamie Lynn Buckner on lead and backing vocals, Levi Houston Sanders on 5-string banjo, new fiddle man Robbie Mann and Ryan Cramer on doghouse bass kept it lively with tunes from Kenny Baker, Pete Rowan, Flatt and Scruggs, Jimmie Martin, Hazel Dickens, Don Reno and more. Highlights were numerous, including their fast-firing instrumental displays on Earl Scruggs' "Pike County Breakdown," Flatt & Scruggs' "Shuckin' the Corn" and Bill Monroe's "Wheel Hoss" (thanks to Robbie for educating me and the rest of the audience on what "peelin' the taters" on fiddle is all about!), also Jamie Lynn belting out her passionate voice on the traditional folk murder ballad "Pretty Polly," and the group's version of Marshall Tucker Band's "Fire on the Mountain." And Mama Corn delivered the fun as well; singer and guitarist Bruce Forr, singer and banjo player Jeremy Nelson, upright bassist and singer Bryan Homan and dobro, harmonica player and singer Johnny Stevens mixed songs from their catalog of original tunes with their folksy and grassy takes on select covers. Original songs such as "High Rise," "About a Minute Ago" and "Someday Knock on Wood" were again crowd-pleasers, and Mama Corn also broke out the Ben Nelson-penned "Shenandoah Mountaintops," the Manfred Mann-popularized "Fox on the Run" and more. Beyond the music itself, Pickin' for Wishes was all about the kids, and several Wish kids were brought onto the stage throughout the day to share their special stories of how having their wishes granted by Make A Wish brought them happiness and hope as they dealt with their respective medical situations. One Wish recipient – former thyroid cancer patient Troy – "paid it forward" by organizing a fundraising golf tournament for Make A Wish that happened a few weekends after this event. The stories were heartwarming and heart-tugging, and reminded everyone of the real reason for Pickin' for Wishes.
After a stormy forecast forced cancellation of Penn State Altoona's "Ivyside Off the Rails" music and arts event in April, the originally-scheduled headliner, We The Kings, finally did play at the campus in late August. Recent NBC "The Voice" contestant Jimmy Mowery and his band, The New High, opened the evening with a mix of modern rock/pop original songs and select covers, including several that he performed during his "Voice" run last spring. Jimmy will be opening a concert for his "Voice" coach, John Legend, in Newport, Rhode Island on Oct. 4, and he returns to Altoona to perform at the Jaffa Shrine on Oct. 12. We The Kings soon took the stage and captivated the campus audience with their brand of energetic, rocking brand of power pop. The Florida-based group did songs from throughout their career, punctuated with stories and humor from singer and guitarist Travis Clark. The personable frontman wove a tale of how a date evolved into a unique game of Tetris as he led into the group's hit "Secret Valentine," and he had fun with audience members and bandmates alike throughout the set. We The Kings led off with "Skyway Avenue," and did their popular numbers such as "She Takes Me High," "Just Keep Breathing," "Sad Song," "Say You Like Me," and for their finale, "Check Yes Juliet," where the audience sang the song's last chorus back to the band a cappella.
The We The Kings concert was among several live music highlights during Labor Day Weekend. Another highlight was the annual Cambria City Ethnic Festival in Johnstown, with abundant food, vendors and live music happening at stages and venues along and near Chestnut Street. My Ethnic Fest journey started at ACRP's "Irish Corner," as Full Kilt performed when I first arrived on Saturday. Singer and guitarist Mike Zerbee, fiddler Mandy Passmore-Ott, bassist and singer Chris Myers and drummer Jake Yarnish mixed up Irish rock and pub favorites with original tunes, Irish takes on popular rock songs and more. They led the crowd on a clapping contest during "Whiskey in the Jar" and gesture calesthenics during the "Unicorn Song," and did Irish-toned reboots on John Denver's "Thank God I'm (An Irish) Boy" and Charlie Daniels' "The Devil Went Down to (Dublin)." I next saw Three Of Hearts performing outside Holy Cross Lutheran Church. The biggest highlight of their set wasn't even musical, as the group celebrated the health and recovery of drummer, keyboardist and singer John Shimko – back in action after suffering a massive heart attack while performing during the Thunder In The Valley motorcycle rally in June. John celebrated life and thanked Conemaugh Health System for his recovery; several times playing keys, drums and singing simultaneously. He, bassist Duaine Detrick and guitarist Joe Tirpak played a variety of rock'n'roll hits from ZZ Top, CCR, John Mellencamp, Bob Seger, Four Seasons, Van Morrison and more. Also rock'n'rolling were the Tom Katz at St. Mary's pavilion; singer and keyboardist Tom Voytas, guitarist and singer Jack Duvall and drummer and singer Tom Romanak kept folks happily dancing with hits from Roy Orbison, Bruce Springsteen, Rolling Stones, Billy Joel, Johnny Cash, CCR and more – even their original song, "Cambria City's All Right With Me." Octane then capped the night at Ace's Lounge with their hard-hitting sounds, and kept the dance floor packed as they spanned 1980s rock from Bon Jovi, Ozzy, Journey and Duran Duran to nu-metal favorites from Papa Roach, Linkin Park, Disturbed and everything between.
I returned for Sunday's Ethnic Fest entertainment, again starting at ACRP's "Irish Corner" as The Irish Pretenders were under way and celebrating traditional Irish, Irish rebel and pub songs. Flanked by Dave Scott and Bob Mahood on guitars and mandolins, Tripp Crilly on guitar and harmonica, and Mike Docherty on bodhran and vocals; singer, guitarist and ringleader John Skelley shared history, stories and insight about the songs and Ireland. The Irish Pretenders did such numbers as "A Place in the Choir," "The Enniskillen Dragoon," "Finnegan's Wake," Phil Coulter's "The Town I Loved So Well" and more. I then proceeded to the Venue Of Merging Arts (VOMA) outdoor stage, where the Bird Dogs – Adam Milkovich and Justin Giuffre – were performing. With Adam switching between guitar and mandolin and Justin playing guitar, both performed acoustic rock and folk numbers from Neil Young, Rolling Stones, The Band, Johnny Cash, Steve Earle, George Jones, Grateful Dead and more. Josh Spinelli from the Les Hunter Band then followed, performing a selection that mixed his own original country songs with tunes from the Rolling Stones, Neil Young, Little Feat and others. I then saw Totem as they wrapped up the live music at St. Mary's Pavilion. Perry Sheesley still fronts and plays guitar in the group, with his son Corey now playing bass, plus Gene Suto on keys and Tom Gajewski on drums. As I dined on the St. Mary's Polish food grand slam of halushki, halupki, pirohi and kolbasi, Totem performed classic rock hits and favorites from the 1960s through 1980s; pulling out numbers not often covered on local stages such as the Vanilla Fudge take on "You Keep Me Hangin' On," The Beatles' "Revolution," Bryan Adams' "Somebody" and "Cuts Like a Knife," Norman Greenbaum's "Spirit in the Sky," Paul Simon's "Late in the Evening" and more. Totem sounded sharp – Perry still sings with a hearty voice and can still wield a mean guitar, and Gene fired off some impressive solos on the keys, with Corey and Tom providing full, driving rhythms. My last Ethnic Fest stop was at the Catholic Slovak Hall, where Latrobe-based foursome Near The Edge played an energetic variety of classics and hits. Comprised of Denny on keys, Dave on guitar, John on bass and Steve on drums, Near The Edge surprised with their variety, pulling out songs from Billy Preston, Simple Minds, Escape Club, Pink Floyd, Sly & the Family Stone and more.
Labor Day again brought me to the Blair County Game, Fish & Forestry Association's annual Ox Roast Festival, and I was able to witness Chad Patterson's performance. Now a solo performer after his duo with Mike Clapper, Borrowed Time, ended earlier this year, Chad strummed and sang a variety of rock and pop classics from the 1960s and 70s. He did a lot of songs not often heard on live stages anymore – such as Donovan's "Mellow Yellow," Sonny & Cher's "The Beat Goes On," Simon & Garfunkel's "Scarborough Fair," Jonathan Edwards' "Sunshine" and more. He also did numbers from CCR, Neil Young, Roy Orbison, Stealers Wheel, Nitty Gritty Dirt Band, Eric Clapton and more. Coupled with great weather and the festival's ox roast sandwiches plus other edibles, Chad's performance provided a pleasant and relaxing portion to the Labor Day afternoon.
I also caught the latter portion of Rosie & the Jammers' performance in the waning moments of the annual Forest Hills Festival in St. Michael. Group namesake Rosey Sida on keys, Jim Mosey on guitar and lead vocals, Brian Anator and Brian Regala, and Eric Furfari on accordion mixed a variety of polkas and pop standards; everything from Ben E. King's "Stand By Me" and Perez Prado's "Cherry Pink and Apple Blossom White" to the "Detroit Polka," "Hot Dog Polka," "They're Always In the Way Polka" and "In Heaven There Is No Beer."
Downtown Indiana again hosted the Northern Appalachian Folk Festival last month. I caught a good portion of Saturday's entertainment slate, starting with Grist For The Mill. Six members strong and based in Ambrose (north of Indiana), Grist For The Mill performed an intriguing blend of pop, soul and swing-era classics. Several band members sang; Patti Holmes crooned the Frances Langford-popularized 1935 standard "I'm In the Mood for Love" and the jazz standard "All of Me," while guitarist Dave Loomis sang lead on Ray Charles' "Unchain My Heart," and Al Craigie – brandishing a double-neck 'Frankenstein' guitar – fronted the group on Cole Porter's "Do I Love You." Next was Jim Donovan & the Sun King Warriors, who brought their upbeat brand of rocking groove and Americana. The group shifted some of the spotlight on Indiana native, guitarist and harmonica player Dan Murphy, allowing him to show his talents before his hometown crowd. Other highlights included the song "We Have Arrived," which culminated in a vibrant percussion jam featuring Jim Donovan behind the kit, plus conga and bongo player Bryan Fazio and Joe Marini on snare drum; and a version of the Rolling Stones' "Sympathy for the Devil" with guest Chuck Olson belting out the Jagger-ish lead vocal. As the crowd had swelled to fill nearly the entire block of Philadelphia Street from front to back, the Jukehouse Bombers then delivered scorching electric blues and blues rock to the masses. The group – the father-and-son singing and guitar-playing tandem of Jimmy and Joe Roach, guitarist Kirsch, bassist Troy Laney and drummer Josh Williams – introduced several new numbers from their forthcoming recording, and a rendition of Santo & Johnny's "Sleepwalk" dedicated in memory of popular local musician and community figure Ken "Hiram" Holliday, who passed in July. Headlining this festival in the town where it all began for them 33 years ago, The Clarks marveled at the huge Indiana crowd as they performed favorites from their vast original song arsenal. Lead singer and guitarist Scott Blasey recalled the group's beginnings in the basement of Sigma Chi Fraternity in 1986, and both guitarist/mandolinist Rob James and bassist Greg Joseph stared in wonder and commented that they had never seen Philadelphia Street this full of people before. The Clarks mixed new numbers with established favorites; including "Born Too Late," "Penny on the Floor," "Let It Go," "On Saturday" and "Better Off Without You," and welcomed guest Dylan Murphy (son of Sun King Warriors' Dan Murphy) to play drums on the ever-popular "Cigarette."
I made it to two Grange fairs in recent weeks. In late August, I caught one of the last nights of the annual Centre Grange Fair near Centre Hall. A thunderstorm had rolled through the area shortly before my arrival, which might have helped out bluegrass performers Remington Ryde by chasing some folks under the roof at the Southside Stage. Four members strong, Remington Ryde served up two sets that blended traditional bluegrass, country, gospel and original songs. The group did numbers from Jimmy Martin, Bill Monroe, Flatt & Scruggs and others; plus performed a version of Steve Earle's "Daddy Doesn't Pray Anymore" and Hank Williams' "Move It On Over," where the group staged a duel between mandolin player Josh Daniels and upright bass player Ron Truman. I also caught part of The Jukebox Heroes' performance on the Grandstand stage. One of several performance entities of the New Jersey-based Mahoney Brothers, Jukebox Heroes impersonates and salutes famous names from throughout the rock'n'roll era. This night they strung together three-song mini-sets saluting the look and sound of Buddy Holly, Willie Nelson, the Beatles, the Beach Boys and more.
And I saw The Boomers as they entertained during last month's Harmony Grange Fair near Westover. On a pleasant, cool late summer night, the Boomers line-up of singer and bassist Bob Helbig, guitarist Dave Nichols and drummer John Stevens triggered some dancing and kept audience members pleased with their mixture of vintage and classic rock and roll from the 1950s through 1980s. They covered a wide swath of material this night, spanning early rock'n'roll gems from Del Shannon and Ritchie Valens to 1960s tunes from Johnny Rivers, Swinging Blue Jeans, The Swingin' Medallions, The Kingsmen and Steppenwolf, 1970s numbers from Norman Greenbaum, Eric Clapton, Bob Seger and the late Eddie Money, and 1980s favorites from Greg Kihn Band, John Fogerty, John Cafferty & the Beaver Brown Band and Poison. The Boomers executed like a well-oiled machine as they had fun and cut loose – Dave was lighting it up on the guitar strings; his solos were dazzling, and he demonstrated great slide work on "Stuck in the Middle with You" and the group's closing rendition of Santo & Johnny's "Sleepwalk." The Boomers kept the music constant and the people happy, and this night's performance showed why this group remains a steady favorite on the region's stages.
Johnstown's Roxbury Bandshell closed the book on its 2019 concert season last month with a double-bill. Jeff Webb and the Delectable Sound started the music; I arrived during the latter half of their performance, and enjoyed what I heard as they did numbers from Earth Wind & Fire and Redbone, the original number "We've Only Got Tonight" off their "Crossroads" CD, and their joyous set-finishing rendition of the Beatles' "Hey Jude." Johnny Cash and June Carter tribute Ole 97 then presented their celebration of Johnny and June, plus a few other country legends and some original tunes as well over their two sets. This was an excellent performance – Randy Hunter and Charlene Boldin both sounded great in the Johnny Cash and June Carter roles, flanked by guitarists Joe Brucker and Doug Nagy, bassist Andy Heinze and drummer Paul Carpenter. They did the established Johnny favorites, of course – "I Walk the Line," "Ghost Riders (in the Sky)," "A Boy Named Sue," "Folsom Prison Blues" (dedicated in memory of the late Bill Venet Sr.), "One Piece at a Time" and "Ring of Fire." They performed some of the Johnny and June duets as well, such as "Jackson" and "Long Legged Guitar Pickin' Man" – Randy and Charlene displayed a fun performance chemistry, you could tell they were both having a blast! Ole 97 included some classics from other legends as well, with Charlene singing lead on Loretta Lynn's "Coal Miner's Daughter" and Janis Joplin's "Me and Bobby McGee," Joe singing and playing fiddle on Charlie Daniels' "South's Gonna Do It Again," as well as fronting the group on Hank Williams' "Your Cheatin' Heart" and Glenn Campbell's "Rhinestone Cowboy," and the group saluting veterans in the audience with Sgt. Barry Sadler's "Ballad of the Green Berets." Ole 97 performed some original songs, too, including two inspired by Johnny Cash – Randy shared the story of how the group's chance encounter with Marty Stuart (who played in Johnny's band) inspired the song "Black Flag," and Joe sang the group's established Johnny-themed original " A Whole Lotta Cash." Ole 97 closed their show in patriotic fashion, saluting the flag with their rendition of Lee Greenwood's "God Bless the U.S.A."
The third time was the charm…After Rokkandy's two previous attempts to perform at Altoona's Valley View Amphitheater were scuttled by bad weather, the weather was great for their third try last month to close out the Amphitheater's concert season. Singer and keyboardist Pat McConnell, singer and guitarist Bob DeArmitt, bassist Kelly Montgomery and new drummer Bobby Frye, Jr. mixed hits and favorites spanning the 1960s to now. They kept the music constant with tunes from Jimmy Eat World, Maroon 5, Kid Rock, Pretenders, Young MC, Proclaimers, AC/DC, Steppenwolf, Sugar Ray, Madonna, Def Leppard, Ramones, Joan Jett, Bon Jovi, Toni Basil and more. Rokkandy kept it casual and fun on the stage, and their shifting between rock, pop, hip-hop and dance numbers kept things interesting throughout. One haphazard highlight came when – as the drummer took a quick bathroom break – Bob and Pat started into a surprise rendition of Little River Band's "Cool Change!" (Rokkandy has a new drummer since this show, as Todd Mallory replaces Bobby behind the kit.
Roadkill is back. With a new line-up, Roadkill made their return to the live stage during a benefit last month at the Slovak Club in Osceola Mills. "Roadkill's 30th" marked the 30th anniversary of Roadkill "rot n'roll," while raising money for Lisa's Ladybugs Patient Care Fund. The assembled crowd didn't have to wait long for "rot n'roll" to reconvene…The 2019 incarnation of Roadkill – founder, singer, bassist and ringleader Greg Majewsky, guitarist Tommy Raab and drummer Clayton Miller – took the stage and played their rampaging title song, "Roadkill"…before Greg told the audience, "Thanks for coming," and all three musicians exited the stage. A few moments later, the three returned to the stage anyway to play the rest of their set. (Yes, Greg's sense of humor is still intact!) Roadkill proceeded to mix new songs off their just-issued "Still Alive and…Well?" comeback album with many of their established classics. They introduced the lengthy jam "Happy Blues" from the new CD, followed by what is destined to become the next Roadkill classic, the anthemic shout-along, "American Slob." The band members shared some tender moments about life before playing their ode to Greg's lousy golfing skills, "Lost in the Woods." The hits kept coming – "Them Blues," their adoring tribute to a Canadian pop star, "I Wanna Be An Ex-Boyfriend of Alanis Morisette," their monstrous cookie salute "Hardcoreo," "Public Service Announcement from the Anti-Valentine's Day Council" and their set-closer, "The Adam Stomp." And they did one other number from the new CD, a tune about shady preachers called "You Should Be Ashamed." The new mach edition of Roadkill executed full-throttle and in-your-face; Greg howled and snarled his words with vigor and vinegar, apologizing to the crowd for "30 years of lousy music, terrible singing and unfunny jokes" along the way. It was a glorious return to action that had a number of longtime Roadkill fans cheering and shouting back song choruses. The benefit continued with Clayton taking the stage to perform some of his darker-toned acoustic original songs, before his other band project – the interestingly-named Chewbeardua – rocked some more original tunes plus a gritty take on Nine Inch Nails' "Hurt." The night then saw the debut of new area cover band The Mess. Featuring Roadkill's Greg on bass, Brad Eckberg on guitar, Trudy Eckberg on lead vocals and James Van Valkenburg Sr. on drums, The Mess mixed classics and hits from Jimmy Eat World, Journey, 4 Non Blondes, Tracy Chapman, Violent Femmes, Alice In Chains, Blondie, Lynyrd Skynyrd and more.
McGarvey's featured some wild shows in recent weeks. One of them was a 'hellish' triple-bill that featured The Goddamn Gallows, Mephiskapheles and The Flannels. I did not get to see The Flannels or Mephiskapheles, but did arrive as The Goddamn Gallows brought their fire-and-brimstone brand of raucous punk, folk, metal, bluegrass and gypsy musical vibes to the stage. The Motor City-based contingent of frontman/guitarist Mikey Classic, doghouse bass player Fishgutzzz, Jayke Orvis on the mandolin and Baby Genius on drums kept the crowd wild and dancing with action-packed tunes and crazy antics. The group mixed up tunes from their latest album, "The Trial," with numbers from throughout their discography. Mikey's raspy hellfire preacher vocal was front and center as he and the group rode the musical line between salvation and damnation…
And as McGarvey's marked the "Halfway to St. Patrick's Day" occasion last month with a full weekend of Irish-themed live music, Pittsburgh's Bastard Bearded Irishmen provided their raucous Irish-themed party. Six members strong, the group brought feverish, go-for-broke Irish punk-rocking firepower that kept the crowd charged from start to end. Movement was constant – especially mandolin player Danny Rectenwald, who came out onto the dance floor to lead a conga line at one point. The Bastard Bearded Irishmen had reckless abandon fun, performing death-defying Irish highjinks as they straddled stage barriers and climbed atop speaker stacks.
Other performers I saw recently included Ed N'Born, the husband-and-wife acoustic duo of Ethan and Savanna, and Wilted as they performed during last month's Downtown Night Market in downtown Altoona…The new four-piece mach edition of Black Cat Moan, including newly-added bassmsan Brad Jamison, as they presented their innovative brand of blues music at McGarvey's…Low Voltage, the new acoustic collaboration between Joe Konior and Lee Miller, as they entertained at the Hastings Moose…and Lauren & Joe as they entertained the Thursday night 'Wings & Sings' crowd at McGarvey's…So many performers, but only limited space!
News and notes…Round The Mountain, LLC, kicks off their new season at Altoona's historic Mishler Theatre on Oct. 11 with their "From Nashville, Songs and Stories, Vol. 7" songwriter showcase; that performance will feature three top Nashville songwriters – Jenn Schott, Phillip White, and Mark Nesler – performing and sharing stories behind hit songs they have written for such names as George Strait, Reba McIntire and Tim McGraw… Stephanie & the Wild Hearts, August Wake, Zach Wade & the Good Grief and Half Tempted area among the performers at the 8th annual "Striking Chords Against Cancer" benefit concert, happening Oct. 18 at Altoona's Jaffa Shrine to raise funds for the American Cancer Society…Post Traumatik has landed their song "Running Free" into the new horror movie "Hell House LLC III: Lake of Fire," which debuted last month on horror and thriller streaming service Shudder…Popular area 1980s hard rockers Bashful are presenting a remixed and remastered 30th anniversary edition of their 1990 album "Down for the Count," and plan to release the album – rebranded "Down for the Count 2020" – in December; the group has begun a Kickstarter campaign to help fund the manufacturing of the album…Darkness On The Radio has finished work on recording their new CD, which should be available later this fall…Candlelight Red founder and guitarist Jeremy Edge is recording a new full-length album under the name The Jeremy Edge Project, to be released near the start of next year.
Please send correspondence and recordings to: Jim Price, 1104 S. Catherine St., Altoona, PA 16602. You can also e-mail me at jptheprofessor@gmail.com. And if you're into social networking, look me up on Facebook or Google+. SUPPORT LOCAL MUSIC!