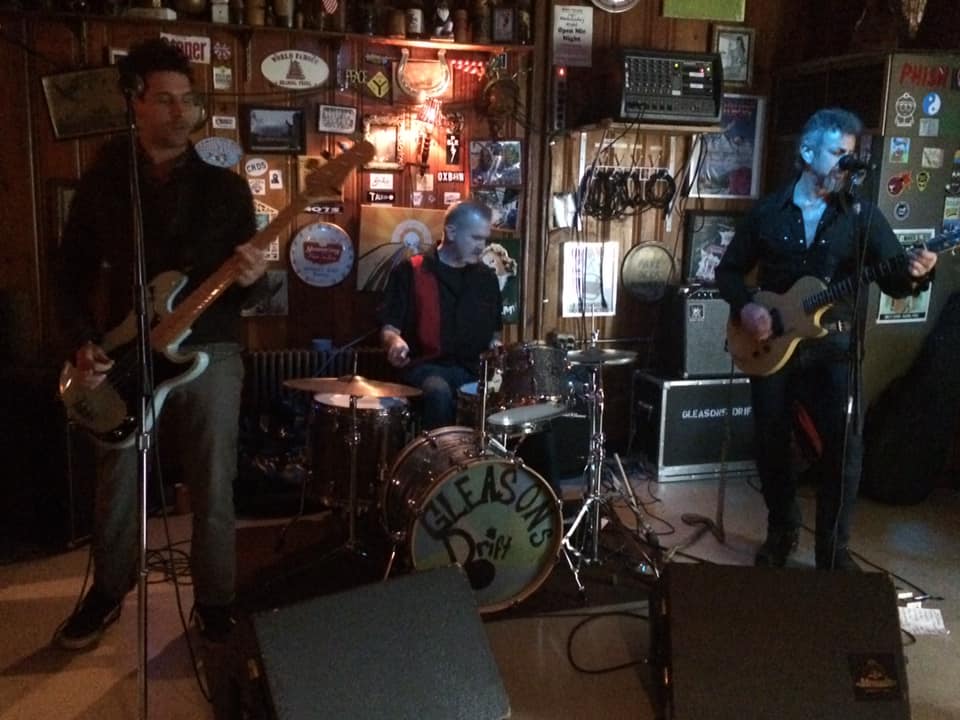 ---
By:Eric Hoffman
Greetings Rockers 'N' Rollers! Heavy metal band Jackyl began last month with a show at Harrisburg's Club XL on March 8th. The band is best known for the song "The Lumberjack", which features a chainsaw solo by lead singer Jesse James Dupree. There was a great crowd turn-out to hear hit singles like "Down on Me," "Dirty Little Mind" and "When Will it Rain." Jackyl's debut album in 1992 sold more than a million copies and strangely enough hold two Guinness world records, one for playing 100 concerts in 50 days, and one for performing 21 concerts in a 24-hour period. Jackyl had visited Harrisburg once before in November 1994 at Metron.
The Martinis (formerly Martini Bros) returned last month with a couple shows in both Reading and Pottsville. It had been a few months since their last performance and they opened for Gleasons Drift for these two nights. Martinis put on a great show for a fun night at Mike's Tavern in Reading, PA. Its always a great experience seeing a familiar band in rare settings and different Pennsylvania towns.
I was fortunate to be invited to watch the band Jet Silver on March 17th, as they rehearsed for a show later in the month. The Lancaster/Harrisburg based band sounded amazing and is gaining momentum again as they play shows periodically. Jet Silver were preparing for a benefit show at Lancaster's Tellus 360 on March 31st. The event benefits the Susan Giblin Foundation and features the music of The Clash played by local artists. The legendary album "London Calling" will be played in its entirety and Jet Silver will contribute 6 Clash songs.
March 23rd required a trip to the Rock 'N' Roll Hotel in Washington DC where Plague Vendor opened for All Them Witches. It was my second time seeing Plague Vendor who are incredible live and led by the rail thin wail of vocalist Brandon Blaine. The garage-post-punk band has been on the scene for a decade and will release their second full-length album By Night on June 7th. Plague Vendor are signed to Epitaph Records and return this Summer in June for Vans Warped Tour in Atlantic City, NJ.
NATIONAL NEWS: Woodstock 50 has announced many artists for the festival at Watkins Glen Raceway in Bethel Woods, NY. Headlining on August 16th are: The Killers, Miley Cyrus and Santana. Dead & Company, Chance The Rapper, and The Black Keys top the lineup August 17th; and Jay-Z, Imagine Dragons, and Halsey close out on August 18th. Other artists include The Lumineers, The Raconteurs, Nathaniel Rateliff and The Night Sweats, Run The Jewels, The Head and The Heart, Maggie Rogers, Michael Franti & Spearhead, Bishop Briggs, Fever 333 and Larkin Poe on Day 1. Sturgill Simpson, Greta Van Fleet, Portugal. The Man, Leon Bridges, Gary Clark Jr.; Edward Sharpe and the Magnetic Zeros, Dawes, Margo Price, India.Arie, Jade Bird, Rival Sons, and Emily King are among the performers on Day 2. And Cage the Elephant, Brandi Carlile, Janelle Monáe, Young The Giant, Courtney Barnett, Common, Vince Staples, Judah and The Lion, Earl Sweatshirt, Boygenius, Reignwolf, The Zombies, and Pussy Riot are highlights on Day 3. Tickets go on sale on Earth Day, April 22nd.
On December 28th, Lady Gaga launched her Las Vegas residency at the Park Theater at Park MGM. She sold out all 11 shows and grossed a combined $15.9 million with 59,162 tickets sold. Gaga returns to the Park MGM from May 30 to June 15 for nine shows; and Oct 17 to Nov 9, when she will perform 12 more shows. Celine Dion began her Vegas residency 16 years ago at Caesars Palace and has been followed by many artists including Aerosmith, Lady Antebellum, Drake, Britney Spears, Elton John, Bette Midler, Reba McEntire, Brooks & Dunn, Jennifer Lopez and currently Cher, who recently returned to Park Theater on March 13th. Cher has played 39 performances, selling 324,595 tickets, totally $39.4 million.
Music loss several musicians this past month including: Dick Dale, the "King of the Surf Guitar" who inspired musicians from the Beach Boys to Jimi Hendrix, died March 16th after battling cancer for more than 10 years. He was 81. Peter Tork, bass player of The Monkees died at the age of 77, from adenoid cystic carcinoma, a rare cancer of the salivary glands. Keith Flint, frontman of The Prodigy, committed suicide at his home in Essex, England. He was 49. The Prodigy were known for their huge hit, "Firestarter."
Two notable bands of Central PA have announced Summer tours. York natives, Live, are co-headlining with Bush for the ALT-IMATE Tour, honoring the 25th anniversaries of Live's Throwing Cooper and Bush's Sixteen Stone, both released in 1994. The 33-date trek begins June 6th with shows in Baltimore August 24th and the Allentown Fair August 27th. Our Lady Peace will provide support on the tour. Live frontman Ed Kowalczyk commented, "I'm really looking forward to spending the summer with Bush. I know the fans are going to get one hell of a show." And Red Lion natives, Halestorm, are joining Alice Cooper for a 19-city tour. The outing kicks off July 17th in Allentown at the PPL Center and wraps August 16th in Camden, NJ at BB&T Pavilion. This will be Lzzy Hale and company' first Summer amphitheatre tour. Lzzy stated, "We are beyond excited to announce our new tour with the man who burnt the rule book on Rock 'N' Roll .. Alice Cooper. We are honored to be sharing the stage with such a legend. School's definitely out!"
Aerosmith are bringing their Vegas residency "Deuces Are Wild" show to three East Coast venues for multiple nights. MGM National Harbor in Oxon Hill, Md., with gigs scheduled August 8th, 10th and 13th and Borgata Hotel Casino & Spa in Atlantic City is hosting the Bad Boys from Boston August 16th and 18th. MGM Springfield in Springfield, Mass., completes the run with shows August 21st, 24th, 26th and 29th. The Las Vegas shows kick off April 6th at the 5,200-seat Park Theatre at Park MGM resort, where the show will feature never-seen-before visuals and audio from Aerosmith recording sessions.
Morrissey has announced a 7-date residency at the 1,505-capacity Lunt-Fontanne Theater in New York City. The run is slated May 2nd to May 11th and will cover The Mozz's work with The Smiths and his solo stuff, including his new cover album California Son, due out May 24th. Morrissey's Broadway residency follows in the footsteps of Bruce Springsteen's incredibly successful run at Walter Kerr Theater, which drew to a close at the end of 2018.
UPCOMING CONCERTS: BRONCHO Baltimore Metro Gallery Apr 2. LIVE WIRE AC/DC tribute Hollywood Casino Apr 6. DON EGAN Harrisburg Zeroday Apr 19. FRANK TURNER & Sleeping Souls Harrisburg Club XL Apr 20. TIMMYS CREEPSHOW Harrisburg River City Apr 20. THE SHRINE NYC Baby's All Right Apr 24. TOMMY CONWELL & Young Rumblers Ardmore Music Hall Apr 27. Edgewood / Tsunami Experiment / TSHTJF Harrisburg Zeroday Apr 28.