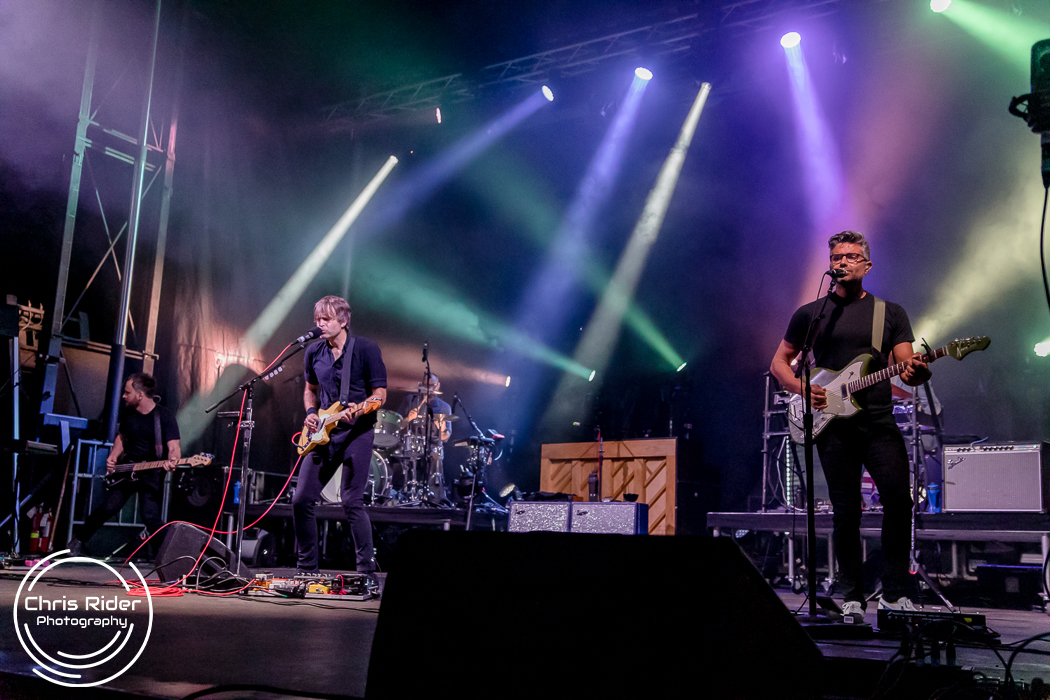 ---
By: Michele Kelley
I recently saw a question posted online and so I thought I would let you ponder this one, as I did. If you didn't have to sleep, what would you do with your extra time? It's a great question since no one seems to have enough free time these days. Mine would probably be spending more time fixing up my old house that seems to have never-ending projects. Or maybe see some more bands. That one is more likely to happen. It's a reminder though to slow your world down and do the things that make you happy. So, if it's fixing your old house, or listening to bands, whatever it may be, make the time! My goal for June and every month after is to do one thing that really makes me content and happy. I hope you do the same!
In last month's article, I mentioned we were taking a trip to WV for Waynestock and that I would follow-up this month with a run-down. In short, there was a lot of rain, but most importantly, a lot of laughs and great time spent with great people. We arrived a couple of days early which was so nice to have some down time. Or what some might say, "the calm before the storm". Wayne brought in Drew Ryan and his crew from A.R. Entertainment in Chapel Hill, NC. They provided the staging, lighting and sound for the weekend. Friday night, Drew put on a killer DJ set that had everyone up dancing. He even had some special effects and pyrotechnics that were amazing. Saturday night, Singer/Songwriter, Greg Riordan from Rock Cave W.V., opened for The Mighty River Band. He put on an exceptional show. He also plays with his band The Fox Hole Prayers. Check him out!
The Mighty River Band from Harrisburg, took the stage and put on a hell of a performance! Members include Josh Thompson: Guitar/Vocals, Aaron Daniel Gaul: Guitar/Vocals, John Bigham: Keyboards, Marcy Thompson: Vocals, Jeremy Pierce: Bass, Travis Bossler: Percussion and Michael Culp: Drums. One of the best things about this job is not only hearing great music but meeting genuine people. I can honestly say these guys are authentic. Many of these members have become friends and I was so glad they decided to play Waynestock. Great show guys!
To sum up Waynestock, it was a great time! A special thanks to Rick and Heather, owners of River Expeditions. You will be hard-pressed to find anyplace with as many outdoor things to do. They really have done an outstanding job of highlighting everything beautiful about the W.V. mountains. So much work goes into putting this together each year. This year Wayne and his crew really brought their A game! Thank you for making the 20th Anniversary so memorable. I can't wait to do it again next year!
After our vacation was over, it was back to hitting the streets searching for some gems in Central PA. We didn't have to go but a few blocks away to find them. The Liverpool Volunteer Fire Company was holding their annual carnival. Wednesday night of carnival I was feeling a bit under-the-weather, so I missed what I am told was the sweetest performance of the National Anthem. Landon Mak, who just turned 5 in May, sang his heart out. Landon is from the York area and you may have seen him singing in March at The Hershey Bears hockey game. Things really took off for him after this! He performed for Fox and Friends TV in NYC a few days later and since has performed at another Bears game, traveled to Jacksonville, FL for a golf tournament, Polar Bear Hockey Events, ABC 27, Officer Brad Fox 5k Run/1K Walk in Warminster, York Revolutions baseball game and some radio stations. I was able to see some videos on YouTube and everyone was correct, pure sweetness! Landon's upcoming shows include Harrisburg Senators baseball games, PA Wounded Warriors Charity car show, Hellam carnival fireworks night, Clyde Martin Speedway and more. Follow him on Instagram @landonsingsofficial.
Next at the carnival was The Dirty Mojo Blues Band from Williamsport. Members include Shawn Strickland: Harmonica/Vocals, Al Meck: Guitar, Chris Carithers: Guitar, Tim Reinhard: Bass and Mark Peterson: Drums. The weather was horrible and we had some downpours that completely drove the crowd away. Even when it was raining sideways, the band continued to play on. They did a great job and hopefully they can come back next year and show the area what they have going for them. Thanks for coming guys!
Friday night at the carnival, an 80's rock tribute band from Schuylkill County called Sapphire brought in the crowd. The 6-piece, female-fronted band has been together for 16 years and members include Michele, Eric, Steve, Paul Jon and Mike. They sang great tunes all night long. Ones I have not heard since MTV stopped playing actual music. This group is high-energy and really put on a show, not to mention super nice people! Really enjoyed hearing them play!
The following night we headed to Club XL where Road Case kicked off the evening. They are a Classic Hard Rock band from the Mechanicsburg/Carlisle area. Members include Chris Redding: Vocals, Chris DellaPorta: Guitar/Vocals, Ed Piccolo: Drums, Jeff Lawrence: Bass/Vocals and Clint Lyons: Guitar. They played some hard-hitting classic covers that got the crowd singing and dancing.
Next on stage was Defiant! They didn't quite fit the genre of the other bands playing that night but none-the-less, they were outstanding! Members of this metal/hard rock band include Al Halterman: Vocals/Guitar, Joe Defiant: Guitar, Paul Barlowski: Bass and Paul Cochran: Drums. With only being together a year, on stage they are a tight, heavy-hitting band. Off stage they are a hilarious group of guys stirring up Shenanigans! Great job guys!
The final performance was a local favorite, KIX. I am sure the readers of this magazine know all there is to know about them so I won't repeat what has already been written. They sure know how to play to their crowd and have some loyal followers. Their stage performance is truly amazing. It's always a party when KIX is playing.
Harrisburg University hit another homerun when they booked Death Cab for Cutie to play on June 19th at Riverfront Park in Harrisburg for their Concert Series. Being along the river and seeing the planes, trains and automobiles while waiting for the band only added to the excitement of the patient and pumped crowd. The sound, lighting and stage was top notch. Despite the downpour of rain before the show kicked off, Frank Schofield from HU stated they had around 4K in ticket sales and they could not have picked a better location! It was big enough for the crowd to move around comfortably and not feel too crowded. Opening for Death Cab was Bad Bad Hats, an indie rock band from 'Minnesoooota' as the lead singer, Kerry Alexander pronounced. They are a young, 3-piece group that have a cool vibe about them. Their music is very fresh and vibrant. They recently released a new album "Lighting Round" that I will be checking out and adding to my playlist. Give them a listen!
Death Cab for Cutie took the stage next. Death Cab has been around for many years, since 1997 to be exact. I had people asking me before the show what kind of music they play. If you never listened to them before, their name would lead you to believe they are a heavy rock band, but they are not. More of an Alternative Rock Band. Most of their music played on the radio is on the mellow side so I was curious how they would be live. Their live show was nothing but explosive! The energy they had on stage was truly impressive. Looks like they will also make it to my playlist. Check out their latest release, Northern Lights (Acoustic) which is available now on about every streaming app.
With the positive response of having music back in Harrisburg along the river, it's not a matter of wishing it happens again but wondering who will be next! So much time and planning went into this event and it really paid off. With the help of sponsors and support from Dauphin County, Comprehensive Financial Group and Faulkner Subaru they were able to put this concert together seamlessly. Harrisburg University Fall Concert Series lineup was just released and is available on their website at www.harrisburgu.edu under New & Events.
Round 4 of the Spring Series for Whitaker Unplugged was outstanding! This month's performers were Tht Grl, The Townies, Indian Summer Jars and Itsy & Im. All performances were sensational! It is always a hard decision to make and each month it seems to get harder and harder. I don't want to even think about the unimaginable decision at the Finale. The winners this month go to The Indian Summer Jars who put on a breathtaking performance. Congratulations guys! This series is extraordinary but don't take my word for it. Come check it out for yourself! Admission in only $5 in advance or $8 at the door. Each month the winner receives $100 cash and a paid gig at Strawberry Square. The winners will advance to the finale on August 16th. The final winner will get $500 in recording time at the Green Room and perform on the main stage at Kipona! So, please bring all your friends and join us on July 19th at 5pm! As always, a cash bar will be onsite so come have a drink after your long work week and enjoy some outstanding original music!
After Whitaker Unplugged, I scooted over to Club XL to see Smooth Like Clyde. I was flying solo on this one so my photos are not the amazing quality you're used to seeing with Chris Rider Photography but the effort was made. It has been years since I saw Smooth Like Clyde. I remember the last time I saw them at Tubby's; they were such a fun band and they have only gotten better over the years! SLC is a 5-piece band from Harrisburg that has been around since 2007 playing R&B, Hip Hop, Funk, Dance, Top 40 and Rock hits from the 70's to today's current hits. You will hear just about everything you can imagine from Earth, Wind and Fire to Backstreet Boys, Journey, Alice in Chains to the electric slide. Members include Tyrone King, Chris Guerrisi, Kevin Brennen, Kevin Askins and Ross Sackler. Such a fun time with these guys!
I must take a minute to give a shout out to Club XL. I know we are there a lot and I talk about them all the time. Let me say a few things and you may begin to understand what a special thing they have going on. Usually when I go, I am with Chris but the last show, my friend Tracy met me there. It was her first time there it's always nice to see first timers coming into XL. If you have not been there yet, you are absolutely missing out! It is one of the best venues around. I have been there for a couple of different events and it's neat to see the place transform from a booming nightclub with a DJ to an indoor concert venue with close outdoor access next to the stage that you don't feel like your inside. It is one of the few places that I would never give a thought about going to alone and feel safe, both inside and parking. I cannot say enough about the outstanding job their staff does to keep things safe, comfortable and make sure you have a good time. I know it may not seem like much to guys but as a female, it means everything, so thank you XL!
As I wrap things up, I also want to point out a trend in the music industry this time of year. Although summer is a great time to be outdoors, a lot of venues struggle with bringing in people. With vacations, picnics, nightly campfires and all the fun things that come along with summer, this time of year brings a decline in venues. Please try to visit the venues that support live music. You not only support the venue but the musicians playing that also struggle this time of year.
We will be covering The Marshall Tucker Band, The Outlaws and Molly Hatchet at Spyglass Ridge Winery, Sunbury on June 28th. We are really looking forward to getting back there! This month's article will already be on its way for distribution, so we will include that show next month. So many great shows are listed right here in this magazine so make sure to also check out the ads! I also have a ton of shows listed on my Facebook page under events @MichelePAmusician. Bands, keep sending me your shows to add and as always, ADVERTISE WITH US! So inexpensive and easy with a huge exposure! Give Josh a call or shoot him a message on Facebook and he will walk you through the easy process. Hope to see you all out at some shows and make sure to stop and introduce yourself! We love meeting our readers!