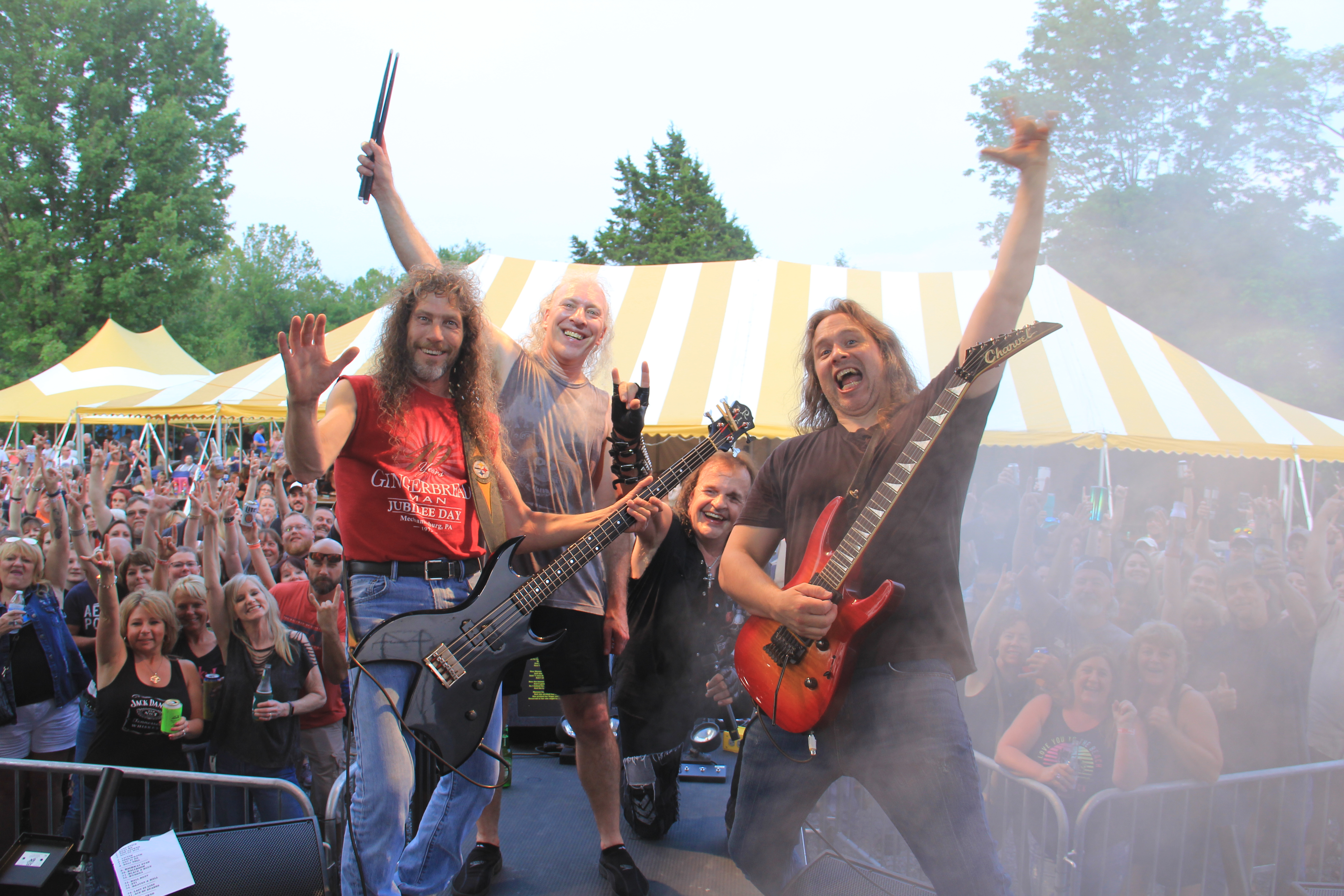 ---
By: Rachel Rocks
I hope everyone's Summer is going as good as ours. We've been so busy and so crazy it's all been a blur, but overall it's a been a blast. In between little spurts of time that I was home I did manage to still squeeze in a few bands.
This month started a long time ago on Memorial Day Weekend. After a super fun night of camping at Pinchot, my friend Holly and I decided to stop in at Artsfest to catch a few bands and eat some delicious food! We followed the music to the Central PA Jazz tent where Teen Town was on the stage. Teen Town are a three-piece jazz fusion band that really know how to rock! Even tho they are all 19 or younger, they don't let their ages stop them, collectively they've played at over 1,000 shows already and they are just getting started. I met them this past year at the MMC, and they've played at tons of different festivals and events, and basically anywhere they possibly can. They were drawing in the people's attention at Artsfest. I'm sure we'll be seeing more of these guys soon! It started looking like it was going to storm, so we started heading for shelter. On the way to the shelter we stopped by the Kunkle Stage and saw a few songs from The Dark Matter Trio. Drew Hall from Calling Off Doug is also in Dark Matter Trio, rockin' the bass! After the rain cleared and we scoped out all of our food choices, we headed back to the Central PA Friends of Jazz tent and we sat and listened to the Central PA Friends of Jazz Youth Band while we ate entirely too much food! The student ensemble was conducted by Ron Waters. It was cool to see Jazz music alive and well in so many young artists. They did a great job at giving all of the kids their chance to shine throughout the performance. The Central PA Friends of Jazz just had their 2019 Jazz Camp for youth ages 11-21. This year they had 106 students attend! It was an amazing time filled with training, playing, and lots of fun! If you have a young student who loves Jazz I would definitely stay tuned for their camp next year! You can also keep an eye on their website, www.friendsofjazz.org.
Sunday night I headed to HMAC to celebrate my good friend, Terri's 50th Birthday and to enjoy the live performance by Yngwie Malmsteen! For those that don't know Yngwie Malmsteen is a phenomenal guitar player. He has recorded 20 studio albums in a career spanning almost 40 years! I honestly didn't know that much about Yngwie, but Terri loved him so much when she was 13 she had a pet rabbit named Yngwie. I guess there have been shows where Yngwie doesn't even show up, but he definitely showed up at HMAC.
Before his amazingness took the stage, Paralandra opened the show. I can't imagine how all of the stars must line up for an opening act to a great musician like Yngwie, but Paralandra landed the spot, and it was well deserved. Paralandra had a female lead singer that definitely helped warm up the stage. Her range was insane and the entire band had crazy energy. I guess Yngwie ordered that they didn't have any stage lighting while they played. The Capital Room is pretty dark without stage lights, so French Fry snuck some lights on, but not many. Paralandra didn't let the lights phase them, they just rocked right through the darkness!
After their set, Yngwie took the stage and the lights lit up the wall of Marshall stacks behind him! I was glad I saw the stage set up before I went, it was definitely a night for ear plugs. Luckily the sound guys did an amazing job and keeping everything dialed in and on point, I was told that it wasn't unbearable even without ear plugs. I heard Nick Myers and the entire HMAC staff were loading in gear all day and getting things set up and queued in to perfection! They all had to be exhausted, but they kicked in full gear and kept everything running smoothly at HMAC. Yngwie played for almost a solid 2 hours. I couldn't believe how many times he switched out the same exact guitar and had the guitar tech changing his strings and tuning guitars. I asked Aaron Zimmerman why he was doing that and his answer, "Because he can.. and it's cool!" I guess Aaron was having a little guitar envy. Yngwie rocked his entire show and everyone I talked to loved the show! On a side note it was HMAC's new owners, General Manager Patrick Hite and co-owner Chris Werner's, 1st show. It had to be stressful, especially with someone as demanding as Yngwie, but they seemed to have pulled it off flawlessly. I can't wait to see even more shows at HMAC.
The following weekend it was time for the big Summer kick-off party, the DAM Party. It was once again an absolute blast, and this year it was even 2 days of awesomeness! This was DAM's (Dwain, Ashley, and Mark's) 7th year of DAM Parties, and they keep proving that they can make it bigger and better than the year before. The 1st night performances were Steel and Back in Black and the 2nd night was Road Case, STAVO, and The Pat Travers Band.
I made it down to the DAM Party Friday night around 7pm and I couldn't believe how packed the place was. The guys were a little nervous about having a two-night party, but there was no need to panic, I think they definitely made the right choice! Steel did an amazing job at getting the party started. I haven't seen Steel for quite a while, and it was awesome to see so many people up dancing and having a rocking good time. It's always fun having all of the headbangers unite and rockin' til the bitter end of their set! Steel will be rockin' Cliff's Underground Live on Saturday, July 20th. Come on out and headbang all of your frustrations away. You can check out Steel's full schedule in this issue and plan your next night out on the town.
The last band of the night was Back in Black. The headbanging definitely continued and the crowd just got crazier! The weather was absolutely amazing Friday night and people just kept coming in. The stage and lights were all done by Pennsylvania Entertainment Group (PEG) Chuck, Paul, and John and the rest of the crew and it was insane. I honestly don't know how many fog cannons they had on the front and sides of the stage, but I never saw so many CO2 canisters in one place for one show in my life! Of course as a photographer I wanted to find a way to disconnect them, but I guess as a regular bystander it did make it look pretty cool. Back in Black put on an amazing show as usual. Make sure and check out facebook.com/pamusicianmagazine for more cool pics in color of this event and all of our shows we all see throughout the month. Unfortunately, there is only so much space in the magazine and we can't always fit everything in.
I thought the DAM Party couldn't get any crazier until I arrived there for Day 2. There were even more people set up everywhere and already having a great time even before the bands started. The DAM Party also allows free camping overnight and there were quite a few people taking advantage of the accommodations. The first band was Road Case. These guys are developing a great following in the area and playing all throughout central PA and beyond, it's awesome seeing them get the recognition they deserve. Road Case plays real rock and roll from bands like Zepplin, Aerosmith, Gov't Mule, GNR, just to name a few. When you have amazing musicians like all of these guys it's great hearing them all rock out on their solos, guitar, bass, drums and of course vocals. It's awesome watching them play the songs they love, enjoying every minute of it! You can catch Road Case at Blarney's July 6th, you can also check out their ad in this issue and get their band booked at your venue or for your next event. STAVO was the next band of the night. They were traveling with The Pat Travers Band. I think they were a little bit of a shock to the crowd at first with their Progressive Rock music, but the crowd warmed up to them eventually, after all they are hard to resist. The whole band put on a great show, but of course I loved seeing a keyboard on stage, and when he whipped out his Keytar I was sold for sure! Unfortunately before STAVO's set was completely over the rains came.. and came… Luckily the guys thought of everything and they also had 2 huge "circus" tents for all of us crazy fans to scurry under. There was plenty of beer, and even though the live musicians had to run and hide PEG still kept us entertained with music and a light show. After close to a 2 hour delay, the thunder and lightning finally stopped and even tho it was still raining The Pat Travers Band came out and took the stage. Obviously, Pat Travers has some pretty dedicated fans because I couldn't believe the amount of people that stayed through the rain in hopes they'd get to see him play. When they did come out, they didn't disappoint. It was a great show and well worth the wait. I had the privilege of hanging with Pat back stage. It was awesome to see how down to Earth he was, most of the time he was just jamming away on his guitar with his little amp, giving all of us back stage our own private show! Overall, even through the rain, the DAM Party was an amazing success. Make sure and follow them on Facebook so you won't miss next year's DAM Party, I don't know how they can make it any bigger and better, but I'm sure they will!
The following week I headed up to Mifflinburg to do the interview with Scott Bachman of Rusty Rail Brewing Co. for the Cover Story. Lucky for me I was able to make it up there for one of their Thursday acoustic nights, and I was able to catch Jason P. Yoder's set. Jason just got back from a tropical vacation and you could tell his heart was still on vacation. His music and his vibe made me feel like I was on vacation even in the heartland of Pennsylvania. It was a very chill night of music where he played a great mix of his originals and covers. Rusty Rail Brewing Company not only has amazing beer, but it also has a great vibe. The upstairs Game Room has plenty of room for everyone to hang and play some games, or just chill and listen to the music. They have Open Mic Mondays, Acoustic Thursdays, and they even bring in some national acts on occasion. Read all about Rusty Rail Brewing Company in this month's cover story.
After a few weekends away for family fun, it was time to get back to work. I had another special trip down to Lurch's Lair to be a special guest co-host along with DJ Addam. Lurch's Lair airs every Monday from 6-9. DJ Addam plays rock music during his show, but his host station www.neuregelradio.com, has 18 online DJs, they all play their own style of music, which also might fit your band, or your favorite genre of music. Check out Lurch's Lair online at www.lurchslairradio.com and submit your music for consideration on his show. Online radio shows are an awesome way to get your music out for everyone to hear. It is aired throughout the world, and probably even beyond! If you missed listening live to my show or any show, you can catch them all as podcasts on his website. The night I was on we spent the last 2 hours just featuring rock bands from Pennsylvania, it's amazing how much music is out there!
The next adventure was to Jubilee Day in Mechanicsburg. Jubilee Day is supposedly the largest, longest running, one-day street fair on the East Coast (maybe even the country!) This year they had 325 vendors and 2 different music stages. As soon as we parked we heard Whiskey on the Rocks on the stage. We followed the music and stopped to listen to a few songs from these guys. It's awesome to see Ryan Alan and Corey McCartney back on stage, and the other guys do a fine job too! Even while we were there they changed lead vocalists three times. This band is obviously very versatile and all of them have multiple abilities which helps keep things interesting. Whiskey on the Rocks is a new band to the area, but they are quickly building up their show dates and are ready boot scoot their way into your hearts! Since my stomach was growling we decided to start walking in pursuit of food!! On our journey we found the 2nd stage and we heard That Band. Believe it or not That Band is the name of their band. They definitely had people stopping to pay attention to their music and dance along. That Band is a new party band in the area, the only one I recognized was Jason Shaffer from Full Tilt Productions on bass. That Band had the street rockin' and I'm sure they will have a venue near you rockin' soon! The last band we heard a glimpse of was Yam Yam, they were sponsored by XL Live. It's awesome to see how involved in the community XL Live is. It would be easy for them to just concentrate on their venue, but it seems like they are out everywhere, supporting musicians and their fans every way they can. XL Live also had a booth set up with a prize wheel where lots of people were winning free tickets to any show, tshirts, and other fun gifts. Yam Yam has a huge following in the Harrisburg area and it was awesome to see so many people out supporting them during the daylight at Jubilee Day. The hula hoopers were out having a great time dancing to the music!
On the way home we decided to swing in to Duke's Riverside in Wormleysburg to hang out for a little while longer and I'm glad we did because The Redacted was on stage. Duke's has a great set up for their Thursday night bands out on the deck overlooking the river. The Redacted had a great turn out for their first time there, and a Thursday night show! People were dancing all around the bar and having a great time. The Redacted really plays a wide range of music. It's awesome to hear Sarah's versatility in her voice, she sings everything from AC/DC to the Bengals and beyond! It was a great way to end a long day.
For my last band of the month, I took a special trip down to Gary's Bar in Palmyra to go see Shea Quinn and Len LeChene. Gary's Bar advertised with us a couple months and I always had my eye on their schedule hoping to make it to a show, and I'm glad my schedule finally freed up enough for me to stop in. Gary's Bar is a unique bar in the heart of Palmyra. It's awesome to see how it is definitely a local hang out where everyone knows your name. I stepped through the door as a stranger, but quickly became part of the "family." Terri and I both got whisked away at one point to stop by a private party also known as The Sycamore Social Hall where Bret Alexander was playing. Shea Quinn actually went with us and stepped up on the stage with Bret and they played 2 quick songs as a duo. Shea said it was the first time the two of them ever played a duo together. It was awesome and I'm very thankful to the hosts of the party, Tony and Toni for allowing us to pop in and check out their little slice of heaven. Afterwards we headed back to Gary's Bar, grabbed some pizza next door, and then listened to another set by Shea and Len. I don't know how Shea can have such a crazy repertoire of songs in his head, but it's always fun to watch him be able to accept pretty much any request thrown his way! It was a very awesome night, I'm so glad I finally got a chance to check out Gary's Bar. I heard that Bret Alexander will be playing at Gary's Bar in August. Thank you Deb, for advertising your cool little bar in the magazine and for supporting live music! Thanks also for whisking us away to the Sycamore Social Hall that was an awesome experience. Hopefully our paths cross again soon!
Well that's finally all for this month. It's 11:46pm and it's deadline day, so I better get this sent in. There are tons of great shows throughout the month of July. Check out this issue, get online, and make a plan to get out there and support live music. There are shows of all shapes and sizes all around us that need our support! We all have to work together and Support Local Music and Local Music Venues! If you see me out and about, please stop me and say hi! If you have any questions hit me up at RachelRocks@pamusician.net and remember to check out facebook.com/pamusicianmagazine to check out all of the Hot Shots in color!