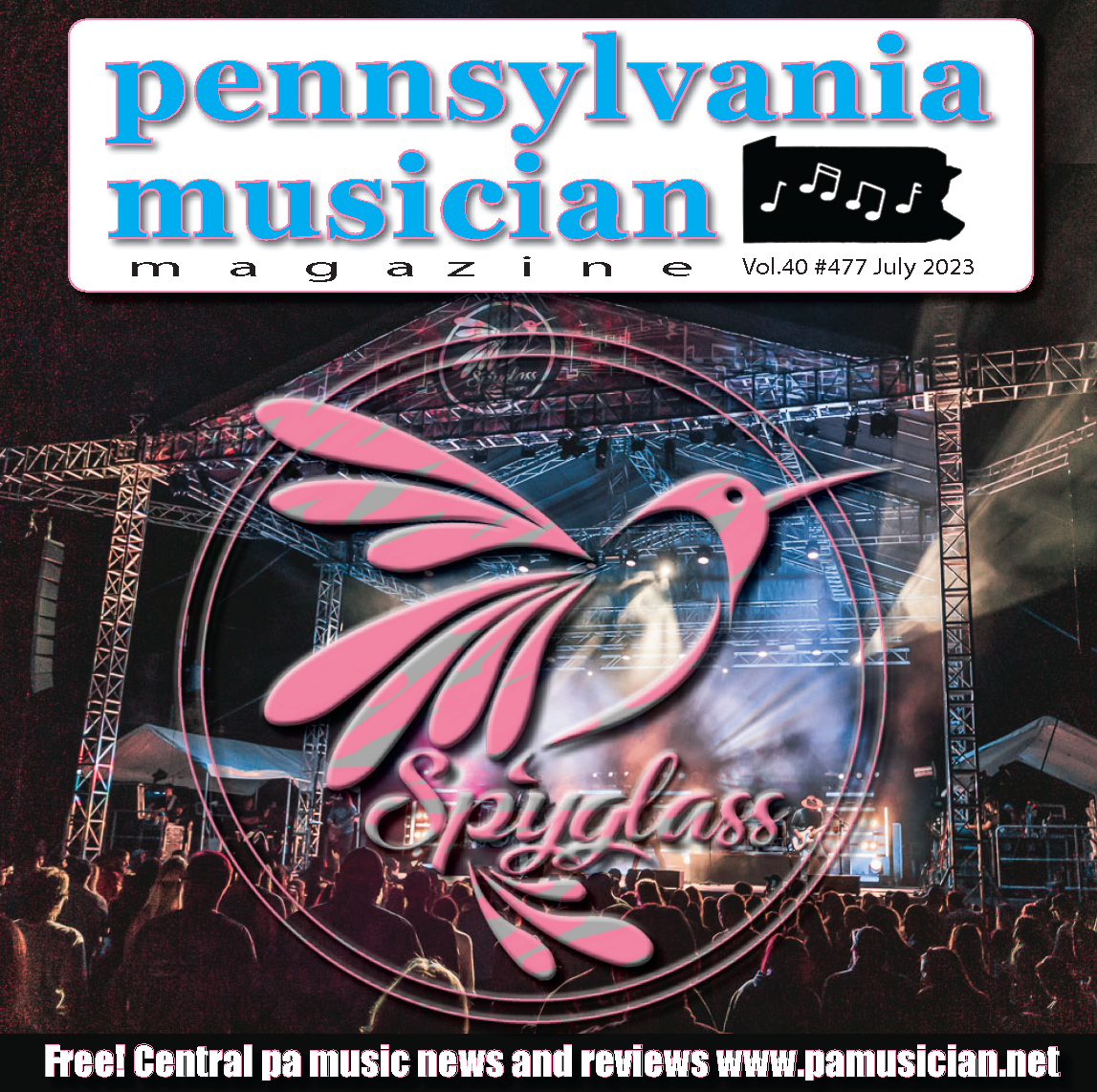 "Let It Go!" Spyglass Ridge Winery | July 2023
---
Spyglass Ridge Winery, located just outside the little town of Sunbury PA, is well known as the "go to place" to see national acts up close and personal. Bringing in big names like Kansas, ZZ Top, Cheap Trick, Sheryl Crow and Pat Benatar (to name a few) is no easy task. So how does this small town winery pull it off? Lots of team work, determination, and not letting things go.
The winery started 23 years ago when Tom Webb Jr. and his wife Tammy decided that Tammy's family farm would be the perfect location for a "small" winery. Tom had some prior experience in winemaking and wanted to pursue his passions fully. What started as some wine for family and friends soon grew into the Spyglass we know today. The family barn, dating back to 1814, has been a labor of love itself and is a gorgeous building with huge beams and an open layout. The main floor houses a tasting room, two levels of lofts and plenty of room for large events or gatherings. The bottom floor of the barn houses all the production equipment needed to keep things up and running and the wine flowing. The level of work put into the barn was just the beginning for Spyglass. 
Once his winery was up and running he knew the next step was to support live music. With the help of his friend Dr. Hugh Wilson, they came up with the idea of starting a Celtic Music Festival. Dr. Wilson was an expert on the topic and even raised his own Celtic Cattle. With Tom's background in audio engineering and a couple festivals in the Lehigh area under his belt, they decided to give it a go. The first year was held in the town of Sunbury and even though the weather did not cooperate the festival was a success.   
The second year Tom knew he had to realize his dreams and make the festival truly how he wanted it. So the festival was moved to the winery, where they could freely sell wine and beer at the event and make it more enjoyable for everyone. With the success of the Celtic Fest, a Blues Fest was added as well. For the first couple of years, Tom and his crew would build an elaborate stage out of material he stored on site and the festivals kept Tom, Tammy and the staff busy. Things were good.
Then on a long flight home from vacation, Tom was listening to Kansas on his head phones. He took out an ear bud and put it in Tammy's ear. Then he told her, "I'm going to get Kansas to play in our backyard." Tammy whispered, "let it go". Next Styx came on and Tom did the same thing, "I'm going to get Styx to play in our backyard." "You're an idiot, Let it go," was once again Tammy's response. Tom, not to be discouraged, put some Rush on and told her the same thing. Tammy's response was now "LET IT GO!" For Tom that was something he could not do.
When he got home he reached out to an old friend who was working at 'Creative Artists'. Tom told him his plans, he wanted to make a venue where the bands from the 70's and 80's could perform like they wanted to perform, in front of thousands of fans on a full production stage all in Tom's backyard. He asked him to get him prices for Kansas, Styx and Rush! His buddies advice, "Let it go". At the time the industry was unstable and no one knew if people would come to a small town to see Kansas in someone's backyard. Tom knew he could make a perfect venue for these bands and wasn't afraid to take a chance. To pull something off this big was going to take a lot of work. Tom, once again determined, told him get me the prices or I'll just go around you and get them myself.
The prices came back; Kansas $35,000+production, Styx $50,000+ production, Rush a whopping $200,000+production. His reaction was give me RUSH! Everyone said, "You're crazy!" Including Tammy, who knowing Tom would not drop it, eventually agreed on Kansas. The date was set, now all Tom had to do was bring in a professional style stage, full sound and light production, and also convince enough people to come to his backyard to see Kansas.
Tom enlisted the help of Rod Bower from OM Sound in Williamsport to be his production manager. Rod knew he couldn't mess this up so he called on Illusion Sound & Lighting to fulfill the task. So the contracts were signed and the date was set. The only thing left was to draw in the people. Tom went about promoting the show through every outlet he could find.
The major problem and source of daily phone calls was, "IS this the REAL Kansas?". Trying to convince ticket buyers was not easy but on the day of the show they sold out all the remaining 2,200 tickets. The show went off with out a hitch. That was until Tammy counted all the earnings and was elated to tell Tom that they had actually made money! Tom's response was not what Tammy was looking for as he then decided to disclose that he may have left the production numbers out of the price when Tammy originally agreed to the event. So with production costing over $15,000 along with other expenses they ended up losing $1,700 on the concert; however, they did make some money on wine sales. In Tom's mind this was a true success, he got to see Kansas in his backyard and it only cost $1,700. That's a pretty good deal, but it took Tammy a couple weeks to agree.
After Kansas Tom had a thirst he couldn't quench, and he just wanted more bigger, and better backyard concerts at the winery. For the first couple years they relied on outside help for the stage, but Tom soon started construction on the stage of his dreams. The first phase was for the return of Kansas, Tom had a permanent roof built to help alleviate some of the work involved each time with setup. It wasn't long after that Rod told Tom, "You need a stage if you're going to keep this up." Tom said, "OK, you design a stage that addresses all the problems you have faced over the years." Plans were drawn and and the massive stage was built with a permanent roof that could be raised and lowered allowing for "quick" setup times and protection from storms etc. The first performer to break in his new stage was Heart along with Nancy Wilson.
When talking to Tom you can tell the stage is his baby. He takes great pride in knowing his stage is up to the task and has spent thousands making sure fans and performers are as safe as can be. After some nightmare headlines at other venues across the nation having stage failures, Tom knew he had to make his stage as safe as possible. While watching Foreigner's, lead singer, Kelly Hansen hang from his rafter's one night, he decided it was time for another update. So a complete roof redesign was built. Abandoning the smaller 16" trusses to an upgraded double 26" truss with increased wall thickness along with steel guide wires attached to huge concrete footings. All to withstand up to a 70mph wind shear. As I said, Tom likes his stage and he wants to make sure his stage is up to the task of any band he throws at it or any act of nature that might happen during an event.
Sadly, Tom's dream was disrupted by the local township in 2017. After years of bringing in millions of tourist dollars to the Sunbury area, and putting them on the map as a music destination, the local powers at be decided they needed a slice of Tom's pie. They decided targeting the two only major business in the township, Spyglass Winery and Great Coasters, would be a great way to increase revenue. Tom, who is certainly not one to just, "Let it go" did not roll over to their demands. This cost him a lot of money in lost revenue, having to cancel shows and put a hold on things for a bit as the proper legal channels were pursued to fight off the township. Six years later the township, funded by taxpayers, has spent over $100,000. Tom has spent over $10,000 and endured six years of legal battles to come out victorious! Thank you Tom for all your hard work and fighting to keep Spyglass as one of the premier venues in our area.
Spyglass and Tom hope this battle is over and that they can move on, but rumor is they still want some pie. Don't worry, Tom is not afraid of putting up the fight to keep his dreams alive. Tom wants everyone to know he loves his township and if you talk to most anyone in the area they love the Winery. It's sad that a small handful of people with power think they can dictate what the majority wants, when they are not the majority. So if you live near Spyglass please voice your opinion with the township and let them know they can't stop live music. Tom needs all the local supporters to stand by him during these times.
Spyglass brings more than music to the area, as most workers are local, including the over 100 employees needed to pull off a big concert. They have even been awarded a local tourism award for all they have done for the community.
Spyglass having won the first battle is now back on track and the remainder of this season features Skillet on July 22nd, Pat Benatar with Neil Giraldo on August 5th, Walker Hayes August 26th and Get the Led Out on September 16th. Tickets are still available for all shows so get yours now! Plans for upcoming shows include Styx, Alice Cooper, Drop Kick Murphy's and some more country artist to round things out.
While you're there be sure to check out one of the latest editions to the grounds; Three Beards Brewing Company. Tom wanted on site beer for his events, but not any beer, he wanted a brewery on site making craft beers. Tammy's response, "Let it go." Apparently that is the wrong thing to say to Tom. At the time rules were different and you couldn't have a winery and a brewery on the same property owned by the same person. These "rules" dated way back to prohibition. So Tom, working with Senator Gordner's office, set about rehabbing the rules until he was given the green light to open a brewery. Around the same time Three Beards Brewing was winning award after award and a good friend said, "you need to check these guys out". After sitting down with them and talking things over the guys weren't quite ready to take that step alone. So Tom formed an LLC with them and helped fast track their dreams of having a full service brewery and restaurant. The result is a beautiful brewery atop the hillside overlooking the winery and valley below. Now along with some tasty wines, you can also head up over the hill and grab a fresh local award winning craft beer and order something from the full course menu. The Brewery also features live music on Saturdays along with trivia and magic nights. Check them out at www.threebeardsbrew.com
So why does Tom do it? It's a simple answer, he loves to see the interactions between the performers and the bands. Spyglass doesn't have a big security fence in front of the band. There is no seating charts, you're free to walk up and get as close as possible to your favorite band. The connections made between fans and the bands are evident in the increase set times and encore performances.
Tom loves the family atmosphere of his events and the relationships he has built with performers. He regularly goes boating with Mike Reno, and many of the bands have become accustomed to some great PA hospitality. Some bands come early or stay a couple days later just to relax and enjoy the venue. Pat Benatar has been known to enjoy some Middleswarth BBQ chips and now lists them on her contract each time. Cheap Trick's guitarist, Rick Nielsen has listed "the same pot roast as last time" in his contract. It's these relationships that Tom and Tammy love and why they fight so hard to keep the dream alive. How many people get to see the bands they dreamed about in their own backyard. At least one guy, his name is Tom Webb and he is not afraid of failure and will not just, "LET IT GO!"
To order your tickets or to find out more, go to Spyglassridgewinery.com and get all the details about upcoming events.