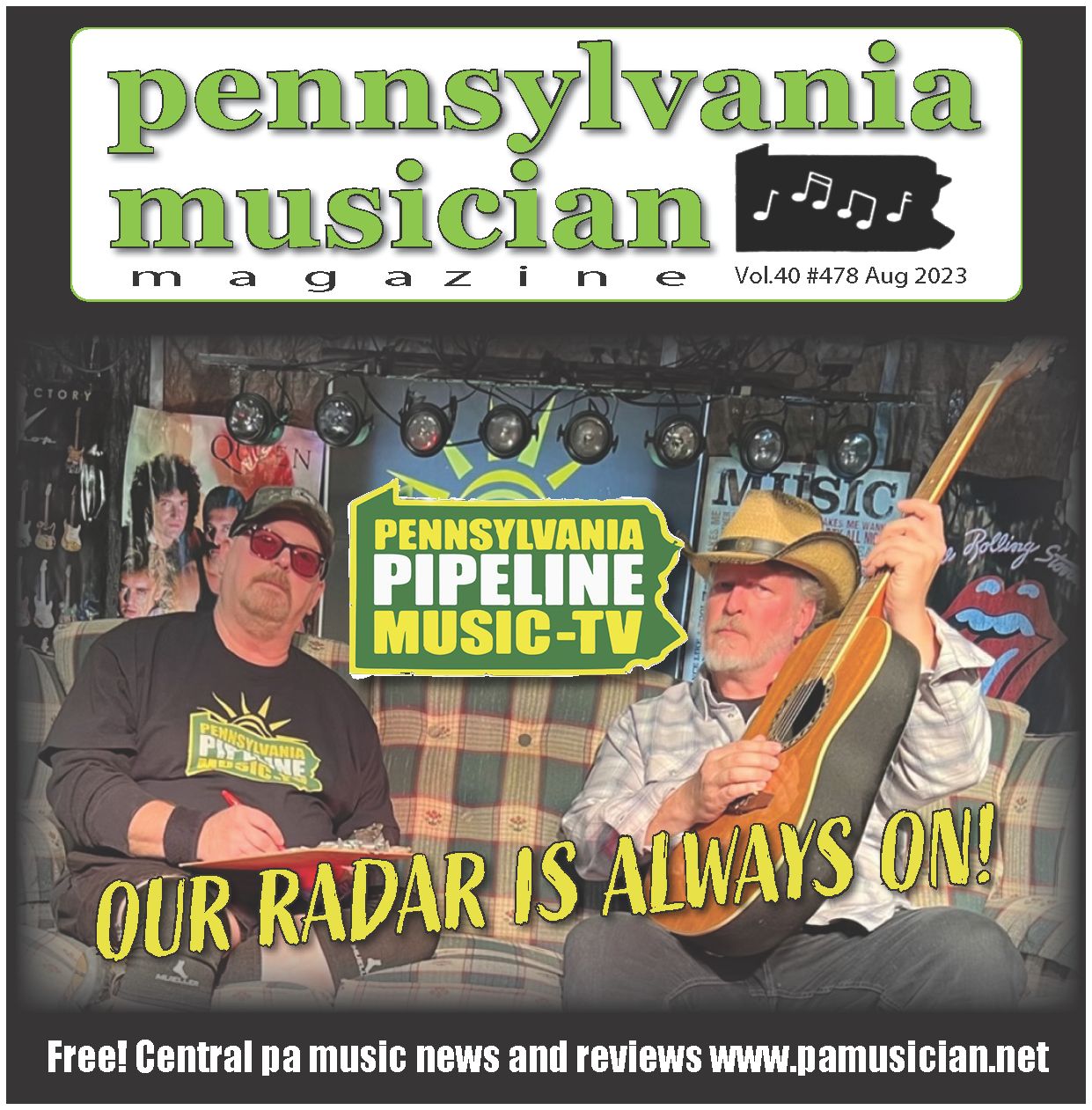 ---
The Pennsylvania Pipeline Music TV, founded in 2015 by central PA local Jeff Pittinger out of Montoursville PA, has been pumping out local TV shows featuring original music for over 8 years. The show airs each week on WHVL State College on Wednesday and Saturday nights. Not only does the show get broadcast over the airwaves it is also available online at WHVL.com and The Pennsylvania Pipeline Music-TV Youtube and Facebook pages.
While the show focuses on original songs they have started to accept some cover bands for special episodes that will air on the Youtube and social media pages. All the commercials and episodes are produced by Jeff and his team and sent off for master editing before airing on WHVL TV. The Pipeline is the place for all local bands to reach a new audience and get an opportunity to record a late night style music TV performance and interview.
It takes dedication to setup and produce a TV show of this caliber and Jeff's passion started at an early age when the TV was still the main thing that brought you your daily dose of info. In fact, in the late 60's, Jeff's family built a large TV tower high up on the mountain with lines running to all the family's households, so they could get all the channels, broadcast right to their homes. Jeff along with his Great Uncle, would have to wade through the snow in the winter to keep the lines cleared. Then in 1981 Jeff's Dad bought a 12 foot Satellite dish that could tune in shows from across the globe. That's what really opened Jeff's eyes and mind to the TV world. His radar was turned on.
In 1984 Jeff formed his band White Witch, with himself as lead singer and fellow musicians including Doug Lehman, Carl Berry and Jimmy Lovcik. Jeff developed two other bands including Monster Track Super Group and The Betty Ford All-Stars. Jeff was always doing something with his bands and setting up shows. Fast forward to 2015 and he found that with life evolving, so was the amount of chances to get all the members together for some good times. So to keep him busy and to give back to the community The Pennsylvania Pipeline was born. He already had some recording gear so he bought a couple cameras and jumped in feet first. It has been a learning process along the way and Jeff still struggles with the local internet suppliers to give him the speeds he needs. It isn't easy, but it is a love affair that he is willing to endure.
Jeff has fought his demons and on October 5th celebrates 18 years clean and sober. He is certain that the only thing that has kept him sober is God and the Devil. "All the powers of good and evil have conspired to put me here at this exact moment in time". It's his strong beliefs that help him fight through the day to day struggles in life and to stay on course and focused at the task at hand.
With names like Small Town Titans (performing on the first season), Lara Cheadle, Nate Myers and The Aces, The Heartstrings, Bret Alexander, Powder Keg Culture, Alex Lee Warner, Decipher Life, Jackknife Stiletto, Addie Grace and many many more. The show has produced some great episodes with some local heavy hitters. So what does it take to get your band on an episode? First make sure your band is ready, if you are not at a performing level please don't apply. For consideration you can contact Jeff Pittinger on The Pennsylvania Pipeline Music-TV Facebook page or his personal page. Jeff's radar is always on searching out new and upcoming bands to perform and if your band has what it takes he will find you.
So what does the future hold for Jeff and the Pipeline? He has recently teamed up with the infamous "Crazy" John Kerecz. Who has been pumping out music for decades with bands like 7th layer, The Stoney Creek Band and most recently Joey Welz. John's background with OSH Radio.com and his old magazine "The Ragazine". Makes him a perfect match to team up with Jeff. The Duo tried to get something started years ago but with family issues and illnesses, the stars just didn't align. Now things seem to be realigning for the two and they have been collaborating on some new material that they are very excited about.
The two are heading into the studio on October 16th and the 17th down at Eight Days A Week in Northumberland. They will be joined by Jeremy Hummel (Breaking Ben original Drummer), Bret Alexander, Rusty Foulke, Gary Lynn, Carl E. Lee, Steve Morrow and a few more All-Stars to be announced. They will be doing Supertramp's "Give a Little Bit", Blue Oyster Cult's "Burnin For You" along with a couple more choice covers and maybe even a special Christmas song. The recording will be available as a digital package and all proceeds will go to charity. Stay tuned for more info and details as they become available. With Jeff and John teaming up you never know what will happen. You can check out the exclusive "Crazy John" interview over at The Pipeline's Youtube channel. Jeff and John talk about the "good old days" along with plans for the future. Keep tuned to the Pipeline for more updates on the collaboration as they become available.
On November 4th Jeff is having a Fall Festival at the studio to kick off his 2024 recording season. He will be recording 4 bands with The Heartstrings and Faith Noel already on the schedule. If you think you're ready, get a hold of Jeff now and your band could be part of the next season.
Jeff would like to thank everyone that has been on the show and also all his viewers. WHVL for broadcasting the show. His sponsors; Coors Light, Blaise Alexander Family Dealerships, Elery Nau Hardware, C.A. Shire Jewelers, Halls Landing and The PA Musician Magazine. His Team Heath Reese, Alissa Reese and Shellie Mingle. Last but certainly not least his Dad for all the years of support and helping him live his dreams.
Check the links below for more info and contacts.
https://www.youtube.com/@pennsylvaniapipelinemusic-459
https://www.facebook.com/pennsylvaniapipelinemusictv/