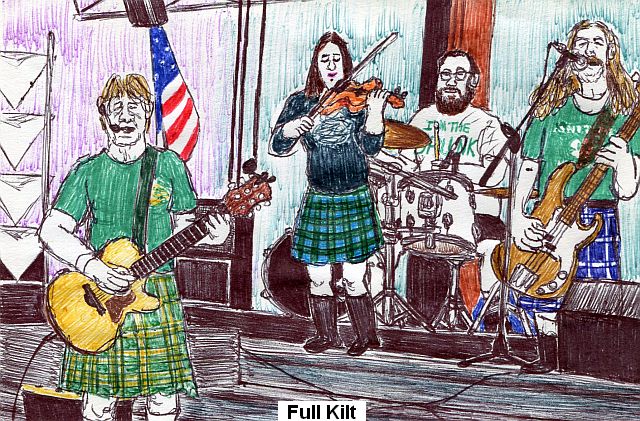 ---
By Jim Price
And so it begins…As we transition into spring and warming temperatures, live music will start to inch its way back outdoors for the warmer season. A few outdoor events take place this month, and several summer outdoor festivals and events have already announced lineups, giving area live music connoisseurs lots to look forward to.
Wrapping up the winter season…The 23rd annual Millennium Music Conference (MMC) happened February 21-23 at the Park Inn by Radisson Harrisburg West complex near Mechanicsburg, and again featured the two-day business conference with its variety of panels, workshops and mentoring sessions that addressed many aspects of music and the music industry. The conference also featured the daytime trade show with tables and displays from various music-related businesses and organizations, plus the acoustic day stage where performers could sign up and perform, and nighttime showcase performances by nearly 300 different bands and performers at venues throughout the Harrisburg area.
The festivities began on Thursday night at the conference kickoff party at the host hotel's Blarney's Twisted Irish Pub. I arrived at Blarney's in time to catch the last few songs from the night's second performer, Albany, New York area singer and songwriter Abby Lappen. I heard her perform "Turning the Page," her clever tune that appears on this year's MMC compilation CD. I only heard three songs, but liked Abby's style of bluesy and jazzy folk, and would get to see her in action later in the weekend on the trade show open stage. Next was Saskatchewan, Canada's Autopilot – not only attending their third MMC, but also playing the kickoff party for their third straight year. I enjoyed their intriguing set of indie/alternative-geared rock, as they did several songs off their latest CD, Afterglow, including their new single "Living Dead," "Weightless" and more. From Tallahassee, Florida, The Bad Verbs next delivered an energetic mix of electronic-tinged rock, pop, dance and funk numbers. Their singer, Gaia Jones, showed a lot of spunk and sass up front, singing with vigor and personality. The group did original songs and select covers; some of the numbers included "Mama Didn't Raise No Fool," "Trip the Lights" and a version of The Proclaimers' "(I'm Gonna Be) 500 Miles." The night ended with another returning international entry…Glasgow, Scotland's Single By Sunday first arrived last year and took the conference by storm with their catchy, high-energy brand of pop-punk rock and unforgettable hair colors. MMC actually opened the door to opportunities for this group, as they hooked up with the Warped Tour and several festival appearances through contacts they made at the conference. They came back to experience MMC again this year, and again provided a go-for-broke, fun set. Blue-haired lead guitarist Jonny, crimson-haired lead singer and rhythm guitarist Josh, purple-mopped bassist Jack and yellow-haired drummer Jorge fired off lots of catchy original tunes, including "Say That You Love Me" and "I (Asked) Your Girlfriend," and – like The Bad Verbs before them – paid homage to fellow Scotsmen The Proclaimers with their own take on "(I'm Gonna Be) 500 Miles." Single By Sunday delivered feverish energy, with band members running out and among the crowd, and Jonny even hopping up on tables and the bar. It fired folks up and brought the first night of MMC to a happy, high-flying close.
My Friday evening MMC showcase journey began at Blarney's, as I caught part of Laura Cheadle's performance of funky jazz-informed numbers, including original songs and a Stevie Wonder medley to close her set. Next was northeastern PA-based punk-rocking trio Blind Choice, delivering a lively set of original songs and select covers. Singer/guitarist Dylan Pysher, bassist Matt Habrial and drummer Tanner Snyder brought fast-firing energy as they did their own songs such as "Balance on the Floor" and "Welcome to the New Age," as well as tunes from Linkin Park, Green Day and more. Six Bar Break then demonstrated their brand of hearty, hard-edged guitar rock. Singer/guitarist Ben Bollinger, bassist Robert Trowbridge and drummer David Long mixed roots-based influences with elements of modern rock and grunge as they performed original numbers such as "Soldier's Call," "Broken Road" and "Straight and Narrow," as well as a version of CCR's "Fortunate Son." I then stepped next door to Blarney's deck stage to see Stephanie & the Wild Hearts delivering their brand of rowdy outlaw country. Currently in a state of transition, the group's founding core of singer Stephanie Onkst, guitarist/singer Bob Onkst and drummer Doug Fetter were joined by Mike Gambardella on lead guitar, Eric Wertz on bass and Kira Burley on keys and backing vocals. Stephanie & the Wild Hearts kept folks dancing with several of their original tunes such as "Put Your Money Where Your Mouth Is" and "Jealous of You," as well as fast-firing country favorites from Miranda Lambert, Dwight Yoakam, Jason Aldean, Luke Bryan and more. I returned to Blarney's pub stage to catch part of a unique band, Wilkes-Barre's Kali Ma and the Garland of Arms. Group namesake, singer and synthesizer player Jami Kali, guitarist Ray Novitski, bassist Matt Chesney and drummer Shiny Montini blended elements of progressive and alternative into a distinctive style and sound all their own. Their tunes displayed eccentric, spacey arrangements with intriguing melodies, marked by Kali's distinctive vocal passages and cadences.
I then drove to the Brewhouse Grille in Camp Hill to see Bloomsburg area singer and songwriter Jeff Mamett. Jeff's music is rooted in traditional country and folk, inspired by the singing cowboys and country storytellers. He did a mix of songs off both of his albums, plus a few select covers. He played numbers off his latest CD Carry Me Back such as "Poor House Road," the single "Bing Bang Boom," "Off and Runnin,'" "Same Old Moon," "Take It Slow" and "An Outlaw's Song." He also did select tunes from Jimmy Rodgers and Guy Clark. Jeff sang with a steady, strong voice, and was conversational with the audience, telling stories and sharing perspective on his songs. I stuck around for the final performer of this showcase, Harrisburg's Suzi Brown. A performer I have witnessed before, Suzi again dazzled me with her unique brand of worldbeat-informed folk music, as well as her incredible talents on acoustic guitar. She blended masterful finger work with percussive techniques on her guitar as she played her set of original compositions, sharing insights and inspirations along the way.
I had enough time to catch the final performer of a nearby showcase up the street at Flinchy's, Harrisburg area singer and guitarist Cody Ross Smith. Displaying a bold voice and friendly personality, Cody had the Flinchy's crowd happily singing along with his mixture of original country-flavored songs and favorites from Georgia Florida Line, Charlie Daniels, Chris Stapleton, Hank Williams Jr., Sister Hazel and more.
As with the past two nights, my Saturday night MMC showcase sojourn began at Blarney's, starting with Traverse City, Michigan-based trio The Accidentals. This group dropped my jaw to the floor with their enthusiastic, inventive brand of indie folk rock featuring a cello and a violin, crisp vocal harmonies and more. Multi-instrumentalists Savannah Buist and Katie Larson, plus Michael Dause on drums, showed their creative skills on a range of original song compositions, and even stretched their talents into a take on Dave Brubeck's jazz classic "Take Five." Next was New York City-based trio The Parkers, who crafted an intriguing electronic pop/rock sound. Sisters Anya and Kate Parker-Lentz generated pulsing, dark-toned numbers that escalated in intensity and roped you in, such as their original songs "Let's Disappear" and "Wasted Generation," plus a surprising take on "Hey Joe." New Jersey's The View From Here then followed with their set of driving, hard-edged alternative rock. I then stepped next door to Blarney's deck stage to see Kingston, Ontario, Canada's The Wilderness. Six members strong, The Wilderness mixed elements of folk, funk and alternative rock into a freewheeling flavor of their own.
I then drove to Cliff's Tavern Underground (formerly Gullifty's Underground) in Camp Hill to witness a blues-geared showcase. Sterling Koch & Freeway Jam were just under way as I arrived. Sterling on guitar, daughter Kate Koch on bass and John Goba on drums delivered lean, mean blues-rocking grooves as they performed an all-instrumental set. They mixed some of Sterling's originals with select covers; some of their numbers included versions of Jeff Beck's "Big Black," Jimi Hendrix's "Little Wing" and Steely Dan's "Pretzel Logic." Sterling's guitar displays were mesmerizing, and John and Kate provided the tight backdrop to propel the tunes forward. Up next was Harrisburg's Switch Fu, who mixed up an interesting variety of sounds spanning blues to funk to rock to original numbers and more. John Merx sang and wailed harmonica, flanked by guitarist Bill Wasch, bassist Jake Kirssin and drummer Eric Slaughter. They blended styles and generated interesting arrangements along the way and musically never stayed in one place for too long; some of their songs included "Magnolia," Otis Redding's "Hard to Handle," "It's Been Way Too Long" and more. Next was a performer I look forward to seeing and touching base with each year, New Jersey's Jake Tavill and his band. Jake faced a challenge this night, as his drummer was not able to make it to the show, so the performance went on sans drums. But Jake, sax man Michael Squillace and bassist Casey O'Connell pulled it off – not only making their tunes happen, but drawing increased cheers from the Cliff's audience as they went along. Jake introduced a few new songs and did some numbers off his Twisted Ideology CD such as the set-opener "Gold," "Legs in a Twist" and "It Don't Matter," and also fired off renditions of Sly & the Family Stone's "If You Want Me to Stay" and Norah Jones' "Don't Know Why." Harrisburg's D-Bo and his band closed out the night. Delonne "D-Bo" Wilbourn is a one-man party machine, and he and his band proceeded to get folks up and dancing. D-Bo sang and did dance moves, backed by Billy Wray on keys, Nick Carothers on guitar, Kenny Madera on bass and Jon Fiaschetti on drums. D-Bo spanned funk and R&B to slow soul to blues to hard rock and lots of flavors in between. D-Bo was energetic and enthusiastic, displayed an excellent voice and upbeat vibe as he welcomed dancers onto the floor. The dancers started moving as D-Bo did "Do It," and he even had some line dance action going on later with his set-closer "My Kind of Night," as he instructed the dancers on how to do his namesake dance, 'The D-Bo!'
And I witnessed many MMC performers on the day stage during the Trade Show's two days – including Connecticut-based country artist Frankie Justin, Abby Lappen, Miguel from Kansas City-based Middle Theory, Lancaster singers and songwriters Justin Angelo and Matt Tarka, Maryland's Driftwood Renegades, New York's Alex Cano, Sweden-based performer Allwin, New York-based singer and songwriter Chelsea Takami and New Jersey's Running Late on Friday…and Jake and Nick of Harrisburg's III For the Road, PA/New Jersey-based duo Clark & Kobel, Philadelphia singer and songwriter Jessica Graae, New Jersey's Brother Jerome and West Virginia's Sour Mash String Band and more on Saturday. It was all good; each artist showed a distinctive flavor and slant, and the overall vibe at the day stage was uplifting as the musicians and passers-by cheered each other on. It was a special atmosphere of like-minded, creative people appreciating and celebrating each other, and encouraging one another to keep creating their craft and doing what they do. This year's Millennium Music Conference was again a rewarding experience, and I encourage musicians and music-minded folks to consider attending this event in the future.
Closer to home, Altoona's Greenbean Coffee House presented the inaugural Singing For Survivors awareness and fundraiser event last month at Altoona's Bavarian Aid Society. The event benefited Family Services, Inc. of Blair County, while raising awareness about the issues of domestic violence and sexual assault, and the programs and services Family Services provides. Women and female-geared groups took the spotlight at this event. I missed the opening set by singer and guitarist Michelle Barnes, but arrived as Asbury Lane was under way. Singer Tami Hinish and guitarist/singer Jeremy Schimansky performed a variety of acoustic folk favorites – including John Prine numbers like "Spanish Pipedream (Blow Up Your TV)" and "Clocks and Spoons," their blending of Old Crow Medicine Show's "I Hear Them All" into Woody Guthrie's "This Land Is Your Land" and more. Next, This Albatross' set provided perhaps the most powerful moment of the night, as singer Autumn Wagner disclosed to the audience that she is a survivor of domestic violence, and she shared how Family Services' programs and services helped save her life. Autumn, husband Philly Grooves Wagner and Kirk Robison on guitars, PJ Kelly on bass and Shawn Gioiosa on drums quickly filled the dance floor as they played upbeat rock, pop and country favorites from Gretchen Wilson, Miranda Lambert, Roxette, Madonna, Stevie Nicks, Tom Petty, Pink, Blondie, Shania Twain and more. Autumn's voice was in great form, as she displayed power, range and passion; and in the spirit of the evening, she offered support to other victims of domestic violence with her heartfelt rendition of Martina McBride's "A Broken Wing." Sans regularly-scheduled singer Erika Marino, Shallow 9 continued the dance party to finish the night. Multi-tasking frontman and soundman Mike Stanley shared lead singing duties with guitarist Ryan Weaver, as the group mixed rock, pop and hip-hop favorites. Among the highlights was show emcee Garrison Bailey stepping up to sing lead on Shallow 9's version of Gloria Gaynor's "I Will Survive." This first Singing For Survivors event was a big success, and plans are to make this an annual event.
After a snowstorm forced a postponement in January, Downtown Bedford, Inc. finally got to "feel the heat" last month with their sixth annual Feel the Heat Chili & Soup Cook Off event. Again, area eateries presented their best and most creative chili and soup concoctions for sampling among seven downtown Bedford venues, with attendee votes determining the winners for best-tasting and most creative chilis and soups. Live music took place at each venue during Feel the Heat's three-hour duration. As Feel the Heat was getting under way, I arrived at HeBrews Coffee Company to enjoy my first chili and soup samples while Eric Delozier and Mo Yon performed. Eric sang and strummed acoustic guitar while Mo played bass; both did numbers from John Prine, Pink Floyd and Marshall Tucker Band. I next headed up Pitt Street to Bedford Candies, where Brandi Naugle played acoustic guitar and sang country numbers, including original songs from her recently issued EP. Next door, at Deepwood Gallery, I then took in a small portion of Dave Howsare's performance, as he performed acoustic classic rock favorites. Around the corner at Pigeon Hill Studios on Juliana Street, Charles McClanahan entertained chili and soup tasters with his mixture of favorites. Charles took an exploratory and inventive approach to his presentation, varying his arrangements as he transitioned seamlessly from song to song, employing loop pedals and effects. I then headed across the street to my next stop, Founder's Crossing, where Happy Hour – the duo of singer Sarah Mellott and guitarist/singer Tom Fix – were performing. Sarah and Tom mixed original songs and covers, spanning country, pop and rock flavors. Sarah showed a great voice on songs by The Cranberries and 4 Non Blondes plus the original song "Here for the Ride," while Tom sounded impressive on a request for Alice In Chains' "Rooster." I next proceeded to Oak Spring Winery's Bedford location, where hometown talent Coltt Winter Lepley performed his variety of folk numbers. Coltt's presentation was friendly and welcoming as he did numbers from Pete Seeger, Bruce Springsteen, Bill Withers, original songs and more. Folk and acoustic weren't the only flavors of this day – proven at my next stop, Locality art space, where the Bad Luck Lover Boys fired up punk, pop and rock sounds. Singer and lead guitarist Chris Diehl, bassist Brennon Miller and guitarist Matt Godisart mixed original songs off their CD with popular numbers from Green Day, Weezer, Blink 182 and more. As the event entered its homestretch, I arrived at my final chili and soup-tasting destination, Briar Valley Winery, where Borrowed Time entertained with their blend of vintage and classic rock'n'roll. Singers and guitarists Chad Patterson and Michael Clapper – playing one of their final performances – had fun as they did rock'n'roll favorites by Sam the Sham & the Pharaohs, Led Zeppelin, CCR, Badfinger, Stealer's Wheel and more. When the tasting was finished and votes were tallied, Bedford's 10/09 Kitchen's Bacon Bison Beer Chili ran the table in the chili divison, capturing top honors for both Best-Flavored and Most Creative Chili categories. In the soup division, Bad Boyz Bistro won Most Creative Soup for their Rock n'Reuben Soup, while Golden Eagle Inn won Best-Flavored Soup for their Rah Rah Ramen Soup.
This year's St. Patrick's Day celebration started early last month at McGarvey's, as renowned Chicago-based Celtic punk band The Tossers came to visit. Work duties prevented me from seeing show openers Full Kilt (more on them later), but I arrived midway through The Tossers' set to find a packed house having fun with the group's brand of rowdy Irish-flavored sounds. Singer and banjo player Tony Duggins disclosed that he was battling throat issues this night, but his gruffer-than-usual vocal growl actually seemed to fit the rowdy tone of The Tossers' music even better. The group – Tony, Aaron Duggins on tinwhistle, Mike Pawula on guitar, Emily Ruth on violin, Peter Muschong on bass and Bones on drums – performed many of their own popular numbers along with takes on other Irish and Celtic tunes. And when fans yelled out "Free Bird," the group fired part way into the Skynyrd classic, and also answered calls for Iron Maiden with their own take on 'Eire-n' Maiden's "The Trooper!"
McGarvey's kicked off St. Patrick's weekend with Pittsburgh Irish punk rock favorites, Bastard Bearded Irishmen. I was able to see the latter half of their performance, as singer/guitarist Jimmy Bastard, mandolin player Danny Rectenwald, fiddler Paul Dvorchak, bassist Sean-Paul Williams, rhythm guitarist Ryan Warmbrodt and drummer Dan Stocker fired off high-velocity Irish rock originals, plus select covers. Among the late highlights were the group celebrating punk rock with their take on Flogging Molly's "Drunken Lullabies," and band members bringing instruments onto the dance floor and into the crowd during the last song of the night.
The Gallitzin Fire Company presented the 11th Annual St. Patrick's Day Party last month at the Gallitzin American Legion's Oriental Ballroom. This again lived up to its tradition as one of the best St. Paddy's parties in these parts, with hundreds of green-clad lads and lassies enjoying food, Irish libations and live music. With a hearty "Slainte," openers Full Kilt commenced the music. This was my first look at Full Kilt since their change of helm behind the drum kit, as Jake Yarnish takes over for Pat Boland. Jake did a good job, fueling the beats behind frontman/guitarist Mike Zerbee, Mandy Passmore-Ott sawing the fiddle and Chris Myers on bass and vocals. Full Kilt got their Irish up and going, doing their mix of Irish pub and drinking songs, original tunes and Irish-edged takes on popular hits. They did tunes such as Gaelic Storm's "Drink the Night Away," "Back Home in Derry," "Johnny Jump-Up," "The Night That Paddy Murphy Died" and many more. They did Irish takes on Queen's "Fat Bottomed Girls," John Denver's "Thank God I'm an (Irish) Boy," the Van Morrison double-shot of "Brown Eyed Girl" into "Wild Night," and their crowd-enhanced version of Smokie's "Living Next Door to Alice." More and more people populated the dance floor as the group's three sets continued, and Full Kilt successfully escalated the festive mood of the night. After the intermission, the mostly green-clad Giants Of Science took the stage and quickly filled the dance floor with their festive, energized party of 1980s hits and other favorites. Mick on guitar and vocals, Scotty B on keys and vocals, the Irish viking-clad Johnny 5 on bass and Steve behind the drum kit pulled out all the stops and let the party fly, packing the dance floor with numbers from Flock of Seagulls, Greg Kihn Band, Neil Diamond, Simple Minds, Modern English, Men At Work, Green Day, Gary Numan, Men Without Hats, Bangles and many more. The Giants left a few audience members get up to help sing, and kept the mood ecstatic and upbeat. Toward the end of their nightcap set, Mick took a moment to thank all the fans and friends in this part of the world that have supported the group over their two-plus decades of existence. Both bands and crowd elevated each other to the maximum Irish party good time. Hats off to Chris "Dauber" Cox and his staff of volunteers for making this party yet another memorable highlight of St. Patrick's Day weekend!
After the aforementioned party wound down, I headed to Hagen's Irish Pub in Chest Springs to catch the latter part of their St. Patrick's party. The Clovers – the collaboration of area solo performers Rick Ramsey and Kenny Karlheim – kept a lively crowd happy with a wide range of rock, country favorites, oldies and more.
After reuniting for a show late last year, Altoona-based quintet The Hope Fallacy is continuing on; they played a full three-set show last month at Altoona's Four Dees Lounge. Singer/guitarist Adam Pielmeier, singer/bassist Eric McCrum, guitarists Adam Mueller and Evan Fredo, and drummer Trey Carruthers packed the house and dance floor with their charged mixture of power pop/punk original songs and favorites. They introduced a few new songs and did tunes from their 2010 EP Bringin' It Home, and also kept the crowd happy and dancing with tunes from Nena, Sublime, the Beatles, a rocking take on Michael Sembello's Flashdance hit "Maniac," Tom Petty, Def Leppard, a hard-rocking version of Toto's "Africa" and more. Based on the ecstatic response to their return this night, more Hope Fallacy appearances at the Four Dees are likely.
A new area band to check out is The Unusual Circumstance, who I saw in late February at Underdog's in Bellwood. Featuring Mike Williamson on lead vocals, guitarists Cameron Irvin and Cody Lenglet, and drummer/percussionist John Finamore; The Unusual Circumstance performed a mixture of acoustic, country-flavored original songs, classic and modern country favorites. Mike demonstrated a clear, powerful voice up front as well as a welcoming, friendly personality that won the crowd and earned steady cheers. The Unusual Circumstance played several originals, as well as country favorites from Brantley Gilbert, David Lee Murphy, Tyler Farr, Alabama, John Michael Montgomery, Kenny Chesney, Toby Keith, Tim McGraw, Luke Combs and more. Mike continues to hone his original songs, and has made several trips to Nashville to explore the musical climate there.
I again had the joy of witnessing singer and songwriter Eric Ian Farmer during one of his weekly Thursday appearances last month at the Tavern's Adam's Apple in State College. Playing ukulele, Mary Ann Cleary opened the evening with a variety of favorites, joined later on by brother Brian Cleary on acoustic guitar. Eric then worked his musical magic with the audience, delivering a soaring, spiritual, passionate and uplifting performance. He felt the music from the get-go, and captivated the audience with his blend of cadence, dynamics, finesse and heartfelt emotion. Eric demonstrated his dynamic range from inspired and soulful singing and vocalizing to pristine silence, holding the audience in total attention throughout. He opened with Fleetwood Mac's "Landslide," and had the audience hanging on every note, clear until his final note trailed off, before they then began their applause. After Eric sang an original number inspired by a past girlfriend, Mary Ann and Brian joined him for the rest of the performance. One of the big highlights was their version of Don Henley's "Heart of the Matter," as Eric rode this number toward a rousing homestretch where he emphasized the word "forgiveness" and made it the hopeful theme of the song itself. That is perhaps the enduring attribute of Eric Ian Farmer's performances; that he emphasizes hope and positivity, and audiences leave his shows in a better frame of mind than when they first arrived.
I checked out The Dillons for the first time last month at the Holiday Bowl Strike Zone Bar & Grille in Altoona. Ed Dillon on bass and vocals, Ruschelle Dillon on guitar and vocals, and Jason Selfridge on guitar kept a busy room happy with their mix of acoustic classic rock, pop and country favorites. They broke out tunes from J. Geils Band, Blondie, Tom Petty, Fleetwood Mac, Johnny Cash, Neil Diamond, Lady GaGa, Marshall Tucker Band, Eric Church, Bob Seger and more. Ed and Ruschelle alternated singing duties, and sounded good through all of it, keeping the mood cordial, friendly and often humorous.
And I also caught a four-band show at McGarvey's last month, featuring solo performer Kevo Can't Dance, Philadelphia indie-progressive rock group Diaphane, Susquehanna Valley-based indie-folk group MA'AM and Hollidaysburg's From Down the Road.
News and notes…Altoona native Jimmy Mowery has advanced to the battle round on NBC Television's "The Voice"…We The Kings and Go Go Gadjet will perform at the third annual Ivyside Off the Rails: Music and Arts Festival, happening at Altoona's Railroaders Museum April 14…The Reverend Horton Heat returns to McGarvey's on April 6…The Allegheny Ukulele Kollective presents the fifth annual Ukulele Soiree May 3-5 at the Altoona Grand Hotel, featuring ukulele workshops, jam sessions, open mics and guest performers including Sarah Maisel, Craig Chee, The Dirty Hillers, Abe Deshotel, Mim of Mim's Ukes and more…Western PA classic metal rockers Iron Wolf have issued their debut CD, Strong Never Broken.
Please send correspondence and recordings to: Jim Price, 1104 S. Catherine St., Altoona, PA 16602. You can also e-mail me at jptheprofessor@gmail.com. And if you're into social networking, look me up on Facebook or Google+. SUPPORT LOCAL MUSIC!