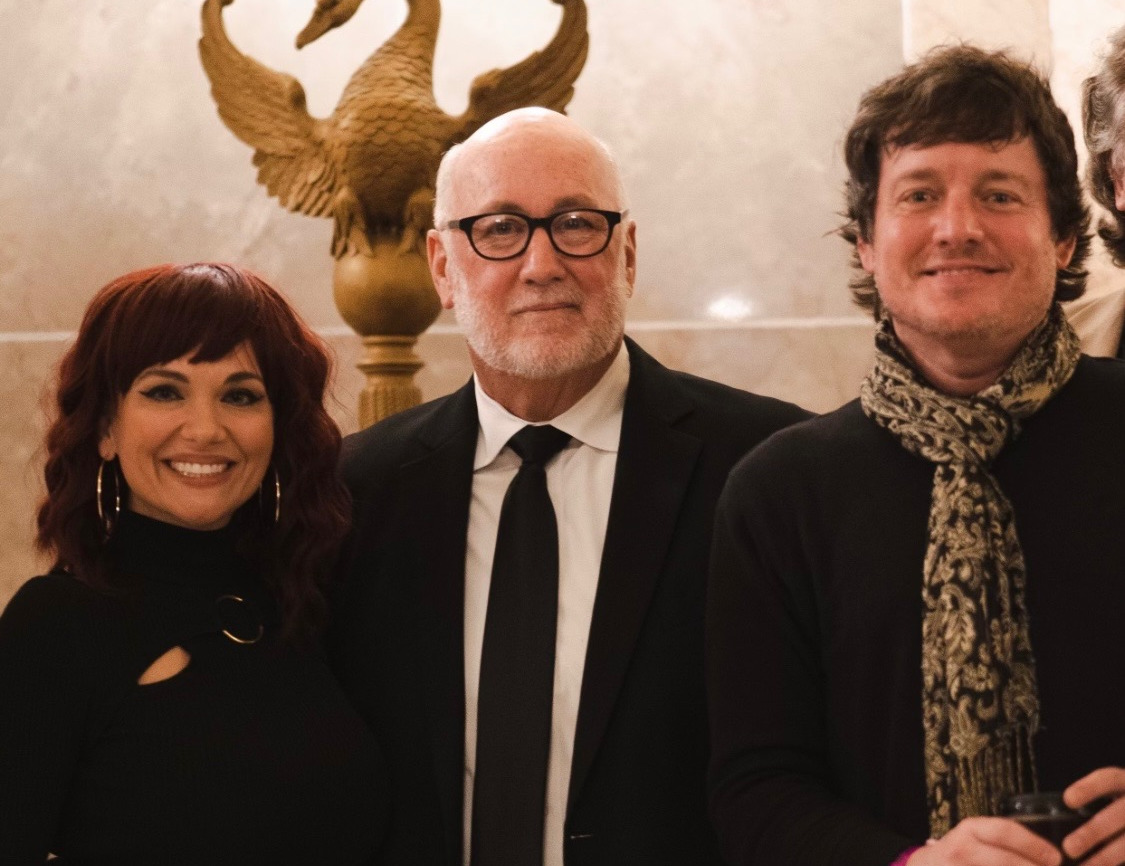 ---
By: Eric Hoffman
Greetings Rockers 'N' Rollers! Cincinnati-based band, Foxy Shazam, returned to the road for the first time since Oct 2014 when they disbanded. The band known for their wild performances, theatrics and over-the-top lyrics played major cities including Chicago, Boston, New York – before stumbling upon Millersville, PA. Nice work to the venue Phantom Power who are putting their stamp on the local scene with great shows like KIX, NRBQ, The Toasters, Heart Bones to name a few. Industrial band, Ministry, visited Baltimore Soundstage on March 6th as part of "The Industrial Strength Tour" featuring The Melvins and Corrosion of Conformity. Al Jourgensen and the band were amazing with a chain-link fence separating the group from the pit and playing hits, "Just One Fix," "NWO" and "Search & Destroy." Irish band, Inhaler, are currently touring America in support of their debut, "It Won't Always Be Like This" – the young band from Dublin began in 2016 and singer, Elijah Hewson, is the son of U2 frontman, Bono. Inhaler have a sound reminiscent of U2 in the early 80s and have sold-out nearly every show on their current tour, including the recent 9:30 Club gig in Washington DC on March 7th.
There were great local shows as well .. Anthrophobia blew the roof off West York Inn on February 26th. Shea and Swish made a great return to Sons & Daughters of Italy on March 3rd. And a very good tribute show to The Cure (Gathering Gloom) and The Smiths (Caligula Blushed) at Hershey's Englewood on March 12th.
The month ended with the 3rd annual Central Pennsylvania Music Awards on March 24th at the Hershey Theatre. This year's 6 inductees included: Les Brown, The Emperors, LIVE, The Del McCoury Band, The Pixies Three, and Third Stream. A highlight of the evening was seeing longtime friend and concert promoter, John Harris Jr., receive the Whitey Noll Lifetime Achievement Award – congratulations Harris for over 4 decades of shaping Central PA's music scene.
Foo Fighters drummer Taylor Hawkins died on March 25th at the age of 50. The band was scheduled to play at a festival in Bogota, Colombia that same night. Hawkins' final concert was on March 20th at another festival in San Isidro, Argentina. He was Alanis Morrissette's touring drummer when he joined Foo Fighters in 1997. Lead singer, Dave Grohl, wrote in this 2021 book calling Hawkins his "brother from another mother, my best friend, a man for whom I would take a bullet." Hawkins is survived by his wife Alison and their three children.
Metallica and Billy Joel played separate shows on consecutive evenings to over 80,000 fans at Las Vegas' Allegiant Stadium. The show billed as "Two Epic Shows…One Unforgettable Weekend," to serve as a model for future stadium touring. Having live performances over the course of 24 hours by two giants also allowed for a number of cost-saving synergies, including shared stage production, promotion, marketing, PR, ticketing, and more. The shows took place on February 25th & 26th and grossed $13.8 million. Both groups stayed at the same hotel, "It was like summer camp in the lobby with the Metallica and Billy camps all knowing each other. It was very exciting and uplifting to see the camps together."
Dolly Parton has announced she is pulling out of this year's nominations for the Rock & Roll Hall of Fame, saying she hasn't "earned that right." The music icon explained her decision noting she did not want to take votes away from the remaining nominees. "Even though I am extremely flattered and grateful to be nominated, I must respectfully bow out. This has however inspired me to put out a hopefully great rock n' roll album at some point in the future, which I have always wanted to do! My husband is a total rock n' roll freak, and has always encouraged me to do one." Other artists who have made both the Rock Hall and Country Hall of Fame include Brenda Lee, Johnny Cash, Elvis Presley and Hank Williams.
Pearl Jam is ready to get back out on the road after having to call off their 2020 tour, and announced rescheduled North American tour dates. The band added Camden, NJ Waterfront Pavilion on September 14th, right before their show at NYC Madison Square Garden on September 11th. The 19-date tour will feature Josh Klinghoffer opening with his solo project, Pluralone.
The Rolling Stones will return to Europe this summer to play 14 shows in ten countries. The tour, titled "Sixty" in celebration of the legendary band's 60th anniversary. June 9th, they play Liverpool soccer stadium for the Stones' first performance in Liverpool in over 50 years. The band will also play 2 nights at London's Hyde Park, where they played a free concert in 1969 to a crowd estimated between 250,000 and half a million people. The Rolling Stones will once again be joined by long-time collaborator Steve Jordan, who stepped in after Charlie Watts passed in 2021.
My Chemical Romance just added 14 new arena shows to its long-awaited North American reunion tour this summer. MCR first reunited on stage in December 2019 at Los Angeles Shrine Hall, marking the band's first concert in more than seven years. The band visits Philadelphia's Wells Fargo Center on August 29th.
Alanis Morissette continues celebrating 25 years of her album Jagged Little Pill with a 2022 World Tour. In addition to Europe, Morissette will play 7 shows in America including PNC Bank Arts Center in Holmdel, NJ on July 21st. Garbage will provide support.
Lady Gaga's long-awaited "Chromatica Ball" is due to arrive this summer and will see the pop singer performing in stadiums. The trek visits Washington DC's Nationals Park on August 8th and East Rutherford, NJ Metlife Stadium on August 11th.
Cancellations for concerts in Russia keep pouring in as artists stand up for peace and show solidarity with Ukraine. The latest cancellations include performances from Green Day, Twenty One Pilots, Nick Cave, Bring Me The Horizon, Yungblood and Franz Ferdinand. The Killers and Iggy Pop have nixed their respective July appearances at Park Live Festival in Moscow. Live Nation has stated that it won't be doing business with Russia, effective immediately, "We will not promote shows in Russia. We're in the process of reviewing our vendors so we can cease work with any and all Russian-based suppliers."
Heavy metal titans Metallica have announced what they are saying will be their only two summer stadium shows in 2022. Highmark Stadium in Buffalo, NY on August 11th and Pittsburgh's PNC Park on August 14th. Both shows will feature Greta Van Fleet and Ice Nine Kills. While the band says this will be their only stadium shows, Metallica does have festival appearances booked including Lollapalooza, BottleRock Napa Valley, Boston Calling, Copenhell, Pinkpop, Rock Werchter and more.
APRIL SHOWS: Richie Ramone – Harrisburg HMAC Apr 2. Doyle (Misfits) – Harrisburg HMAC Apr 6. Bright Eyes – Philadelphia Met Apr 8. Bright Eyes – Washington DC Anthem Apr 9. Jet Silver – Lancaster Tellus Apr 9. Elton John – Hershey Giant Center Apr 13. Joan Jett – Reading Santander Apr 14. Fontaines DC – Philadelphia Underground Arts Apr 22. Jimmie's Chicken Shack – Mechanicsburg Lovedrafts Apr 23. Dead Milkmen – Harrisburg XL Live Apr 23. Lars Frederiksen (Rancid) – Baltimore Ottobar Apr 26. Bouncing Souls – Millersville Phantom Power April 30th.