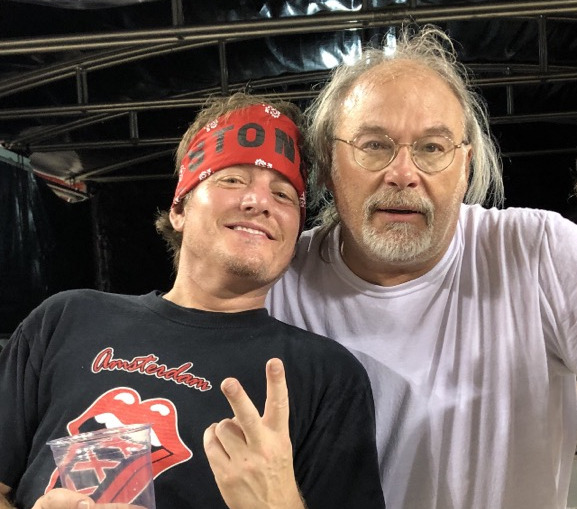 ---
By: Eric Hoffman
Greetings Rockers 'N' Rollers! The iconic Rolling Stones began last month bringing their 'No Filter Tour' to FedEx Field in Landover, MD on July 3rd. A truly memorable experience from the pit, seeing the 55-year old historical band merely 20 feet away. Of course it was expensive… $600 for general admission, $60 to park, $15 for a beer… but its the biggest band in the world, quite possibly the greatest in rock and roll music ever. The band's energy was incredible and didn't even strike me that all four core members are all in their 70s. Keyboardist Chuck Leavell (37 years in the band) and bassist Darryl Jones (25 years) have both earned recognition, but it's funny when Mick Jagger still calls Ronnie Wood (44 years) the "new guy." History was made when the band played the song "Have Mercy" for the first time in 50 years. Jagger noted to the audience, "It's a long time ago, so we're going to try to remember it." It was nice to meet with Cedar Cliff graduate Harrisburg native, Dave Natale, who has been FOH Engineer for the Rolling Stones for 13 years.
Blink 182 and Lil Wayne visited Hersheypark Stadium on July 5th. Blink 182 celebrated the 20th anniversary of their album 'Enema of the State' by playing it in its entirety. Rob Zombie and Marilyn Manson played the PPL Center in Allentown on July 10th. The co-headlining tour 'Hell Never Dies' included an encore featuring both Zombie and Manson singing 'Helter Skelter' together. Heavy metal band, Ratt, rocked the Keswick Theatre in Glenside on July 13th. Singer, Stephen Pearcy, and bassist, Juan Croucier, are the only two members from the original band but continue to rock with hits, "Way Cool Jr," "Slip of the Lip" and "Round and Round."
The highlight of the past month and best show of the summer, was that of Australia punk band, Amyl & the Sniffers. The quartet has only been around three years but are gaining huge momentum with massive recognition at SXSW Music Conference in Austin, Texas and putting on unforgettable live performances. The band recently released their debut album May 24th and are in the midst of a 16-date sold out US tour. Fortunately I caught two unreal performances in Washington DC and Philadelphia. Singer, Amy Taylor, may be reminiscent of Plasmatics' Wendy O Williams and their music of their fellow country natives AC/DC. Its fantastic punk rock with notable songs, "Some Mutts (Can't Be Muzzled)", "Gacked on Anger" and "I'm Not A Loser."
Harrisburg native, Jeffrey Gaines, returned home for an intimate performance at HMAC's Stage on Herr on July 19th. The singer/songwriter shared funny memorable stories in between songs of growing up in Central PA. Since his debut album in 1992 on Chrysalis Records, Gaines continues to sing beautifully and play frequently. His confidence allows him to conform to any given situation and engage the crowd closely. On this night, seating was set back from the stage in which Gaines left the stage and joined fans on the floor, stating "If you're not going to come to me, I'm going to come to you." Gaines began the night with Michael Giblin on bass and Paul Murr on drums and finished the show solo. My thanks to HMAC owner, Chris Werner, for a special evening.
NATIONAL NEWS: Ringo Starr surprised fans and joined Paul McCartney on stage for the encore of his "Freshen Up" tour finale. The sold-out show took place at Dodger Stadium on July 13th. Sir Paul announced the unexpected guest and the two former Beatles exchanged hugs while a Ludwig drum kit was rolled onto the stage. The two began with Sgt. Pepper Lonely Heart's Club Band and then lead into Helter Skelter. The 77-year old Macca "Freshen Up Tour" has grossed $40.7 million and sold nearly 370,000 tickets in the 6-month trek.
Singer R Kelly, already facing sexual abuse charges brought by Illinois prosecutors, was arrested in Chicago after he was indicted by a grand jury on 13 federal counts including sex crimes. "The counts include child porn, enticement of a minor and obstruction of justice." The 52-year-old Grammy winner, whose real name is Robert Kelly, was arrested earlier in February on 10 counts and was released on bail. On his current arrest a federal judge ordered R&B singer to be held in a Chicago jail without bond. Prosecutors argued that Kelly would be an extreme risk if released, especially to minors, and that he might flee.
Twenty One Pilots have announced a new U.S. leg of its global "Bandito Tour," with more arena dates including Baltimore's Royal Farms Arena on Oct. 15th, State College's Bryce Jordan Center on Oct. 18th and Philadelphia's Wells Fargo Center on Oct. 20th. The band also broke a record recently with their album, Vessel, reaching gold status. Their 2015 album, Blurryface, was the first album from this era to have every track go gold or platinum. Twenty One Pilots is now the first group to have every song from two separate albums certified gold or silver.
Taylor Swift is not staying silent over the sale of her masters to Scooter Braun. The pop superstar says she is "sad and grossed out" that her music catalog now belongs to Braun, whom she accuses of subjecting her to years of incessant and manipulative bullying, "This is my worst case scenario." Braun's Ithaca Holdings acquired Big Machine Label Group, which released all of Swift's studio albums and owns her masters. Swift left Big Machine and signed with Universal Music Group in November because she says she knew that re-signing with the group that had managed her since she was 15 would only result in her not owning her future work. She writes that now Braun has "stripped her" of her life's work that she "wasn't given an opportunity to buy." Taylor Swift's new album, "Lover" will be released on Aug. 23rd.
After 26 years since their last studio album, The Kinks, are preparing to release unreleased material, including unfinished songs and 100% new ones. "This has really been going on for a couple of years," Dave Davies stated. "We keep going backwards and listening to a lot of old stuff Some of that is very good, and some of it needs a bit of work." The Kinks are one of the most important names in British rock but were always marked by the stormy relationship between founding brothers Ray and Dave Davies. As for touring, "Interesting question, I really don't know. I think its possible. It's not out of the question. But at this stage, it's far too early to say. It would be fun though, wouldn't it?"
UPCOMING SHOWS: The Dollyrots – Lancaster Lizard Lounge Aug 1. Tom Keifer – Glenside Keswick Theatre Aug 2. Aerosmith – Baltimore MGM National Harbor Aug 8, 10, 13. Menzingers – Baltimore Ottobar Aug 10. Bouncing Souls / The Bronx – Pittsburgh Mr Smalls Aug 11. The Distillers – Philadelphia Union Transfer Aug 14. KISS – Hersheypark Stadium Aug 21. The Ocean Blue – Philadelphia Underground Arts Aug 23. The Wallflowers – Hershey Vineyard Aug 24. Bush / Live – Allentown Fair Aug 27.