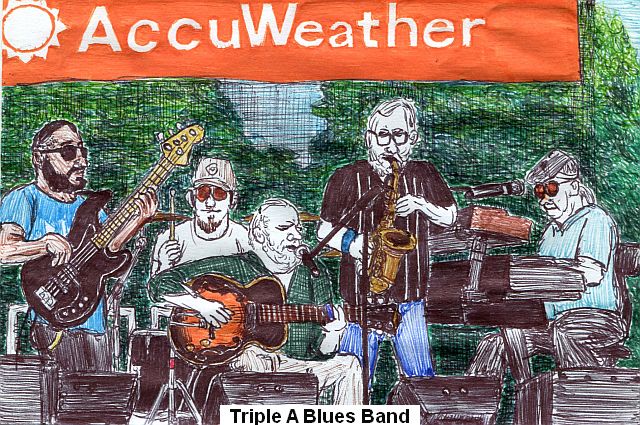 ---
By Jim Price
For me, the summer outdoor season is always the busiest time of year for covering live music in PA Musician. The period between mid-June and Labor Day gets crazy, with numerous multi-band festivals, concerts, fairs and other outdoor happenings taking place, often with several happening on the same day or weekend. I try to get to as many as I can, and as such, my monthly writs during this season tend to be chaotic as I attempt to fit all these events into one column. As I embark on this month's writ, I will attempt to cram at least 54 bands and solo musicians seen during recent weeks into my monthly space, and not go insane doing it. Wish me luck!
The fourth weekend in June was busy, with several motorcycle-themed events with live music happening in Cambria and Blair Counties, and one of my favorite events of summer – the Smoked Country Jam Bluegrass Festival – happening north of I-80 in the Pennsylvania Wilds. I split the weekend between one of the motorcycle events and Smoked Country Jam. Before heading northward for the latter, I caught the first night of Altoona's Pennsylvania Roundhouse Rally, which featured Fuel performing at the Railroaders Museum. My broadcast employer, 105.9 Qwik-Rock, provided an extra treat before the main event, as national recording group Eve to Adam performed an unplugged set under a tent outside the Museum. Eve to Adam mixed new songs from their latest album, "Ithaca," with established original song favorites such as "Straitjacket Supermodel," "Run Your Mouth" and "Immortal," which singer Taki Sassaris dedicated to veterans; the group is involved with the nonprofit 2 Vets OAM, which works to help at-risk veterans. Inside the Railroaders Museum, Helter Skelter 67/70, featuring a who's who cast of Altoona area musicians, opened the night with their tribute to late 1960s-era Beatles. Singers Steve Oswalt and Matt Pletcher, guitarists Ben Eberhart and Randy Rutherford, bassist Joe George, keyboardist Phil Steele and drummer Randy Servello did great work bringing to life such Beatles classics as "Come Together," "Revolution," "I Want You (She's So Heavy)," "Helter Skelter," "I've Got A Feeling," "Abbey Road Medley" and more. Fuel soon arrived on stage, kicking off with "Untitled" off the "Sunburn" album. The current roster of singer and guitarist Brett Scallions, drummer Shannon Boone, bassist Phil Buckman and lead guitarist Jason Womack mixed established song favorites with material from their latest album, "Puppet Strings." Fuel fired up the crowd with numbers such as "Song for You," "Bad Day," "Shimmer" and "Bittersweet," before an arriving thunderstorm sent fans scurrying for shelter and a close lightning shot prompted a temporary halt to the set midway through. After the storm cleared, Fuel returned for several more songs, including "Puppet Strings," a rendition of Tom Petty's "Mary Jane's Last Dance," and the crowd sing-along edition of "Hemorrhage (In My Hands)" to close the night.
The next day, I headed north into the Pennsylvania Wilds to enjoy the final two days of the four-day Smoked Country Jam Bluegrass Festival, held at Quiet Oaks Campground near Cross Fork. My decision to arrive Friday turned out to be a good one; because while the aforementioned Fuel concert in Altoona was impacted by a moderate thunderstorm the night before, Quiet Oaks Campground was hit by a much more severe thunderstorm at the same time. The story was shared throughout the weekend; the Lehigh Valley-based bluegrass group Serene Green had just begun their set on the Quiet Oaks stage when that thunderstorm arrived, and frequent lightning and torrential rains prompted organizers to shut down power to the stage. With audience members taking shelter on and in front of the stage while rainwater pooled and cascaded around them, Serene Green proceeded to perform their entire set without power or sound system. As they then waited for the waters near the stage to recede, Serene Green and several other musicians kept their captive audience happy by jamming until the wee hours of the morning. Serene Green was the third group I saw after arriving and setting up my tent; featuring guitarist Michael Johnson, mandolinist Quentin Fisher, Shane McGeehan on unright bass and Steve Leonard on banjo, the group performed a pleasant mix of original songs plus bluegrass staples from Del McCoury, Bill Monroe and the Stanley Brothers.
Serene Green was one of 16 of the festival's 21 bands and performers I got to see. As they did last year, North Carolina's Fireside Collective captivated audiences throughout the festival with their progressive folk and bluegrass sounds. Audiences grew as this group played three sets during the festival. Mandolinist Jesse Iaquinto, guitarist Joe Cicero, dobro player Tommy Maher, upright bass player Carson White and banjoist Alex Genova blended their intriguing newgrass original songs with their innovative takes on popular songs – including grassed-up reboots of Bob Marley's "Is This Love," the Beatles' "Eleanor Rigby," the Eagles' "One of These Nights," the Rolling Stones' "Miss You" and more. Another favorite was singer, songwriter and educator Van Wagner; during his onstage performance and a morning workshop, Van shared songs and stories about Pennsylvania, its people, culture, history and curios. He performed numbers from his 25th album "Shortleaf Pine," and did other songs and requests from throughout his discography. Van also offered for sale special "Ash to Ash" skateboards made from salvaged dead ash trees, to bring awareness to threats to PA forests from the Emerald Ash Borer beetle.
Also popular this year was Philadelphia's Man About a Horse with their blend of traditional bluegrass and adventurous newgrass…Altoona's Mama Corn with their mixture of folk, bluegrass and wit…Pittsburgh's Well Strung with their playful brand of bluegrass and folk…West Virginia husband-and-wife duo Meadow Run, featuring Hillbilly Gypsies alumnus Ty Jaquay on fiddle with wife Lindsey on vocals and guitar…And I also enjoyed sets from Harrisburg favorites Colebrook Road, New Jersey's Bug Tussle, Doug Forshey with State College's The Crooked Line, North Carolina's Songs From The Road Band, Boston folk rock group Cold Chocolate, Danville's Strawberry Ridge, and West Virginia's Silas Powell & the Powell Family Band.
Again part of Smoked Country Jam was the Pennsylvania Heritage Songwriters Contest, as songwriters were invited to submit their song creations about Pennsylvania, its people, locations and history. Three winners were announced; Boalsburg's William Ryan captured first place and performed his winning entry, "Four Mile Road." Although not present, Lemoyne's David Fishel won second place with his song entry, "Meriwether Kinsman," and Tennessee's Kevin T. Hale took third place with his song "Pennsylvania Brookie."
The music, fun and festivities all led up to the Saturday night finale, hosted by festival headliners and favorites The Hillbilly Gypsies. The group welcomed a new fiddle player recently, Robbie Mann, who joins founding couple Trae and Jamie Lynn Buckner, banjo player Levi Houston Sanders and upright bass player Ryan Cramer. With festival-goers crowded in front of the stage, the Gypsies opened the set with a bluegrass medley tying together Doc Watson's "Mama Don't Allow No Music" and "New River Train," and the traditional numbers "Mountain Dew" and "Cotton-Eye Joe." The group also did songs such as Don Reno's "Limehouse Blues," the Grateful Dead's "Brown-Eyed Women" and more. Trae then invited musicians from the festival's other groups to join them, and a large crowd of musicians soon populated the stage for the jam finale, which commenced with Mama Corn's Johnny Stevens singing the tune he wrote about the festival, "Smoked Country Jam," followed by "Foggy Mountain Breakdown," highlighted by a circle of six different banjo players taking center stage. The jam continued with Bill Monroe's "Y'all Come," before an extended sing-along version of "Will the Circle Be Unbroken" – with each musician soloing or singing a verse – brought the festival to its end.
As always, proceeds from this year's Smoked Country Jam benefited the Lupus Foundation of PA. Thanks to organizers Ron and Teresa Kodish, George Powell and GP Audio for the excellent job on production, all the volunteers, the bands and musicians, and all the friendly fans, families and dogs for another great weekend!
With Altoona's Lakemont Park reopened for business this year, the amusement park's 4th Of July celebration returned as well. Two bands performed on Independence Day leading up to fireworks. Zach Wade & the Good Grief kicked off music during the afternoon on one of the park's two performance stages. Despite a temporary downpour during their first set, namesake Zach on lead vocals and guitar, lead guitarist Rogan Allen, bassist Devin Pierce and drummer Keegan Allen played their mix of acoustic-rooted original songs and select covers. They mixed new original songs from their forthcoming recording with tunes from their "@ the Bitter End" EP, as well as numbers from The Cure, Gin Blossoms, Stevie Wonder, Rusted Root and others. Following them on the park's other performance stage was Stephanie & the Wild Hearts, who entertained with their blend of original rural-flavored numbers, plus modern and classic country and rock favorites. Over three sets, singer Stephanie Onkst, singer and guitarist Bob Onkst, guitarist Greg Larrimore, drummer Doug Fetter and new bassist Chad Morral performed a few newer originals plus numbers from their Chrome Hearts CD "Oh No" such as "Put Your Money Where Your Mouth Is" and "We Got It All Goin' On." They also kept the audience cheering with country favorites from Miranda Lambert, Jeannie C. Riley, Don Williams, Dwight Yoakam, Gretchen Wilson, Jason Aldean, the Eagles, Georgia Satellites, Johnny Cash and more. Fireworks fans enjoyed twice the pleasure afterward, as next-door People's Natural Gas Field set off fireworks after the Altoona Curve baseball game, before Lakemont Park set off theirs.
Eight different bands and performers took the stage during the annual Wam Bam Mountain Jam, which took place early last month in a rural location near Port Matilda. With a thunderstorm threat looming, the event was moved inside a large garage, with music happening on two adjacent stages. Nothing Much kicked things off with a strong set that blended hard-rocking favorites spanning the 1970s to 2000s. Lead singer and guitarist Jay Ammerman, guitarist Kyle Myers, bassist Andy Wixom and drummer Charlie Hullihen set the day's energetic tone with numbers from Flock of Seagulls, Greg Kihn Band, The Darkness, Loverboy, Foo Fighters and more. I was both spectator and performer this day, as my Backyard Rockers bandmates and I did our acoustic thing on the second stage between first stage bands. Our first set – including numbers from Rod Stewart, The Band, Tom Petty, Neil Young and more – led up to the next group of the day, State College's Gelatinous Cube. Guitarist and singer Tom Harper, guitarist Graham Colby, bassist Ed Colby and drummer Eric Rozzi introduced onlookers to their adventurous original sound, which merged elements of progressive and jam rock with funk, jazz and even worldbeat flavors. Some of their numbers showed a 1970s-styled experimental rock sound rooted in early Santana and Pink Floyd, and one number, "Night Train to Shymkent," displayed a world folk-geared edge. Third on the main stage was new Port Matilda-based group Homegrown, who fired up the crowd with their fiery blend of blues, soul and rock. Tabby Wilson, guitarist Billy Wilson and bassist Nate "Tubz" Eisenhuth shared lead-singing duties, with Caleb Mitchell on guitar and Ray "Bink" Eisenhuth on drums. Homegrown let loose with feisty takes on numbers from Willie Dixon, ZZ Top, Eddie Floyd, Tracy Chapman, the Beatles, CCR, Sam & Dave, Jimi Hendrix and more. Tabby displayed a powerful voice on numbers such as Everly Bros./Linda Ronstadt's "When Will I Be Loved" and Jefferson Airplane's "White Rabbit," and she and Billy slammed the lid on Homegrown's set with an excellent take on Ike & Tina's version of "Proud Mary." The event's host band, Donny Burns & the 3rd Degree, rocked the house with their mix of original songs and classic rock favorites. Donny Burns Jr. and Nick Stahlman on guitars and vocals, James Arroway on bass and Rob Chisholm on drums kept things exciting with tunes from the Foo Fighters, Guns N'Roses, Stone Temple Pilots, Pearl Jam, Red Hot Chili Peppers, and what is becoming this group's specialty – Led Zeppelin. They also did original tunes from their forthcoming recording, including their update of "Hooterville U.S.A.," a song written and recorded by Donny's dad, Donny Burns Sr. An additional highlight was young Alex Shumaker sitting in with Donny and the 3rd Degree on both drums and guitar. Next up on the second stage was Luke Cimbala, who played acoustic guitar and sang a short set of original songs and select covers. Some of Luke's original songs included an acoustic take on "Shook_Spark," "Sexually" and a song jingle from his day job (selling cars); his covers included Pink Floyd's "Comfortably Numb" and Leonard Cohen's "Hallelujah." Jampact then fired up the party with their uptempo classic rock mix. Singer and guitarist Ryan Clark, singer Lisa Bock, bassist and singer Steve Treado and drummer Jamie Shumac stirred up dance floor action with tunes from AC/DC, Billy Idol, Blondie, Bob Seger, Eddie Money, Pat Benatar, Joan Jett, Billy Squier and more. And from north of Harrisburg, Broken Fayth closed out the music with set of original tunes plus 80s, 90s and modern rock/metal numbers. Four members strong, Broken Fayth rocked well past midnight with numbers from Beastie Boys, Bullet for My Valentine, Godsmack, System Of A Down, Breaking Benjamin, Disturbed, Rage Against the Machine, Theory of a Deadman, Pop Evil and many more. They also did some of their own tunes such as "Sexual Psycho" and "Over Me." Wam Bam Mountain Jam was well-attended; hats off to Jerry Martain for great work on the production, and organizers Donny Burns & the 3rd Degree for another fun event!
Another highlight of July was Arts Festival week in the Centre region; I was able to attend the Thursday portion of the 53rd annual Central PA Festival of the Arts in State College. I first headed to the Festival Shell stage in front of Old Main on Penn State's University Park campus, where Central PA's Across The Pond was presenting Celtic-geared folk sounds. Featuring Dan Diviney on whistles and bodhran, Mike Morrison on guitar and vocals, Chuck Krepley on fiddle, Marilyn Dolly on vocals and step dancer Emily Warren, Across The Pond performed a variety of traditional-flavored Celtic numbers, including "Star of County Down," "The Banks of Spey," fiddle numbers and more. Next on that same stage was the Triple A Blues Band, presenting their spirited mix of classic blues. Andy Tolins on guitars and vocals, John "JT" Thompson on keys and vocals, Tom Gallagher on sax, Justin Dorsey on bass, Stubby Stubbs on drums and Bill Besecker on vocals did classic blues numbers from Sonny Boy Williamson, Otis Rush and others, plus songs such as "Telephone" and the JT-fronted "Baby Won't You Please Come Back." Their musicianship was top notch, and Triple A's enthusiasm was infectious – you could tell this group was having fun making the music this day! I then headed to the Allen Street stage to catch the latter part of the JR Mangan Band's set. JR on acoustic guitar and vocals, singer Veronica Alger, bassist Jason Ebersole, guitarist Mark Toci and drummer John Lynch entertained the large audience and passers-by with hits from Amy Winehouse, Tom Petty, Don Henley, Jefferson Airplane and many more. I returned to the Festival Shell stage for my first look at the Alex Meixner Band. A Lehigh Valley native and Penn State graduate; namesake, singer and accordionist Alex and his band now call Palm City, Florida their home base. Declaring his love of polka music early on, Alex took the audience on a happy-go-lucky, polka-based musical journey, mixing original numbers, traditional polkas, and polka-fied takes several surprise numbers. Some of those surprises included giving Ozzy Osbourne's "Crazy Train," AC/DC's "Thunderstruck" and Metallica's "Enter Sandman" mash-up polka rides, as well as his zydeco-toned "Baby Say Maybe," Aaron Copland's "Hoedown" and more. Closing out the Allen Street stage was The Ultra Kings. The Lehigh Valley based trio of singer and guitarist Rick Kuebler, upright bassist Rich Freese and drummer Carl Ehst fired off early-flavored rock'n'roll, surf rock and rockabilly, performing original songs and select covers.
I journeyed west last month to catch the second day of the 7th annual Band Jam Grass Roots Music Festival, which took place at Cooper's Lake Campground near Slippery Rock. During this event, presented in part by The Rock Station 97.7 in Butler and Shady Lady Productions, 20 different bands and artists took the stage including 13 this day; I got to see nine of them. Anger the Ant was finishing up their set as I arrived; this Butler-based four-piece group closed their performance with a version of Led Zeppelin's "Hey Hey What Can I Do." Following them were popular Pittsburgh-based country-rockers The Shiners, who energized the crowd with their mix of originals, country and country-rock favorites. The group roused fans with original songs such as "Heart Talkin,'" "Before Too Long" and "Way Back Home," as well as a version of the Eagles' "Peaceful Easy Feeling." The group capped their set with an excellent read of The Outlaws' "Green Grass and High Tides," with their pedal steel player joining guitarists Jim "Slim" Varhola and Rob Keller for a classic three-guitar army finish. Next was solo artist J. Roger Davis. A North Carolina native now calling Pittsburgh home, he performed a set of original folk and soul-rooted original songs, offering a heartfelt presence and smooth voice on songs such as "Money Ain't Everything," "Runaway Train" and "Misery Loves Company." From there, Sophie Lockhart performed her original numbers. Accompanied by Jason Anthony on cajon, Sophie played acoustic guitar and sang songs such as "Wish You Were Here," "Heart on Display" and "Blue Sky Day," as well as John Mayer's "Waiting on the World to Change." Acoustic Fingers, the side project alias of singer and songwriter Rob Rouse, followed with an acoustic set. Rob did numbers off his new album, "Look Before You Leap," along with a set-ending take on Led Zeppelin's "I Can't Quit You Babe." Full bands then returned for the homestretch, starting with Pittsburgh's Justin Wade Band. Four members strong, they displayed a sound that merged elements of country, rock and blues as they mixed original songs with country and rock favorites. Namesake Justin displayed a strong voice and personality as he led the group on original songs like "Come My Way," the darker "Hard Black Water" and the hard-driving "Story to Tell," along with numbers from Jason Aldean, John Mellencamp, Marshall Tucker Band and Brantley Gilbert. Next was Butler's Highland Brothers Band, who displayed a gritty, hard-driving sound merging rock, blues and a slight twist of country. The group showcased original songs with a slight emphasis on their newest album, "Nowheresville," featuring numbers from that album such as "Roll Your Windows Down" and "Diesel Train." Pittsburgh's Wine and Spirit Band followed with their exciting set, delivering an enthusiastic Americana rock sound as they mixed original songs and select covers, including numbers from their latest album, "Animal." Singer Paul Joseph shared a story about one of the songs, "Drew," written about a friend. A woman who had heard the song on local radio contacted the band, as her own son named Drew had recently died. She connected with the song and has become friends with the band – an example of the power of music to connect and become special. The festival then ended in a heavier-rocking vein as Pittsburgh's Homicide Black took the stage. Singer and guitarist Sean Nestor, drummer Jim "Jazz" Byers and bassist Ralph McCartney made it fun, beckoning fans to come down off the hillside and join them in front of the stage. They blended blistering hard rock and classic-styled metal with audience sing-alongs, touches of humor and more. They delivered a classic metal sound rooted in the traditions of Black Sabbath and Ronnie James Dio as they mixed original songs and covers. They did songs off their new EP "The Road to Hell" and older originals, plus did numbers from Black Sabbath and a powerful crowd sing-along take on Jefferson Airplane's "Somebody to Love."
I had the opportunity to see not one, but two Led Zeppelin tribute groups recently. First, New York-based Led Zeppelin tribute Kashmir returned to Altoona's Railroaders Museum last month. Local rockers Downshift opened the show with their mix of mostly 1980s and 90s rock and metal, with a few unexpected twists thrown in. Guitarists Jordan Ferraro and Rob Lynn dueled solos on opposite sides of the railcar stage during Downshift's heavy take on Hall & Oates' "Maneater," and the group also did a rocking read of Paula Abdul's "Straight Up." They also fired up a Metallica medley, and sounded impressive on tunes from Foo Fighters, Billy Idol, Alice In Chains, Ghost, Ozzy Osbourne and their set-ending version of Pantera's "Cowboys From Hell." Kashmir then got the Led out with their celebration of Led Zeppelin classics over two sets. Starting with "Good Times Bad Times," the group took the capacity Railroaders Museum crowd on a journey throughout the Zeppelin catalog, capturing an authentic Zeppelin vibe and providing numerous highlights along the way. In the Jimmy Page role, guitarist Andy Urban generated guitar effects with a theramin during Kashmir's version of "Whole Lotta Love," and drummer Paul Cooper paid homage to John Bonham during "Moby Dick," soloing with drumsticks and his bare hands. Singer Jean Violet was strong in the Robert Plant role, demonstrating power, vocal range and soulful intensity; while bassist Felix Hanemann delivered stern bass lines in the John Paul Jones role. Among Kashmir's other highlights were "How Many More Times," "Babe I'm Gonna Leave You," the acoustic mini-set of "Tangerine," "Going to California" and "That's the Way," "Stairway to Heaven," "Kashmir" and – for the encore – "Rock and Roll."
Six days later, California-based Led Zeppelin tribute Zoso headlined during the weekly Tussey Wingfest at Tussey Mountain Amphitheater near Boalsburg. Donny Burns & the 3rd Degree kicked things off with an enthusiastic set as they did numbers from Kenny Wayne Shepherd, Billy Squier, Black Crowes, the Beatles, Pearl Jam, Red Hot Chili Peppers, original songs and more. Zoso then presented their 'Led Zeppelin Experience' to the chicken wing-eating crowd. Launching with "Rock and Roll," Matt Jernigan as Robert Plant, John McDaniel as Jimmy Page, Adam Sandling as John Paul Jones and Bevan Davies as John Bonham celebrated songs from throughout the Led Zeppelin catalog as well. Some of their highlights included their acoustic mini-set pairing of "That's the Way" with "Going to California," their deep and extensive take on "No Quarter," "Moby Dick" with Bevan also hammering the drums with sticks and hands, "Stairway to Heaven" and the night-ending rendition of "Kashmir." Zoso accurately captured the realistic feel of live Led Zeppelin, and successfully transported the crowd – including a lot of younger folks who never got to experience a live Zeppelin concert – into a legendary era.
Other performances I enjoyed recently included a special Wednesday Jam Night at Altoona's Unter Uns Musical & Entertainment Society, highlighted by the onstage reunion of Dewayne McKnight and son John McKnight (visiting from his current base of Atlanta), plus a reunion of original members of the U.S. Hotel House Band…My first look at new Altoona-based rock group Faded Flowers – featuring three Rain Must Fall alumni – along with the PennSoulvanians during a triple-bill at McGarvey's…Hate Grenade as they slammed the lid on a hard-hitting band triple-bill at McGarvey's…Johnstown's Silver Screen as they rocked Slammin' Sams in Johnstown…Florida-based area native Kel Marie and Dave Hopkins as they provided acoustic music enjoyment during a recent "Friday Wine Down" performance at Altoona's Oak Spring Winery…And Pittsburgh-based singer and songwriter Bill Young, performing a nonstop four-hour marathon of at the Castle Pub in Ebensburg.
News and notes…Gin Blossoms, Cowboy Mouth, Bill Kirchen and Davina & the Vagabonds are among the spotlight performers during this year's AmeriServ Flood City Music Festival, happening Aug. 2-3 at People's Natural Gas Park in Johnstown…The fourth annual Vets Fest happens at Altoona's Unter Uns Musical and Entertainment Society on Aug. 4; presented by the Vietnam Veterans of America Blair County Chapter 967, proceeds from the event will help veterans in need in Blair County. Performing will be Flashpoint, Kickin,' Skye 2.0, M.F.G. and This Albatross…The annual Rails & Ales fundraiser for Altoona Community Theatre happens Aug. 24 at Altoona's Railroaders Museum…Changes coming for Miss Melanie & the Valley Rats, as guitarist and founding member Mark Ross steps away from the group in mid-September, and singer "Miss Melanie" Morrison-Zeigler and other Valley Rats will take a funkier musical direction with a new project…State College's The Crooked Line has issued their new self-titled CD…Johnstown's Black Cat Moan is finishing their new CD, to be released next month…Zach Wade & the Good Grief are recording their next album in Philadelphia.
The area and regional music scenes have lost several members in recent weeks – including Harrisburg area musician Joe Glasser, who passed away unexpectedly on July 19 at age 53. Joe was a prominent bass player on the Harrisburg scene, and played in many bands, including Lovestomp, Stomp'd, Insane, Siogo, Rock View, Sugar Muscle, Sister Stryc-9, Cheez, Duck Down Boulevard and others…Steve Mitchell, a renowned Susquehanna Valley drummer whose career included nearly 30 years as one of the San Francisco Bay Area's busiest studio drummers, passed away on July 25 at age 73. Arriving in San Francisco during the "Summer of Love" in 1967, Steve went on to play and record with such names as Van Morrison, The Coasters, Lou Rawls and the Smothers Brothers, and his drumming can be heard on TV shows, commercials and more…Gary Strickland, longtime Williamsport area guitarist and member of the Dirty Mojo Blues Band, died on July 26 after an extended illness. A celebration of Gary's life takes place Aug. 11 at the Trout Run Hotel in Trout Run…And Harry Pellegrine Sr., co-founder of longtime restaurant and music venue Pellegrine's in Altoona, passed away on July 25 at age 83…We at Pennsylvania Musician share our heartfelt condolences with the families and friends of all four men.
Please send correspondence and recordings to: Jim Price, 1104 S. Catherine St., Altoona, PA 16602. You can also e-mail me at jptheprofessor@gmail.com. And if you're into social networking, look me up on Facebook. SUPPORT LOCAL MUSIC!