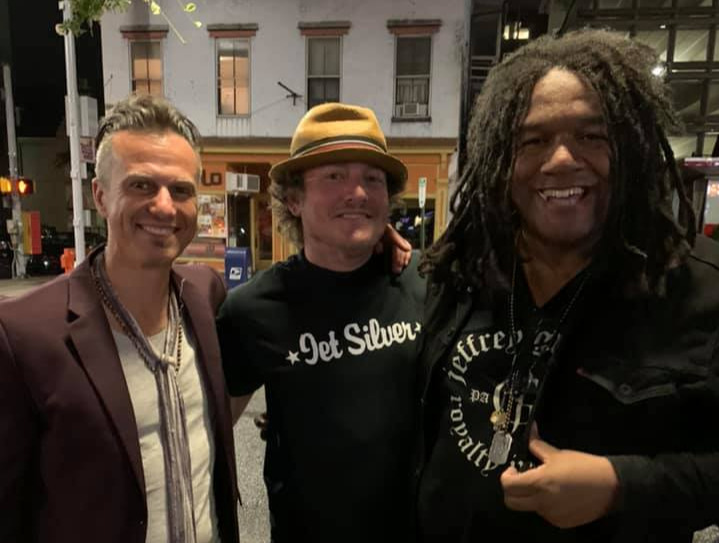 ---
By: Eric Hoffman
Greetings Rockers 'N' Rollers! Summer 2021 continues to thrive with the announcements of many new concerts daily. Last month began with the annual Central Pennsylvania Music Hall of Fame ceremony on July 1 at Harrisburg's Whitaker Center. The 2021 Hall of Fame inductees included; The Badlees, Tommy Dorsey, Jimmy Dorsey, Jeffrey Gaines, Pentagon and Halestorm. A great night of live performances and celebrating popular artists from Central Pennsylvania. The organization was founded in 2019 and this was the 2nd Ceremony held.
A few local shows that happen in July included Smooth Like Clyde outside at Taste Key West on 2nd Street Harrisburg. Happy Sally played on the Gettysburg Square at Ploughman Cider Taproom. Shea and Swish played Big Bottom Brewery in Dillsburg. And I was fortunate to see Bret Alexander of The Badlees in an intimate backyard setting near Fort Hunter. However, the highlight of this past month involved having Tommy Stinson of The Replacements, Bash & Pop, Guns N' Roses play our home on July 23. Stinson performed with longtime friend/collaborator Chip Roberts as part of their 'Cowboys in the Campfire' house tour. The sold-out event was limited to 50 tickets, which Stinson sold on Eventbrite. A great evening of friends and fans of Stinson, who could not have been nicer and engaged with the crowd for hours after the show. The pair will return to Cleveland at the Rock N Roll Hall of Fame for a show on Aug 20.
NATIONAL NEWS: The Rolling Stones announced rescheduled dates of its "No Filter Tour", after the run was postponed in 2020 due to the coronavirus pandemic. The Stones kick off their 2021 touring in September for a total of 13 stadium shows. "I'm so excited to get back on the stage again and want to thank everyone for their patience," Stones singer Mick Jagger said in a statement. "See you soon!" The legendary rock band will play Heinz Field in Pittsburgh on Oct 4. "It blows me away how incredibly they are playing today," Concerts West CEO/president John Meglen said, "I don't know if that's just growing up and getting a little better with age, or whatever it is. But man, it's just like you sit there and watch them and you go, 'Man, they are just so on.' And by the way, there's nothing enhanced up there. It's all them."
Biz Markie, a hip-hop staple known for his beatboxing prowess, turntable mastery and the 1989 classic "Just a Friend," died at the age of 57. Markie's representative said the rapper-DJ died peacefully July 16 with his wife by his side. The cause of death has not been released. Markie, who birth name was Marcel Theo Hall, became known within the rap genre realm as the self-proclaimed "Clown Prince of Hip-Hop" for his lighthearted lyrics and humorous nature. Markie broke into mainstream music with his platinum-selling song "Just a Friend," the lead single on his sophomore album "The Biz Never Sleeps." The friend-zone anthem cracked Rolling Stone's top 100 pop songs and made VH1's list of 100 greatest hip-hop songs of all time.
New York City's upcoming Central Park "mega-concert," which will celebrate the city's post-coronavirus rebirth with performances by Bruce Springsteen, Paul Simon and Jennifer Hudson is tentatively scheduled for Aug. 21 as a part of New York City's Homecoming Week. Upon the show's initial announcement, industry legend Clive Davis, who is booking the show, said the program would feature eight stars performing over three hours for a physical audience of 60,000 and a global livestream. It was reported that Patti Smith may join Springsteen during his set. "This is going to be one of the greatest Central Park concerts in history," said Mayor Bill de Blasio, "this is something for the ages."
In another sign of live entertainment's rebirth, Bruce Springsteen returned to Broadway on June 26. Springsteen had ended his residency in December 2018 after 236 performances, but was persuaded to return for a summer's encore ahead of most Broadway shows coming back in September. Thrilled to be back, fans cheered Springsteen's words so often he had to profanely tell them to settle down, lest the show take all night. His longtime guitarist, Steven Van Zandt, received a standing ovation when he took a seat in the audience. New Jersey Gov. Phil Murphy and U.S. Transportation Secretary Pete Buttigieg were also there opening night. "It's good to see everyone here tonight unmasked, sitting next to each other," Springsteen said. "What a year. I'm 71 years on this planet and I've never seen anything like it." Audience members had to show proof of vaccination to enter the St. James Theatre.
The War On Drugs' long-awaited fifth studio album, I Don't Live Here Anymore is due out Oct. 29 and the band has unveiled the routing for a 2022 North American / European tour. The band has spent more than a dozen sessions working on the album at seven studios including time spent at New York's Electric Lady and Los Angeles' Sound City. The process started in early 2018, a month after winning the Grammy for Best Rock Album for 2017's A Deeper Understanding. The War On Drugs' 2022 tour includes some of the largest stages they've ever graced including their first headline show at New York's Madison Square Garden. On Dec 1, 2011 The War On Drugs played Harrisburg's Abbey Bar for a mere $10 ticket. The band will play two nights in their hometown of Philadelphia at The Met on Jan 27 & 28 and then Madison Square Garden the following day on Jan 29.
UPCOMING CONCERTS: Jimmie's Chicken Shack – Pottstown Aug 7. Rusted Root – Millersburg Desoto Aug 7. Green Day/Weezer/Fall Out Boy – Hersheypark Stadium Aug 13. Timmy's Creepshow – Carlisle Molly Pitcher Aug 19. Shea & Swish Marysville Waterfront Aug 20. Luv Gods – Harrisburg Taste Key West Aug 21. Kings of Leon – Merriweather Post Pavilion Aug 24. Young the Giant – Harrisburg Riverfront Aug 27. Dead & Co – Hersheypark Stadium Aug 28. Gin Blossoms – Hershey Vineyard Aug 28. Jason Isbell – Harrisburg Riverfront Aug 28. Rancid/Dropkick Murphys – Philadelphia Mann Aug 31.