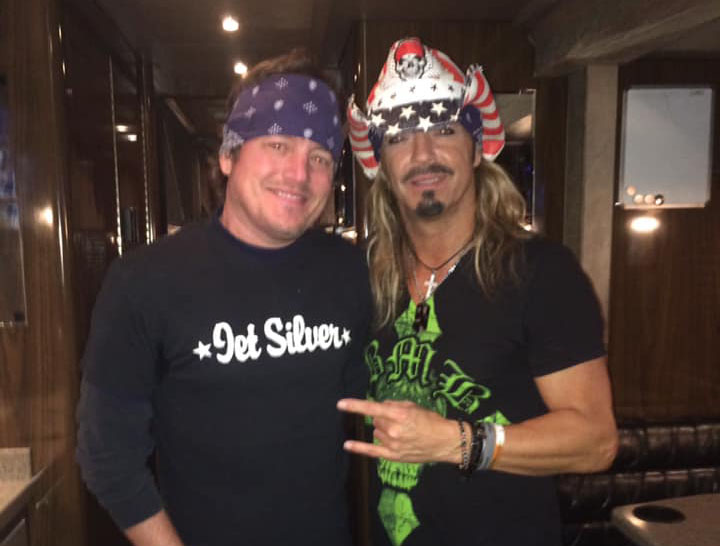 ---
By: Eric Hoffman
Greetings Rockers 'N' Rollers! Hershey concerts have already begun to release dates for 2020. Giant Center will host Post Malone on Feb 22. Hall & Oates with Squeeze on Feb 26. And Sir Elton John's "Farewell Yellow Brick Road Tour" on April 20. Hersheypark Stadium will feature Ozzy Osbourne with Marilyn Manson on June 6. Green Day, Weezer and Fall Out Boy on Aug 16. And Journey with The Pretenders on Sept 11.
Starcrawler, a young Los Angeles based band creating a lot of buzz made their way East playing very small venues, including Philadelphia's Boot & Saddle. Singer, Arrow de Wilde, is known for her cathartic and often violent performances diving into the audience covered in blood, stealing phones and clothes from the audience. Starcrawler having been gaining recognition while touring with both Foo Fighters and The Distillers and hanging with the likes of Ozzy Osbourne and The Misfits. The band began in 2015 and have released two studio albums.
Indie-rock identical twins, Tegan and Sara, brought their latest tour "Hey, I'm Just Like You" in support of their ninth album to 27 major cities. The Canadian music duo played an unplugged-type theme show, sharing intimate stories and playing music from their 24-year career. Poison lead singer, Bret Michaels, returned to Reading's Reverb nightclub on Nov 2. The Mechanicsburg, PA native plays sporadic shows and calls his latest outing the "Unbroken World Tour." The very first song, Michaels, blazed into Poison's "Talk Dirty To Me" immediately followed by "Look What The Cat Dragged In." A fun show including many Poison hit songs and also cover songs, "Rock and Roll All Night" and "Sweet Home Alabama." I was fortunate to meet Bret on his tour bus after and share early PA Musician archives of his early bands Spectres and Paris, before starting Poison.
A fairly new band hailing from Dublin, Ireland made their way to the shores of America on Nov 5 for their first U.S. show. Inhaler played an awesome show at Washington DC's Rock N Roll Hotel as a support band for Blossoms, a group from Manchester, England. Inhaler is a four-piece band who met while in grade school and features singer Elijah Hewson, who is the son of U2 singer Bono. The entire group was great and the songs were extremely good, with a sound reminiscent of an 80s alternative band. It was actually quite mind blowing how similar Elijah looks and sounds like his father, an absolute compliment to one of music's greatest artists.
Slayer brought their "Final World Tour" to Hershey's Giant Center on Nov 6 with supporting acts; Primus, Ministry and Philp H. Anselmo & The Illegals. A great show overall with Anselmo playing music from his years with Pantera, the amazing industrial metal of Ministry, the funk metal of Primus and of course the legendary thrash metal of Slayer. It was beyond impressive to see how fast Slayer could still play after their career of 38 years. Slayer began the final tour on May 10, 2018 and played over 100 shows worldwide before concluding on November 30 at the Forum in Los Angeles.
Lastly, I was privileged to have three great local bands play my home on Nov 9. The Super High-Tech Jet Fighters, Timmy's Creep Show and Dinosorcerer, all played really great sets. An extreme thank-you to all three bands and especially Tommy Presite who went above and beyond: running sound, organizing band equipment and basically making the event happen. The Super High-Tech Jet Fighters recently released a new track, "All These Miles," a single off their forthcoming EP. Check it out everywhere you can stream music.
NATIONAL NEWS: Taylor Swift passed Michael Jackson's record at the 2019 American Music Awards, taking home six honors including artist of the year and artist of the decade. The pop star, who already achieved 23 AMAs, surpassed the King of Pop's 24 wins at the fan-voted show. She rambled onstage as she won the final award of the night, "This year has been a lot of good, a lot of really complicated, so behalf of my family and me, thank you so much for being there and caring," said Swift, who now has 29 AMAs. Other big winners at the AMAs included Khalid and BTS — both won three prizes. Billie Eilish picked up two awards — new artist of the year and favorite alternative artist. Nostalgic performances included Green Day and Ozzy Osbourne, who performed with Post Malone and Travis Scott.
The 2020 Grammys will hand out awards in its 84 categories live from the Staples Center in Los Angeles on January 26. Breakthrough singer-rapper, Lizzo, scored eight nominations, including bids for the top four awards, making her the show's top-nominated act. Billie Eilish and Lil Nas X earned six nominations apiece. Eilish also scored nominations in the top four categories, making the 17-year-old the youngest artist in the history of the Grammys to achieve the feat. Arianna Grande scored five nominations, Taylor Swift earned three nominations and Beyoncé scored four. Overall, female acts out-performed their male counterparts in the top four categories: The Cranberries picked up a nomination for best rock album for their eighth and final album, "In the End," which the surviving members of the Irish band created using unfinished vocals from singer Dolores O'Riordan, who died last year.
Nearly six years ago Mötley Crüe signed a contract titled "Cessation of Touring agreement" as a centerpiece announcing "The Final Tour" and to never perform again. Recently the band announced a reunion and says the deal is "off the table because a whole new generation of Crueheads are relentless and demanding." The recent Netflix film "The Dirt" has brought the band back into the spotlight and they've decided to put the band back together. Mötley Crüe saw in the six months after the film's release "a meteoric rise of almost 350% increase in streams of their music across all streaming platforms" while gaining new fans in the 18-44 demographic "now representing 64% of the band's fanbase." The stadium outing will also feature Def Leppard and Poison. Rumor is the tour will cost $3.5 million per show, the breakdown – Motley Crue ($2 million), Def Leppard ($1 million) and Poison ($250K). No dates yet scheduled.
The Black Crowes' Chris and Rich Robinson will mark the 30th anniversary of the band's quintuple platinum debut album Shake Your Money Maker with a world tour that visits BB&T Pavilion in Camden, NJ on July 14 and KeyBank Pavilion in Pittsburgh on Aug 1. The last Black Crowes tour dates were in 2013, when the ever-volatile Robinson brothers vowed to never perform again. Chris Robinson says of reuniting, "I'm thrilled & blessed to be playing with my brother celebrating the music we've made & bringing our lives together full circle. Long live Rock n' Roll & The Black Crowes!" Rich Robinson adds, "First and foremost, I'm really happy to have my brother back in my life. To be able to play music again together and celebrate the first record we made as kids, is a gift. To have these songs stand up after 30 years is something I could've never fathomed."
Rage Against The Machine, on hiatus since 2011's "L.A. Rising" concert, is reuniting for a quick run of shows across the Southwest and culminating with two weekends at Coachella Music & Arts festival April 10 and 17 — coming full circle since headlining the first Coachella in 1999. The return of singer Zack de la Rocha, along with Tom Morello, Tim Commerford and Brad Wilk, was announced via Instagram on Nov 1. RATM will make appearances in El Paso, Texas March 26; Las Cruces, New Mexico March 28; and Phoenix, AZ March 30. It might be noted that those are all border cities and the band, known for its political activism has been long been supportive of immigrant rights and with a future presidential election the return of RATM may have a larger purpose.
Journey and Pretenders will tour amphitheaters together this Summer for 60-dates beginning in May and finishing in September . The two 80's legendary bands visit BB&T Pavilion in Camden, NJ on Aug 5 and Hersheypark Stadium on Sept 11. Last year, Journey's co-headlining tour with Def Leppard ranked No. 12 on worldwide tours grossing $978 million. When the two bands played Hersheypark Stadium in 2018, they sold 26,753 tickets and grossed $1.89 million.
Korn and Breaking Benjamin will bring their tour to arenas in 27 cities next year which launches Jan 23 at PPL Center in Allentown, PA. BONES UK will join the tour as special guest on all dates. Korn has been touring most of this year with Alice In Chains and sell an average 6,678 tickets per show. Multi-platinum selling Breaking Benjamin (from Wilkes-Barre) is releasing Aurora, a collection of reimagined songs from the band's catalogue, January 24. Breaking Benjamin average 7,701 tickets sold per show.
KISS is approaching the end of its long-tenured career and has unveiled a full leg of 44 North America dates, along with the drop-dead final stop of its touring run. Stops include PPL Center in Allentown on Feb 4, KeyBank Pavilion in Burgettstown, PA on Aug 28 and Boardwalk Hall in Atlantic City on Aug 29. The final performance on the "End Of The Road" Tour will be at a currently unnamed venue in New York July 21, 2021.
Another reunion reported was that of My Chemical Romance who announced a surprise Los Angeles show that sold out in minutes as well as some Australian dates.
UPCOMING SHOWS: The Menzingers – Washington DC Black Cat Dec 4. Cher – Philadelphia Wells Fargo Dec 6. Timmy's Creepshow – Harrisburg River City Club Dec 7. The Cult – Silver Spring Fillmore Dec 8. Bouncing Souls / The Bronx – Philadelphia TLA Dec 13 & 14. The Misfits / Dropkick Murphys / Agnostic Front – Philadelphia Wells Fargo Dec 14. Ratt – Jim Thorpe Penns Peak Dec 21. Jeffrey Gaines – Kennett Square Flash 27th.