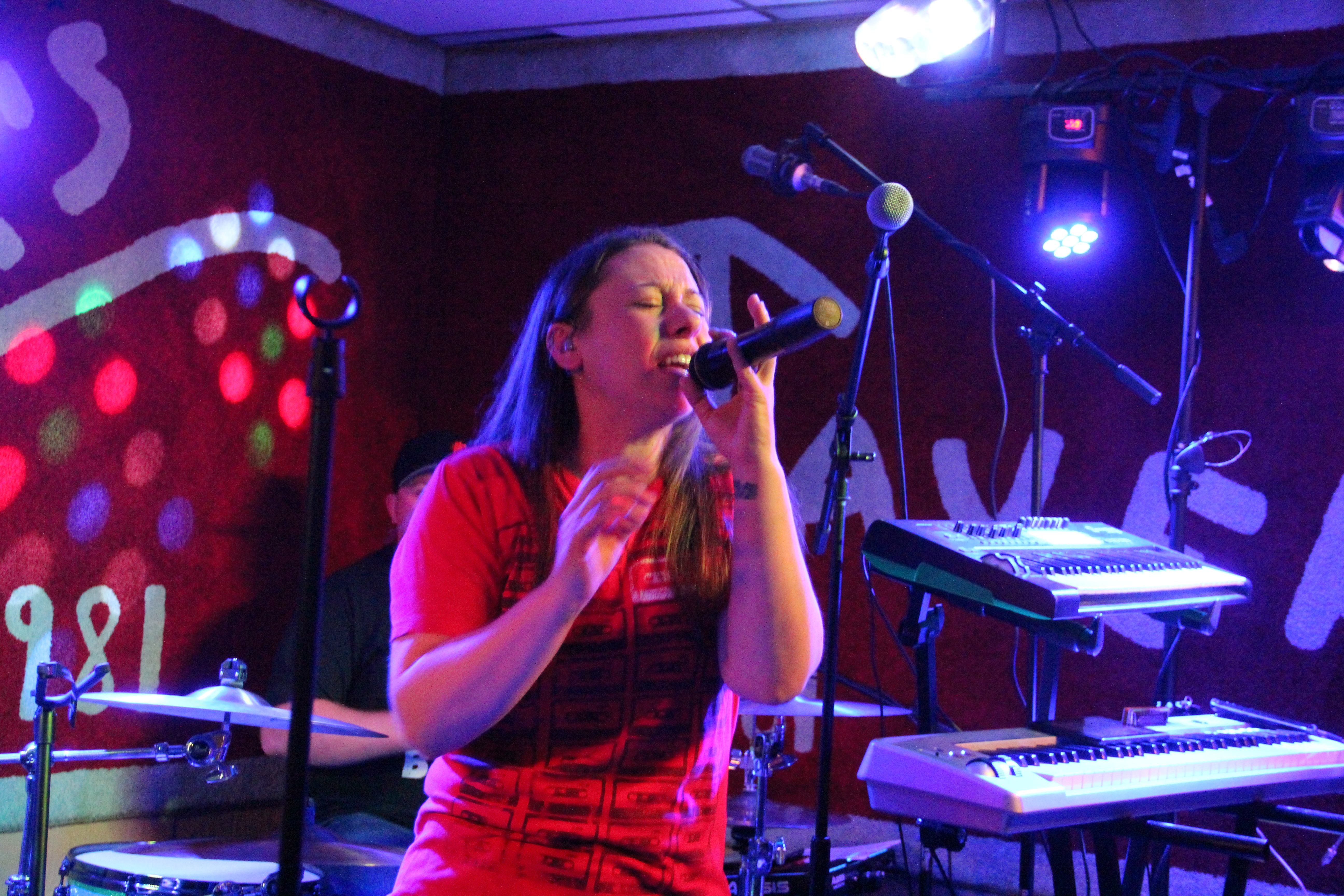 ---
By: Rachel Rocks
December.. it's hard for me to believe it's already time for my December article. Only one more month of music and shenanigans and it's going to be 2020. Make sure and check out all of the ads throughout this issue to see where all of the best New Year's Eve parties will be. Before I look to far into the future, let me focus on what I did see throughout November.
I'm glad to have The Warwick Hotel as an advertiser so I can see their schedule of music on Fridays and Saturdays, plus their music is from 8-11 so they are a great place to stop at early and still have plenty of time to go out somewhere else. Friday when I was out delivering the magazines I noticed our other new advertiser DMC Duo was at The Warwick so I rushed around to make sure I got there in time to hear the last set of DMC Duo's show. Darrell and Marisa have been playing all over the eastern half of PA. I'm impressed with their willingness to travel anywhere for a show! Marissa has an amazing range of female powerhouses she can cover, everything from Alanis, to Madonna, to Fleetwood Mac, and beyond! It's also nice because Darrell also sings lead on a few faves from anyone from Garth, to Lee Brice, to Georgia Satellites. They've both been playing out live in bands/duos for over 20 years so between the two of them they can both cover plenty of music to keep you entertained all night long. Check out DMC Duo's ad in this issue for all of the details on how to get them booked at your venue or private event.
The following weekend started at XL Live for Vixen! Opening for Vixen was a local, original rock band, Eternal Frequency. They were playing mostly originals, and they rocked every single one! Emelle, their lead vocalist reminds you of a young Lzzy Hale, just cranking out the vocals. It definitely made me realize why she was on the ballot for the best female vocalist on the CPMAs. Plus the band as a whole was also nominated for the Best New Band/Artist, Album of the Year, and Song of the Year! They are definitely breaking into the Central PA scene and they are not going unnoticed. I'm sure you will see a lot more of Eternal Frequency in the very near future.
The headlining act Vixen was the original Vixen! They are the only all-female hard rock band from the 80's who sold over a Million Albums, and that six #1 Videos on MTV, and they had four songs in Billboard's top 100! They had all original members except their new guitar player, unfortunately their original guitar member Jan Kuehnemund tragically lost her battle with cancer and passed away in 2013. After she passed, they decided it was time to rock stages again! They totally killed it on XL's stage. It was an amazing show and one I'm glad I didn't miss. Vixen is a perfect example how many bands come through our area at any of our amazing local venues, XL Live, HMAC, Chameleon, Reverb, etc.. I know I personally need to pay attention and google bands when I don't recognize their name, because every time I do check out any bands passing through I'm always thoroughly impressed.
The following weekend I started out early to see Olivia Farabaugh at The Warwick Hotel. Olivia made it to the Blind Auditions on The Voice, that means she one of 96 out of 40,000 auditions. Unfortunately, the judges didn't turn their chairs, but it was still a once in a lifetime experience. Olivia was chosen to go to a private audition from her Reverbnation page. She didn't even apply, they just randomly chose her and she got a call that she thought was of course fake, but it turned out being legit! Pretty amazing experience! Olivia is a super fun performer. She has tons of energy and her songs are amazing. I couldn't help but buy her CD be the end of her show. So many fans were requesting her originals which is always a good thing. When people requested Shallow my friend Chad stepped in as Bradley. It was awesome of her to include Chad in her show! Chad and I were only going to stay for a set, but we wound up staying for her entire show!
After Olivia we headed down the street to Chick's for a special treat, of Green Eggs Duo. It was just Brian and Brad playing acoustic music. It was a great way to end the night with some awesome sing-a-longs. I haven't seen any form of Green Eggs for a very long time, but anytime I do, I'm always impressed, and always guaranteed a good time!
The following night I headed down to Racehorse Tavern for Penntera!! It has been entirely too long since I saw these guys and it was their 1st show at the Racehorse so I wanted to head down there to support them. When I arrived Thousand Pound Destruction was on stage. They play their own originals and covers and they definitely know how to get a party started! They are getting ready to release a new CD, "Straight to the Grave". If you are a thrash metal fan, you definitely want to check these guys out!
Next up was Penntera. They had no problem at keeping the party going, full steam ahead! It was awesome to see them rockin' again in full Penterra fashion. The whole band has an intense amount of energy from beginning to end. Jason is a maniac literally flying through the crowd making sure everyone feels like part of the show. Mix that in with Pat's insane guitar licks, Zach's sick bass lines, and Space's thunderous drums, and it's a party you won't soon forget! Penntera is playing all of the state of PA and beyond throughout December and January. Make sure and check out their schedule in this issue and get out there and bang your head and have a rockin' good time! Kudos to Racehorse Tavern for giving all genres a music a place to play. And kudos to Missy Jo from Mad Hatter Entertainment for organizing such an amazing show!
The next night was a special Thursday night show at XL Live for Molly Hatchet. Opening the night was LeadFoot and Road Case. It was funny that this same day I also had a Facebook Memory from 9 years ago when I was partying on stage with Kip and Pat at a LeadFoot show at Sorb's in Liverpool. A venue that's probably been gone just about as long. LeadFoot has definitely seen venues close and new venues open, but one thing for sure is they keep rockin' right through it! Their 80s metal is to the pedal and I don't see them slowing down anytime soon! If you like to headbang, jump, and dance LeadFoot would be the perfect band for you!
Road Case has had a few awesome opportunities to open for bands at XL Live, and opening for Molly Hatchet was definitely one of them! Road Case continues to rock every stage they step on! It's awesome to see them on a big stage where they can easily whip their hair around and have a good time. Road Case is still that band that says they play all of the cool Rock N' Roll songs no one else plays, and that is so true! Their shows usually consist of quite a few newbies saying, "Holy Sh*t! I love this song!" It's all stuff you will recognize and love with their crazy guitar harmonies and solos, and so much more!
Molly Hatchet took the stage and the crowd was fully primed and ready to party. I heard lots of conflicting reports about how Molly Hatchet wasn't worth it with only one remaining original member, but this isn't the first band to pass through that has had major changes and still rocked the place, and Molly Hatchet was no different. They played a lot of their original songs, but also quite a few new ones. They just released on November 29th a 'live album' called "Battleground". They want to be able to show to their fans that even though they've been around for over 40 years, they still got it! Everyone I talked to about the show really enjoyed it.
The following night I took another trip down to a special show at Racehorse Tavern for Defiant and their fundraiser for Pitties.Love.Peace. I unfortunately missed the first two bands, but I did make it in time for the last few songs of Rise Among Rivals. As soon as I walked in people were telling me how awesome these guys were, and I definitely agree. They came up from Baltimore. I feel like I saw them before, but they were definitely entertaining, with crisp and clear vocals and plenty of energy! They have a great video on their Facebook page called "Dealing with the Devil". You can find them on Spotify and all of your other favorite listening platforms. Check them out!!
The last band of the night was Defiant. I feel like I see these guys a lot, but honestly it's been a few months! It's awesome to see how far they've come in just a little over a year! This was a very special show for them, they had lots of tricks up their sleeves. At one point Paul came out to sing lead on a very intense cover of the Eurythmics "Sweet Dreams" in a very "Defiant" way! Al's wife came up to a song with him, and Joe even took the mic for a song. Overall, they played their longest set ever, and everyone LOVED it! Plus, at the end of the night Pitties.Love.Peace got a great donation to help them rescue more Pitties! It was yet another great night at Racehorse Tavern, make sure and check out Defiant and Racehorse Tavern's ad in this issue and get out there and support them both!
The last night for this article is Thanksgiving Eve. I wasn't going to go out since I found out at the last minute that I was hosting Thanksgiving, but I just couldn't resist! Then I thought, I'll just stay local and get home early, but that didn't work either… It all started out back at The Warwick Hotel for their very special Thanksgiving Eve buffet and Live Music. Their buffet was full of delicious smoked meats, sides, and desserts from Little Essie Mae's Sweet Shoppe! When we arrived, we were able to catch the last set of Joseph playing acoustic. It's been a while since I've seen him play. He was very entertaining and great music to sit back and listen to while I enjoyed the buffet. After his set things got a little crazier when the DMC Duo decided to bring a whole band for this special show. The DMC Band consisted of Marisa and Darrell plus Wade on drums and Kyle on bass. They truly stepped up the party by a few notches and had everyone dancing and singing along! The Warwick Hotel definitely knows how to throw a party! Make sure and check out The Warwick Hotel and DMC Duo's ads in this issue and see what's happening in December. Get out there and support some amazing music!!
The night wasn't over yet, the plan was to just stop in for one set with Calling Off Doug at Chick's. We got there and started dancing along, and the we just had too much fun, we couldn't pull ourselves away. Calling Off Doug hosted an amazing "Dance Off" with prizes so people could get their Christmas Shopping done early. It was a great idea and a huge motivator to get people up dancing! Calling Off Doug definitely plays your favorite party songs. Every time we tried to leave one of us would hear the next song, and say over and over again, "After this song.." before we knew it the show was over and everyone was going home. Calling Off Doug never disappoints, get out there and check them out for yourself! Their ad is also in this issue. Well, it was finally time to get home and get the turkey in the oven. I had to cook a 26lb turkey, so I'm glad I got it in the oven by 3am! Ugghh.. My body is getting too old for these shenanigans, but my mind still thinks I'm only 25!
As you can see it was once again another amazing month of music. Make sure and flip through this issue and plan your night out on the town for New Year's Eve!! There are plenty of options to fit all of your musical needs. Not to mention if you buy tickets in advance, you can usually save a couple of bucks, or make sure you secure your ticket before they are all sold out!
I have to give some super quick birthday shout outs!! 1st to my baby boy Mason!! I can't believe my BABY is going to be 14 on December 5th!! Another shout out to the reason I'm here.. my Mommy, Robin Noll on Dec. 18th, and finally.. a Super HUGE shout out to my Big Bro, Josh!! Aka THE BOSS. Without him this paper would no longer be, so please wish him a Happy Birthday December 19th.
Thank you again for reading another article. I hope you enjoyed reading it as much as I enjoyed living it! Rock On!! But keep it classy!! Get out there and support local music, and when you see me Out and About, please stop me and say Hi!!! Support local music, and support local small businesses, especially ours.. Give Josh a call at 717-636-4203, and advertise today!!!!!