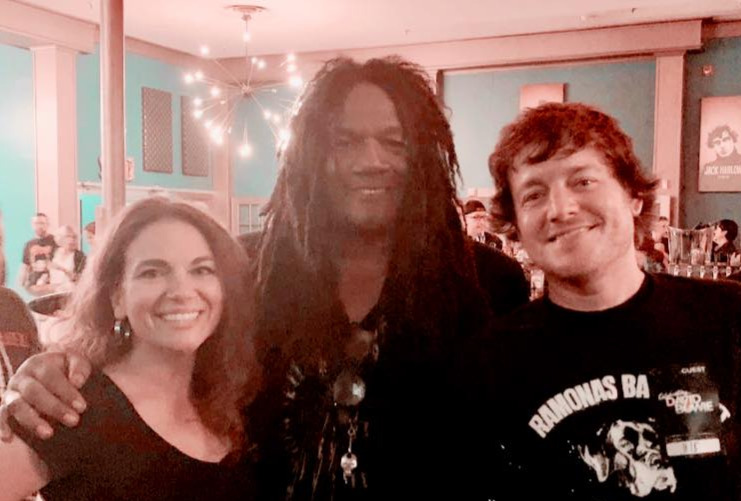 ---
By: Eric Hoffman
Greetings Rockers 'N' Rollers! The best concert to visit Central PA in 2022 happened last month on November 21st at Harrisburg's XL Live. The hardcore Baltimore band, Turnstile, played an unforgettable show to a sold-out capacity crowd. Turnstile have skyrocketed since the release of the band's third album, "Glow On", in August 2021 – the album debuted at #30 on the Billboard 200 with universal acclaim from critics. The album recently received three Grammy Award nominations and the band toured with My Chemical Romance and will tour with Blink-182 next Summer. Turnstile's Harrisburg show is one for the history books – much like Social Distortion at the Metron in 1992. Harrisburg University Presents is solely responsible for acquiring the final date of the band's TLC Tour which visited nearly every major US city and consisted of 107 shows this past year. The venue, XL Live, did a tremendous job disregarding a stage barricade and allowing fans to stage dive, crowd surf and stir the mosh pit. Congratulations to everyone involved on such a tremendous night that everyone there will never forget.
The Bronx, from Los Angeles, returned to the East Coast as part of their USA 2022 Tour with support from Drug Church. The amazing punk band originating from 2002 played an intimate show at Washington DC's Black Cat on October 26th playing notable songs, "Heart Attack American," "History's Stranglers" and "Shitty Future."
American indie rock band, Bright Eyes, brought their Fall Tour 2022 to Baltimore's Soundstage on November 14th. A very memorable night consisting of a great show and the opportunity to meet founding singer/songwriter, Conor Oberst. Bright Eyes are the favorite band of my amazing girlfriend, Tina – who introduced me to their music in 2020. Bright Eyes began in 1995 in their hometown of Omaha, Nebraska and have released 10 studio albums. Oberst, at times, may be reminiscent of Bob Dylan with intricate songs focusing primarily on the lyrics. It was a thrill for Tina to meet her favorite artist of 20+ years for the first time – Oberst was extremely gracious and beyond nice.
This past month also included a trip North to see two concerts in both Buffalo, NY and Toronto, Canada. 'Celebrating David Bowie' was a star-studded group featuring the music of Bowie, consisting of Todd Rundgren, Andrian Belew, Scrote, Royston Langdon (Spacehog), Jeffrey Gaines and others. Rundgren wasn't able to perform at Buffalo's Town Ballroom on November 5th due to laryngitis, but the show remained very impressive due to vocals from Gaines and Langdon. Lastly, Bono of U2 brought his book tour to Toronto's Meridian Hall on November 6th for a unique show depicting stories and songs from his entire life in his current memoir; "Surrender: 40 Songs, One Story." The intimate 14-city tour consisted of shows across North America and Europe. The show had a broadway feel to it and a very surreal feeling to hear such incredible songs: "Out of Control," "I Will Follow," "Sunday Bloody Sunday" and "Pride (In the Name of Love)."
NATIONAL NEWS: "Unprecedented" demand for Taylor Swift's massive "The Eras Tour" crashed Ticketmaster's website on November 15th. "Millions of fans registered for Taylor Swift's Eras Verified Fan Pre-sale, with demand more than twice the number of tickets available – we thank everyone for their patience as we continue to work through the biggest on sale in history." Ticketmaster then cancelled the public sale after the pre-sale crash which "was supposed to be opened up for 1.5 million verified Taylor Swift Fans. We had 14 million people hit the site. Despite all the challenges and the breakdowns, we did sell over 2 million tickets that day. We could have filled 900 stadiums." Swift's tour includes 52 stadium dates in North America and international dates to be announced soon. Swift's last trek, 2018's "Reputation" world tour, took in 53 dates and grossed $345.1 million, ranking No. 2 on Top Tours.
Keith Levene, the British guitarist who was a founding member of both The Clash and Public Image Ltd died in Norfolk, England November 11th at 65. He had been battling liver cancer. Levene formed The Clash with guitarist Mick Jones and bassist Paul Simonon, and invited Joe Strummer to join the band early on. He left in 1978 to join PiL with his friend John Lydon, formerly of the Sex Pistols. Author, Adam Hammond, was working with Levene on a book about Public Image Ltd at the time of his death. As a teenager, Levene worked briefly as a roadie with Yes – he was enamored with the prog-rock band and its guitarist, Steve Howe – until keyboardist Rick Wakeman suggested he try playing music instead.
P!nk has announced her 2023 "Summer Carnival Stadium Tour" of North America, taking in 21 stadiums across the continent next summer kicking off in Toronto July 24 and running into October. Special guests on select dates include Brandi Carlile, Pat Benatar & Neil Giraldo and Grouplove and DJ Kid Cup Up. Known for high-flying acrobatics and incredible production, this will be P!nk's first full stadium run. P!nk visits Pittsburgh's PNC Park August 5th and Philadelphia's Citizens Bank Park on September 18th.
Motley Crue guitarist Mick Mars will no longer tour with the band, although he will continue as a member. A statement read, "Mick Mars, co-founder and lead guitarist of the heavy metal band Motley Crue for the past 41 years, has announced that due to his on going painful struggle with Ankylosing Spondylitis (A.S.), he will no longer be able to tour and handle the rigors of the road. A.S. is an extremely painful and crippling degenerative disease, which affects the spine." A replacement guitarist has not yet been named, although John 5 has been rumored to step in for the 71-year-old Mars. Another rumor included bassist, Nikki Sixx, considering a replacement for singer, Vince Neil, due to fans complaining over Neil's average to bad performance every night on 'The Stadium Tour.' Creed singer, Scott Stapp, was mentioned as a possibility.
Billy Joel and Stevie Nicks will be teaming up for 3 stadium concerts in Los Angeles, Nashville and Arlington, Texas. Live Nation said more dates may be announced, though one shouldn't expect a full-fledged lengthy tour. "I think there may be five to seven shows. This is not something you can see in every city. It's going to be very special. Don't miss this one." Country queen, Shania Twain, has announced details for her new album and a global 49-date tour to go along with it. 'Queen of Me' marks Twain's first album since 2017 and her sixth original full-length collection overall. The five-time Grammy award-winning star and best-selling female artist in country music will play a number of dates in her native Canada as well as Merriweather Post Pavilion in Columbia, MD on June 27th. Paramore has unveiled 27-dates for their summer 2023 tour including Washington DC Capitol One Arena on June 2nd and Pittsburgh PPG Paint Arena on June 11th. Paramore's upcoming tour dates will support the band's sixth studio album, This Is Why, set to be released on February 10th.
Wynonna Judd is extending The Judds' final tour with 15 more dates, expanding the shows into 2023. Following the unexpected passing of Wynonna Judd's mother, Naomi Judd, earlier this year, The Judds' final tour has seen a number of guests appearing at various shows. Brandi Carlile, Faith Hill, Little Big Town, Martina McBride, Ashley McBryde and Trisha Yearwood. The extended tour dates will kick off on January 26th at Hershey's GIANT Center. "The decision to add 15 more shows was a no-brainer for me," Judd stated, "The fans have been such a gift during my time of grieving and honoring my mother in song. What an amazing season this is. I look so forward to continuing the celebration of the music that has changed my life forever."
Jerry Lee Lewis, one of the few remaining icons from the rock 'n' roll's earliest era, died October 28th . He was 87. Famous for hits "Great Balls of Fire" and "Whole Lotta Shakin' Goin' On" and a stage presence so commanding and so unhinged it once made Elvis Presley cry in fear he'd never be able to match it. Lewis had been married seven times but was famous for his first marriage in 1957 to his first cousin once removed, Myra, at the age of 13. Myra divorced him in 1970 citing adultery and abuse. Lewis married his seventh and final wife, Judith Lewis (who was, in fact, the ex-wife of Myra's brother) in 2012. Judith was by his side when he died; she said her husband was "ready to be with Jesus." Lewis' wild lifestyle was regularly visited by the DEA, he (accidentally) shot his bassist in the chest with a .357, he swung his mic stand at jeering concertgoers, he set his piano on fire, he out-partied Keith Richards and crashed his Rolls Royce through Graceland's gates.
The 37th Annual Rock 'N' Roll Hall of Fame Induction Ceremony took place on November 5th in Los Angeles. Alice Cooper inducted Judas Priest, Sheryl Crow inducted Pat Benatar and Neil Giraldo, Sarah Bareilles inducted Carly Simon, Lenny Kravitz inducted Lionel Richie, The Edge inducted Eurythmics, Robert Downey Jr inducted Duran Duran, Pink inducted Dolly Parton, Dr. Dre inducted Eminem saying he is "the biggest selling rapper in the world" with 220 million albums sold globally. Other artists that performed or appeared this year included Bruce Springsteen, Steven Tyler, Ed Sheeran, Brandi Carlile, Olivia Rodrigo, John Mellencamp, Janet Jackson and Dave Grohl. The 6-hour event is available to view on HBO.
DECEMBER CONCERTS: Wet Leg – Harrisburg XL Live Dec 2. Local H – Millersville Phantom Power Dec 3. Morrissey – Philadelphia Met Dec 3. Modest Mouse – Washington DC 9:30 Club Dec 13. Modest Mouse – Philadelphia Fillmore Dec 15. Timmy's Creepshow / The Super High-Tech Jet Fighters / Brom Bones – Lancaster American Bar Grill Dec 17. Marky Ramone – Ardmore Music Hall Dec 19.