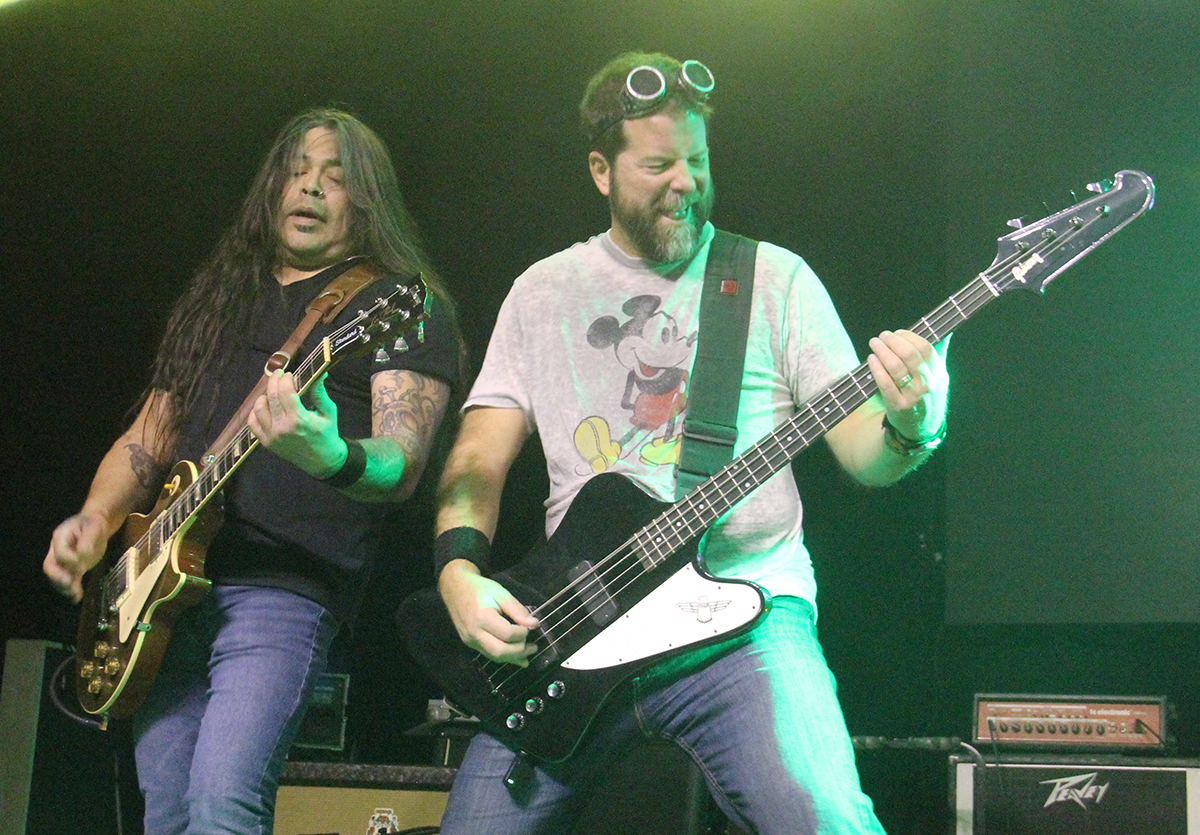 ---
By: Rachel Rocks
Wow.. My December article, the last article of 2022. What a crazy year it has been! So many bands so little time, but also so much fun! People are amazed at how many places I get to go and so many bands I get to see, every month it never fails, when I make my monthly list of where I was to write this article, I also amaze myself! When I'm out there running around doing it, it doesn't really seem like a big deal, but when I sit down to make the list, I make my own head spin!
It started out with a string of Matt Jameson shows. The first one was a special Thursday night show at Shermans Creek Inn. "The Creek Rats" at Shermans Creek definitely love live music, and they support it every chance they get! It seems like they always have lots of fun stuff happening up there. Matt had a great night at the creek! Next, on Friday, he was back at Official BBQ & Burgers. If you haven't checked out Official BBQ yet, make it a priority. Their brewery is in full swing, and they have so much delicious food on the menu. The Official BBQ shows are always early, so afterwards we all headed over to go see Steel at the Middletown Moose.
I haven't seen Steel in quite a while, so I was very excited to see they were playing on a night I was actually home! After Matt's show, we ran back to Holly & Matt's changed into costumes and went to the Moose! Steel had the place rockin! There were a lot of people in costume which is always fun! Steel was playing downstairs so there was plenty of room for dancing and shenanigans, and trust me there were plenty. Kyle is really fitting in to the Steel family, and it's awesome hearing their new songs and seeing Dave show off all of his talent! Is there anything that guy can't do?? My favorite costumes were probably Aaron and Joanie, the Priest, and the Nun. HA!
Saturday night was time for the final DEAD! Show at XL Live! DEAD! is a My Chemical Romance Tribute Band. It's a whole band comprised of quite a few local, super talented musicians. The project takes a lot of time to perfect, and with so many guys and too many schedules, it's just too hard to put the work into the project that it needs, so the guys are calling it quits. We are all hoping for a reunion show, but for this final show, we made sure it went off with a bang! XL was packed with tons of people in super cool costumes. It was a full night of tribute bands. The first band of the night was an Alice in Chains tribute, featuring AJ Cassat and Friends. AJ has been busy kicking cancer's A**, and it was simply amazing seeing him back on stage doing what he loves. Good Charlotte featured the members of August Winters. August Winters was on our cover last August, so I've been wanting to hear them, I'm glad I finally did. Bring Me the Horizon was covered by If Not for Me. All of the bands were on point and did an amazing job paying tribute to each band they represented. When DEAD took the stage the crowd packed in and had a rockin' good night of music! I'm still crossing my fingers for a reunion show! Halloween won't be the same without a DEAD show!
Like I didn't have enough fun in my life, I decided it was time to go out on a Tuesday to Grotto Pub to see Nate Myers, Pete, and all of their friends jammin' the night away. The Grotto is always filled with crazy amazing talent on a Tuesday! The last hour of the night, they always open up the stage to everyone they can. There are so many people jammin' and dancin' til the soups all gone! Their soup at Grotto is truly amazing and is a meal in itself if you've never tried it, you really should!
On a Wednesday night I was out delivering magazines, and I came across Dave Gates playing on the deck at Flinchy's. That's right it was a gorgeous night in November, and Dave decided to squeeze in one more deck show! That worked for me. Everyone was hanging out on the deck enjoying the music. It was a beautiful night to sit and hear Dave, and even catch a bit of one of the Phillies playoff games!
The next night, Jason Carst was playing at the Holy Rosary Association right down the street from my house, so I decided to go catch a bit of his show. I love watching him work his looper magic, creating enough tracks it makes it sound like he's playing with a full band sometimes! He didn't even compete with the Phillies, as soon as they threw the first pitch, he just stopped playing, and watched the game with the rest of us! The Holy Rosary Association is a super cool private club with plenty of seating to be able to sit and enjoy a delicious, affordable meal, and even have a drink or two!
Friday night started with a trip out to the Fredericksburg Eagle Hotel for Matt Jameson. With him getting started late in the year, it's awesome that when places need a last minute fill-in, they are calling on Matt for help, and the super cool part is then he gets booked more shows for next year! The Fredericksburg Eagle Hotel is under new ownership, but hopefully they will still continue to have live music, and some of the most delicious food in the area! Kris went along again for this show because he can't resist their amazing food!
After Matt was done playing, we packed up all his gear and headed to Hollywood Grantville, for the Vertigo Vultures. We weren't able to stay super long, but we did catch a few songs, and it was enough to get Matt addicted. The Vertigo Vultures play so many awesome songs, that you don't hear everyone else playing. They've really taken the music scene by storm, and they are also getting some pretty awesome shows throughout the midstate and beyond! While at Hollywood, I was also able to spy on my son Zack who is also a Black Jack Dealer. It's awesome to see your kid excelling in life and loving his job!
Sunday night Matt had a show at Jen-Jen's Rhythm & Brews. Jen-Jen's has acoustic music from 4-7pm surrounded by lots of TVs showing all of the popular games of the day! It was a great mix of football and music, a little bit of fun for everyone!
Friday night I grabbed Angie and headed down to the Carlisle Moose to see Derek Henry. It's always good to have a Moose Membership to be able to get in to all of their shows for good music, and always tons of fun! Derek had quite the fan base singing and dancing along and having a good time.
Saturday I was off to Pittsburgh once again for BRP Entertainment. This time it was for a Keynote Speaker, Mikaila Ulmer. She is an 18 yo entrepreneur that creates her own lemonade out of honey instead of sugar. She also supports the conservation of the honey bee however she can. She has quite an interesting story, she was on Shark Tank at 10 years old, and she got funded! She is one remarkable person. She spoke at the Boss Kids Power Summit, and I can't believe all of the young entrepreneurs and their brilliant ideas!
The next week was filled with Matt Jameson shows, Wednesday, Flinchy's, Thursday, the Holy Rosary Association, and Friday he was back at Official BBQ & Burgers! I gotta admit it's fun seeing the music scene in a whole new perspective. I also see how stressful it all is, but Matt is having the time of his life!
After the Official BBQ show, Matt and I zoomed down to the Racehorse for another Steel show. Two Steel shows in one month, it must be my lucky month! I'm glad to Steel getting back out there and having more shows. They play all the music I love. I always have so much fun dancing along and hanging with my friends. Jimmy at the Racehorse Tavern, has a December filled with even more fun!! Check out both of their schedules in this issue and plan your next night out on the town. I heard whisperings that Willow Hill is coming back for a special performance!! They are definitely a band you don't want to miss!
The next week started early! Angie had an extra ticket to the Turnstile show at XL Live, I've seen Eric mention them, but didn't really know much about them or their music. I checked them out and heard some of their alternative punk rock music and was instantly hooked. Seeing them live was unlike anything I've ever experienced! People were not only crowd surfing, they were crowd jumping.. as in jumping into a 12 foot pool!! Luckily, the only injury I saw was one head lac.. just a minor one.. Plenty of people walking around with one shoe off and one shoe on.. at the end of the night I saw security picking up glasses off the floor, as in eyeglasses! I don't know how people saw to get home, but hopefully they all made it safely.. The last song of the night was a total rave! People were attacking the stage, and there had to be at least 100 people or so on there, again, unlike anything I've ever experienced! The night was so full of energy and excitement!! You can't help but jump, dance, and enjoy the show!!
The next night out was Thanksgiving Eve! WhooHOO!! It's still so hard to believe that 2022 is almost over. I started out the night nice and slow, and I headed to Hook & Flask for DMC Duo and some delicious dinner. DMC Duo are regulars at Hook & Flask, it was awesome to see their fans there and ready for a great night of music. DMC Duo always puts on a great show. They definitely make a great pair! DMC Duo has been releasing a couple of original songs that are well worth the listen.. just ask Alexa to play "DMC Duo".. Their music is on all streaming platforms.
After DMC Duo I headed to Lovedrafts for one heck of a party. It was awesome to see Lovedrafts packed full of people out supporting original music. I missed the first few bands, but when I got there Big Fat Meanies were just taking the stage. They were a gigantic ball of energy! If you've never seen them not only do they have a 3 piece brass section, but they also have the vocal harmonies of Brenna and Zander. Brenna is amazing on her own, but the harmonies always get me. By the end of the night I was buying all their music. I am a CD player kind of girl.. I hate streaming platforms! If you get a chance check them out!
The last band of the night was Observe the 93rd. I already have all of their music! HA! I love these guys! It was awesome to see the crowd dancing, and jumping along, and watching their faces and energy light up during certain songs is always fun! Derek even got a little extra crazy, and for the first time jumped down into the crowd and was dancing and playing his guitar. It was epic! I love watching these guys. It's always a blast! I love seeing the younger generation of people out there enjoying life and of course music!
Friday after Thanksgiving was a zoomie kind of night. It all started in Duncannon at Buddy Boy Winery for Matt Jameson. Matt made more friends like usual and rocked the night away. Buddy Boy Winery is a beautiful winery nestled in the middle of Perry County. Not only do they have a ton of award winning wine, they also have specialty gifts you could purchase for presents too! I'm glad they continue to support music at Buddy Boy even tho space is a little tight. While Matt continued to rock the night away it was time to move on to my next adventure..
The next stop was at XL Live for Road Case. It was supposed to be the annual Kix show, but as many have heard, Jimmy, their drummer had a very scary heart issue during their show a week before this, so they postponed the show to a later date. We wish Jimmy a very speedy recovery! Luckily they still let the show go on, they just changed it to a free show with the opening bands. I haven't seen Road Case in so long, I definitely needed my fix! Road Case even added a couple of new songs to their show since I've seen them! It was awesome to see the guys again even though opening sets are never long enough! I need more Road Case!!!! Unfortunately, I couldn't stick around for Leadfoot, even though it looked like it was one heck of a party, another band I haven't seen in forever is Penntera…
So hopped in the car and zoomed to Jen-Jen's Rhythm & Brews for Penntera!!! Got there in time to dance, headbang, and party the night away!! Thanks guys for all the shout outs! I hope you know I love you as much as you love me. Penntera has limited venues they can play in anymore, I'm so glad that Jen-Jen's had them play there! Hopefully they will have Penntera there again super soon! I also missed their opening band, Raven's Edge, I heard that was a super cool show with Rachel Robinson as the lead singer who is, Jason, Penntera's lead singer's wife! How awesome is that!! There must be lots of singing in the shower in that house.
The last trip of the night was down to Mickey's Black Box in Lititz for the Home Town Holiday Show with the Small Town Titans headlining, and Defiant, Blind Choice, and Observe the 93rd opening. I was very happy to see the parking lot already overflowing at 7pm! It was so refreshing to see a show packed from beginning to end. Defiant kicked it off and got the party started early. Defiant has quite the following and they had plenty of people there cheering them on! I was thrilled to see Paul was back and the band was ready to ROCK! And they truly did! What a great kick off to an awesome night of music.
Next up was Blind Choice. I have been wanting to see these young guys for years, and I'm so glad the stars finally aligned. They have been close friends to Small Town Titans for years, and they've learned a lot from the guys through the years, so it was super awesome they got the opportunity to open for them. Blind Choice definitely kept the momentum moving.
Observe the 93rd hit the stage next. It was awesome seeing them on the massive Mickey's Black Box stage. They had plenty of room to move all over the stage, and they truly did. It was super cool to see Small Town Titans watching closely from side stage, so close in fact that when Dylan was having issues with this drums, it was Jonny who came out for the rescue! That's awesomesauce! It's important to remember where you came from…
Small Town Titans were extremely happy to playing a local home town show! Phil said it was the first time in 3 years they actually got to headline a show! The venue was packed so much that they had to open the upstairs section for the show! Small Town Titans put on a great show. It was awesome to hear them play some of their older songs along with the newer ones. Of course they had to do "The Grinch". If you don't know their story, or the details behind them even releasing their Grinch recording you should check it out. It can definitely help give musicians hope. It's been awesome seeing them grow from empty rooms to a packed house! I was very happy to see Phil play "Dragonfly" such an emotional song that has touched so many people on so many levels. Overall, it was an amazing night of music and I'm so glad I made the trip!
I have a few more super special birthdays this month.. Dec. 5th is my littlest baby's 17th Birthday. I guess that means another year has gone by for me being Out and About.. WOW! 16 years!! Out supporting music!! WHOO! Another birthday shout out to our creator, Robin Noll! I won't say how old she is, but I will tell you how completely awesome she is!! Her birthday is December 18th. Last but not least, our fearless leader, boss extraordinaire and the best brother a girl could ask for, Josh Noll turns 48 on Dec. 19th.
Whoohoo! I finally made it through the month! So much is constantly happening all around us. There is so much to go see, hear, and do! Please get out there and support local music. And if you'd like to support the PA Musician Magazine by advertising in our pages, give Josh a call at 717-636-4203, I'm sure he'll hook you up with a great deal! If you have any news for me or want to tell me about your upcoming show, hit me up at RachelRocks@pamusician.net, or feel free to call or text, 717-580-1939. When you see me Out and About, please stop me and say Hi! I love meeting people who love music as much as I do!