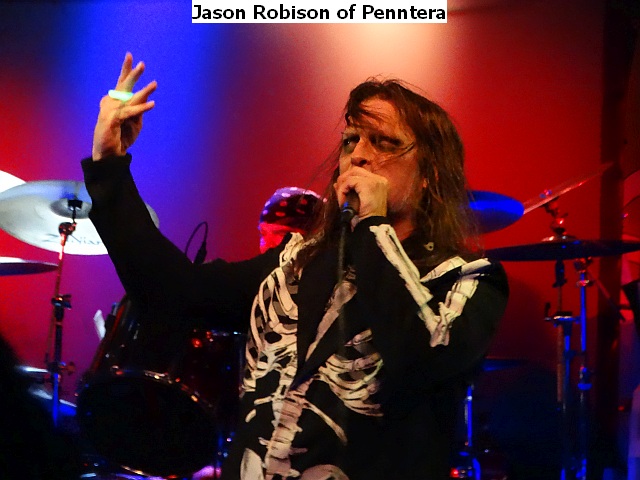 ---
By: Jim Price
It seems like only yesterday that I was raising the champagne toast at McGarvey's to kick off 2022, and already we're into the homestretch of this year! The holiday season is upon us, and as always, I'm looking forward to the rest, enjoyment and reflection that this time of year always brings. I wish all of our PA Musician readers, friends and the state's music community a Merry Christmas, Happy New Year 2023 and pleasant holiday season!
Recent weeks have seen me on a major concert binge, as I caught several major names on regional stages, starting with Michael Schenker's 50th Anniversary tour at Jergel's near Pittsburgh in October (recapped in last month's issue)…Next was a roadtrip to the West York Inn ("The Kennel") in York to see New Wave Of British Heavy Metal legends Raven, headlining a four-band bill. A group that helped pave the way for the explosion of thrash metal later in the 1980s (Metallica and Anthrax both opened for them during their early years), Raven was touring the U.S. to mark the 40th anniversary of their 1982 "Wiped Out" album. Now the trio of brothers John and Mark Gallagher on guitar and bass respectively, plus Fear Factory drummer Mike Heller, Raven delivered all-out fury from start to end. They opened with two of their popular early anthems, "Take Control" and "Hell Patrol," before playing two from their new "Leave 'Em Bleeding" CD, "The Power" and "Top of the Mountain," followed by the title track from their 1981 debut album "Rock Until You Drop." Raven then performed the "Wiped Out" album in its entirety. According to John, some of these songs – such as the epic "To the Limit – To The Top," "Battle Zone" and the acoustic instrumental "20/21" (played as a Mark bass solo this night) – had never been played out live until this tour. Raven kept the crowd at a frenzied high as they fired through tracks from the album such as "Faster Than the Speed of Light," "Bring the Hammer Down," "FirePower," "Read All About It," "Live at the Inferno," "Star War," "UXB," "Hold Back the Fire" and "Chainsaw." When the crowd yelled for more, Raven closed the night with the song "Wiped Out" (which didn't appear on the "Wiped Out" album). Since the beginning, Raven was known for their style of "athletic" rock, and they lived up to that billing this night – the Gallagher brothers delivered constant movement back and forth on the stage, and John can still wail his siren-like voice. Raven never left off the accelerator, and the result was a wild, slamming set that kept folks cheering through it all. The show's undercard was impressive as well. As a big fan of 1970s/80s New York City heavy metal rockers Riot, I was also excited to see Riot Act, which features Riot founding member and guitarist Rick Ventura, along with singer Don Chaffin, drummer Claudio Galinski and bassist Paul Ranieri. They celebrated Riot with several of their established anthems such as "Rock City," "Road Racin,'" "Swords and Tequila," "No Lies," "Don't Hold Back" and "Warrior." Riot Act also introduced "Right Between the Eyes" and the title track from their debut CD "Closer to the Flame." This was also my first time seeing Anthrophobia in many years; they brought the velocity with their forceful, all-out set. Singer Frank Phobia barked with authority and intensity as he stalked the stage front area, with guitarist Brent Black, bassist Rob DiJoseph and drummer Dickie Delp delivering the wallop behind him. Anthrophobia slammed out numbers from throughout their career – including songs from their recent "Altered States" recording such as "Technical Difficulties," "Grind" and "Running Out of Time," plus earlier numbers such as "Gutless" and "Lemmy's Warts." And hometown York power metal foursome Burn The Martyr opened the show strong with their set. Singer and guitarist Corey Burnaro, bassist Kayden Monn, guitarist Perry Monn and drummer Mark Konoki drilled songs off their latest CD "Blasphemy" such as the title track, along with "Contrition," "Dead By Dawn," "Beware the Beast," "Sentenced to Suffer," the title track from their "March Or Die" EP and more.
I also returned to Jergel's Rhythm Grill in Warrendale (north of Pittsburgh) last month to see Last In Line, the group formed by past members of Dio following the 2010 passing of singer Ronnie James Dio. Arriving early, I was on the front line to view this concert from start to finish. Johnstown's Blood Union led off with their powerful set of original rock. Singer and guitarist Tim Frick, guitarist Jay Snider, bassist Ron Gallucci and drummer Ben Frick came out the gate firing, waking up the arriving crowd with hard-hitting originals like "Sweet Misery," "Survive," "Suffocate" and "Let Me In." They introduced a couple of new tunes, "The Best Part of You (Was Me)" and "Knock You Out," and ended with their fist-raising anthem "Lit." Next was Steubenville, Ohio's Spinning Jenny, a family rock group comprised of three sisters Balzano – Julia on lead vocals and guitar, Talia on drums and vocals, and Angelina on bass and vocals – plus dad John Balzano on guitar. Spinning Jenny's set featured four strong, hard-rocking original songs – "Low," "Reflection," "Again, Unmend" and their newest, "Fall River" – and they also did versions of Alice In Chains' "Down in A Hole" and the Cranberries' "Zombie." Spinning Jenny sounded sharp, and received a good response from the audience. Following them was New York City-based power metal trio Brand Of Julez, who also showcased original songs. Featuring brothers Julez Zamora on lead vocals and guitar and Brandon Zamora on bass and vocals, plus a drummer named Chris, Brand Of Julez stormed through powerful original numbers like "Lights Go Out," "Take It All Away" and more. And headliners Last In Line celebrated the legacy of Ronnie James Dio mixing Dio classics with several of their own original numbers. The line-up – singer Andrew Freeman (formerly with Lynch Mob and The Offspring), guitarist Vivian Campbell (of Dio and Def Leppard fame), bassist Phil Soussan (who played with Ozzy Osbourne and Billy Idol) and drummer Vinnie Appice (who played with Dio, Black Sabbath and Heaven and Hell) – opened with "Landslide" from the group's latest album, "II." They followed with two Dio songs, "Stand Up and Shout" and "Straight Through the Heart," before introducing "Hurricane Orlagh," a song from Last In Line's newly-released EP. Last In Line did more Dio classics such as "Holy Diver," "The Last in Line," "Egypt (The Chains Are On)" and "Rainbow in the Dark." Phil dedicated the Last In Line original "Starmaker" in memory of the group's former bassist, Jimmy Bain, who passed in 2016. The group introduced their version of the Beatles' "A Day in the Life," also from their new EP. The group finished out the concert by playing their number "Devil In Me," before closing out with the high-powered Dio classic "We Rock." Last In Line was excellent – Andrew demonstrated a powerful and high-flying voice that served the Dio material well; and the rest of this group delivered the thunder and firepower.
After two years away due to COVID-19, the 10th annual "Patched Together: A Day Of Music to Benefit the Healing Patch," returned as a live public event last month at Altoona's Bavarian Aid Society hall, raising funds and awareness for the Healing Patch Children's Grief Program, a peer support program that helps children and families that have suffered the deaths of loved ones. The day's theme was "Jur-Patch-ic Park," and dinosaurs were afoot as the afternoon began acoustically with Mellissa Vella and Kenny Karlheim. With Kenny accompanying with precision acoustic guitar work, Mellissa demonstrated her expressive and soulful voice on numbers from Tracy Chapman, Fleetwood Mac, Amy Winehouse, Allman Brothers, Indigo Girls, K.T. Tunstall and more. Next was Matt Otis & the Sound, performing their blend of Matt's folk-rock original songs and select covers. Matt on lead vocals and acoustic guitar, Alec Zander Redd on saxophone, Kent Tonkin on bass and Ron Brode on drums performed Matt's original numbers such as "Home," "So It Goes," "Make," "The Most Important Thing" and more. Guest Jim Donovan joined in with tambourine on the group's versions of Gotye's "Somebody That I Used to Know" and Matt's original song "Seasons." Jim and his Sun King Warriors then followed, feeding the positive vibe of this day with their upbeat mixture of original songs and select covers. Jim on vocals and guitar, lead guitarist Kevin McDonald, bassist and singer Kent Tonkin, guitarist and harmonica player Dan Murphy, percussionist Bryan Fazio and drummer Joe Marini introduced a few of Jim's newer originals, as well as favorites such as "Oh La La La." They also did a version of The Record Company's "Off The Ground" plus Kent-fronted renditions of Golden Earring's "Radar Love" and Grand Funk Railroad's "Some Kind of Wonderful. And Jim, Bryan and Joe engaged in a percussion jam, leading Jim's set-closing original, "You Are My Everything." The only band to have performed in all 10 live Patched Together events so far, Chris Vipond & the Stanley Street Band continued the upbeat vibe with their set of original songs. Chris on vocals and keys, lead guitarist Ben Eberhart, bassist Bill Smith and drummer Randy Servello played selections from all three of Chris' CD's – including "Never Again," "Be," "Tupelo Tree" (with Alec Zander Redd joining on sax), "Weird Angry Hard," the set finisher "Shine" and more. Marking their 50th anniversary as a band this year, Altoona's U.S. Sound Theater brought their brassy sounds to the Patched Together stage. With guest Joe Marini sitting in on bongos, the U.S. Sound Theater celebrated brass-edged classics from the 1960s, 70s and 80s – doing numbers from Huey Lewis & the News, Grass Roots, Doobie Brothers, Chicago, Tower Of Power and more. Work duties forced me to leave at this point; but Patched Together finished with sets from The Jaded Lips and The Pennsoulvanians. Again Patched Together saw a huge turnout, and was a big success.
After a highly-successful debut back in February, the Classic Vinyl Concert Series returned to the State Theater of Johnstown early last month. A large ensemble of Johnstown area musicians this time performed two classic Beatles albums, "Sgt. Pepper's Lonely Hearts Club Band" and "Abbey Road" before sold-out crowds over two nights; I caught the first night. Bandleader, conductor, emcee, singer and keyboardist Jeffrey Webb led nearly 30 musicians through both albums, providing trivia and insight about both along the way. Besides Jeffrey, the musical cast included singers Jane West and Jennifer Drummey, keyboardist Mike Meketa, Josh Covert on guitar, trumpet and vocals, guitarist Randy Penrod, drummer Dominick Peruso Jr., bassist Scott Jeffreys, percussionist Kraig Maldet, a brass and woodwind section, and a string ensemble featuring members from both the Johnstown and Altoona Symphony Orchestras. The "Classic Vinyl Concert Band" first did the "Sgt. Pepper" album in its entirety for the first set, and followed with "Abbey Road" after the intermission. The attention to arrangements and detail was amazing. The singing roles by Jeffrey, Jane, Jennifer and Josh Covert were all strong; and the musicianship was excellent from start to end. The packed theater loved every minute of it, and for the finale, the Classic Vinyl Concert Band added one more Beatles classic – "All You Need Is Love" – to end the night. Expect an announcement regarding the next Classic Vinyl Concert Series presentation to be made soon.
I caught one official Halloween-themed show in late October, witnessing McGarvey's tribute band double-bill of Harrisburg-based Pantera celebrants Penntera and the debut of Altoona-based Type O Negative tribute Dead Again. Penntera was stirring up the Pantera thunder as I arrived; singer Jason Robison, guitarist Pat Bowser, bassist Zack Arthur and drummer Eric "Space" Dengler throttled the crowd with Pantera favorites such as "A New Level," "Walk," "Mouth For War," "F**king Hostile" and their set-closing rendition of "Cowboys From Hell." Penntera delivered the firepower and had this crowd rowdy and festive. Dead Again then arrived on the stage and celebrated the music of Type O Negative. Three of the band members – singer Todd McKeone, guitarist Chris Peters and bassist Eric Shumac – were previously together in the group Small Town Horror Show. Filling out the roster are guitarist Seth Rupert, drummer Randy Wilson and Allysa Stevens Burgess on electronics. Opening with "Prophet of Doom," Dead Again performed numbers from throughout the Type O catalog, separating the songs with projected film footage of Type O Negative, including backstage conversations where they would often reference the next song Dead Again performed. Dead Again mixed favorites with lesser-known Type O Negative numbers; some of the songs included "Love You to Death," "Christian Woman," "My Girlfriend's Girlfriend," "All Hallows Eve," the Type O rendition of Neil Young's "Cinnamon Girl," and the much-requested "Black No. 1." Todd sounded great in the Peter Steele role, and captured the late Type O frontman's deep voice and style. Dead Again's presentation and arrangements sounded strong, and this was a well put-together and unique tribute.
Also at McGarvey's, I saw the double-bill of The Jaded Lips and The Zuds early last month. I arrived during The Zuds' set; previously known as Sunday Girl, The Zuds – singer Luke Patterson, guitarist Eric Prindible, bassist Brad Bender and drummer Jared Middleton – fired up a good-sized crowd with their mixture of 1990s rock. The group sounded sharp as they did numbers from Silverchair, Alice In Chains, Weezer, System Of A Down, Stone Temple Pilots and more. The Jaded Lips kept the fun going with their mixture of rock and soul-edged original songs and wide variety of cover song flavors. Singer and guitarist Mike Wertz, bassist Hunter Karns and drummer David Applas kept the crowd happy and the dance floor busy with their infectious originals; including "Hold On," "It's Not Me," "Where Do We Run," "Jealous Eyes," "Lockdown" and others. And their cover selection included versions of Led Zeppelin's "Whole Lotta Love" and "Kashmir," Sam & Dave's "Soul Man," Prince's "Kiss," Franz Ferdinand's "Take Me Out" into the Black Keys' "Lonely Boy" and more.
Less Than Zero headlined a three-group punk rock bash at McGarvey's last month. Work duties prevented me from arriving in time to see Altoona punk duo The BS Express' set, but did get to catch part of Suburban Downgrade's set. This Lock Haven-based trio – guitarist and vocalist Zach "Spatz," bassist Andrew "The Eel" and drummer Craig "Crater" – fired off raging hardcore punk original numbers that got the audience rowdy. Clearfield County's Less Than Zero then finished the night with their brand of horror-flavored punk rock and metal. Singer Eddie Benevich, rhythm guitarist Davey Blowers, lead guitarist Garrett Kyler, new bassist Mindy Devil and drummer Jarod Gearheart delivered brash and pummeling original numbers, including several from their recently-released debut album "Rotten." With a sound rooted in the traditions of the Misfits and Dead Kennedys, Less Than Zero kept the crowd fired up with numbers such as "Show Me Your Shadow," "Heebie Jeebies," the album title song "Really Rotten," "Asylum," the ska-driven "Wake Me Up When I Die," the fast and furious "438" and more.
The Jeremy Edge Project brought their scorching blues rock back to Altoona's 4D's Lounge last month. Set to release their new double-album set "Saints and Souls Volumes 1 and 2" later this month, The Jeremy Edge Project played a few songs off the album such as "Cool Day in Texas," and also kept the dance floor busy with various blues and blues-rock classics. Namesake Jeremy on vocals and guitar, bassist John DeLowery and drummer Ray Gieda lit up the stage with their takes on numbers from Stevie Ray Vaughan, the Black Crowes, ZZ Top, Black Sabbath, Jimi Hendrix, Allman Brothers, George Thorogood, Free and many more. Jeremy demonstrated his guitar skills frequently, and he and the band sounded strong and together. Attendance was strong, and The Jeremy Edge Project frequently drew dancers to the floor through the course of the night. The "Saints and Souls" album drops on December 23; The Jeremy Edge Project returns to the 4D's Lounge in March.
Bedford's Bad Luck Lover Boys presented a pop punk takeover of the 4D's Lounge last month. Singer and guitarist Chris Diehl, guitarist and singer Matt Goddisart, bassist and singer Adam Lingenfelter and drummer Brad Hengst took over the Dees with their blend of catchy original tunes, pop punk and other covers. They did several songs off their latest album "Letters to Emily" such as the Adam-fronted "London Fog," "Corey's Hangover," "Anything at All" and more, and covered pop punk favorites from The Killers, Blink-182, Green Day, Jimmy Eat World, Fall Out Boy and others. And the group dropped in other covers like The Proclaimers' "(I'm Gonna Be) 500 Miles," the Beatles' "Come Together," Johnny Cash's "Folsom Prison Blues" and more. Bad Luck Lover Boys kept the energy level high and the mood jovial, generating the fun and keeping the dance floor busy through the show. Bad Luck Lover Boys will return to the 4D's in early 2023.
Fail continues to bring the rock to Johnstown area stages. I caught up with them in late October as they performed at Johnstown's Woodside Bar & Grill. The roster of singer Mike May, guitarist A.J. Hamara, bassist Colin McCallay and drummer Frank Tomaselli rattled Woodside's banquet hall with their mix of hard-hitting rock and nu-metal from the 1990s and 2000s. Fail kept the audience content and cheering with numbers from Breaking Benjamin, Rage Against The Machine, Metallica, Candlebox, Smashing Pumpkins, Limp Bizkit, Marilyn Manson and more. Fail delivered ample energy and strong musicianship with tight rhythms and A.J.'s precision lead guitar work. Some of Fail's highlights this night included their version of Slipknot's "The Devil In I," and the System Of A Down triple-shot of "Suite-Pee," "Toxicity" and "Sugar" to close out the night.
I caught Johnstown favorites The Desperadoes in action early last month as they brought the rock to The Freight Station in Johnstown. As they have been doing for more than 30 years, the seasoned trio of singer and guitarist Mark Middleton, bassist Mike "Soupy" Suppes and drummer Harold Knappenberger did what they do best this night – playing tunes from their vast library of the rock'n'roll spectrum, and letting audience requests steer them along the way. The requests included renditions of the Rolling Stones' "Paint It Black," AC/DC's "You Shook Me All Night Long," Neil Young's "Cinnamon Girl," Blue Oyster Cult's "Godzilla," The Who's "Pinball Wizard," Bob Dylan/Jimi Hendrix's "All Along the Watchtower," the Doors' "Roadhouse Blues" and others; the group also did an 'Alice' double-shot of Alice In Chains' "Man in the Box" and Alice Cooper's "Be My Lover," plus tunes from Golden Earring, The Clash, Van Halen and more. The Desperadoes poured heart into each tune and made it count for the crowd, and the reward was dancers on the floor and fans cheering loudly after each song.
As I have mentioned before, if I see wild turkeys during the course of my travels, I read it as a sign from nature that I need to see those Wild Turkey connoisseurs Felix & the Hurricanes if they are on the stage that night. Such was the case when I spotted wild turkeys while visiting the Elk Country Visitors Center in Benezette one Sunday last month. Thus upon arriving back home, I headed directly to Altoona's Black & Gold Tavern to partake in the Hurricanes' weekly Sunday shindig. After telling the group I had seen wild turkeys, lead Hurricane Felix Kos made his guitar gobble and launch into the group's rowdy instrumental "Wild Turkey," one of several original numbers they did this night. Felix, bassist and singer Jeff Clapper, and drummer and singer Bob Watters also mixed up a wide variety of cover numbers, ranging from America's "Tinman" and Dobie Gray's "Drift Away" to Ted Nugent's "Great White Buffalo" and Blackfoot's "Highway Song," plus tunes from Paul Simon, Lynyrd Skynyrd, Dr. Hook, Grateful Dead, The Clarks, Glen Campbell, and – with Halloween barely in the rear view mirror – the "Munsters" TV show theme! As always, the Hurricanes played it all with purpose and intensity, stirring up the dance floor and keeping their legion of "Hurricaniacs" cheering wildly along the way.
My passions for live music and railfanning again came together last month, as I returned to West Virginia to ride on the Potomac Eagle Scenic Railroad. I did the Potomac Eagle's day-long excursion trip from Romney south to Petersburg and back – slightly more than a 60-mile round trip. The 8-hour excursion included a 2-hour stopover in Petersburg, including a welcoming committee at the Grant County Convention and Visitors Bureau, which doubles as the train depot. Live music was again part of that hospitality, and I again got to enjoy Cumberland, Maryland-based JED Nation. This group was an instant hit with the arriving train passengers, some who instantly cut the rug when the group – singer and guitarist Donnie Carman, guitarist Joe Crites, bassist Eric Houdersheldt and guest percussionist Jason "Jaybird" Ours – quickly honored a request for Elvis Presley with "Blue Suede Shoes." JED Nation mixed rock'n'roll and country favorites, doing numbers from Johnny Cash, Willie Nelson, Jimmy Buffett, Van Morrison, CCR, Dwight Yoakam, Old Crow Medicine Show, and more requests for John Denver's "Take Me Home Country Roads" and Bob Seger's "Old Time Rock and Roll."
En route homeward following my rail journey, I stopped by Bedford's Bella Terra Vineyards to catch up with traveling troubadour Rhyne McCormick. I caught his last set; Rhyne displayed his rhythmic style of acoustic music over a blend of original songs and select covers. He performed a few newer songs that I didn't recognize, all sounding good; and he performed one original I did recognize – "Girl Turned" off his 2005 album "Soul Dust." Rhyne made his cover selection his own, applying his signature style on versions of Elvis Presley's "Hound Dog," Michael Jackson's "Billie Jean," Otis Redding/Black Crowes' "Hard to Handle," and his surprise finisher – an acoustic take on AC/DC's "You Shook Me All Night Long." Rhyne kept his presentation upbeat and personable, and the onlookers in the room applauded their approval.
News and notes…Utter Disregard, Bad Luck Lover Boys, Electric Swamp, Endbringer, Treaties, Paperback Tragedy, The Snipped, Negan, Abstentious and The Filthy Lowdown will donate their talents during the second annual Toys for Tots all-ages show at the Root Hovett Hall near Patton on Dec, 3; admission is the donation of a new unwrapped toy…State College-based alt-country punk rock group Ma'aM have released their first 45 rpm vinyl single; released through Nudie Records, the record features "Naughty" on the A-side and "American Ruse" on the B-side…A YouTube video has been released for the novelty song issued earlier this year by the songwriting pair of Bill Dann and Denny Pompa; released by Bill and Denny under the alias Hal Apeno & the Ghost Peppers, the song, "Wings of Fire," tips the hat to those brave souls whose passion is enjoying extremely hot chicken wings. The video, released on YouTube, features Denny and Ken Pompa on guitars, also Bill Anderson on trumpets, and Ed Kuhstos as the nuclear wing-consuming daredevil. The video was filmed at the Bull Pen Restaurant and Sports Bar in Tyrone.…Drummer Blaine Martin has returned to Centre County-based party-rock band TV Blonde after some time away…Guitarist Dave Serene has parted ways with Indiana County-based classic rock and pop band Somebody To Love; Bill Menk has joined the group to play keyboards and sax.
Please send correspondence and recordings to: Jim Price, 1104 S. Catherine St., Altoona, PA 16602. You can also e-mail me at jptheprofessor@gmail.com. And if you're into social networking, look me up on Facebook. SUPPORT LOCAL MUSIC! HAPPY HOLIDAYS!