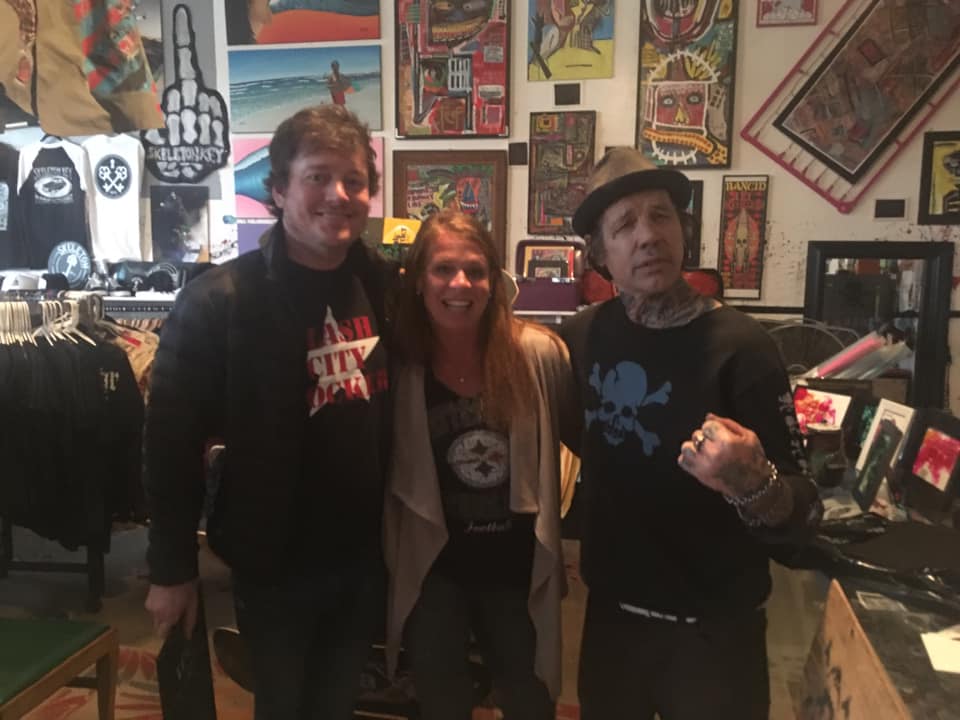 ---
By: Eric Hoffman
Greetings Rockers 'N' Rollers! Hershey continues to add more artists for their Summer 2020 season. James Taylor and Jackson Browne (Giant Center) June 18th. Zac Brown (Hersheypark Stadium) June 20th. Nickelback (Hersheypark Stadium) July 11th. Rod Stewart and Cheap Trick (Hersheypark Stadium) July 31st. Phish (Giant Center) August 11th & 12th. Maroon 5 and Meghan Trainor (Hersheypark Stadium) September 5th. These shows add to the big list of upcoming events including Post Malone, Hall and Oates, Elton John, Volbeat, Ozzy Osbourne, Marilyn Manson, Motley Crue, Def Leppard, Poison, Green Day, Fall Out Boy, Weezer, Journey and Pretenders.
The past month included the annual Drugcember event, in which Philadelphia-based band, The War On Drugs plays intimate shows to benefit Philadelphia schools. The War On Drugs sold-out both their shows at Union Transfer and The Fillmore. The group put on a great show for a great cause. The War On Drugs won the Grammy Award for Best Rock Album in 2017 for their fourth album, A Deeper Understanding. Last month also brought the return of Harrisburg local band, The Give Take, at River City Blues Club on January 4th. The band hadn't played in months due to their members busy schedules. Singer, Paul Sorrels, pulls double-duty as frontman for eternal punk band The Virus. The Give Take put on a great show full of emotion, they have very strong songs and could be considered the best band in Central PA.
January also involved traveling to Los Angeles for a week of music related events. The highlight was the reunion of LA band, The Binges, on January 18th at Echoplex. The amazing group had split in 2011 but are together again spreading their raw, energetic and honest rock n roll. It was great to visit historic music venues including The Viper Room, Whisky A Go-Go and Rainbow Room. I also visited early homes where Joan Jett, Motley Crue and Jane's Addiction all began their careers. A few artists that I met on the streets included Duff McKagen (Guns N Roses), Steve Jones (Sex Pistols) and Luke Spiller (The Struts). Lastly, I made a visit to Duane Peters' (US Bombs) store in Oceanside where he sells his artwork, music and skateboard related items. It was a real treat to spend some time talking with the 'Master of Disaster'.
NATIONAL NEWS: Aerosmith's drummer, Joey Kramer, tried suing his bandmates because they wouldn't let him play with the band at the Grammys. However, a judge rejected Kramer's legal attempt to rejoin the act. Kramer, said in a lawsuit filed that he has been kept out of the band after he hurt his ankle last year and missed shows, including part of the band's lucrative residency at a Las Vegas casino. The 69-year-old says his bandmates required him to re-audition to earn his job back by performing a series of solo rehearsals to prove he could play "at an appropriate level," according to his lawsuit. Aerosmith replied, "Joey Kramer is our brother; his well-being is of paramount importance to us. However he has not been emotionally and physically able to perform with the band, by his own admission, for the last 6 months." Kramer was physically barred by security guards from entering the band's Grammy rehearsal in Los Angeles. Kramer, has been replaced with his own drum tech, John Douglas, who he pays a rate of $20,000 per week for performances and $10,000 per week for rehearsals.
Rocker Ozzy Osbourne says that he's been diagnosed with Parkinson's disease, a nervous system disorder that affects movement. The 71-year-old former vocalist for the metal band Black Sabbath said that the diagnosis came after a fall last year. Osbourne had to cancel tour dates last year due to health troubles. Osbourne said he really wants to get well and get back to performing because he misses his fans. His wife, Sharon Osbourne, claimed the diagnosis "was not a death sentence by any stretch of the imagination," but that Ozzy has good days and bad days.
Posthumous inductees Whitney Houston and The Notorious B.I.G. will lead a new class into the Rock and Roll Hall of Fame, joined by Depeche Mode, the Doobie Brothers, Nine Inch Nails and T-Rex. Two non-performing inductees include: music manager Irving Azoff, best-known as the manager of the Eagles since 1974 and Jon Landau, a former music journalist, who currently manages Bruce Springsteen. The annual induction ceremony will take place May 2nd at the Public Auditorium in Cleveland, the city where the rock museum is located. The Saturday night show will be on HBO, televised live for the first time.
Pearl Jam announced its first studio album since 2013 and an extensive tour to go with it. The band's 11th studio album, Gigaton, drops March 27th and Pearl Jam hits the road in support, visiting Baltimore's Royal Farms Arena on March 28th. Aside from a few stadium shows and festival appearances, the tour marks Pearl Jam's first full North American arena tour since 2015-16. Over the last three years the band has averaged 52,075 tickets sold per show for a gross of $4,666,506.
Neil Peart, 67, the technically masterful drummer for classic rock power trio Rush, died on January 7th. Peart joined guitarist Alex Lifeson and bassist/singer Geddy Lee in 1974 as drummer and primary lyricist of Rush. The highly influential percussionist was known on stage for using an elaborate 360-degree drum kit and extended solos in concert. His drumming style was considered flamboyant but precise, with prominent tom fills riddled throughout the band's many epic tracks. Rush's final tour in 2015, grossed $37.8 million on 35 shows.
The Stadium Tour featuring Def Leppard and Motley Crue with Poison and Joan Jett & The Blackhearts has already sold more than 700,000 tickets and grossed over $90 million at the box office in its first weekend of sales. Def Leppard's Joe Elliott stated, "Well the tour is out there now and it keeps getting bigger and bigger. This is going to be a monster of a tour!" Added Mötley Crüe bassist Nikki Sixx, "Little did we know that making The Dirt movie would lead us to this exciting new place touring stadiums." Poison's Bret Michaels commented: "There are not enough words to thank the three generations of fans for making this such an exciting, record breaking, historical tour with the fastest sell outs in history at these stadiums." The Stadium Tour visits Hersheypark Stadium on August 11th.
UPCOMING CONCERTS: The Used – Baltimore Soundstage Feb 7. The Huntingtons / The Super High Tech Jet Fighters – Lancaster Lizard Lounge Feb 8. No-Heads – York Skid Row Feb 8. Cheap Trick – Bethlehem Wind Creek Casino Feb 12. Jesse Malin – Lancaster Tellus 360 – Feb 21. Hall & Oates – Hershey Giant Center Feb 26. The Twindows – York Fat Daddys Feb 28.