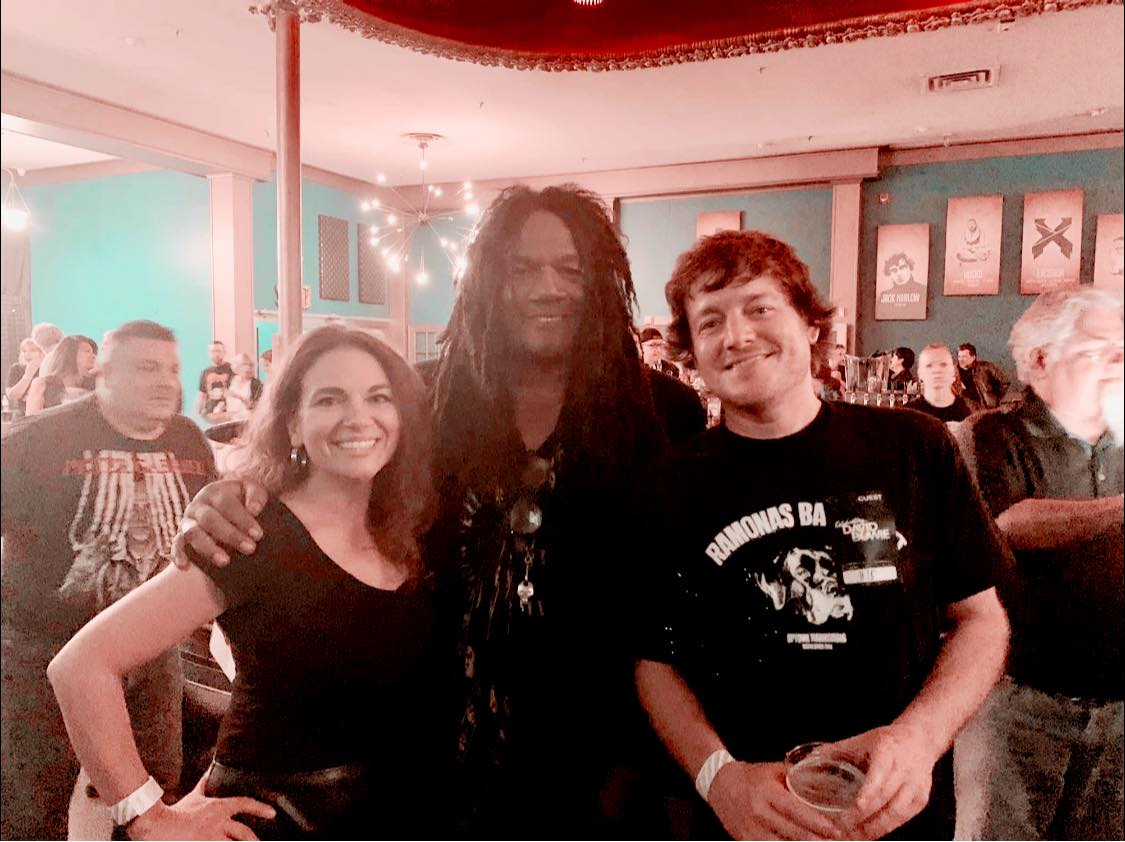 ---
By: Eric Hoffman
Greetings 2023 Rockers 'N' Rollers! This month marks 15 years writing for the PA Musician. I am very grateful to the Noll family for all they do year after year. And the chance to write for PA Musician, though I never considered myself a writer, but the Noll family had faith in me. It is a great opportunity to be able to share the world of music in which we love. With winter in full effect thus becomes a slow time for live concerts. However, a few shows did happen in Central PA including two shows from Harrisburg University at XL Live. A very impressive show from England's, Wet Leg, happened on December 2nd to a sold-out crowd. The band's wildly popular debut song 'Chaise Lounge' garnered over 3 million streams in 2021. Wet Leg is nominated for 5 Grammys, including Best New Artist, for the 65th Annual Grammy Awards to be held on February 5th. HU also brought, Bob Moses, a Canadian electronic-duo to XL Live on December 8th. Phantom Power in Millersville brought Local H back to the mid-state on December 3rd. A packed house to see the Illinois grunge band from the 90's. Local H are known for their unorthodox two-piece setup and hit songs, "Bound for the Floor," "High-Fiving MF" and "Half-Life." Comedian, Nikki Glaser, brought her "The Good Girl Tour" to the Hershey Theatre on December 9th. Glaser has had two featured stand-up specials on Netflix. 2022 ended with a phenomenal local show at Lancaster's American Bar and Grill on December 17th. Three of the best bands in the area combined for a great night of rock n roll. Brom Bones, The Super High-Tech Jet Fighters and Timmy's Creepshow all played fantastic sets to a packed room.
NATIONAL NEWS: KIX drummer, Jimmy 'Chocolate' Chalfant, suffered a SCA (Sudden Cardiac Arrest) while performing on stage on November 18th in Leesburg, VA. Kix had just finished playing 'Cold Blood' and were about to play their last song when bassist, Mark Schenker, noticed Chalfant slumped over his drum kit. Guitar tech, Brandon Dull, and Schenker quickly administered CPR bringing Chalfant conscious until medics arrived within minutes. Chalfant issued a statement thanking his bandmates and crew for saving his life, adding "There are no words that can express what it really means to me. THANK YOU!!! I'm healing slowly but surely and I plan to be back and ready to ROCK YOUR FACE OFF in Feb. Until then, go support live music in your area, and TAKE A CPR CLASS!!! Peace & Love, Jimmy."
U2 drummer, Larry Mullen Jr, commented in an interview that if the band plays live in 2023 it will likely be without him, as he needs surgery to continue playing. Mullen has issues with his neck, knees and elbows, physical issues many drummers deal with. "So I'd like to take some time, which I will do to get myself healed. I really miss the audiences. My body is not what it used to be physically." U2's frontman, Bono, hinted the band are to open the new 1.8 billion MSG Sphere arena in Las Vegas in 2023. Bassist, Adam Clayton, doesn't believe the band are faced with making a decision regarding Mullen right now.
Bad Bunny's "World's Hottest Tour" in 2022 is one of the most remarkable tours for any musician ever. His 43-date tour raked in $435.3 million and sold more than 2 million tickets and surpasses Ed Sheeran for the all-time highest-grossing tour in a calendar year. The 28-year old, Benito Antonio Martinez Ocasio, is the Puerto Rican phenom known as Bad Bunny with the hit single "Titi Me Pregunto." Ed Sheeran's 2018 "Divide Tour" held the previous record at $432.4 million. The success of Bad Bunny is so remarkable that his music cannot simply be categorized, even in a genre as broad as Latin. Live Nation stated, "An unprecedented feat and a remarkable accomplishment on its own, regardless of genre, to see an artist of his age reaching those heights is just something that makes it very promising for us, of what the future holds."
Classic rock legends and Rock & Roll Hall of Fame bands ZZ Top and Lynyrd Skynyrd will co-headline amphitheatres next summer on "The Sharp Dressed Simple Man Tour," launching in July in Florida, and running through Sept. in Camden, New Jersey. Lynyrd Skynyrd, featuring founding member Gary Rossington and vocalist Johnny Van Zant, is approaching the 50th anniversary of the band's critically acclaimed debut album in 2023. Despite ZZ Top losing
founding member Dusty Hill last year, the band soldiers on with bassist Elwood Francis. The tour visits Hersheypark Stadium on September 9th.
Bono of U2 has added 8 new NYC dates at the Beacon Theatre throughout April and May. The shows will feature a performance from Bono celebrating his new bestselling book, "Surrender: 40 Songs, One Story." The legendary frontman's book was released on November 1st, each chapter named after a U2 song – the first leg of Bono's book tour took place across 14 cities in North America and Europe, with Bono singing songs and telling stories.
Celebrating her 50th anniversary in entertainment, Janet Jackson will hit the road for a 33-city tour in 2023. The tour, which marks the 25th anniversary of Jackson's "The Velvet Rope" and the 30th anniversary of "Janet," features Ludacris in support. Jackson's "Together Again" tour visits Baltimore's CFG Bank Arena on May 13th. Billy Joel and Stevie Nicks continue to add dates for their 7 stadium shows together, now announcing Philadelphia's Lincoln Financial Field June 16th. Following the success of Def Leppard and Mötley Crüe's stadium tour last summer, the bands are continuing on with their co-headlining dates and will return to North America in August with six new shows including New York and Ohio. The upcoming tour dates see Alice Cooper joining as a special guest. Metallica unveil 'M72 World Tour' dates which will be playing for two nights in different cities across the globe with zero repeats. Each city will feature different sets and opening acts. The tour will see additional performances from Architects, Mammoth WVH, Five Finger Death Punch, Ice Nine Kills, Pantera, Volbeat and Greta Van Fleet. Dates include: August 4th & 6th at MetLife Stadium in East Rutherford, NJ. And Hersheypark Stadium has announced The Zac Brown Band for July 1st.
More than two dozen Taylor Swift fans from 13 states filed a lawsuit against Ticketmaster in Los Angeles following the disastrous Verified Fan sale for Swift's upcoming "Eras Tour." The 26 plaintiffs allege violation of California's Cartwright Act and the state's Unfair Competition Law. The suit asks for Ticketmaster and parent Live Nation Entertainment to pay a $2,500 civil penalty for each violation. The suit, alleges fraud and price-fixing on the part of Live Nation, along with antitrust violations.
The 2023 Bud Light Super Bowl Music Fest delivers three-nights of artists including Paramore, Dave Matthews Band, Imagine Dragons and Kane Brown. The festival at Phoenix's Footprint Center is slated for February. 9th-11th, ahead of the Super Bowl on February 12th. The 2022 edition featured Halsey, Machine Gun Kelly, Blake Shelton, Gwen Stefani, Mickey Guyton, Miley Cyrus and Green Day.
Christine McVie, co-lead vocalist and keyboardist for Fleetwood Mac, died on November 30th at the age of 79. The official statement stated, "On behalf of Christine McVie's family, it is with a heavy heart we are informing you of Christine's death. She passed away peacefully at hospital this morning following a short illness. She was in the company of her family." The English musician wrote some of Fleetwood Mac's most beloved songs including "Don't Stop," "Songbird," "You Make Loving Fun" and "Oh Daddy" from 1977's Rumours, along with co-writing "The Chain." Other artists we lost in 2022 include: Ronnie Spector, Meat Loaf, Mark Lanegan (Screaming Trees), Taylor Hawkins (Foo Fighters), Naomi Judd, Andy Fletcher (Depeche Mode), Olivia Newton-John, Coolio, Loretty Lynn, Keith Levene (PiL) and Jerry Lee Lewis.
JANUARY SHOWS: Todd Morse (H20) – Mechanicsburg Lovedrafts Jan 12. Strangelove (Depeche Mode tribute) – Lancaster Tellus360 Jan 22.