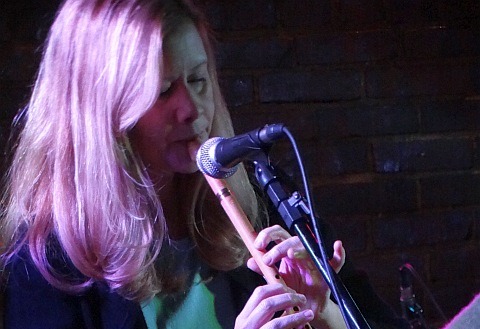 ---
By: Jim Price
Welcome to 2023! The symbolic turning of a new page into each New Year always seems to energize us, as we clean the slate from the past year and look forward to new possibilities. I see this happen with the area music scene each year as well, and am already aware of several exciting things awaiting area music fans in this New Year!
Holiday season-themed events comprised many of the shows I witnessed during 2022's homestretch, including two multi-band Toys for Tots benefit shows on back-to-back days in early December…I did a roadtrip to Bullfrog Brewery in Williamsport to witness the first one. Organized by Jeff Pittinger and presented by his Pennsylvania Pipeline Music-TV, this benefit featured six performing acts. The first two acts – Matthew Colgrove, and Kopper and Kash – performed before I arrived. I did arrive in time to see Williamsport's Celtic Wood and Wires as they did a blend of traditional Irish, Scottish and Celtic-flavored numbers. Singer and guitarist Michael J. Miller, Sandi Finnerty on fiddle, Billie Jo Shank on tin whistle and low whistle, and Carl Finnerty on bodhran offered bright, uplifting arrangements and musicianship as they did traditional numbers such as "Garryowen," a version of Steve Earle's "Galway Girl," a number from their album "Close the Back Door" and more. Next, the Betty Ford All Stars took the night in a harder-rocking direction. Jeff Pittinger on lead vocals, guest Gary Lynn (of Mason Dixon) and Jim Lovcik on guitars, Jason Miller and Carl E. Lee on basses, and Jesse Roedts on drums did a set of hard-rocking classics from Black Sabbath, Queen Blue Oyster Cult, Judas Priest and Thin Lizzy, with guest Joel B. Vincent sitting in on drums during ZZ Top's "Tush." Despite battling a cold, Jeff's vocal range held strong through the entire set, and the instrumental execution was solid and powerful. Following them was Williamsport's Gray Valley, who mixed elements of rock, funk, jazz and reggae into captivating jam exercises. The cast of guitarist and singer Clay Minier, bassist and singer Will Collier, Erick Parades on sax and hand percussion, Andrew Leidick on keys and Trey Foehner on drums did mostly original song creations that featured interesting rhythm and chord arrangements; their leadoff instrumental number led into a rendition of the Beatles' "Get Back." Finishing the benefit was The Heartstrings, a family group featuring siblings Jacob Yoas on guitar and vocals, Maria Yoas on bass and vocals, and drummer Brian Yoas. This group was strong and rowdy, delivering energy and swagger on their mix of hard-hitting rock and country. The three mixed strong original songs with edgy cover versions of Miranda Lambert's "Fastest Girl in Town" and Chris Isaak's "Wicked Game" to slam the lid on the night.
The following day, I checked out the second annual Toys for Tots benefit hosted by the Root Hovett Hall near Patton. Bad Luck Lover Boys kicked off the day before I arrived, and Electric Swamp was under way when I got there. Four members strong, Electric Swamp fired up the crowd with their unique blend of hard-driving country and rock. Among their songs was an amped-up version of "Deep Elem Blues." Baltimore foursome Paperback Tragedy followed with their brand of original power punk rock. Formed more than 20 years ago, the lineup of singer and guitarist Will West, bassist Frogg, guitarist and singer C-Lunch and drummer Clay powered through fast-firing, catchy numbers like "Deep Inside," "Divided," "Sh*t Town," "To The Bunker," "Gravel Gurdy," "Wishing Stars," their closer "Mr. Brown" and more. Next was Treaties,
presenting their high-powered, punk-driven rock. Singer and guitarist Brandon Kane, bassist Brad Davis and drummer Toby Hunter fired through original numbers, including several off their self-titled album. Their combination of melody and velocity kept the all-ages crowd cheering. The Snipped then brought their "dadcore" punk rock to the stage. Singer and guitarist Mike Wax, lead guitarist Jeff Reid, bassist Frank Conrad and drummer Justin Burket drilled fast-firing numbers from both of their CD's, along with their high-octane take on The Kinks' "Father Christmas." The Snipped's "dadcore" inspired some "kidcore," as youngsters (and their parents) got crazy in front of the stage. With their rosters now identical with the recent return of drummer Damien Falatek, Negan and Alice In Chains tribute Deny Your Maker next combined for a joint set; mixing Negan original tunes with numbers from Alice In Chains and other covers. Damien, singer (plus venue owner and benefit organizer) Mike Davis, guitarists Bob Gray and Jeremy Ashurst, and bassist Josh Yahner broke out numbers from Clutch, Soundgarden, System Of A Down and Mastodon; Alice In Chains numbers such as "Red Giant," "Rain When I Die," "Bleed the Freak," "Love, Hate, Love" and "Man in the Box;" did three songs from Negan's "Burnt Pages" debut EP plus the newer "The Goat Whispers," which Mike dedicated to his brother Ray. Young Altoona punk-rocking trio Abstentious then brought the fury with their fast-firing, high-velocity, punk-rocking fun. They introduced numerous new tunes, plus a few established numbers off their "Without A Moral Compass" album such as "14 Weeks," "Thinking For You," "PCC" and more. Guitarist Brayden Adams and bassist Noah Keller sang and barked the vocals, while Jake Hicks pummeled the drums with blinding speed and all-out intensity – it looked like he had six arms at times! Pittsburgh's The Filthy Lowdown closed out the event with their rowdy, over-the-top set. With guitarists Brandon Habera and Max Snyder, bassist Chuck Kowalski and drummer Dave O'Brien churning the high-powered backdrops, frontman "Abe Like Lincoln" Balestra took his feral fury to the room, wrapping the mic cord around his head as he barked out the words to Filthy Lowdown anthems like "Mischief," "Cheap Cars, Fast Women," "308," some new originals, and several recitals of the under-one-minute "Get F***ed." An additional highlight was Abe welcoming up Noah from Abstentious to help bark out the words to Limp Bizkit's "Breakstuff." When all was said and done, this benefit raised at least $400 and more than 200 toys to help Toys for Tots help out area families in need during the holiday season.
Throughout the past year, McGarvey's in Altoona has hosted several "Altoona Arts Untied" events; art-related showcases where local artisans and crafters display and sell their creations, usually accompanied by area acoustic performers. For the holiday season, the "Yuletide With Yinz" arts fair took place in early December. As various vendors offered their creations from candles to clothing to jewelry and more, members of Innocent Sin and the PennSoulvanians provided the music. Carli and Adam Caldwell of Clearfield's Innocent Sin performed a number of soul, folk and blues-geared original songs – including "I Wonder," "You Better Run" and "You Want to Know My Name" (about passing judgment). Joined by sax player Alec Zander Redd, Chet Denny and Michael Thomas of the PennSoulvanians then mixed several original songs with select covers. They did good-sounding renditions of Michael Jackson's "The Way You Make Me Feel," Prince's "When Doves Cry," Bob Dylan's "Knocking on Heaven's Door" and others, and were joined by Carli and Adam late in their set. Carli and Adam also hosted the "Caroling with the Caldwells Christmas Live" online streaming performance on Christmas Eve.
Both Krampus and St. Nicholas made their holiday season returns to Altoona's Unter Uns
Musical & Entertainment Society last month, with Fortune & Glory providing the music. I arrived before the band's second set, and Krampus must have spotted me entering the building, as he arrived shortly after and swatted me with his branch for my misbehavior over the past year. He then danced in front of the stage as Fortune & Glory started their set with Ghost's "Square Hammer." St. Nicholas entered a few moments later to reward audience members with packets of candy and treats. The Fortune & Glory roster of singer Dana "DD" Martino, husband Art Martino (together 31 years) on guitar, son Nicholas Martino on bass, Adam Baranik on keys and Bryan Starr on drums kept the crowd rocking and dancing with a variety of favorites from Fleetwood Mac, CCR, Scandal, The Outfield, Led Zeppelin, Joe Walsh and more. They broke out songs not often heard on live stages such as Elton John's "I'm Still Standing," Deep Blue Something's "Breakfast at Tiffany's," Janis Joplin's "Move Over," The Police's "Synchronicity Pt. II" and others. Dana's voice handled all of it well, and the rest of the group sounded strong and together.
The Penn State Altoona University Jazz Band helped usher in the holiday season with their Fall Semester concert finale last month at the campus' Misciagna Family Center for Performing Arts' Wolf-Kuhn Theatre. Under the direction of Josh Hillard and featuring special guest Bob Scholl (of U.S. Sound Theatre fame) on saxophone, the Jazz Band – sax players Justin Fleck, Seth Goheen, Noah Hillard, Tyler Latten and Alivia Lins; trumpeters Shayla Bowser, Austin Parker and Eric Jordan; trombonists Alexandria Hamel, JJ Steinbugl, Liam Walters and Michael Woolford; mellophone player Allison Snyder, guitarist Lorren McGarvey, pianist Jack Kuhns, bassist Nicholas Palermo and drummer Victor McCoy – played a tasty mix of Christmas and other selections. They opened with the Mike Collins-Dowden arrangement of "Good King Wenceslas," and closed with the Paul Baker arrangement of "Rest Ye Merry Samba." In between, the band performed Jerome Kern and Oscar Hammerstein's "All The Things You Are" (from the musical "Very Warm for May"), Neal Hefti's "Cute" and Thelonius Monk's "Well You Needn't." The performances were sharp and enthusiastic, with each musician given the opportunity to demonstrate their solo talents along the way.
Many bands probably have that one special venue where everything always clicks – the room's crowd and atmosphere are electric, and fun nights are automatic. For Stormy, The Argonne Cafe in Hollidaysburg is that place. Every time I see Stormy there, it becomes a good time party; and amplified by the holiday season, their show last month at the Argonne was ecstatic from start to end! Singer and harmonica player Mark Montrella, singer Carol Fedeli, guitarist Brandon Stewart, keyboardist Charlie Leiden and drummer Ray Fedeli mixed a wide variety of rock and pop classics, Christmas favorites and more before a packed house. Stormy was bringing the Christmas cheer as I arrived, with Carol singing lead on versions of "Jingle Bell Rock," "Rockin' Around the Christmas Tree," and a Christmas medley of Jose Feliciano's "Feliz Navidad" into John Lennon's "Give Peace a Chance" and "We Wish You A Merry Christmas." The group also did numbers from Stealer's Wheel, Bruce Springsteen, Cream, Peter Green, Van Morrsion, Bruce Hornsby, Eddie Money…and some surprises such as renditions of Bread's "Make It With You," The Byrds' "My Back Pages," Nirvana's "All Apologies," the Moody Blues' "The Story in Your Eyes," and folks dancing on the Brandon-fronted take on Tom Waits' "Heart Attack and Vine." And as has become tradition with this band in this room, the group finished with crowd sing-along and dance-along versions of the Beatles' "Let It Be" and "Lady Madonna." Charlie then concluded the evening the same way he commenced it, with his piano solo version of Vince Guaraldi's
"Christmas Time Is Here," and the crowd cheering full approval. Stormy returns to the Argonne Café on January 21. (And check out Argonne staffer Michelle's chalk artwork near the bar!
Black Cat Moan returned in late November to perform at the venue where their story began, Johnstown's Venue Of Merging Arts (VOMA). It was here that singer TK Mundok and guitarist George Byich first met and performed together; and this night felt like a homecoming, as a nearly full house greeted TK, George, bassist Brad Jamison and drummer Rob Bonsell. The group triggered instant dancing on the very first song, "Love Yourself," and kept the mood festive over two sets with their mixture of blues, blue-rock, soul and funk-edged original songs and select covers. TK's personality radiated as he led the group's journey with his expressive singing style, hopeful messages and appreciation for the audience; while George dazzled with stellar guitar work ranging from heated shredding to precision slide work; backed by the punchy rhythms and grooves generated by Brad and Rob. The group did songs from their original arsenal such as "I Am Love," "Wanna Get High (Sahasrara)," "Is What It Is," "Underground," "Anyday," "The Veil" and several new numbers as well. They also gave their own flavor to the blues standard "Rollin' and Tumblin,'" Howlin' Wolf's "Smokestack Lightnin,'" "House of the Rising Sun," "Baby Please Don't Go" (with a Golden Earring "Radar Love" midsection), an impromptu audience request for Bill Withers' "Ain't No Sunshine," a Stevie Wonder "Superstition" extended jam and more. Black Cat Moan easily chased away the long-held stigma that blues is down and depressing music with their upbeat presentation this night.
Holiday season actually kicks off with Thanksgiving, and Shallow 9 helped usher in the holiday with their Thanksgiving Eve party before a packed house at Altoona's 4D's Lounge. Singer Erika Machiel, singer, guitarist and keyboardist Ryan Weaver, lead guitarist Greg Larrimore, bassist Mitch Neuder and drummer Todd Harshbarger had the packed house partying down with their blend of pop, rock, funk, soul, emo and hip-hop favorites. Witnessing from my vantage point this night "in the trenches" between the dance floor and the stage, it was fun witnessing the synergy between band and dance crowd unfold and grow as Shallow 9 did popular songs from Paula Abdul, Fall Out Boy, Panic! At The Disco, Radiohead, Cranberries, Hall & Oates, Lady Gaga, Killers, Charlie Puth and many others; plus emo, hip-hop, funk medleys and more. Shallow 9 again demonstrated that they know how to generate the party, and that party returns to the 4D's Lounge on Feb. 17.
Autumn Rising also knows how to fire up the party, as demonstrated during their visit to the 4D's Lounge last month. Rising from the ashes of the former This Albatross during the past year, Autumn Rising – singer Autumn Shiffler, guitarists and singers Scott Imler and Kirk Robison, bassist PJ Kelly and drummer Shawn Gioiosa – have energized dance floor crowds with their blend of classic and modern rock, pop and country favorites. Autumn's potent voice grabbed the crowd's full attention early on this night, and she and the band soon had the dance floor churning with numbers from Aerosmith, Joan Jett, Gretchen Wilson, Lenny Kravitz, Miranda Lambert, Blondie, Walk The Moon, Heart, Bruno Mars, Shania Twain, GoGos and many others. The momentum grew and the dance floor continued to fill up through the night, and by show's end the crowd demanded more – prompting two encores, as Autumn Rising closed the night with Janis Joplin's "Me and Bobby McGee" and Green Day's "When I Come Around." The rise of Autumn Rising should continue this year – watch for their return to the 4D's Lounge, as well as
appearances throughout the region.
I caught my first look at Cambria/Somerset County rockers Twenty Three last month as they performed at the Windber Hotel. Formed in 2020, Twenty Three specializes in popular alternative and punk rock from the 1990s and 2000s. Singer Chelsea Ryan, guitarist and singer James Ryan, bassist and singer Dave Warren and new drummer Scott Rosage (of Private I fame) fired up the dance floor crowd with numbers from The White Stripes, Good Charlotte, All-American Rejects, Harvey Danger, Bowling for Soup, Third Eye Blind, Green Day, No Doubt, Alanis Morisette, Weezer and many more. The group's vocals were strong, and their instrumental execution was fast-paced and tight – all resulting in a busy dance floor, including a happy Class of 1987 reunion contingent in the house. Twenty Three is a rising name – watch for them on Cambria, Somerset and Westmoreland County stages.
Lancaster's Illusions Of Grandeur introduced their theatric-geared rock and stage show to McGarvey's early last month. I missed opening sets by The Nerves and The BS Express, but arrived in time to catch some of Illusions Of Grandeur's performance. The group presented fascinating audiovisual spectacle, mixing a progressive heavy rock/metal musical style with an imaginative array of costumes, setting, props and lighting. Singer "The Siren" (Maggie Carlton) and her "Warriors" – bassist "Archangel" (CM Carroll), drummer "Ares" (Ted Domzalski) and guitarist "Dimios" (Julian Yeager) – through their songs craft a musical narrative of journeys, battles and mythology. Unfortunately, sound issues plagued and disrupted their full presentation this night; but what I was able to witness was intriguing, and the audience showed their appreciation and support for Illusions Of Grandeur's interesting musical world. Watch for this group's possible return to McGarvey's in late winter or early spring.
I did end up seeing The Nerves two weeks later at McGarvey's. This young band is quickly growing a fan base with their fresh and energetic brand of alternative rock originals and covers. Singer Ryen Beam, guitarists Julian Saborio and Joshua Redinger, bassist Adrian Saborio and drummer Braedon McCabe delivered strong melodies and go-for-broke energy on original songs such as "Green Fire" and "Little Boy," as well as their covers of material from Two Door Cinema Club, Arctic Monkeys, Wolfmother and more. The Nerves broke out a surprise to close this night by serving up their own chaotic edition of the Beatles' "Helter Skelter." The Nerves plan to do some recording this year and keep expanding their ban base; watch for their return to McGarvey's and other area stages.
The area music scene was saddened by the recent passings of two area musicians…Longtime Altoona area musician Jim High passed away on December 12 at age 65. Jim made music with a number of Blair County-based bands going back to the 1980s, primarily as a bass player and guitarist. Jim was a member of such groups as Psycho, Rainbow City (with Louie Brumbaugh), Sidewinder, Different Mothers, Not Them Guys and others…And longtime local country artist Bill Ross, Jr. passed away on December 23 at age 77. Bill was well-known as half of popular central PA-based country duo Bill & Roy, teaming with Roy Hanna, Jr. The pair played at venues, festivals and other public events around the area and region, opened for national acts, traveled and played shows from coast to coast and even performed in parts of Europe. They recorded in Nashville, issuing at least one 45 rpm single in 1989 and a full length CD called "Just 4 Fun" in 1991. Bill continued to perform as a solo artist after Roy passed in 2011.
News and notes…The green light has been given for the return of the annual "Crazy Fest"
Amateur Youth Talent Show later this year. Started by area entertainer Dennie Huber in 1990, "Crazy Fest" enjoyed a 25-year run as a showcase for youngsters to demonstrate their performing talents in front of a friendly and supportive audience. That run ended after Dennie passed away in June, 2016. The new "Crazy Fest" will include a new award called "The Hubie" in Dennie's honor. More details about the date and location of "Crazy Fest" will be forthcoming…The next concert in Johnstown's "Classic Vinyl Concert Series" will take place March 18 at the State Theater of Johnstown, as a cast of area musicians will perform two albums: "Chicago IX" and "The Best of Earth, Wind, and Fire Vol. 1"…A changing of bass players for Johnstown punk-metal specialists The Heathen Parade, as Chad Straw replaces Jay Snider; The Heathen Parade will unveil new music on Jan. 13…Pittsburgh-based Altoona native Don Hughes has released two new albums; one is his newest original music album, called "Universal Language," which features seven original compositions and four remakes, and the other album, "The Gaming Jukebox," is a novelty release featuring Don's renditions of 28 different pieces of music from Nintendo video games…Jim Donovan & the Sun King Warriors have entered the studio to begin recording new music, which should be available later this year…And new Altoona-based metalcore project A Starlite Gray, featuring former members of Naildriver and This Calling, is nearing completion on the recording of their debut EP, "From Here to Eternity," which will be released soon.
Please send correspondence and recordings to: Jim Price, 1104 S. Catherine St., Altoona, PA 16602. You can also e-mail me at jptheprofessor@gmail.com. And if you're into social networking, look me up on Facebook. SUPPORT LOCAL and LIVE MUSIC IN 2022!