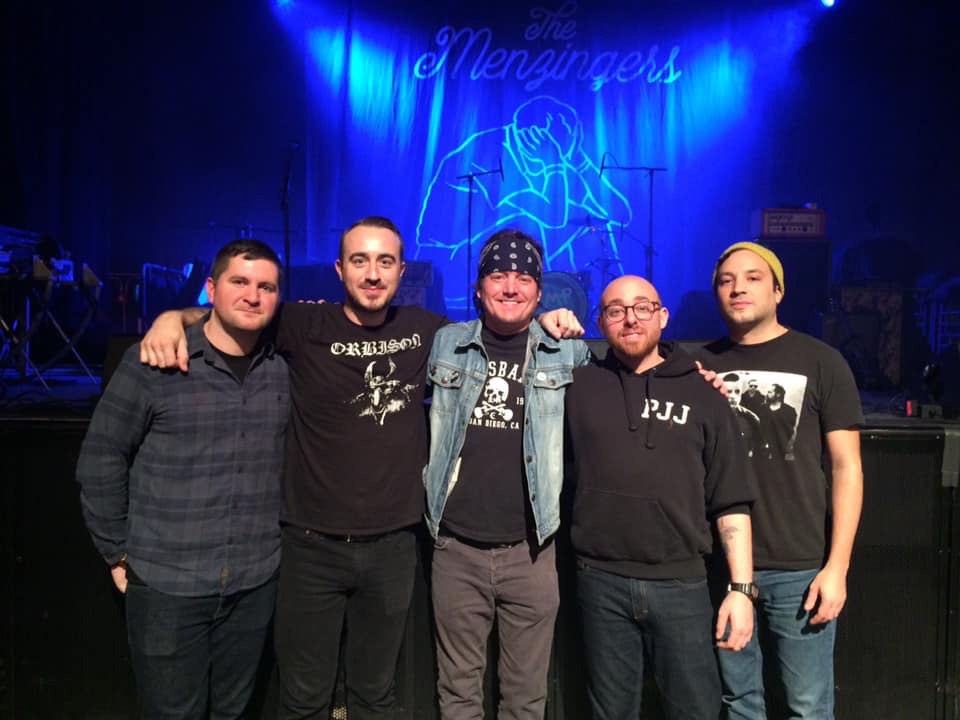 ---
By: Eric Hoffman
Happy New Year Rockers 'N' Rollers! Last year ended strong with three National shows at Club XL of Harrisburg. The massive new nightclub has really took over the Central PA scene with bands like The Struts, KIX and Reverend Horton Heat. All three events brought huge crowds within the 1500 capacity venue. The Struts (from England) continue to gain ground by touring America non-stop. KIX are quite possibly the most recognized National band in Harrisburg with nearly 40 years of continuous shows within the mid-state. Reverend Horton Heat returned for the 2nd time with his Annual Holiday Show featuring Junior Brown, Big Sandy and The Blasters. Club XL has partnered with Harrisburg University announcing 7 major shows to begin the new year including; Kurt Vile and the Violaters, The Glorious Sons, Marcus King Band, Tig Notaro, Record Company, Frank Turner & the Sleeping Souls and Joan Osbourne.
Last month also brought two great shows from The Menzingers, originally from Scranton but now residents of Philadelphia. The punk rock band finished their current Fall tour with a sold-out show at Union Transfer in Philadelphia. The Menzingers' concerts are extremely impressive with their loyal following who sing every lyric in unison while fans crowd surf over a mosh pit of mayhem. The Scranton natives also held their charity NEPA Holiday Show in their hometown on December 22nd at the Scranton Cultural Center. Philanthropy is the heart of the show with all proceeds benefitting art and music programs for kids in the Scranton area. "Every year, people reach out to us asking about it earlier and earlier," said guitarist/singer Tom May. "It's really become almost an institution on its own."
December included a visit to New York City for one of the best concerts I've seen in a long time. Titled "The Bronx White Drugs Holiday Show" which took place at Music Hall of Williamsburg in Brooklyn. Hardcore punk band The Bronx (from Los Angeles) headlined the show with The Explosion (from Boston) and Wyldlife (Brooklyn). All three bands played incredible unforgettable sets. Wyldlife killed it with fantastic songs "Contraband" and "Bandida." The Explosion played their hits "Here I Am" and "No Revolution." And The Bronx finished blasting thru "Heart Attack American," "Shitty Future" and "They Will Kill Us All (Without Mercy)." The chaos within the crowd and the immense music of each band proved an intensity that hasn't been felt in a long time.
NATIONAL NEWS: Slayer and KISS and others are having "farewell tours," Ozzy Osbourne has reiterated that his "No More Tours 2" trek is a bit of a misnomer. "People have gotten that all wrong," said Osbourne, with it being dubbed a "farewell tour." "The tour should have been the 'Ozzy Osbourne Slowing Down' tour. I'll still tour, but not as extensively like I have been for the last 50 years." The singer continued, "I have grandchildren now and I'm 70 years old and I don't want to be found dead in a hotel room somewhere. I'm going to do it at a more leisurely pace and do some shows in Vegas … but I'll never stop." Currently, Osbourne has 46 shows lined up for 2019 with a stop at Hersheypark Stadium on June 8.
In 2018, Ed Sheeran had the highest grossing tour ever recorded ($432 million) for an artist in a single year. His "Divide" tour visited four continents, performing 94 concerts for more than 4.8 million fans. The English pop star has astounded the world with the simplicity of his stadium production, the strength of his connection with the audience and his award-winning music. Sheeran's tour resumes in 2019 with 45 headlining stadium dates and will become the highest-grossing tour of all time. U2 currently holds the record with their 360 Tour in 2009 with $735 million in sales. The Top 10 tours combined gross revenue surpassed $2 billion. At No. 2 Taylor Swift. Combined with Sheeran, the two racked up $777 million in sales. Pink, Bruno Mars, Jay-Z / Beyoncé, Eagles, Roger Waters, U2, Rolling Stones and Justin Timberlake are also in the Top 10 tours of 2018.
Janet Jackson, Stevie Nicks, Def Leppard, Radiohead, The Cure, Roxy Music and the Zombies will all be inducted into the Rock and Roll Hall of Fame. The 34th induction ceremony we be held March 29 at Barclays Center in Brooklyn. Jackson's induction comes after her third time as nominee (since 2007) in which her career suffered from the fallout after the infamous 2004 Super Bowl appearance where her bare breast was briefly exposed. Def Leppard earned more than a half a million votes from fans. Stevie Nicks, Roxy Music and Def Leppard were voted in their first year nominated. Other 2019 nominees who didn't make the cut included LL Cool J, Devo, Rage Against the Machine, MC5, John Prine, Todd Rundgren and Kraftwerk.
Kendrick Lamar is the top contender for the 2019 Grammy Awards with eight nominations, with women heavily represented in the major four categories. Lamar's music contribution to the movie Black Panther has seven nominations including album of the year. Cardi B, Kacey Musgraves, Janelle Monae, H.E.R. and Brandi Carlile are also up for the top prize, along with Drake and Post Malone. The "Panther" nomination will give Lamar a chance to win album of the year after losing three times. Some acts scored their first nominations ever, including Florida Georgia Line, Camila Cabello, Post Malone and Shawn Mendes. Lamar has won 12 Grammys throughout his career. The 2019 Grammys will hand out awards in its 84 categories live from the Staples Center in Los Angeles on February 10.
David Lee Roth may have leaked a Van Halen reunion this coming year in a recent interview with Vulture magazine. The VH frontman said he and the band will play Yankees Stadium next year and will have many famous bands with them. Diamond Dave claimed, "The band (Van Halen) is solvent. And I can say that I contacted colleagues about being part of the show – Metallica, Guns N' Roses, Jason Aldean, the Foo Fighters, Church, and Stapleton. And they all said that, if everything happens, they would certainly be involved." It is also rumored original bassist Michael Anthony will join. If a tour does happen, it would mark the first shows since Sept 1984 featuring all four original members. While Roth has been back with the band since 2007, Anthony was replaced with Eddie Van Halen's son Wolfgang in 2006.
Bret Michaels says that Poison will return in 2020 "with some new songs." Earlier this past year, Poison completed the "Nothin' But A Good Time 2018" tour with Cheap Trick and Pop Evil. "There's never going to be a day when I say, 'I'm done with Poison,' Michaels said. "We are still having the time of our lives on stage." Drummer, Rikki Rockett, acknowledged that part of the reason the band hasn't been motivated to work on new music has been the fact that fans rarely show interest in hearing fresh material performed live. "We could write the second coming of 'Talk Dirty To Me', and I don't know if people want to hear it or not, and that's a frustrating thing, it really is." Poison's last album of new material was 2002's "Hollyweird."
Axl Rose of Guns N Roses was recently asked his opinion of the greatest frontman of all time, Rose responded "For me, it's easy – Queen is the greatest band and Freddie (Mercury) is the greatest frontman of all time. The band are the greatest because they embraced so many different styles." Guns N Roses recently finished their "Not In This Lifetime" tour that lasted almost three years. They went around the world twice, played to five million people and is projected earnings of $600 million. Three-fifths of the classic GNR lineup reunited in 2016 after last performing together more than two decades earlier.
UPCOMING SHOWS: No-Heads / Olde Tigers / Systemic Abuse @ York Skid Row Garage Jan 11. The Virus @ Brooklyn The Kingsland Jan 18. Appetite For Destruction / Steel @ Harrisburg Club XL Jan 19. Timmy & The Creeps @ Harrisburg River City Jan 26. Daddy Issues @ Philadelphia PhilaMOCA Jan 26.