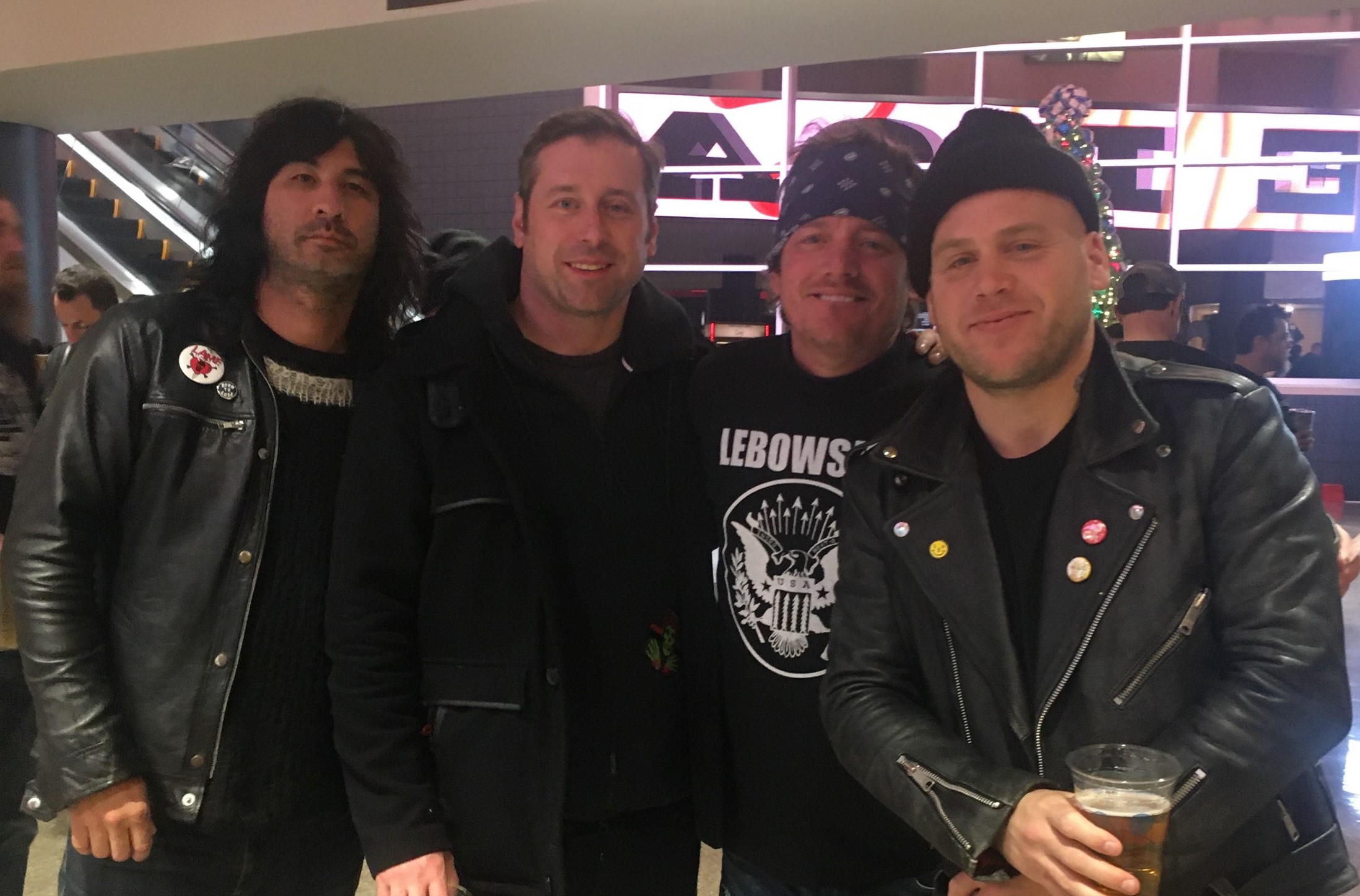 ---
By: Eric Hoffman
Greetings Rockers 'N' Rollers! The year 2019 finished quite nicely with some great National bands braving the cold and touring the East Coast Both Kix and The Sharks played their annual Thanksgiving shows in Harrisburg, with both concerts taking place at XL Live. The yearly visit and reunion has become quite the staple for Central PA bringing out many fans and familiar faces of the music scene for over 30+ years. Kix continue to put on a solid great live show and had locals, Steel (Mechanicsburg) and Dirt Cheap (York), provide support for the concert. Kix have more Central PA shows announced for 2020, including two-nights at Lancaster's Chameleon Club January 31st & February 1st, Penn's Peak in Jim Thorpe, PA on June 19th and the York State Fair on July 28th.
The Menzingers played an incredible set at the intimate Black Cat in Washington DC on December 4th. Originally from Scranton, their popularity has moved them to the city of Philadelphia, where they now live and record. They played Franklin Hall in Philadelphia to a capacity crowd of 2,500 – compared to the 700 capacity of DC's Black Cat. The band is currently touring for their sixth studio album, Hello Exile, which was released on October 4th. The Menzingers may tour this album for the next two years and will head to Europe this January-February and then Australia the month of March.
The highlight of the month included two concerts in one day in Philadelphia on December 14th. The Bouncing Souls are touring for their 30th Anniversary as a band and played two shows at the Theatre of Living Arts. The band decided to move their Saturday night concert to a matinee show due to The Misfits being in town as well at Wells Fargo Center. It was old school to see 4 punk bands begin a show at 1:30pm. The Bronx, Strike Anywhere and The Bar Stool Preachers all opened for the Souls for a great day of music. The Bronx from Los Angeles were incredible as always and quite possibly the best live punk band today. It was then off to show #2 at the huge arena featuring Agnostic Front, Dropkick Murphys and the legendary Misfits. Titled "The Original Misfits" featured original members Glenn Danzig, Jerry Only and Doyle Wolfgang von Frankenstein. The band reunited in 2016 for their first show in 33 years. It was rumored their NYC show this past October would be the last, until the announcement of Philadelphia on December 14th. There is no news of possible further shows.
NATIONAL NEWS: Def Leppard, Mötley Crüe, Poison and Joan Jett & The Blackhearts will hit the road for "The Stadium Tour," playing 28 U.S. stadiums. The trek begins in June and winds down in September, visiting many of America's biggest baseball stadiums. Mötley Crüe, made headlines in November when its members reneged on the cessation of touring agreement they entered into ahead of their farewell tour earlier this decade. Crüe played what was allegedly its final show on at Los Angeles' Staples Center on December 31st, 2015. The Stadium Tour has already sold more than 700,000 tickets and grossed over $90 million at the box office in the first weekend of sales. Poison's Bret Michaels commented: "There are not enough words to thank the three generations of fans for making this such an exciting, record breaking, historical tour with the fastest sell outs in history at these stadiums." The Stadium Tour visits Hersheypark Stadium on August 11th and Philadelphia's Citizens Bank Park on August 15th.
The Bud Light Super Bowl Music Fest will return on Super Bowl weekend in 2020. The event will be held at Miami's American Airlines Arena over the three nights prior to Super Bowl LIV on February 2nd. DJ Khaled will headline the first night, which will also feature DaBaby and "some of the biggest names in hip-hop." Guns 'N' Roses will headline the Fest on January 31st, and Maroon 5 – which headlined the Super Bowl LIII halftime show earlier this year – will perform at the event on February 1st, along with a special guest. The debut of the Bud Light Super Bowl Music Fest earlier this year in Atlanta grossed $11.38 million and featured Bruno Mars and Cardi B.
The Who announced it will play its first Cincinnati area concert since 11 fans died 40 years ago in a pre-show stampede. The Rock & Roll Hall of Fame band will play April 23rd at Northern Kentucky University's BB&T Arena, across the Ohio River 7 miles south of the December 3rd, 1979, concert site, where another two dozen people were injured December 3rd, 1979, amid confusion and lack of preparation for thousands of fans lined up for hours for first-come seats. Both lead singer Roger Daltrey and guitarist Pete Townshend, have said they've been haunted by the tragedy. The Who is adding the concert to its "Moving On!" tour 2020 dates. The band didn't know about the tragedy until the concert was ending. Long time manager Bill Curbishley had made the decision to have the show go on, warning Cincinnati authorities that they wouldn't be able to control the crowd if the concert was called off.
Hershey has added another concert to their summer line-up with the return of Maroon 5. The pop-rockers, who kicked off 2019 with their headlining performance at the Super Bowl halftime show, will have Meghan Trainor open on all dates, and Leon Bridges will guest at stadium shows. At mid-year 2019, Maroon 5 ranked No. 26 in touring worldwide with $24.5 million grossed. On August 15th, 2015, they grossed a gaudy $1.69 million at Hersheypark Stadium, which they'll revisit for the final night of the tour on September 5th, 2020.
Alanis Morissette announced a summer 2020 shed tour in honor of the 25th anniversary of her seminal third album, 1995's Jagged Little Pill. The bill for the 31-date tour will be rounded out with fellow '90s alt-rock luminaries Garbage and Liz Phair. Morissette's Jagged Little Pill album, is 16 times platinum certified and won the Grammy for Album of the Year. Press release notes, "she'll be playing all her biggest hits" – comes as Morissette gears up to release her ninth album, Such Pretty Forks In The Road, on May 1st. Tour dates include Camden, NJ BB&T Pavilion on June 28th, 2020 and Columbia, MD Merriweather Post Pavilion on July 2nd, 2020.
UPCOMING SHOWS: The Give Take / Timmy's Creepshow / Bad Luck Charms – Harrisburg River City January 4th. The Glorious Sons – Harrisburg XL Live January 16th. J Roddy Walston (solo) – Baltimore Ottobar January 19th. J Roddy Walston (solo) – Philadelphia Ardmore Music Hall January 20th. Surfbort – Philadelphia Boot & Saddle January 31st.