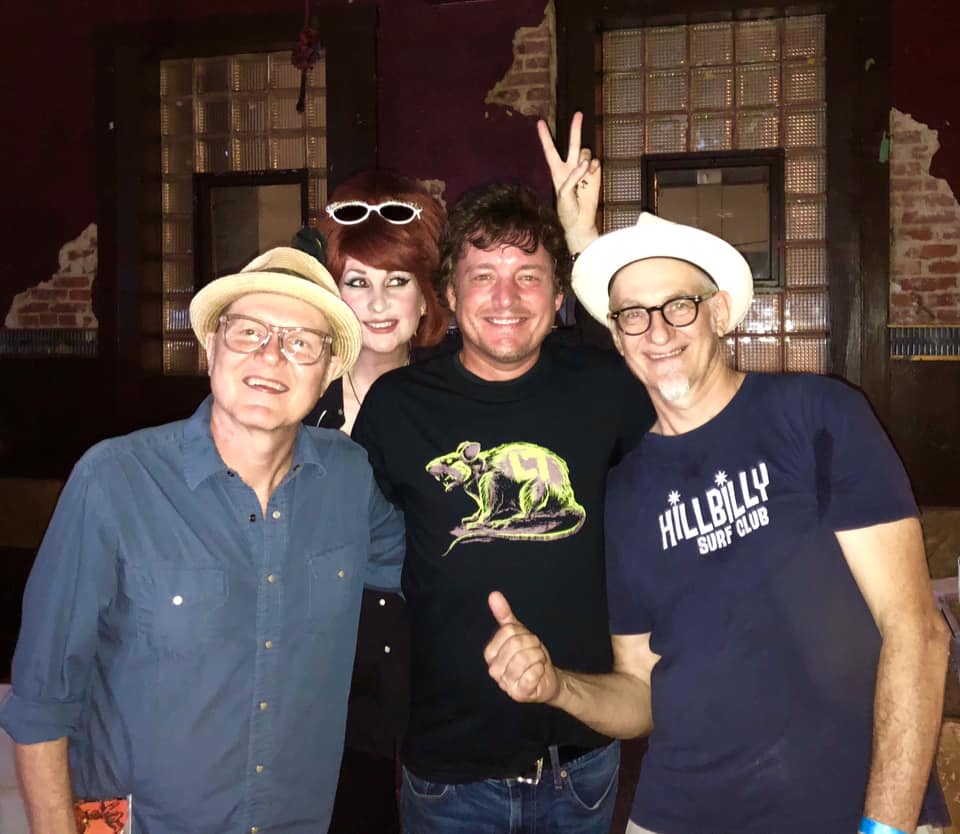 ---
By: Eric Hoffman
Greetings Rockers'N' Rollers! The concert season is in full swing with over 10 National shows in the past 30 days. It began with the return of 90's female grunge band, L7, who played two nearby shows in Silver Spring, MD and Englishtown, NJ. I was beyond fortunate to see both shows and spend some time with the band. L7 just released their first album in twenty years, 'Scatter the Rats', on Joan Jett's record label Blackheart Records. The band continues to be incredible live and produced a great new album with hits "Fighting The Crave" and "Burn Baby." L7 played The Bash Festival in NJ with Rancid, Pennywise, Suicidal Tendencies and Madball.
Musical duo, Twenty One Pilots brought their current tour, Bandito, to the East Coast with a sold-out show at Boardwalk Hall in Atlantic City on June 8th. The alternative band started their sold out world tour in October 2018 last and will run until September 2019. Twenty One Pilots achieved breakthrough success with their fourth album, 'Blurryface' (2015), which produced the successful singles "Stressed Out" and "Ride" and became the first album in history on which every track was gold certified. The album has been in the Billboard 100 for the past 4 years Twenty One Pilots put on a great live show which included leaping, backflipping, vertical crowd-surfing, suspended bridge walking, and scaffolding scaling.
The month of June included the return of many 80's bands. Men Without Hats, known for the hit "Safety Dance," played Harrisburg Club XL on June 7th. A Flock of Seagulls played a free show as part of Reading's Downtown 'Alive concert series' on June 19th. The Ocean Blue, originally from Hershey, have reunited for a string of shows that included Lancaster's Tellus 360 on June 22nd. The legendary KIX band played Club XL on June 15th. And Blondie, featuring Debbie Harry, performed a memorable show at the Strand Theatre in York on June 23rd. My gratitude to Keith Shipman for making that show possible.
Two last shows worth mentioning: A big thank-you to Reading promoter, Frank Phobia for bringing surf rock band Southern Culture on the Skids and their outrageous humor and punk edge to Lancaster's Chameleon on May 31st. And garage punk band White Reaper played Lancaster's intimate venue/studio Kaleidoscope on June 18th. The band from Louisville, Kentucky are currently touring the US and will open for The Killers for a sold-out show in Cleveland on July 6th as part of Major League Baseball All-Star Weekend.
NATIONAL NEWS: Guns N' Roses announced eight U.S. fall concerts to round out a calendar that includes several North American festival plays this September and October. The hard-rock band's reunion has been one of music's most successful reunion tours ever. Since Axl Rose, Slash and Duff McKagan reunited in 2016 for the "Not In This Lifetime" tour, Guns N' Roses grossed $563.3 million through the end of 2018. "It's been an amazing ride, clearly," Ken Fermaglich, who represents Guns N' Roses, "It's a whole new day for the band and we believe in their ability to do incredible things and we're seeing it come to life. … Due to the fact that the band was absent for all of those years and didn't tour together that absence, made the heart grow fonder for the fan and for the consumer to want to see it."
The Rolling Stones began their 2019 tour opener at Soldier Field in Chicago June 21nd. Mick Jagger underwent heart surgery in April forcing the original tour dates to be rescheduled. For the 55-year-old group the focus has historically been on Jagger, and justifiably so, considering his stature in rock. At 75, Jagger's voice remains strong, a testament to his overall fitness.The singer pranced about the expansive stage throughout the two-hour show, showing no signs of his health issues. The band puts on a massive fireworks show for the traditional closer "Satisfaction." The Rolling Stones visit this East Coast this month with shows in Washington DC on July 3rd and Philadelphia on July 23rd.
Megadeth has canceled its summer tour itinerary, celebrating its 35th anniversary, after frontman, Dave Mustaine revealed a throat cancer diagnosis. Mustaine says the diagnosis is "clearly something to be respected and faced head on — but I've faced obstacles before. I'm working closely with my doctors, and we've mapped out a treatment plan which they feel has a 90 percent success rate. Treatment has already begun." Mustaine formed Megadeth in 1984 after being ousted from Metallica as lead guitarist in 1981.
Musicians we lost this past month include; Leon Redbone, 69, the acclaimed singer and guitarist who performed jazz, ragtime and Tin Pan Alley-style songs. Dr. John, 77, the New Orleans musician who blended black and white musical styles with a hoodoo-infused stage persona and gravelly bayou drawl. Roky Erickson, 71, former lead singer and songwriter for the 13th Floor Elevators as well as a prodigious solo performer.
UPCOMING SHOWS: Rolling Stones – Washington DC FedEx Field July 3. Blink 182 / Lil Wayne – Hersheypark Stadium July 5. Ratt – Philadelphia Keswick Theatre July 13. Psychedelic Furs / James – Philadelphia Franklin Hall July 13. Amyl and The Sniffers – Washington DC U Street Hall July 16. Steve Forbert – Harrisburg The Note July 16. Amyl and The Sniffers – Philadelphia Boot & Saddle July 17. Local H – Reading Downtown Alive July 17. Jeffrey Gaines – Harrisburg HMAC July 19. The Menzingers – Lancaster Chameleon July 19. Buckcherry – Harrisburg Club XL July 19. Rolling Stones – Philadelphia Lincoln Field July 23. Kurt Vile – Baltimore Ottobar July 23. The Growlers – Harrisburg Club XL July 24. Faster Pussycat – Harrisburg Club XL July 25. Old Firm Casuals – Pittsburgh Rex Theatre July 29.