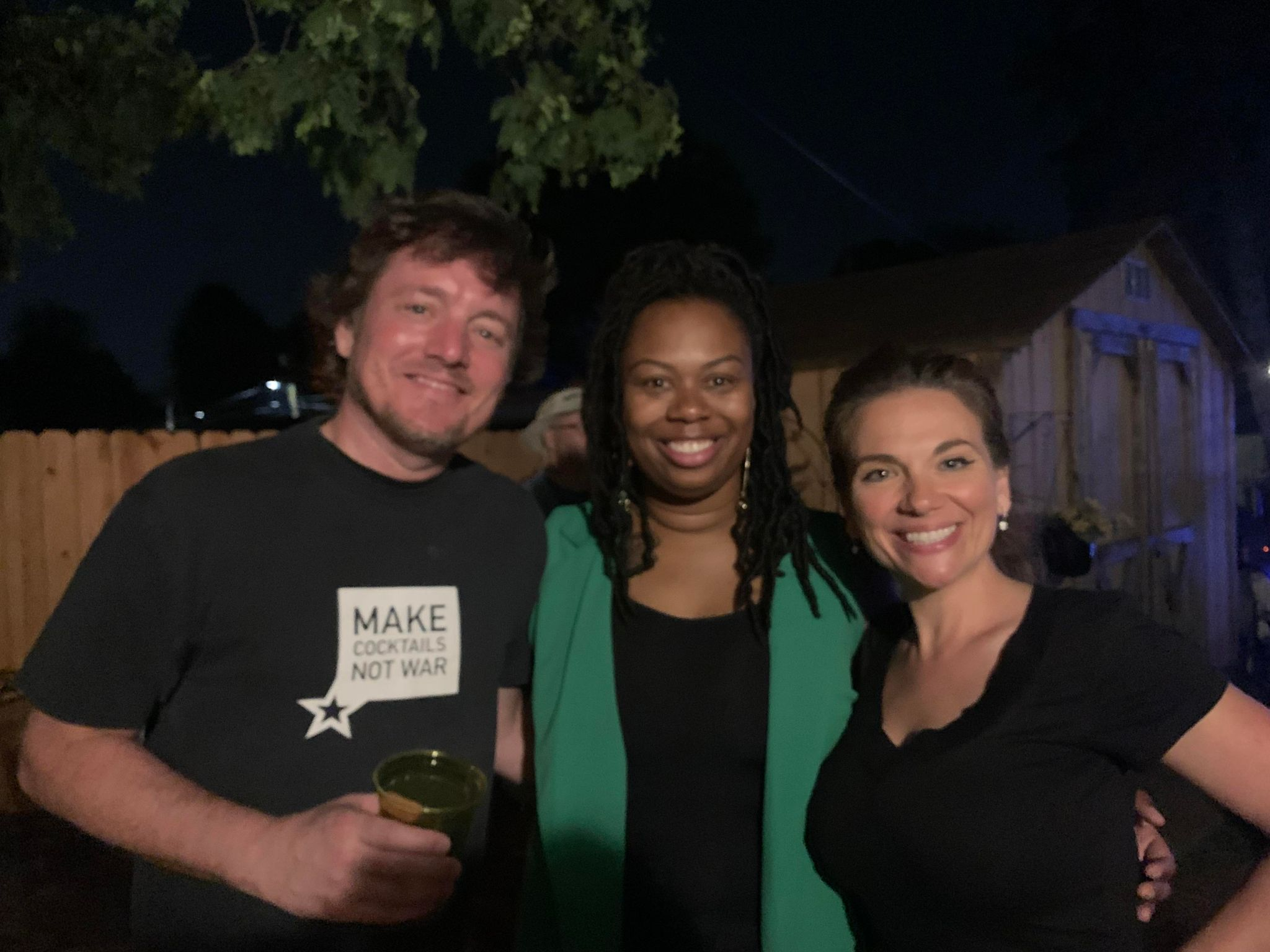 Eric, Scarlet Rose the Singer & Tina
---
Greetings Rockers 'N' Rollers! Hersheypark Stadium began the first of their Summer concerts with Blink-182 on May 27th. The pop punk band from Southern California are in the midst of their current North American tour consisting of 36-dates. A massive crowd descended on Hershey for a near sell-out capacity of 30,000. A true highlight were both opening bands White Reaper and Turnstile. Turnstile played one of Harrisburg's most iconic shows last November 21st at XL Live and White Reaper will return to play XL Live on October 2nd.
Longtime Chicago grunge band, Local H, returned to the mid-state for a great show at Mechanicsburg's Lovedrafts on May 31st. The band known for hits, "Bound for the Floor" and "High-Fiving MF" played the intimate show as a precursor for their Bethlehem show with Live on June 1st. The York native band, Live, have been spending their summer playing outdoor festivals with singer, Ed Kowalczyk, back in charge.
The legendary Kix band visited Harrisburg for one last performance on June 16th at XL Live. Kix originally from Hagerstown, Md became a constant fixture in Central PA for over 40+ years with many shows at the Metron and City Island. The band recently announced their retirement and have 8 shows remaining before their huge final show at Merriweather Post Pavilion on September 17th. Kix will also play the York Fair this month on July 24th.
Alternative icons, The Cure, visited Philadelphia Wells Fargo Center on June 24th and Maryland's Merriweather Post Pavilion on June 25th as part of their Shows Of A Lost World Tour 2023. Robert Smith and company put on an amazing concert consisting of 29-songs including hits "Boys Don't Cry," "Just Like Heaven" and "Friday, I'm in Love." The Cure's current outing is garnering huge praise from critics and is a tough ticket to acquire with consistent sold-out shows. A massive thanks to Punkachu Ronin and Jesika Seagreaves for making the night possible, I'm beyond grateful.
On June 10, singer Scarlet Rose visited our home in Uptown Harrisburg for a memorable two-hour concert. We discovered Scarlet the Singer at one of York's First Friday concerts in the King's Courtyard Artists Collective. A York-native who's very talented and an engaging performer, Scarlet puts on a fantastic show of R&B hit songs. Scarlet Rose will play a free show at York's Cantina on July 7th as part of her birthday extravaganza.
Iconic singer-songwriter Morrissey announced he will be returning to New York City for a special four-night run this fall at the United Palace in Manhattan that will wrap up a trek across the Americas. The artist will embark on an 18-date tour called "40 Years of Morrissey," showcasing the artist's illustrious career that began as frontman and lyricist for the Smiths. Morrissey will begin his tour in Mexico City on September 10th, and will visit The Anthem in Washington DC on October 18th. Morrissey promises "an unforgettable experience," and the promoter stated they are "thrilled to be hosting this historic run of shows."
Jesse Malin, the former frontman of punk bands Heart Attack and D Generation ended up having a rare spinal cord infarction, or a stroke in his back, that has left him paralyzed from the waist down. Last May, Malin was at a New York Italian restaurant when he felt a burning feeling in his lumbar region and then collapsed, unable to use his legs. He is currently in a New York University rehab facility. Malin had to cancel his summer tour and despite having medical insurance the medical bills are mounting. Malin stated, "There's moments in the day where you want to cry, and where you're scared. Just laying here and not being able to walk, it's very humbling." Malin says he is determined to walk and dance again.
Neil Young is ready to return to the road for his first tour since the COVID-19 pandemic began. After playing a few benefit shows in April – Young has announced a run of West Coast dates scheduled throughout July. Over the past few years Young has been outspoken about avoiding touring until the risk of COVID-19 was lower. He opted not to perform at Farm Aid in 2022, explaining "I am not ready for that yet. I don't think it is safe in the pandemic. I miss it very much." The "Coastal Tour" features special guest Chris Pierce. A poster proclaims that Neil will be performing "solo in 3D!" Cities include Los Angeles, Santa Barbara, San Diego, Berkeley, Napa, among others.
Melvins are celebrating 40 years together, and the band has unveiled a seven-week tour alongside Japanese trio Boris. The upcoming trek features both bands performing classic albums in full, with Melvins playing through Bullhead and Boris playing Heavy Rocks. "40 years as the Melvins," Buzz Osborne said in a statement. "What a better way to celebrate that unlikely milestone than by setting off on the 'Twins of Evil Tour' with our friends, Boris. This will be a stone groove!" Dates include Bethlehem, PA on September 20th and Philadelphia on September 21st.
After 10 years and 150 shows, Billy Joel announced next July will see the end of his residency at Madison Square Garden. The first of the final 10 shows begins on October 20th, with the run concluding in July 2024. "I'm kind of flabbergasted that it lasted as long as it did," Joel said during a press conference. "I do remember the first time we played Madison Square Garden, it was the pinnacle of my career." Joel's residency began in 2014, becoming The Garden's first-ever music franchise. He vowed to return to the venue for "as long as the demand continues."
Mike Ness, singer and guitarist for the legendary SoCal punk group Social Distortion, has revealed he has Stage 1 tonsil cancer. The 61-year old announced his diagnosis on Instagram, "We think that life is going to go according to our plan, but it has a way of saying 'I don't think so!' After surgery and radiation treatment, doctors are certain to expect a full recovery and Ness to live a long and productive life. Ness also wrote, "It breaks my heart to postpone the Summer Tour, and new album release. I promise you that it will be delivered and it will exceed your expectations."
Miley Cyrus released a statement clarifying her stance on touring after saying she had no interest in standing on a stage to perform her new album. "These looks I've been turnin' don't travel well," Cyrus wrote. "The archival looks don't fold. I just don't want to sleep on a moving bus. It isn't what's best for me right NOW, and if you've been following my career you know that I always change and the way I feel about that could too. Love you forever, I'm just on my Endless Summer Vacation." Cyrus hasn't headlined a tour since 2015, her only live performances have taken place on the festival circuit and for her New Years Eve party.
Heavy rock titans Tool have announced a lengthy fall tour leg of arenas mostly in secondary markets across the U.S. and Canada to go along with previously announced festival headlining appearances. The two-month tour visits Allentown's PPL Center on November 7th and Philadelphia Wells Fargo Center on November 16th. Queens of the Stone Age also announced their plans to tour North America this summer between Aug-Oct with nearby shows at Philadelphia Mann August 8th and Washington DC Anthem August 9th. The band's last North American headline dates took place during the spring of 2018.
JULY CONCERTS: Draw The Line (Aerosmith tribute) – Grantville Casino July 1. Tom Keifer of Cinderella – Penn's Peak July 6. The Misfits – Newark, NJ July 8. RMBLR – Baltimore Frijoles July 11. Post Malone – Burgettstown, PA July 12. RMBLR – Philadelphia Fire July 15. KIX – York Fair July 24. Post Malone – Camden, NJ July 25. Pat Benatar – Shippensburg July 26. Jason Isbell – Harrisburg Riverfront July 26.