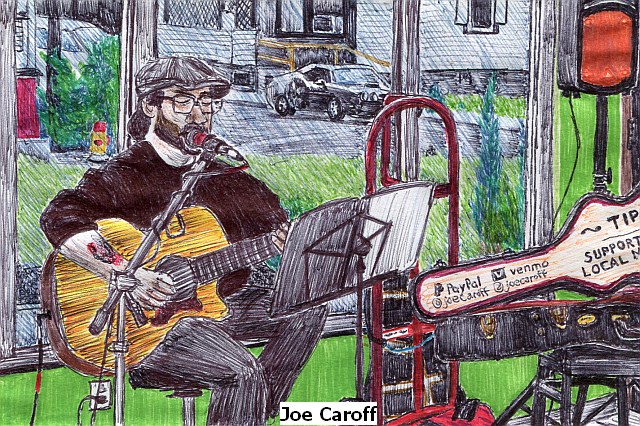 ---
The outdoor live music season is in full swing, and various festivals, concerts, benefits and other outdoor shows populate the schedule throughout July. Get out there and enjoy them while you can!
I took in quite a few outdoor events in recent weeks, including my annual trek northward to the 19th annual Smoked Country Jam Bluegrass Festival, which took place over three days at Quiet Oaks Campground near Cross Fork in the PA Wilds. Once again, Smoked Country Jam presented a wide assortment of music from multiple branches of the bluegrass tree, spanning traditional bluegrass and folk to progressive "newgrass," country, rock, blues, folk and more…Already known for their brand of "Who-grass," Springfield, Missouri-based performers The Hillbenders headlined on Friday night with a full set of music from The Who, done in their own distinctive, electric bluegrass flavor. Employing an array of different effects, the group's presentation of Who classics bounced between bluegrass, folk and psychedelic rock flavors, all done with traditional bluegrass instruments…Making their second Smoked Country Jam appearance, Lock Haven's The Private Stock Trio again lit up the crowd with their Thursday headlining performance. Gigi, Pete and Watson again took control of the audience; starting with country, bluegrass and folk flavors, before expanding into country-channeled renditions of numbers from 4 Non Blondes, Alanis Morisette, Harvey Danger, Dropkick Murphys, and – for their encore – AC/DC's "Highway to Hell!"
And returning to their Saturday headlining role, Morgantown, West Virginia favorites The Hillbilly Biscuits elevated the crowd to a happy-go-lucky frenzy with their high-energy set of string music sounds – including a brief foray into polka with the blending of "Pennsylvania Polka" and "Roll Out the Barrel," and main soundman George Powell strapping on a guitar to croon Johnny Cash's "Folsom Prison Blues." At set's end, the finale as the Biscuits invited any and all musicians who performed during the weekend to join them onstage; the stage quickly filled with numerous musicians, including members of Mama Corn, Wicked Chicken, Doug Forshey and friends, plus others who jammed on "Foggy Mountain Breakdown," Mama Corn's ode to the festival "Smoked Country Jam," and the sing-along, jam-along edition of "Will the Circle Be Unbroken" to slam the lid on the festival.
Space doesn't permit me to go into detail, but I saw sets from many of this year's Smoked Country Jam performers – including the Joe Hillman Band, The Brothers Blue, Lockport Drifters, Doug Forshey, Grain Thief, Colebrook Road, Mama Corn, Van Wagner (who also did a presentation on the state's forests before climbing one of the campground's tallest trees), the Amanda Cook Band, Bug Tussle, Seldon Said No, Into The Fog, Wicked Chicken, Tanjo & Crow Project, the Theo & Brenna Band, and Toronto, Canada's Slocan Ramblers. Throw in late night bluegrass jam sessions, skill workshops, the campground's Roadkill Café, camping, fun and camaraderie, and Smoked Country Jam again was easily one of the biggest highlights of my summer! Again, proceeds from the festival helped out the Lupus Foundation of America Philadelphia Tri State. The 20th anniversary edition of Smoked Country Jam will take place on June 20-22, 2024.
The Pennsylvania Roundhouse Rally Summer Series 2023 kicked off during Memorial Day weekend at Roundhouse Harley-Davidson near Duncansville. Festivities commenced on Thursday evening with Felix & the Hurricanes performing on the railcar stage. The Hurricanes again demonstrated why they are one of this area's premiere rock groups, as they read the crowd, set the tone early and built steam as they went along. And this group has the knack of making each of their tunes sound nuanced, fresh and new, even after you've heard them many times before. Along the way, guest harmonica player Jim "Juga" McConnell joined the group on several songs, and guest singer John Shimko belted his best Danny Joe Brown growl on the Hurricanes' rendition of the Allmans/Molly Hatchet's "Dreams I'll Never See"…Friday's Roundhouse Rally saw two bands, as Ages kicked things off with their solid and hard-edged classic rock set, before Hair Force One quickly packed the dance floor with their 1980s hair-band festivus – including ample tunes from Skid Row, Ratt, Cinderella, Hardline, Guns N'Roses, Def Leppard, Bon Jovi, Poison, Motley Crue and more…Three bands performed on Saturday, starting with Bone Jacked and their celebration of classic rock from The Band, Eagles, Stray Cats, George Thorogood, AC/DC, Lynyrd Skynyrd and more. Sweet Desire followed with their classic-rooted sound, delivering sharp-edged original songs (including their first single, "Raspberry Joe Blues") plus songs from Humble Pie, Led Zeppelin, Free, Doors, Beatles and more. And Long Island-based Motley Crue tribute Cruecified slammed the lid on the weekend with their exciting celebration of Motley Crue and their music. Singer Vince Michael in the Vince Neil role probably sounded more like peak-era Vince than the real Vince himself now does; he also worked the audience well, venturing into the middle of the crowd at several times during the show. Cruecified's show escalated into a crescendo, when the group did Crue's "Girls Girls Girls" and the stage quickly filled up with women from the audience.
Altoona's Levity Brewing Co. presented The Jaded Lips on Memorial Day eve, performing outside at downtown Altoona's Heritage Plaza. Although it would not be officially released until June 23, The Jaded Lips – lead singer and guitarist Mike Wertz, bassist Hunter Karns and drummer David Applas – already had copies of their debut CD "Lip Service" available for purchase. The group played a number of songs from the album, including the soulful "Testify," the funk-rocker "Lockdown," "Save Me," "Shallow Woman" and more. The group also entertained and triggered bursts of dancing with their mix of classic rock, funk and soul favorites from Sam & Dave, Joe Cocker, James Brown, the Rolling Stones, Michael Jackson, Stevie Wonder, Franz Ferdinand, Black Keys, Prince, Rick James and more.
For Memorial Day itself, I headed back to one of the places that claims the holiday's origin, Boalsburg, for its Memorial Day celebration. I headed to the downtown Memorial Day stage to catch entertainment there, starting with the JR Mangan Band with Veronica. The group was in the latter stages of their performance, and singer
Veronica Auger was in top form as she displayed great voice and range on songs from Fleetwood Mac, Amy Winehouse, 4 Non Blondes and Journey to finish the set. As the band changeover was happening on the stage, Sgt. Bob Timney – SGT Bob – then performed a short set in front of the stage. Strumming acoustic guitar, Bob sang
classics from James Taylor, Johnny Cash and Bob Seger, before finishing with a reverent, holiday-appropriate
rendition of Sgt Barry Sadler's "Ballad of the Green Berets." Pure Cane Sugar then concluded the music with their set of folk-based original songs and select covers. Singers Kate Twoey (strumming guitar) and Natty Lou Race delivered incredible vocal harmonies, and Brian Cleary fired off stunning guitar solos, with bassist Bob Hart and drummer Daryl Branford providing steady and vibrant rhythms behind it all. Pure Cane Sugar roused the audience and passersby with creative renditions of Bruce Springsteen's "I'm On Fire," Aretha Franklin's "Think," the Beatles' "I've Got A Feeling" and more. Following the daytime festivities, the reverent evening Memorial Day service took place at Boalsburg Cemetery.
The third season of the Rockin' the Yard summer concert series launched early last month at Altoona's Jaffa Shrine concert grounds, featuring Tom Petty tribute band Refugee and new local rock, pop and dance group XM. While the name XM is new, the musicians comprising this group are seasoned names from the Altoona area music scene – Dave and Mary Villani on keys and vocals, Randy Rutherford on guitar and vocals, and Paul Turner on drums. XM kicked off the party with their upbeat and fun set of classic rock and pop favorites; including numbers from the Ides Of March, Greg Kihn Band, Elle King, Quarterflash, Pat Benatar, Pink, Shania Twain, Pat Benatar, Katrina & the Waves, Blondie and more. XM brought the perfect blend of dance party punch and jazzy finesse – Randy put on a clinic with his tasty guitar leads, and Dave and Mary made their keys sing in just the right voices to suit each number. And they made it sound so good with near 90-degree sun beating down on them! New York-based Tom Petty tribute Refugee picked up the ball and ran with it, playing a feelgood set of favorites from throughout the Tom Petty catalog. Singer Mike Epstein sang and played guitars in the Tom Petty role; flanked by lead guitarist Dominick Rosato, bassist Chris Arrigo, keyboardists and singers Andrew Nadien and Hillary Epstein, and drummer Nile Hughs. Refugee covered the Tom Petty essential tunes such as "Don't Do Me Like That," their title song "Refugee," "Mary Jane's Last Dance," "I Won't Back Down," "Swingin,'" "Even the Losers," "Free Fallin,'" "American Girl," "Running Down a Dream" and more. They also tapped into the Traveling Wilburys catalog for renditions of "Handle With Care" and "End of the Line." Refugee's presentation was casual and pleasant, and they captured the fun, laid-back vibe and feel of a Tom Petty concert.
Jack Squat performed the kickoff concert for this year's Summer Sounds Concert Series at downtown Altoona's Heritage Plaza. I caught the last half of their show; a large crowd was on hand as singers and guitarists Scott Imler and Ron Dalansky, bassist Todd Batzel and drummer Dan McConnell fired up the crowd with their mix of hard-hitting classic rock favorites. Scott and Ron alternated singing duties, with Scott flexing his vocal range on the higher-register numbers from Jackyl, AC/DC, Nazareth, Judas Priest, Boston and more. Jack Squat's execution was tight and powerful, and they kept the crowd's enthusiasm at a steady high. Highlights included the group honoring requests for Nazareth's "Hair Of The Dog" and Motley Crue's "Shout at the Devil," audience guest Shannan Grabill lending her singing voice on the group's version of The Outfield's "Your Love," and Scott and Ron's harmony guitar leads during Boston's "More Than A Feeling." Shallow 9 performs the next Summer Sounds concert on July 7.
Heritage Plaza also played host to last month's Self Expression Festival, a free event which showcased various forms of area art and expression – spanning music, visual art, poetry, plus vendors, childrens activities and more. Solo performers John Peacefire, Brother Jack and Memory Collector (Sascha Frost) had already performed before my arrival, but I did get there just before Altoona indie rockers Crazed Visions played their set. Featuring singer and guitarist Matthew Cain, Sascha Frost on guitar, John Peacefire on bass and Guy Mauro on drums, Crazed Visions takes an experimental approach to music, exploring and constructing psychedelic, melancholy musical terrain. The group did original songs, including several from their just-released "Love War" CD plus some newer numbers. Performing next was half of Clearfield-based modern soul group Innocent Sin, as singer Carli Jones and guitarist and singer Adam Caldwell played a selection of acoustic originals and covers. Both alternated singing duties and did several duets together, displaying nice harmonies along the way. And finishing the afternoon was Lucid Yooth & the Cubensis Lenses, presenting their brand of psychedelic-edged indie rock and roll. Four members strong, this group delivered catchy original songs with intriguing arrangements; some of their numbers included "Wandering Witches," "The Word," "Telephone Lines," "Acid Rain," "Space Queen," "Double Rainbow" and more. Lucid Yooth & the Cubensis quickly generated a dancing crowd that closed out the festival on a happy note.
Sometimes my musical travels mix work and pleasure…I roadtripped west to Mammoth Park near Mount Pleasant last month to interview Dubois-based blues and blues-rock foursome Lone Crow Rebellion before they took the stage during the park's Mammoth Fest event. So I made a day of it and arrived early enough to record my radio interview with Lone Crow Rebellion plus take in their performance and the opening band – Pittsburgh's Americana – as well! Five members strong, Americana specializes in classic country, but also throws in a few country rock and rock'n'roll numbers as well. Singers and guitarists Tom Graff and Larry Divis, bassist and singer John Shannon, drummer Jeff Shotts and pedal steel and keyboard player Jim Shannon mixed together songs from Merle Haggard, Eddie Rabbitt, Leroy Van Dyke, Waylon Jennings and Brooks & Dunn, plus rock and blues numbers from Eric Clapton, Chris Isaak, The Band, Old Crow Medicine Show and others. A highlight for me was hearing Americana break out their version of Johnny Preston's "Running Bear." Lone Crow Rebellion soon followed with two sets blending blues, southern and classic rock original songs and covers. Lead singer and guitarist Greg Long, keyboardist and singer John Samanka, bassist and singer Pete Horm and drummer Jason Sopic did numerous original songs from their first CD and forthcoming new one, "Coal Train Blues." Some of their songs included "No Shame," "Brand New Day," "Shame Shame Shame," "Orphan Boy Blues," "High Road Blues," "The River," "Demon Alcohol Blues" and "Great Day for Singing the Blues." They also did songs from Muddy Waters, Stevie Ray Vaughan, Robert Johnson, Robin Trower, A Thousand Horses, the ZZ Top double-shot of "Just Got Paid" and "Jesus Just Left Chicago," and more. Lone Crow Rebellion played it all with heart and enthusiasm and drew increasing cheers from the audience and passersby; when the crowd called for an encore, the group responded with Stevie Wonder's "Superstition" to finish the day.
I checked out Ebensburg-based solo performer Joe Caroff for my first time as he performed early last month at Altoona's Greenbean Coffee House. I caught the latter half of his performance, as he sang and played acoustic guitar. Joe played a wide assortment of song material, all in his distinctive style with a calm, smooth voice and rhythmic strumming style on his guitar. He did everything from the traditional folk song "Man of Constant Sorrow" to Vera Lynn's "We'll Meet Again," Pink Floyd's "Wish You Were Here," Coldplay's "Viva La Vida," Dallas Green's "We Found Each Other in the Dark," plus numbers from the Eagles, Kid Rock, Sublime, and his finishing rendition of "House of the Rising Sun" where he showed excellent vocal range. Joe is a frequent flyer performer at Greenbean Coffee House; watch for him there and on Ebensburg and Cambria County stages.
Bedford-based singer and songwriter Coltt Winter Lepley continues to gain new fans with his brand of quality folk storytelling. During last month's performance at Molly's Pub in Altoona, Coltt told stories through his original songs, mixing them with an assortment of classic folk, country and other music from the Great American Songbook. Coltt sang his original story numbers such as "Sunflower Creek," Christian the Homeless Man," "The Bandito" and others, often mixing in his wit as he told stories about the songs. His cover selection was intriguing, as he sang his versions of Leadbelly's "Take This Hammer," Shel Silverstein's "I Got Stoned and I Missed It," Woody Guthrie's "Hard Travelin,'" Tyler Childers' "White House Road," John Prine's "Spanish Pipedream," a sing-along version of Cab Calloway's "Minnie the Moocher" and more. Coltt's calendar take him far and wide; his entertaining show is well worth checking out when it hits your neighborhood.
Years ago, The Who created the song "The Kids Are Alright." That title is playing itself out on area stages with the rise of numerous youth bands in the past couple of years, and I witnessed another example early last month – Cresson trio Open Ends – early last month at McGarvey's. Ed N'Born kicked off the evening with their fast-firing delivery of acoustic favorites. Percussionist Ed Hofer and guitarist Sean Osborn kept the music continuous as they did numbers from the Foo Fighters, Sublime, Weezer, Black Keys, Pearl Jam, Tears For Fears, and their acoustic rendering of Britney Spears' "Baby One More Time." Featuring singer and guitarist Tyler Bollman, bassist Evan Mathers and 14-year-old drummer Gino Passanita, Open Ends showed confidence and fearlessness as they rocked the large assembled crowd with numbers from Twisted Sister, Jet, The Clash, Black Crowes, Green Day, Cheap Trick, their original songs and more. Open Ends played with feverish intensity and kept the crowd yelling for more. People in recent years have pondered the future of music; based on what I have seen from bands like Open Ends and others over the past couple of years, I think the future of music is in good hands!
Another young performer on the rise in these parts is northern Cambria County-based singer and guitarist Lee Miller. I first saw Lee in 2019 when he teamed with established musician Joe Konior in the acoustic duo Low Voltage. Now Lee fronts his self-named project, the Lee Miller Experience, who I saw early last month at McGarvey's. Normally performing acoustic, Lee tried out an electric presentation this night; backed by the seasoned cast of lead guitarist Bob Gray, bassist Josh Yahner and drummer/percussionist Mike Davis, Lee displayed a smooth and steady voice plus solid stage presence up front as he sang a wide variety of classic and newer rock, pop, country and more. Lee drew good audience response as he did songs from the Beatles, Chris Isaak, Lynyrd Skynyrd, Soul Asylum, Grateful Dead, Cat Stevens, Santana, Stevie Ray Vaughan, Garth Brooks and more. Lee, Bob and Mike blended their voices for some crisp harmonies along the way. Lee Miller Experience appearances have grown more frequent in recent months – watch for this group on Cambria and Blair County stages.
Emo was the flavor at Altoona's 4D's Lounge one Saturday night last month when New York City-based emo-rocking specialists Sound of a Smirk took the stage. Four members strong, Sound of a Smirk delivered dark-toned, emotional indie-flavored rock, including their own originals plus several indie, alternative and punk-infused favorites. The group played as a full band for the first and third sets, with singer and guitarist Jesse plus bassist Pete doing acoustic mini-sets for their second set. They fired up the 4D's crowd with their hard-hitting intensity and emotion-driven vocals on numerous originals plus numbers from Jimmy Eat World, Story Of The Year, Blink-182, the Killers, Weezer and more. This show was one of three shows during Sound of a Smirk's "Weekend in Pennsylvania." Based on the response they received this night, more visits to the Keystone state may happen soon.
Other performers I have seen recently include the Bomb Cyclones during the latter stage of last month's performance at McGarvey's, The PennSoulvanians bringing their original soulful vibes to McGarvey's in late May, and – again mixing work and play – Felix & the Hurricanes as they entertained at Ball Busters Sports Bar in Cresson while I was doing a live remote radio broadcast.
News and notes…Formerly known as "Day Of Rock," the re-branded "We Care Music Fest" takes place July 8 at Shawnee Park in Roaring Spring, with proceeds benefiting the We Care Foundation of Central PA; performers will include Velveeta, Felix & the Hurricanes, Sweet Desire, Jud Bussard, The Pines, Zac Grace, Avenue Of Kings and Xorillion…The second annual Activate Altoona Music & Art Festival will take place on Friday and Saturday, July 14 and 15, at People's Natural Gas Field. The event will feature at least 30 art vendors, plus food and drink for purchase from the Altoona Curve, and live bands both days; Friday's entertainment includes Bone Jacked doing a Tom Petty tribute set, Drive By Magic Show with a Killers tribute set, and Walkney. Saturday's entertainment features The Pines doing a Beatles set, followed by The Snipped with a John Mellencamp tribute, JuJu Bone, The PennSoulvanians, Sweet Desire, Bad Luck Lover Boys doing tributes to Fall Out Boy and Green Day, and Alice In Chains tribute Deny Your Maker…Stacy & the Rejects has announced their new rhythm section; bassist Tom Yannitelli and drummer Daniel Rummell replace Josh Yahner and Mike Davis, who left the group to concentrate on original music endeavors and their Alice In Chains tribute project, Deny Your Maker…State College-based funk, soul and blues band Miss Melanie – formed three years ago after the dissolution of Miss Melanie & the Valley Rats – announced recently that they have parted ways…Making their onstage debut last month was the Blazing Suns, featuring former Jukehouse Bombers drummer Logan Yonkoske and keyboardist Gabe Riva, along with Steve Frye, previously with Lonesome Road…Guitarist Ruth Williamson recently announced that she is leaving State College folk music trio The Extra Miles to move on to another musical adventure; The Extra Miles recently completed work on their first full-length studio album, which should be issued soon…Altoona-based punk-driven rockers Treaties issue their new recording; called "Parting Gifts," the album will be released in vinyl form as well as digitally…And we at PA Musician extend speedy get well wishes to Pittsburgh rock legend Donnie Iris, who was diagnosed with cancer shortly after his sold-out 80th birthday show in March. Donnie recently had surgery and his prognosis for recovery looks favorable. Donnie had to cancel his June 21 performance at The Foundation Amphitheater in Youngstown, Ohio with REO Speedwagon, but he anticipates resuming a regular schedule on July 24 at the Blossom Music Center near Cleveland with Foreigner and Loverboy.
Please send correspondence and recordings to: Jim Price, 1104 S. Catherine St., Altoona, PA 16602. You can also e-mail me at jptheprofessor@gmail.com. And if you're into social networking, look me up on Facebook. SUPPORT LOCAL MUSIC!