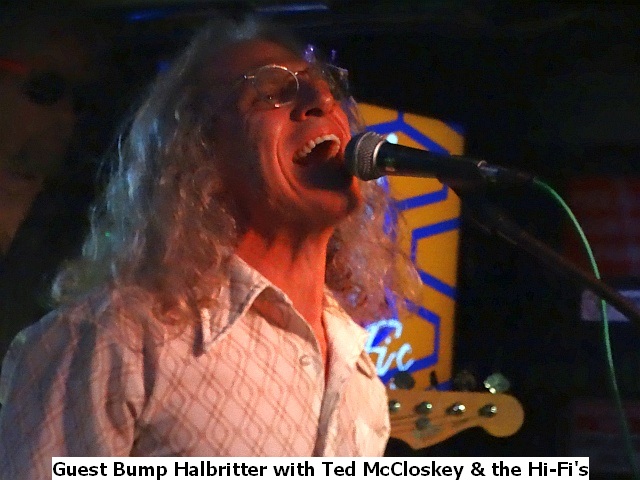 ---
By: Jim Price
Never would I have believed when the idea crossed my mind to risk a few pages of typing paper, a few hours of tapping keys on a typewriter (remember those?), a manila envelope and a few postage stamps to submit an Altoona area article for the June, 1987 issue of PA Musician Magazine that I would still be doing it 35 years later! But lo and behold, 35 years of doing this monthly ritual are in the books, and I kick off year 36 this month. Thanks again to Josh, Robin and the Noll family for keeping me around; and thanks to all the musicians who continue to inspire me to keep doing this thing that I do – and thanks to you, the readers, for your kind words and support!
Outdoor stages have been getting busier in recent weeks…Arts Altoona and the Penn State Altoona Sheetz Fellows presented the Blair Creators Festival in late April in and near downtown Altoona's Heritage Plaza. Previously known as StARThere, this festival featured live music and other performing arts, culinary arts, visual arts and more. The music took place in two locations, with bands performing at the Heritage Plaza railcar stage, and acoustic performers making their music near Veterans Mall. Conner Gilbert, Tom Nevers Field, Devin Sherman and The Nerves all performed prior to my arrival, and the first performer I witnessed was Martinsburg-based singer and songwriter James Grove. James did a selection of his original tunes; including such numbers as "Karma," "Dusty Road," the socially-charged "Conspiracy Blues" and "Trainwreck." Next on the railcar stage was The Pines. After finding their missing piece recently with the addition of singer Daman Mills, this group is quickly building a fan base with their vibrant takes on classic rock and hits! Daman, guitarist Logan Warner, bassist Alex Snyder and drummer Ben Brumbaugh roused the crowd with their energetic versions of classics from the Allman Brothers, Foghat, Bill Withers, Black Sabbath, Led Zeppelin and more. Bedford area songstress Samantha Press continued the music on the acoustic stage, showing a bright and sassy singing style as she did some of her original song creations such as "Happy Thoughts," "Lady Luck" and others. Sunset Over Mars then brought their action-packed brand of alternative rock to the railcar stage. Singer Stevey St. John, guitarist Zachary Piper, bassist Kevin Neely and drummer Nikolas Plowman blended melody-geared rock, slight touches of emo and hip-hop into their own distinctive style and sound. Among their numbers were their original song "Stereo," plus Maroon 5's "Harder to Breathe" and more. Back at the acoustic stage, Eric Delozier shared his band of folk-based sounds. He did folk favorites like John Prine's "Angel from Montgomery" and Neil Young's "Old Man," but also revealed that Blink 182's "Dammit" can be a Dylan-ish folk number as well. Rue Moyer followed him with a set of his original songs and select covers; introducing his own song creations such as "Thank You," "Northern Lights," "Take A Ride With Me" and "Midnight Train to PA, plus his version of Bruce Springsteen's "I'm On Fire." Rising Altoona rockers Sweet Desire then lit up the railcar stage with their classic-rooted hard rock sound. Singer Jordan McCaulley, guitarist Kenton Lewis, bassist Joshua Simpson and drummer Trey Boore tapped influences such as Led Zeppelin and The Doors in original song creations such as "Down Days," and also brought the thunder on their versions of Led Zeppelin's "Bring It On Home" and their Doors double-shot of "Roadhouse Blues" into "Backdoor Man." Nate Gates & Hounddog Hill then closed out the acoustic stage with their blues and folk-rooted music. With Nate on guitar and vocals and Hounddog on harmonica, the pair did several of Nate's original numbers, including "Everybody Sees the Brick Wall Comin' But Nobody's Stoppin' the Train," "Cassey," "Almost Saw the Eclipse" and more. Nate displayed some slide guitar on a few numbers, and guest James Grove joined the pair on cajon (box drum) on several numbers. Hot Fudge Mondaes then closed out the event with their high-powered modern rock. The group brought the agitation and chaos as they "put the 'fun' in 'dysfunctional,'" firing off original tunes such as "Sorrow," "It All Meant Nothing" and others. The group also did tunes from Fall Out Boy, Foo Fighters, Rage Against the Machine and more. Blair Creators Festival was a success, enabling area artists to perform and display their creations, and show visitors just how much creativity exists in the Altoona area.
The 75th annual Pennsylvania Maple Festival in Meyersdale featured live music on its Festival Park stage during the course of the festival's two weekends. During the first weekend, I got to take in the performance of Frostburg, Maryland-based trip Kamp & Kompany. Group namesake and ringleader Perry Kamp sang, plus played guitar and keys; while Rod Spiker played keys and Jamie Spiker played drums. Kamp & Kompany entertained audience members and passersby with a lively mix of classic rock and hits. Included were favorites from John Mellencamp, the Rolling Stones, Stevie Ray Vaughan, Bruce Springsteen, Johnny Cash, Lynyrd Skynyrd and others. The group also broke out a few surprises like The Four Seasons' "December, 1963 (Oh, What A Night)," Elton John's "I Don't Want to Go On With You Like That," and the Three Dog Night double-shot of "Joy to the World" and "Never Been to Spain." Perry kept it lively up front, switching between guitar and keys and maintaining an energetic stage presence and rapport with the audience. Kamp & Kompany perform throughout western Maryland, northern West Virginia and southwest Pennsylvania.
Huntingdon celebrated their annual Mayfest during the last Saturday in April, with musical entertainment happening at several points along five blocks of Washington Street in downtown. Some of the entertainment took place at Huntingdon's newly-opened Bryan Park; I arrived as central PA's Celtic rock band, Full Kilt was under way. Singer and guitarist Mike Zerbee, bassist and singer Chris Myers, fiddle player Mandy Passmore-Ott and drummer Jake Yarnish did what they do best, throwing an Irish-flavored party that mixed rocking versions of Irish standards with Irish-geared versions of rock favorites, plus Irish pub songs, fiddle numbers and more. Mike and Chris led the audience on a clapping duel during "Whiskey in the Jar," had belly dancers gyrating on "Star of County Down" and Flogging Molly's "Devil's Dance Floor," and had audience members doing callbacks on the "Unicorn Song." I then headed up the street to catch a few songs from Mayfest regulars Dan & Galla, who again generated smiles and cheer with their versions of early rock'n'roll hits from Carl Perkins, Ricky Nelson, Del Shannon, The Tokens and Hank Williams. Performing near the Clifton 5 Theater was Bedford-based singer and songwriter Devin Sherman, who mixed original songs, roots and popular numbers. He did his folksy original song "Appalachian Wind," along with Tony Rice's "Church Street Blues," "Sitting on Top of the World," Weezer's "Say It Ain't So" and more. (I also saw Devin later this night as he performed at Juniata Brewing Company.) I then returned to Bryan Park to see loop pedal specialist The Nick Miller Project. Nick again showed his knack of generating backing loops of his percussion and guitar riffs before playing and singing along with his rhythms. Some of his songs this day included Pink Floyd's "Time," Led Zeppelin's "Ramble On," Cher's "Bang Bang," Albert King's "Born Under a Bad Sign" and more.
As part of last month's inaugural outdoor Summer Lovin' Food Truck Fest at Altoona's Pleasant Valley Recreation Center, Altoona native and former NBC-TV "The Voice" contestant Jimmy Mowery performed in the 4D's Lounge's outdoor Beer Garden. As visitors enjoyed offerings from more than 10 food trucks situated in the Recreation Center's (4D's) parking lot, many stepped over to the Beer Garden and listened as – armed with acoustic guitar – Jimmy performed a wide variety of modern and older rock, pop and country favorites, plus a few of his originals. One his own selections was "All I Want to Do"; he also honored requests and entertained with tunes from the Zac Brown Band, Green Day, Fleetwood Mac, Night Ranger, Black Crowes, Brooks & Dunn, Elvis Presley, Morgan Wallen and others. Jimmy connected a lot of his songs medley-style early on; his rhythmic style and upbeat stage presence kept the large group of onlookers content for the duration. The Summer Lovin' Food Truck Fest will happen the second and fourth Sundays of each month during the summer season.
National recording group Smile Empty Soul headlined a five-band bill last month at McGarvey's in Altoona. Local acts opened the night, starting with Negan. Singer Mike Davis, guitarists Bob Gray and Jeremy Ashurst, bassist Josh Yahner and drummer Toby Hunter cranked out the four-song entirety of their 2018 EP "Burnt Pages," along with numbers from Clutch and Audioslave. Toby drummed with the second band as well, joining singer and guitarist Brandon Kane and bassist Brad Davis in Treaties, performing their set of fast-firing, original, punk-driven rock. Philadelphia's The Stone Eye then brought their unique blend of stoner, indie and progressive-edged rock to the stage. Featuring guitarist, bassist and singer Stephen Burdick; drummer Jeremiah Berlin, guitarist, keyboardist, bassist and singer Christian Mechem and bassist Wolfgang Noll, The Stone Eye captivated the McGarvey's crowd with heavy-edged, intriguing songs with progressive arrangements, punk edginess and unpredictability. They did songs off their latest "South of the Sun" album such as "Ethereal Visions" and "Witches & Raptures." Next was Michigan-based power trio Autumn Academy, who showcased their melody-geared style of hard rock and alternative. Their songs were sharp and powerful, with strong melodies and harmonies. Currently touring as a two-member band, Smile Empty Soul finished the night with a set of their grunge-driven music. Singer, guitarist and founding member Sean Danielson and drummer Ty Del Rose generated a full-rocking sound on their set of original material. The group mixed older and newer songs; some of their numbers included "Entitled," "Silhouettes," their popular track "Bottom of the Bottle" and the newer "Bitterness and Bleach."
Hate Grenade headlined a triple-header of heavy-hitting rock and more at McGarvey's last month. SamarA launched the night with their intense and scathing presentation. This band is back up to speed as their newest member, frontman Eric Pensyl, has acclimated to SamarA's intense musical environment. He snarled with authority as SamarA introduced several new numbers as well as previous material. Eric, guitarists Rvg and Ryan, bassist Brian and drummer Shaun debuted apocalyptic new numbers such as "Worm" and "Unhinged," accompanied with an intense video footage backdrop. Next was something totally different, as York-based The Destruct Principle presented a haunting, visceral, musical performance art ritual. Musically, this group blended elements of industrial, tribal, gothic and black/doom metal into a dark soundscape, with electronic backdrops accented by tribal drumbeats and other percussion. Visually, The Destruct Principle pulled all stops, with candles, Native American-styled ceremonial visuals, intense costuming, video backdrops and more. With his almost shamanistic presence, singer and howler Addam Robert Paul, along with two percussionists and singers, guided the audience through their musical ritual, with the whole presentation leaving audience members standing and looking on in wonder. A very stunning set. Hate Grenade then capped the night with their explosive nu-metal set. Singer Jeff Glace, guitarist Chuck Lavera, bassist Donny Death and drummer Mike Powers pulled the pin and detonated hard-hitting tunes from their CD's to date. They ignited the crowd with numbers such as "Burn," "Vendetta," "Hollywood," "Rue," "One of a Kind" and more, plus offered their takes on two Limp Bizkit numbers to end the night.
The ArtsAltoona Center hosted its inaugural "Metal Night" last month in the facility's "Blank Canvas" area. Three bands took the stage; Altoona's Black Sun opened the night before I arrived. Johnstown's The Heathen Parade was under way as I entered the building; lead snarler and guitarist Jason Straw, bassist Jay Snyder and drummer Rik Golden scalded the walls with their pounding and intense set. They unleashed numbers such as "Diesel Jesus," "Stay Heathen," "Come Heavy," "Yes No Goodbye," "Rockstar" and "Dead Heat (for Dead Last)." The Heathen Parade was on target, and Jay uncorked some of the most malevolent bass tones I have ever heard this night! Pittsburgh's Trainwrecked finished the night with their brute force blend of speed, death, thrash metal and hardcore. Lead guitarist Eamonn Sweeney, drummer Jon Guthrie, lead vocalist Caleb Lough and bassist Alek Boggio delivered velocity and intensity as they performed original tunes such as the thrash-driven "Auditory Hallucinations," the speed assault "Red Giant," "Primal Instincts," their closer "Failure" with its grind-to-a-halt ending, plus a cover of Slipknot's "Psychosocial."
Two former members from the Flight 19 "Party Plane" have joined in a new high-flying band adventure. Now based in Ocean City, Maryland, singer Brian Thomas and drummer Paul Caracciolo II are now on board with Deviation By Design, who landed on the stage of Altoona's 4D's Lounge last month. Brian and Paul join lead guitarist and singer Jerry dPaoli and bassist Craig Short (who played bass on Kurtis Blow's 1980 debut album). Before a near-packed house, Deviation By Design played a wide mixture of rock and pop favorites by their own design, giving unique spins to their expanse of cover material. They gave a rocking kick to Chris Isaak's "Wicked Game" and a slow, bluesy treatment to Bon Jovi's "Living on a Prayer." They also broke out tunes not often heard on area stages, including Trooper's "Raise a Little Hell," Journey's "Just the Same Way," Toto's "Rosanna" and Ace Frehley's "New York Groove." Other highlights included a partial Flight 19 reunion as guitarist and singer Rogan Allen and bassist Mark Triforo joined Brian and Paul for several numbers, Jerry singing and showing his guitar prowess on the Jimi Hendrix double-shot of "The Wind Cries Mary" into "Hey Joe," and Deviation By Design introducing their power ballad original song "Shaded Eyes." And the group ended the night strong with their rendition of Prince's "Purple Rain," with guest Rogan and Jerry exchanging lead guitar solos in the song's homestretch. Deviation By Design convincingly won over this night's 4D's crowd; watch for a return visit soon.
The Giants Of Science – need I say more? After more than a quarter century of doing their thing, these Giants continue to be one of this state's premier party machines – evidenced by the two shows I caught last month at the 4D's Lounge. Singer, guitarist and ringleader Mick, bassist and singer Johnny 5 (marking his birthday the first night, celebrating it both nights), keyboardist and singer Scotty B and drummer Steve fired up the dance floor both nights with their '80s-centric song mix. It's still fresh to see the dance floor quickly fill up when the Giants commence the recognizable intros to such songs as Soft Cell's "Tainted Love," Men Without Hats' "Safety Dance," Chumbawamba's "Tubthumpin,'" Violent Femmes' "Blister in the Sun" and more. And as the Giants generate a constant playful vibe, it rubs off on the audience and makes them eager to have fun as well. The Giants Of Science continue to be frequent flyers throughout the region; see them indoors and outdoors during the summer months.
I caught up with longtime Johnstown rock force Inside Out last month as they made their first appearance at the Moonshine Mine Saloon near Nanty Glo. Joining the founding Frick brothers tandem of singer Tim on lead guitar and drummer Ben were guitarist Cody Williams and fill-in bassist Dustin Helsel. As this was a new venue for the I-O crew, the group mixed things up early between hard-rocking tunes from Poison and AC/DC, a hard-edged take on Cameo's "Word Up," the Allman Brothers' "Midnight Rider" and more. Inside Out's musical trajectory picked up tempo in the next set as a lively bachelorette party contingent arrived; the group soon had them merrily dancing to numbers by Bon Jovi, John Cafferty & the Beaver Brown Band, the Killers, a country medley, a rocking version of Britney Spears' "Baby One More Time" and others. During the final set's homestretch, Inside Out filled the dance area as they did tunes from Luke Combs, Disturbed, Motley Crue, Bon Jovi and Bad Company. Inside Out will be part of Cambria County's Bike Week, performing at Cambria County Bike Fest in Ebensburg on June 24.
I made my first-ever visit to the Happy Valley Brewing Company in State College last month to enjoy some of the house's brews and live music. The Hannah Bingman Trio was nearing the end of their set of folk and folk-rock as I arrived. Hannah sang and played acoustic guitar on her own song creations, accompanied by John "JK" Kennedy on upright bass and Sean Hershey on drums. The trio wrapped up their performance with one of my favorite Hannah original songs, "Deep Water," with its theme of determination and taking on this thing called life. (Hannah and her trio will return here on June 18.) Afterward, the Donny Burns Duo – Donny and Nick Stahlman on vocals and acoustic guitars – entertained diners, beer fans and music enthusiasts with their mix of classic rock, hits and original tunes. Donny and Nick demonstrated instrumental chemistry early and often, turning Kenny Wayne Shepherd's "Blue On Black" into an intense acoustic jam, demonstrating acoustic shredding on their fiery version of Neil Young's "Rocking in the Free World," and packing punch into their take on Black Crowes' "Remedy." The pair broke out some surprises as well, such as Billy Joel's "We Didn't Start the Fire" and their night-ending spin on Earth Wind & Fire's "September." Donny and Nick's full band, Donny Burns & the 3rd Degree, will host the annual Wam Bam Mountain Jam in the mountains near Port Matilda on July 2.
After departing Happy Valley Brewing Company this night, I visited downtown State College's legendary Phyrst for the first time since before COVID-19, to see a band I haven't seen since before the pandemic, Ted McCloskey & the Hi-Fi's. Not surprisingly, this group was again jaw-droppingly good! Namesake Ted on lead guitar and vocals, singer and whistler Molly Countermine, bassist Rene Witzske and drummer Chris McGuire lit up the house with a wide variety of favorites – spanning classic rock and pop hits, new and classic soul, original tunes and more. Ted & the Hi-Fi's threw musical curve balls throughout the night, keeping their song selection unpredictable with everything from Tears for Fears' "Everybody Wants to Rule the World" to Franz Ferdinand's "Take Me Out" to Hall & Oates' "Rich Girl" to Modest Mouse's "Float On" to Dua Lipa's "Don't Start Now." Molly sang with ample soul, and performed with abundant gusto and sass; while Ted showed constant mastery on his six strings, often including little nuances such as the "Sultans of Swing" guitar solo during Fleetwood Mac's "Go All the Way." A big surprise this night was a reunion of Sideshow Bob alumni, as Bump Halbritter – in town this night from his current home base in Michigan – stepped up to join former Sideshow bandmate Ted and belt out voice on The Police's "Message in a Bottle" and James Taylor's "Steamroller Blues." The night's audio engineer, Roy Long, followed suit as he then joined Ted & the Hi-Fi's to sing lead on Sublime's "Santeria" and Tom Petty's "American Girl." This entire show was one big highlight, as Ted McCloskey & the Hi-Fi's again proved they are a must-see musical throwdown – see them every Friday night at the Phyrst and on other State College area stages.
The duo of Vic Rizzo and BanDANa provided the entertainment during a late April "Friday Wine Down" performance at Altoona's Oak Spring Winery. "BanDANa" – the alias of singer and guitarist Dan Myers – was under way as I arrived. Dan displayed a clear, strong voice as he did a version of Chris Stapleton/The SteelDrivers' If It Hadn't Been for Love" and his own original song "Rain." Vic, a percussionist and an audience member then joined Dan for Johnny Cash's "Ring of Fire," before Vic continued the music for the rest of the way. Playing both six and 12-string acoustic guitars, Vic performed a wide variety of rock and pop classics, including a number of songs you don't often hear on live stages. Vic broke out versions of Mungo Jerry's "In the Summertime," Talking Heads' "And She Was," Paul Simon's "Me and Julio Down By the Schoolyard," Supertramp's "Give A Little Bit," Emerson Lake & Palmer's "Lucky Man," The Tremeloes' "Here Comes My Baby" and more. Vic also strung together a couple of medleys/mash-ups, merging together Neil Diamond's "Cherry Baby" with John Mellencamp's "R.O.C.K. in the U.S.A." and the Romantics' "What I Like About You," and fusing together Kid Rock's "All Summer Long" with Lynyrd Skynyrd's "Sweet Home Alabama." Vic showed good vocal range and skills on both guitars, and kept the small "Friday Wine Down" audience happy for the duration.
Other performances I saw recently included Bad Luck Lover Boys' debut at the 4D's Lounge, last month's "Local Mic Night" with singers/songwriters Rue Moyer and James Eichelberger at the Spring Dam Brewing Company in Roaring Spring, and Full Kilt's monthly "Irish Session" at Molly's Pub in Altoona. (Thanks to Full Kilt for letting me sit in on bongos that night!)
News and notes…The Bedford Fair and Soaring Eagle Productions present the inaugural Bedford Bluegrass Bash on June 25-26 at the Bedford County Fairgrounds…The 18th Smoked Country Jam Bluegrass Festival happens at Quiet Oaks Campground near Cross Fork June 16-18…The JuJu Bone Blues Band and the Pennsoulvanians will donate their talents during the "Benefit for Kelly Kilgore," taking place June 12 at the D. Merl Tipton VFW Post 43 in Martinsburg; proceeds help out Kelly, a mother and grandmother currently undergoing treatment for pancreatic cancer…Rising from the ashes of This Albatross is Autumn Rising, who make their official onstage debut on June 11 during the annual Patton Firemen's Jubilee in downtown Patton…After a ten-year run, Cone Of Silence is parting ways to pursue personal commitments and other musical endeavors; the group's farewell performance will be at the Acres Of Music "Summer of Love" benefit show on June 18 at the State Theatre in State College…Western PA-based rockers Black Ridge announced a changing of guitarists recently, as Matt Bortz has left the group and Joey Conner will replace him…Greg Folsom has become the new lead guitar player for eastern PA's Go Go Retro…20 years after the release of their 2002 "Your Kind Is Labeled" album, Dead Leaves has begun recording new song material…And the area music scene was saddened with the passing of well-known Johnstown jazz musician, artist and poet Frank Filia on May 17 after a battle with cancer at age 86. An upright bass player, Frank spent much of his adult life as a musician in Las Vegas. He returned to Johnstown and performed regularly over two decades at Harrigan's Cafe & Wine Deck, the Venue of Merging Arts (VOMA) and at various other musical events in the Johnstown area. He was a popular musician, entertainer and personality.
Please send correspondence and recordings to: Jim Price, 1104 S. Catherine St., Altoona, PA 16602. You can also e-mail me at jptheprofessor@gmail.com. And if you're into social networking, look me up on Facebook. SUPPORT LOCAL MUSIC!