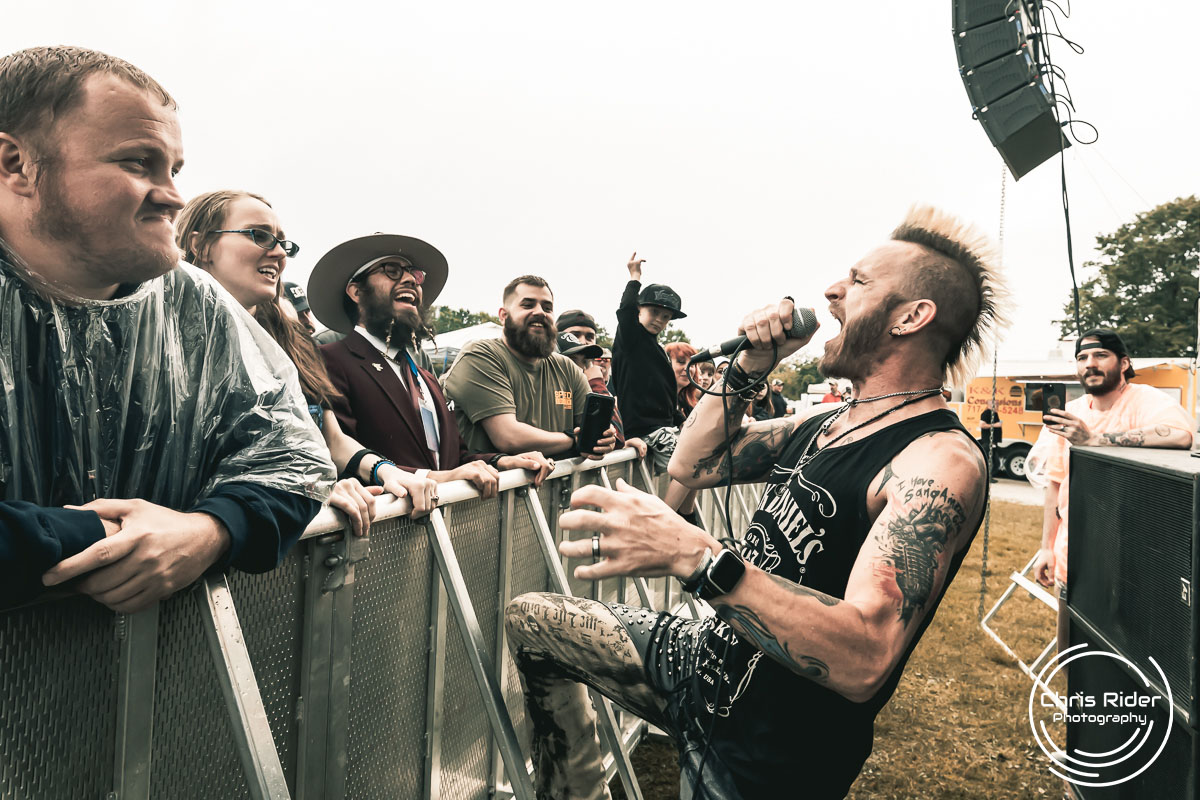 Scotty Austin @ Rock On The Hill
---
And just like that, it's warm and sunny and June is about here. With the warm weather comes outdoor music which is definitely some of my favorite as shown by half the shows I covered this past month were outside. Over half of the bands I saw this month were new to me too which is always nice and ranged from Jam bands, to Blues bands, to Metal. Diversity is the spice of life, or so they say LOL.
My first trip out was to HMAC in Harrisburg for a show I'd been looking forward to since its announcement a few months ago. I first saw a video a few years ago of Too Many Zooz on Facebook…this crazy guy jamming on his Bari-Sax in the NYC subways and moving and dancing in ways that shouldn't be possible while playing such an instrument…but there he was doing it anyhow. For this tour, Lucky Chops and Moon Hooch joined up with Too Many Zooz. All three bands played individually, and together or with mixtures from any of the three bands throughout the evening with as many as twelve musicians on stage at a time. With a huge brass sound, sick dance moves, and an awesome crowd; these folks brought an awesome show mixing flavors of rock, pop, edm/rave, jam and big band sounds culminating in an awesome collaborative song they wrote together just for this tour called "Fathers and Sons."
Next up was a trip down to the Roadhouse Pavilion season opening show at Appalachian Harley in Mechanicsburg for my first time finally catching Gun Metal Gray. The guys played a great mix of originals and covers including Crazy Train, Immigrant Song, and Hotel California. They brought in a huge crowd, there was a ton of beautiful bikes on hand and it all made for a great afternoon.
The following weekend I headed down to Hanover for the second annual Rock On The Hill Music Festival. With 19 bands on two stages over the course of the day, it made for a busy one trying to make sure I captured them all. It also makes it hard to write about each band and artist that played, but I do want to talk a little about one performance that just made the day for me. Unfortunately, due to a medical emergency, one of the bands had to bow out at the last minute. Event organizer Brenden Starr (who also performed that day) pulled the guys from Audiobox up on to the main stage with next to no notice or time to prepare to fill in the empty slot. The guys were doing a great job performing for the crowd, but they were then joined by various other performers from throughout the day and it turned in to one huge, unrehearsed jam session that drove the crowd absolutely nuts. I've seen it time and time again, artists who had never played together before, getting together and just belting out quality music as if they've played together for years…I won't pretend to understand how they do it, but it blows me away each time I see it. Kudos to Brenden and all the performers of the day for another well planned and executed festival. I can't wait to see what year three brings!
Our next trip out was to a venue I've been wanting to hit since it started having live music events: West Shore Theater in New Cumberland. I'd heard good things from a few other photographer friends of mine that'd already been there, so I had high hopes and was not disappointed. Opening up the evening was Dan Jamison & Joe Cigan, an acoustic duo covering songs like The Thrill Is Gone, Norwegian Wood, and the Junction Blues featuring some great dirty blues guitar work paired with solid and gritty vocals. These guys put on a great set. Headlining the evening was my buddy RJ Conrad and the guys in Rascal Revival. "Soon" was an incredible jam piece that showcased each of the members' individual talents, "Paint Me A Picture" is one of their new songs about all your hopes and dreams, it had a great story behind it and quickly became my new favorite of their tunes. The guys capped off the evening with a beautiful version of one of my all time favorite songs: "All Along The Watchtower".
A few days later I headed down to Lovedraft's Brewing in Mechancisburg for what promised to be an energy packed night of rock put on by 717 Entertainment LLC. First up was Baltimore based Without The Accent. These guys were awesome, playing a mix of originals and covers including one of Sam Smith's "Body Shop in a sort of Nu-Metal/Metalcore style that worked really well. Next up was my pals in Dinosaurs In Paris. I've said it before, I'll say it again…every time I see these guys, they get better and better. If you're still somehow sleeping on them, it's time to wake up, for sure. They played a great set including a new and not yet released song "Hysteria" that really had the crowd going. Third on the bill was West Coast based NuMetal Rock band Reddstar. These guys had a huge energy and great sound that I really enjoyed a lot. Fourth on the bill was St Louis based Discrepencies. These guys were an absolute blast, sharing their original Nu-Metal/Rap/Rock tunes including "Not Alone" and really had the crowd moving and at one point moshing on the floor. Headlining the evening was Awake At Last. These guys have been playing and touring for about 12 years now, and their experience showed. They had an awesome stage presence, great sound, and interacted with the crowd throughout the show with songs like Purgatorium, Landmines, Welcome To Life, and many more.
My last trip out for the month was down to the Mechanicsburg Club Picnic grounds for the Blues Society of Central PA's 25th anniversary Mom I picnic. Huge shout to JD John for inviting the magazine out to cover this awesome event. Six bands played throughout the day: Blue Elephant, Blues On The Loose, Krypton City Blues Review Tribute Band (featuring Nate Myers and Pete Netznik of Nate Myers & The Aces), The Humblers, Slaughterhouse Blues, and the Dane Paul Russel Band. Not only was the music fantastic, the food tasty, but everyone involved in the event from organizers to music fans were just very welcoming and cool to hang out with. It definitely made for a great cap to the music for the month which we enjoyed a lot!
So there it is, my month of music through my eyes and ears. Just a reminder: if you've got a show coming up that I should see; make sure to send me an invite, shoot me an email or a message, let me know about it. Venues: please don't hesitate to reach out to me as well. The majority of the shows that I go and shoot I find out about through invites from all of you or your friends. Hit me up on facebook: @chrisriderphotography or email: chrisriderphotography@gmail.com, stop me if you see me and say hi. Until next month…go find some live music and give them and the venue your support, they truly need it more now than they ever did.