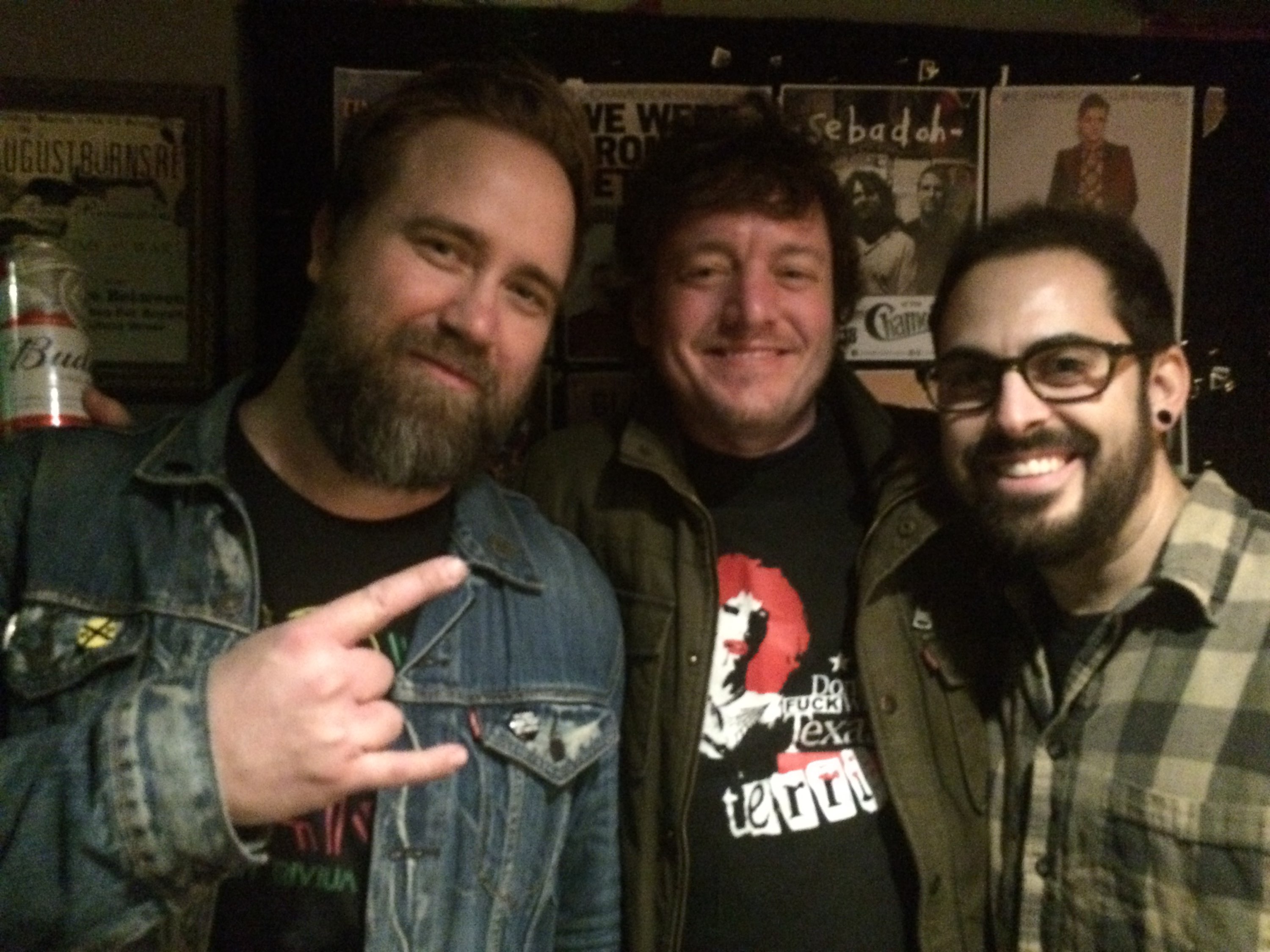 ---
By: Eric Hoffman
Greetings Rockers 'N' Rollers! Central PA held its first ever Music Hall of Fame Awards ceremony on January 30. The CPMAs event was held downtown at Harrisburg's Whitaker Center to a sold-out crowd. Celebrating local musicians from Central PA, the Hall inducted 6 artists including: The Magnificent Men, Bobby Troup, The Sharks, Poison, Robert White and Dan Hartman. A very fun night themed very similar to the Grammy Awards. Congratulations to the CPMAs on a job well done for their first venture and looking forward to next years ceremony.
Huntingtons, from Baltimore, made a visit to Lancaster's Lizard Lounge on June 8th. The band heavily influence by the Ramones describes themselves in their biography as "Pretty much the second best band of all time." A great night supported by The Super High-Tech Jet Fighters and The Jasons. The Super High-Tech Jet Fighters continue to plow forward releasing a new EP "You Can't Miss Out on Tonight" on January 31st via Rock Paper Records and then a second EP themed in connection on Valentines Day, titled "A Softer Side" featuring two-tracks. TSHTJF will support Strangest Hearts on April 25th at Harrisburg's River City Blues Club.
The Harrisburg Midtown Scholar Bookstore held a great event on February 20th featuring the legendary Ian MacKaye of historic punk bands, Minor Threat and Fugazi. The show featured MacKaye's current band, Coriky, which includes his wife, Amy Farina (originally from Harrisburg) and original Fugazi bassist, Joe Lally. Coriky played politically oriented songs with amazing musicianship. The event was free but donations were asked to benefit the bookstore. Throughout his career, MacKaye, has opted to perform in independent and unconventional venues. He is credited with coining the term "straight edge" to describe a personal ideology that promotes abstinence from alcohol and other drugs.
American rapper, singer, songwriter and record producer, Post Malone, brought his current 'Runaway Tour' to Hershey's Giant Center on February 22nd. Known for his laconic vocal style and facial tattoos, Post has gained recognition with hit songs, "Circles," "Sunflower" and "White Iverson." He has sold over 65 million records in the US alone and has received six Grammy Award nominations during his career. The entertaining show featured massive video screen visuals and plenty of lights and pyrotechnics. Post sings over prerecorded tracks and his stage is limited and does not feature a band. Post Malone performed 21-songs and was very endearing and gracious to the crowd, thanking them throughout the show. My thanks to Lauren Williams for making this event possible.
NATIONAL NEWS: Green Day were in Lancaster supposedly for a week, while rehearsing at Rock Lititz for their Hella Mega Tour On February 19th the Grammy award-winning rock band went bowling at Decades followed by karaoke at the Belvedere Inn. Also present was Butch Walker, producer of Green Day's recently released album, "Father of All …" The band celebrated singer, Billie Joe Armstrong's, birthday and sang for the roughly 30 in attendance and then hung around to watch the regulars. The Hella Mega tour featuring Green Day, Weezer and Fall Out Boy visits Hersheypark Stadium on August 16th.
After some 10,000 shows, at least $1 billion in tickets and merchandise sold, KISS have embarked on their 2020 leg of their "End Of The Road" tour. They have been touring for more than a year already and time will tell what the band may add between then and its final blowout July 17th, 2021 in New York City. The final venue hasn't been announced, but the team hints the final month will be a party for the ages with several possible sites in the mix.
Ozzy Osbourne's 2020 North American run of "No More Tours 2" has been cancelled, as the artist continues to recover from various health issues he has faced over the past year. Osbourne had undergone surgery in March 2019 after falling in his Los Angeles home, then he battled a severe upper-respiratory infection that turned into pneumonia and recently the 71-year old singer announced he was diagnosed with Parkinson's disease. The former Black Sabbath frontman stated, "I'm so thankful that everyone has been patient because I've had a shit year. Unfortunately, I won't be able to get to Switzerland for treatment until April and the treatment takes six-eight weeks." Ticket holders who purchased "No More Tours 2" tickets will be refunded and also have first access to tickets when the next tour is announced.
Rage Against the Machine have unveiled tour dates for a reunion tour. The rap-rock iconoclasts will trek throughout North America from March through August for the "Public Service Announcement Tour," and will be joined by hip-hop duo Run The Jewels. This will be RATM first concerts since 2011, when the band played the Los Angeles Memorial Coliseum, selling 53,639 tickets and grossing $4.89 million. Rage has pledged to work with charities and activist organizations through its tour, including Texas and Arizona shows, where all proceeds will benefit immigrant rights organizations. Tour dates include: Pittsburgh PPG Paints Arena July 31st, Washington DC Capital One Arena August 4th and Camden, NJ BB&T Pavilion August 7th.
The Rolling Stones have locked in a round of summer stadium shows in a 15-city North American run for their 2020 No Filter Tour. The legendary band will visit Heinz Field in Pittsburgh on June 23rd. Last year's 17-show summer tour grossed more than $178 million.
Guns N' Roses will embark on a 19-city baseball stadium tour during July & August. The "Guns N' Roses 2020 Tour" visits Philadelphia's Citizens Bank Park on July 8 and Washington DC Nationals Park on July 16th. The Axl Rose-fronted band averages 35,267 tickets sold per show.
My Chemical Romance's much-anticipated reunion tour, sold out 228,600 tickets in less than six hours, with three additional dates added to the Forum near Los Angeles. The band's agent stated, "230K tickets in 1 day. Still in shock. My Chemical Romance is larger than ever. Their fans have been waiting nine years to see them." The emo legends with play Brooklyn's Barclay Center on September 17th and Philadelphia's Wells Fargo Center on September 18th.
The edgy, avant-pop album that Billie Eilish and her brother Finneas created in her small Los Angeles bedroom, won 11 honors at the 2020 Grammy Awards. 'When We All Fall Asleep, Where Do We Go?' helped Eilish win the top four honors, including album, song and record of the year, along with best new artist. The 18-year-old is the youngest artist to achieve the feat and the first to do so since Christopher Cross did in 1981.
UPCOMING SHOWS: Heart Bones (Har Mar Superstar) – Millersville Phantom Power March 6th. Dave Hause / The Explosion – Baltimore Metro Gallery March 13th. Dirty Looks – Selinsgrove DH&L Fire Company March 21st. Timmy's Creepshow / Super High-Tech Jet Fighters – Harrisburg Wharf March 21st. White Reaper – Baltimore Metro Gallery March 21. Pearl Jam – Baltimore Royal Farms Arena March 28. The Armadillos – Kutztown University. Jughead / Super High-Tech Jet Fighters – Harrisburg Boneshire March 29th The Bombpops – Baltimore Sidebar Tavern March 31st.