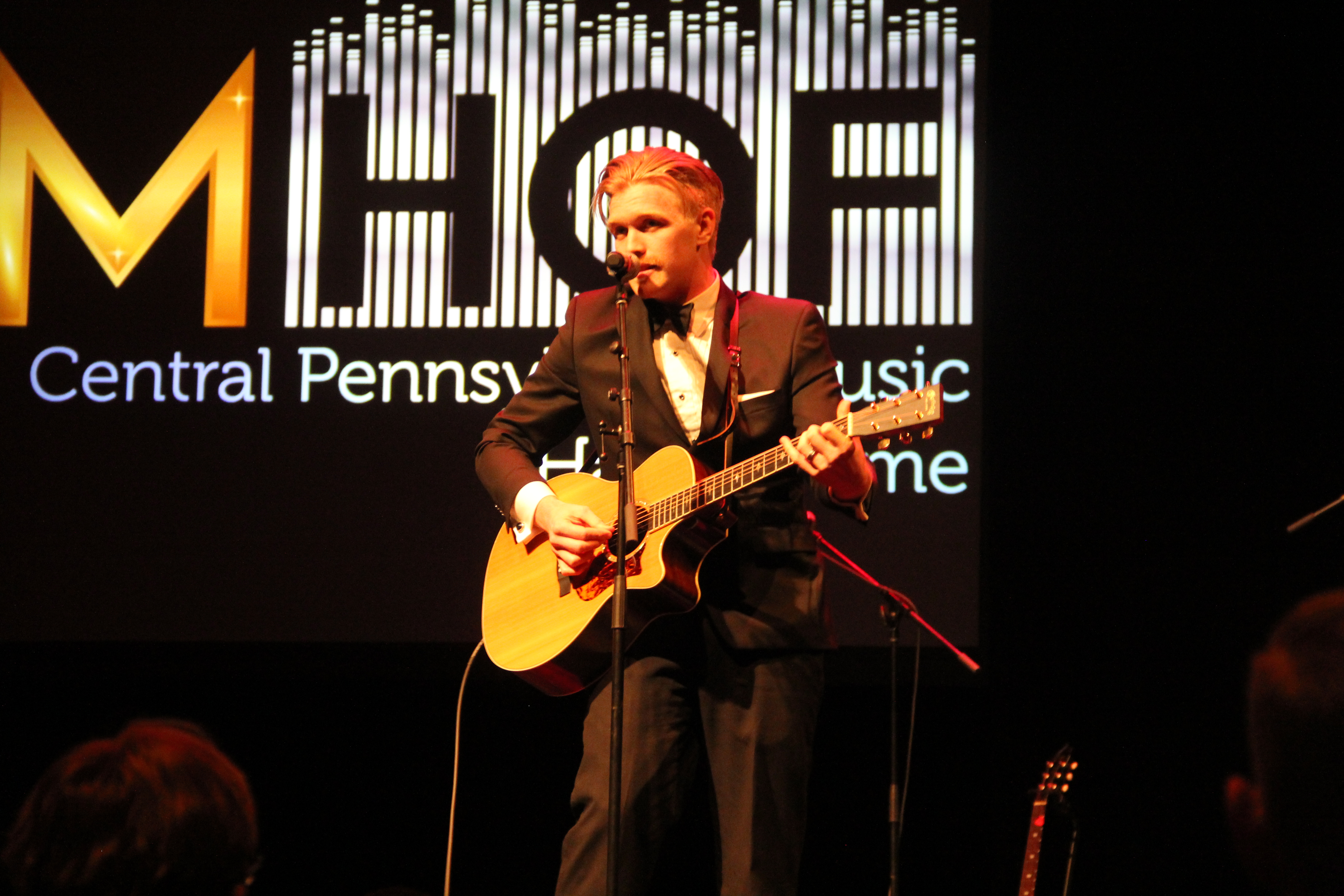 ---
By:Rachel Rocks
Time to get crackalackin! I have to get this article typed because the MMC starts TOMORROW! Unfortunately, since the MMC was pushed back to the last weekend of the month, our coverage of the MMC won't be in this issue, you will have to wait til April for that. But, there is still plenty to write about.
It all started with the 1stAnnual Central Pennsylvania Music Awards, along with the first Inductions into the Central Pennsylvania Music Hall of Fame! Everyone is always a little leery of a 1st anything, but I can tell you, I think everyone was pleasantly surprised at the CPMA's! Brandon Valentine the President and Founder of the CPMHOF and the CPMAs had a vision and pulled it off! Yes, I am on the board, and a lot of people thought I had decision making power, but Brandon seriously sucks at delegating, and I'm still not sure how he managed to get it all done. One thing I found out in the whole process was that it is very overwhelming how many bands, music businesses, etc. there are in Central PA. So many absolutely amazing bands and businesses that were nominated, but there were still plenty left, that were of course bummed they didn't get nominated. After the nominations were announced then it was time to vote for the winner! There were 22 categories with 22 winners and there were 6 groups, inducted into the Hall of Fame. I unfortunately can't list all of them here, but all of the winners and inductees are listed on the website, www.cpmhof.com. Overall, it was a great night celebrating the central PA music community. It was a sold out event at The Whitaker Center, which was awesome. It was great seeing so many musicians from all types of genres get together and just celebrate the one thing we all have in common, music! I had a blast presenting the award for Best Metal Band, the winner was Suicide Puppets! Right before I went on the stage I almost passed out, luckily I had Justin Hershey backstage with me to shove me out there in front of the crowd. I'm definitely not used to being the one on stage. Kudos to all of you musicians who can get on the stage and entertain the masses. Kudos again to Brandon and his team for pulling off an amazing event. Everything ran smoothly and was done very professionally. Don't forget ultimately the Central PA Music Hall of Fame is a non-profit organization that is always raising money for music education programs for our youth. I can't wait to see who gets nominated next year!
The next night I was out delivering magazines and I couldn't help but stop and enjoy some music. The first band I heard was Cumberland Honey at the Abbey Bar. They have such a unique and beautiful sound, I just had to stop in a couple minutes. Next, Joanie told me that her and Aaron were at HMAC for Green Jelly, so I decided to stop in and check that out. I should've known just from their opening acts, Thomas the Red, a comedian, and a professional sword swallower, that this night was going to be unlike anything I ever witnessed. When Green Jelly took the stage there were 7 or 8 guitarists, plus a bass player, drummer, and lead singer. They all had everything turned up as loud as it could go! They had some wild twists on some of your favorite nursey rhymes. They included the crowd and had 20 some people put on gigantic puppet heads and dance around the room and on stage. It was just crazy madness. Some people really loved it, to me it was a little much, but to each their own. Green Jelly has been together a long time, so obviously it is what some people enjoy.
The following weekend I took a trip down to Gettysburg for Gettysburg Rocks. Rob Simon does a great job at organization this amazing weekend event to help support Four Diamonds. This year Gettysburg Rocks donated $30,920 to Four Diamonds through the Mont Alto THON organization. Our 1st stop, we went to Jack's Hard Cider for Dustin Muller and PJ Groft. These guys wanted to help and support Gettysburg Rocks, but since their full bands weren't available, they thought they would just play some acoustic classic rock. Dustin even pulled out the mandolin for a couple of songs. It was a great way to kick-off the night! It's always great hearing PJ, I just love his voice! You can check him out with his full band, Latimore Sky. Check out their ad in this issue for all the details.
Next up, we headed to The Pike Restaurant and Lounge. When we arrived, Soup Kitchen was on the stage with 7 guys in their band, including a drummer and an extra percussionist. They really put out one heck of a sound. I like their facebook description of "a tasty blend of musical genres," they played a great mix of music that the crowd was really enjoying.
Then it was time for The Juice. I've seen these guys and gal before, and they always put on a great show. With a female lead singer, they can cover amazing artists like Stevie Nicks, Fleetwood Mac, and Bonnie Raitt, just to name a few. The guys also share lead vocals so it give you a great mix of music and entertainment. I heard they were the 1st band of the night that had the dance floor hopping! I even saw some people dancing their way up to the donation bucket and dropping in money, ultimately that's what this event is all about, raising money for the kids, and the Four Diamonds Fund. The Juice, once again, put on a great set!
The last band of the night for me was Fink's Constant. Another 7 member band, they really filled the stage and the room with music. They had it all from brass to keys! They helped keep the party going at The Pike! Unfortunately for me it's a long drive home, so it was time to go. Kudos once again to Rob Simon for organizing such a great event, and to all the bands, fans, and volunteers for helping to make it a success.
The next night out was super special because it was the first time my son, Mason went to a concert. I know it's shocking that my kids don't go to more shows, I ask them to go with me lots of times, they just don't think it's cool hanging with their Mom, but when Lee Brice was coming to town, Mason couldn't resist. It probably helps that I've been filling his head with Lee Brice songs for the past 10 or so years! The show was at Hershey Theatre so it was an awesome intimate show. Hershey Theatre hooked us up with some great seats, right in the middle of the theatre! Lee Brice is such a humble and lovable guy! I love all of his music. When he played "Boy" he had the video from the song playing in the background which shows his family playing around in the backyard, and I start crying, and of course Mason is laughing.. but it's just so true. Why do our "boys" have to grow up so fast! It is a little awkward seeing a band in a theatre, because half the people want to stand and half the people want to sit, but overall it was a great experience. Mason truly loved it, and I think I have him convinced that he needs to go see some more live music with me! Thanks to SLP Concerts for bringing great acts into Central PA! I know the next show we are going to see will be Walk Off the Earth at the Whitaker Center on April 9th. WOTE is the band that had the 5 people playing the Gote song on one guitar! They are very unique and extremely entertaining! We can't wait for that show!
On a Friday night I headed down to Carlisle to Hook & Flask for an acoustic show by Derek Henry. Derek is getting gigs all over the place, pretty much every weekend he doesn't already have a show with Observe the 93rd. Derek is a great age for the young hipsters heading out to Breweries, wineries, distilleries, etc. He brings out a whole crowd that a lot of musicians in our area unfortunately just can't connect with. You can check out Derek's ad in this issue and get him as a solo act or his whole band booked at your venue or private party.
On one of my Thursday cat feeding nights, I stopped in at Boneshire and caught Jason Carst. Jason has been playing out at a lot of breweries and wineries too. I've seen him playing for years with different band line ups, but he can easily put on a show all by himself. When Jason isn't playing, he's booking great shows at cool venues like Spyglass Winery and Scottish Rite Theatre. The Scottish Rite Theatre has really been having some great shows. Their next big event is Saturday March 7ththey will have the Best of Doo Wop, Soul, and Rock N' Roll! Check out the ad in this issue for all of the details.
My next night out was long but fun! The night started early at Spring Gate for a Happy Hour show with Six Bar Break acoustic. They rotate who plays their acoustic shows, this night it was Ben on guitar and vocals, and Dave on his djembe. It was cool to see that RT still came out to support the guys and was sitting there enjoying the show. I haven't seen Six Bar Break for a while, so it was definitely a nice calm way to start the night. They are always recording everything at their shows, and then Ben does an amazing job at editing the videos and getting them posted on their website and all of their Social Media Outlets. If you love Roots Rock music like I do, do yourself a favor and check these guys out. You can check out their ad in this issue or check them out online, www.sixbarbreak.com.
The next stop of the night was over to Rock Bass Grill for Katz 22, another band that I haven't seen for way too long. Their musicianship is top notch by every member. They run a tight ship and make sure they are playing every song to the best of their ability. They are again, another band where three of them can tackle the lead vocals which adds a great variety of music to their show. It looked like Zach was enjoying tickling the ivories on the grand piano they have in the corner. The bar tender said, "there aren't many bands that have someone that can play the keys like that!" And I totally agree! There also aren't too many people, especially female that can play lead guitar and sing the way Kathy does! Katz 22 puts on one heck of a show! Katz 22 had Rock Bass Grill packed, and plenty of people were bopping and singing along. You can check out their ad in this issue for their full schedule and their booking info, so you can get them booked at your venue, trust me, you won't be disappointed!
For my last show of the month I stopped in at XL Live for their 80s Rock night with Shout at the Devil, Maiden America and Appetite for Destruction. I unfortunately missed Shout, but heard they put on a fantastic show! When I got there Maiden America was shredding the stage as usual. Gordon's voice and all of the musicians put on such a great show, if you close your eyes you would really think you are at a real Iron Maiden show! The crowd was absolutely loving their show. I'm sure we will be seeing more Maiden America at XL Live soon! The last band of the night is Appetite for Destruction, a Guns N' Roses tribute band. I saw these guys at XL before, and it was great to see them back on the stage. I'm so glad XL Live puts on great shows where we can rock and roll all night long!!
Well that's all for this month. Get ready to read next month with all of our coverage of MMC 24!! I can't wait to see my old friends and meet new ones. Til then, when you see me Out and About stop me and say Hi!! And most importantly get out there and support LOCAL MUSIC!!!!! Any questions or concerns email RachelRocks@pamusician.net. Don't forget to check out all of the pictures and give us a like on our Facebook page, www.facebook.com/pamusicianmagazine.