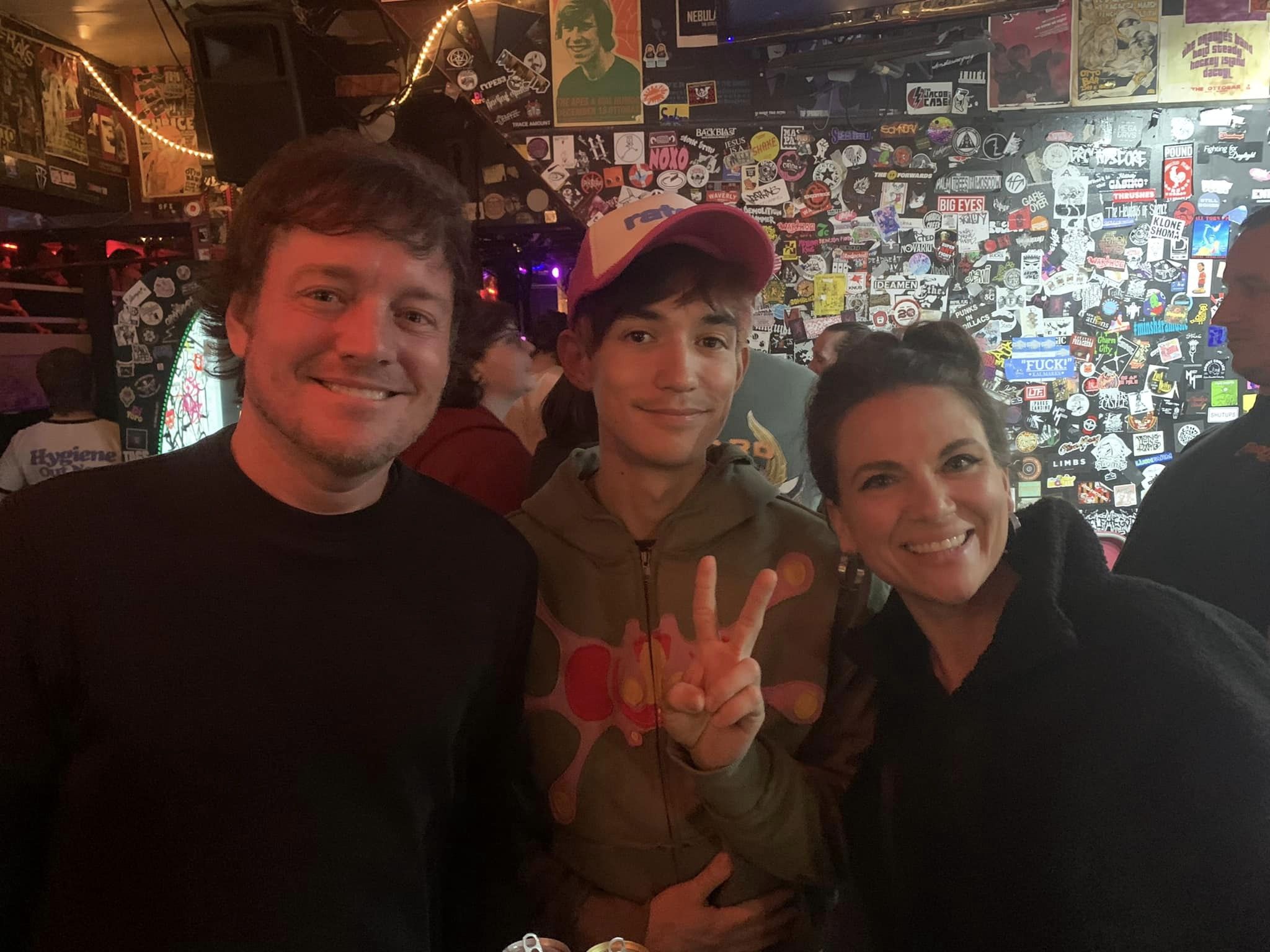 ---
By: Eric Hoffman
Greetings Rockers 'N' Rollers! The metropolis of Harrisburg provided three great shows in February. Lydia Lunch returned to Central PA for an exclusive show at a private venue called The Church of Dale on the 14th. The unique setting also included the music of Brand Bland and The Comedy of Robert Kennedy. Lydia Lunch began her career in the 1970's in New York City and a prominently known as an avant-garde singer, poet, writer and spoken word artist. Timmy's Creep Show played to a packed gallery at Mechanicsburg's Metropolis Collective on the 18th. The Super High-Tech Jet Fighters and Powder Keg Culture also played to the amazing attended event. Lastly, HMAC held a fantastic hardcore punk show in their Capitol Ballroom on the 22nd featuring Angel Du$t, Drug Church, Fiddlehead and They Are Gutting a Body of Water. Angel Du$t from Baltimore is a group of members from both Turnstile and Trapt Under Ice. Drug Church put on a fantastic show of their post-hardcore music from Albany, New York.
The Central Pennsylvania Music Hall of Fame Ceremony takes place this month on March 30 at the Hershey Theatre. The 2023 Class of Inductees includes: Breaking Benjamin, The Buoys, The Legends, The Maxwell Project, The Quintones, and Steve Rudolph.
Harrisburg University has advertised two shows in their 2023 Summer Concert Series at Harrisburg Riverfront. Alt-Country Jason Isbell & the 400 Unit on July 26. Seattle-based indie folk group The Head and The Heart on Aug 26. The Head And The Heart's 2023 North American Tour consists of 33-dates including Columbia, MD Merriweather Post Pavilion on July 8 and Philadelphia's Mann on July 12, with the final tour date at Harrisburg.
Hersheypark Stadium has also begun to announce Summer concerts: Morgan Wallen (May 18), Blink-182 (May 27), Zac Brown Band (June 1), Big Time Rush (June 2), Luke Bryan (June 13), Jason Aldean (June 28), Pantera (July 5), The Chicks (July 10), Nickelback (July 27) and Lynyrd Skynyrd (Sept 9).
It appears every major artist is touring in 2023, literally. Guns 'N' Roses return to the road for a continent-crossing world tour this summer that includes 38-shows starting June 5 in Tel Aviv, Israel and also visits Hersheypark Stadium on Aug 11. Robert Plant and Alison Krauss have 24-dates. Stevie Nicks plays 14-dates. Dave Matthews Band has 45-dates including Columbia Merriweather on June 24. Rob Zombie and Alice Cooper together for 19-dates including Scranton's Montage Mountain on Sept 8. Billy Idol plays 16-dates including Baltimore Rams Head Live on May 3. Luke Bryan has 36-dates. Chris Stapleton has 37-dates including Baltimore CFG Bank Arena on July 15.
Depeche Mode announced an additional 29 stops on the band's 'Memento Mori' tour. The Rock & Roll Hall of Famers first leg of the new tour begins March 23 in Calfornia and includes a stop at NYC Madison Square Garden on Apr 14. New dates include Washington DC Capitol One Arena Oct 23 and Philadelphia Wells Fargo Center Oct 25. Depeche Mode have 75 shows scheduled for their 'Memento Mori' Tour. The last time Depeche Mode toured was 2017's "Global Spirit Tour."
Bruce Springsteen & The E Street Band are currently in the middle of their acclaimed 2023 international tour. They have announced 22 new dates including two nights at Philadelphia's Citizens Bank Park on Aug. 16-18 and Baltimore's Oriole Park on Sept 9. Touring together for the first time since 2017, the current trek includes 87 concerts with State College Bryce Jordan Center on March 18 and Baltimore's CFG Bank Arena on Apr 17.
U2 played a 15-second, high profile ad during the Super Bowl to confirm that the band will indeed be playing a run of dates at Las Vegas newest the state-of-the-art venue MSG Sphere this fall. A press release stated U2 will have the honor of launching the venue with the band's new project called "U2:UV Achtung Baby Live At The Sphere." Drummer Larry Mullen Jr. won't be participating in the shows because he'll be undergoing and recuperating from surgery. Bono, The Edge and Adam Clayton will instead be joined onstage at MSG Sphere by drummer Bram van den Berg.
Yeah Yeah Yeahs are plotting their summer tour with support from The Faint and Perfume Genius. They kick the shows off on May 3 at The Anthem in Washington, D.C. followed by 17 more shows in America, Japan and Europe. Beyoncé is going to need a bigger tour. One day removed from announcing the "Renaissance World Tour" that will hit 40 stadiums this summer, Queen Bey added seven additional shows in North America due to overwhelming demand including Philadelphia Lincoln Field July 12 and Washington DC FedEx Field Aug 5 & 6.
Harry Styles won album of the year at the recent 65th Grammy Awards and Beyoncé dominated and became the ceremony's most decorated artist. Beyoncé won her 32nd award, breaking a 26-year-old record. But as in years past, the album of the year honor eluded her. Styles took home three awards. Beyoncé won for best R&B song for "Cuff It," dance-electric music recording for "Break My Soul," traditional R&B performance for "Plastic Off the Sofa" and dance-electric album for "Renaissance." Lizzo won record of the year for "About Damn Time." Kendrick Lamar won sixth career trophy for best rap performance for "The Heart Part 5" and also won best rap album for his studio offering, "Mr. Morales & The Big Steppers."
Madonna announced "The Celebration Tour" last month, her first arena shows in seven years, the initial itinerary included 36 stops across the U.S., UK and Europe. That number has been doubled due to overwhelming demand. "The Celebration Tour" has sold-out 36 shows with over 600,000 tickets sold. Therefore, another 36 dates have been added. Madonna visits Pittsburgh's PPG Paints Arena on Aug 7 and Washington DC Capital One Arena on Sept 2.
Ozzy Osbourne has been forced to cancel his UK and European arena tour scheduled for May. The Prince of Darkness even suggests his touring days have come to an end. Statement from Ozzy Osbourne: "This is probably one of the hardest things I've ever had to share with my loyal fans. As you may all know, four years ago, I had a major accident, where I damaged my spine. My one and only purpose during this time has been to get back on stage. My singing voice is fine. However, after three operations, stem cell treatments, endless physical therapy sessions, and most recently groundbreaking Cybernics (HAL) Treatment, my body is still physically weak. Never would I have imagined that my touring days would have ended this way. My team is currently coming up with ideas for where I will be able to perform without having to travel from city to city and country to country. I love you all…"
American icon Willie Nelson, announces two 90th birthday shows at the Hollywood Bowl. Scheduled April 29 & April 30 for the original Outlaw and Highwayman, will feature his friends: Snoop Dogg, Ziggy Marley, Miranda Lambert, Neil Young, Tom Jones, Bobby Weir, Orville Peck, Lyle Lovett, Allison Russell, Warren Haynes, the Chicks, Billy Strings, the Lumineers, Kacey Musgraves, Particle Kid, Sturgill Simpson, Leon Bridges, Rosanne Cash and many more. "I can't think of a better way to spend my 90th birthday than being surrounded by family, friends and of course the fans who made this all possible," Nelson said in a release.
MARCH CONCERTS: Everclear – Harrisburg XL Live March 2. Jet Silver – Lancaster Tellus360 March 3. Steel – Hanover Moose March 4. Dawes – Harrisburg XL Live March 11. Armadillos – Bethlehem Musikfest Cafe March 11. Inhaler – Washington DC 9:30 Club March 13. Anthrophobia – Reading Nitro Bar March 16. Inhaler – Philadelphia TLA March 16. Kix – Lititz Mickeys Black Box March 17. Bruce Springsteen – State College Bryce Jordan March 18. Ocean Blue – Baltimore Recher Theatre March 18. White Reaper – Philadelphia Underground Arts March 18. CPMA Awards – Hershey Theatre March 30.