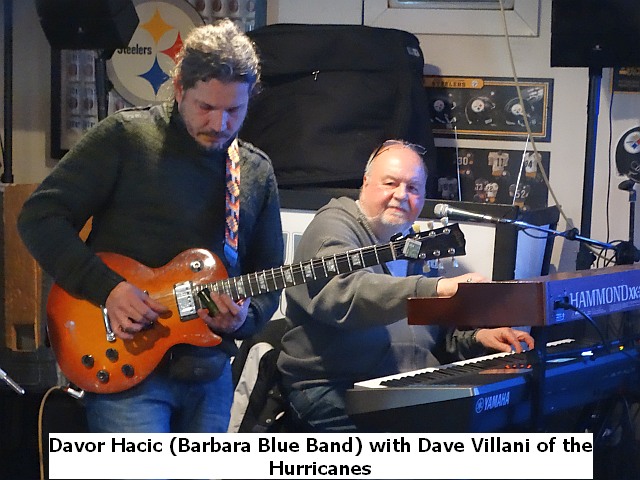 ---
By: Jim Price
I start this month's article by marking an anniversary…On March 8, 1998, my weekly local music radio program – then called the "Backyard Rocker" – made its debut on the airwaves of WBXQ "Q94" FM in Altoona. A one-hour program during its first year, it expanded to its current two-hour format in 1999. The winds of change in the radio business led to the program moving to Rocky 104.9 and Rocky 99 in 2009, and the show's name changed to the "Homegrown Rocker." Six years later, the program moved, landing at State College's 105.9 Qwik-Rock in early 2015. And after new ownership took the reins at Q94, the "Homegrown Rocker" was invited to return to where it all began in 2020. This month, the "Homegrown Rocker" marks 25 years of celebrating local and regional bands and musicians. I express thanks to all the stations that have allowed this program to grow and thrive over that time span, especially Lightner Communications for their support and bringing the show back to Q94. My heartfelt thanks go out to every musician or band that has submitted their music to the "Homegrown Rocker" and/or appeared as guests over the years, also the businesses that have sponsored the program – including our current sponsor, Dr. Michelle Barnes Optometry in Hollidaysburg (Dr. Michelle is a musician who you'll read about later in this article), also PA Musician for its support – and all the listeners who have tuned in to support local and regional music on the radio airwaves! The official on-air celebration of the 25th anniversary happens March 5, as the program brings back its "Acoustic Jam Special," with Mama Corn, Lauren & Joe and Jeff Perigo & Friends jamming out in the studio!
I experienced plenty of musical highlights on area stages in recent weeks, including the WoofStock benefit in late January at the Bedford Elks Country Club, with proceeds benefiting Abby's Angels Animal Haven, a foster-based animal rescue operation. Performances from Chad Patterson, Dr. Chance Bartleby and James Grove started the afternoon, and Chasing 69 was on the stage as I arrived. Combining members of the bands Chasing Karma and Star 69, Chasing 69 fired up the dance floor with upbeat tunes from Loverboy, Violent Femmes, Cameo, Ram Jam, the Doors and more. Chasing Karma's Ronnie Sheirer and Star 69's Dustin Riesling (who toughed out some broken ribs this day) shared and swapped singing duties, with Brandon Valentine on lead guitar, Jeff Goss on keys and rhythm guitar, Tim Aungst on bass and Johnny Jones on drums. Next was Matt Otis, who played a mixture of his original songs and select covers; assisted by Rik Golden on upright bass and Kevin Kutz on fiddle. Matt again showed adeptness at adapting his music to any performance configuration; this trio arrangement did nice work on original songs such as "Home," "Stars," "So It Goes," "Wake Me Up When It's All Over" and "The Most Important Thing," and made versions of Buffalo Springfield's "For What It's Worth," John Denver's "Leaving on a Jet Plane" and Gotye's "Somebody That I Used to Know" uniquely their own. After the Cove Community Theater Show Choir performed a song and dance trip through the American song catalog from the 1940s through 1980s, singer Clay McIlnay closed out WoofStock with his spirited performance. Clay proudly sang southern gospel and Christian-themed music, packing power and intention into his voice. Regularly performing in area churches and nursing homes, Clay aroused the audience with renditions of Nancy Harmon's "Nothing's Too Big for My God," The Hoppers' "Jerusalem" and more. The inaugural WoofStock was a success, raising $4,600.
The Pines and Felix & the Hurricanes donated their talents to last month's Nicholas Foreman Memorial Benefit, which took place at the Shovel Head Tavern in Cresson and raised more than $9,000 for Home Nursing Agency's Healing Patch children's grief program. A packed house cheered on as youthful foursome The Pines kicked off the night with an enthusiastic, high-energy set of classic rock and pop hits plus some original songs. Singer Daman Mills, guitarist Logan Warner, bassist and keyboardist Alex Snyder and drummer Ben Brumbaugh had a little something for everyone, firing up the crowd with songs spanning Elvis Presley and the Beatles to Grover Washington and Bill Withers to The Clash, Kiss, The Sweet, Billy Joel, Led Zeppelin, Van Halen and more. When the crowd yelled for an encore, The Pines broke out a surprise – with Felix & the Hurricanes in the audience and playing next, The Pines performed their version of the Hurricanes' popular original song "Walking A Straight Line" (as lead Hurricane Felix Kos grinned like a proud dad). With Dave Villani joining them on keys, The Hurricanes continued the party, instantly filling the dance floor with the Dave-led rendition of Stephen Stills' "Love the One You're With." The group – Dave, Felix, Bob Watters on drums and Jeff Clapper on bass and vocals – continued with their mix of original songs, rock and blues classics, including songs from CCR, Ted Nugent, Stevie Ray Vaughan, Dobie Gray, ZZ Top, the Bob-sung rendition of Tommy James' "Draggin' the Line" and more. Later in their set, members of The Pines joined the Hurricanes on the stage.
Felix & the Hurricanes' weekly Sunday night party at Altoona's Black & Gold Tavern provided another big highlight last month, when Pittsburgh native and "The Reigning Queen of Beale Street" Barbara Blue and her guitarist, Davor "Hutch" Hačić from Croatia, showed up to join the fun. Shortly into the Hurricanes' first set, "Hutch" joined in, blending and trading off guitar leads with Felix Kos, and showing sharp slide guitar work on the Allman Brothers/Molly Hatchet's "Dreams I'll Never See." A longtime performer of the Memphis blues scene, Barbara Blue stepped up to belt out her joyous and soulful voice on Delbert McClinton's "Giving It Up for Your Love," Stephen Stills' "Love The One You're With" and Jimmy Reed's "Baby What You Want Me to Do," and crooned Bonnie Raitt's "I Can't Make You Love Me" with Dave Villani backing her on keys. Later highlights included Barbara and Felix dueting on the Allman Brothers' "Midnight Rider," Felix and "Hutch" conversing on their guitars during Lynyrd Skynyrd's "Simple Man," and Barbara and Dave sharing voices to the packed dance floor during Wilson Pickett's "Mustang Sally." The instrumental fireworks were constant between Felix, Dave and "Hutch," and Barbara's vibrant vocals provided a special treat to the audience.
The blues was also fiery when Ju Ju Bone entertained last month at Altoona's Black & Gold Tavern. The group was well under way when I arrived, and lighting up the house with sizzling renditions of Stevie Wonder's "Superstition" and Jimi Hendrix's "Red House" to end their set. Their last set of the night smoked, as singer Brian Elliott, guitarist Jason Feathers, saxophonist Lyndsay Reilly, drummer Nate Woods and bassist Nate Nagle (filling in for Hunter Karns) fired up the busy house with more blues and blues-rock classics. They led off with a trip into the Cream catalog for "I'm So Glad," with Jason going full fury on the guitar strings. A rendition of Buddy Guy's "Damn Right, I've Got the Blues" featured furious back-to-back solos from both Lyndsay and Jason, and both musicians continued to fire up the crowd with their talents on the Howlin' Wolf double-shot of "Little Red Rooster" and "Killing Floor," with Brian howling out some stellar voice. The group then took the Allman Brothers' "Whipping Post" into the stratosphere, before finishing the night with one of their original tunes, "So All Alone." Ju Ju Bone made it count, delivering the passion, talent and excitement to slam an exclamation point on this night!
I also landed in the land of OZ for some blues last month, catching the third set by The Band OZ during their monthly first Sunday session at the Unter Uns Musical & Entertainment Society. Singer and guitarist Don Osborn, guitarist Craig Albright, bassist Bill Hunter, keyboardist Ken Civils and drummer Bill Hocherl brought a tasty mix of blues, jazz, rock and soul to the stage. Some of their selections included the merger of B.B. King & Eric Clapton's "Help the Poor" with Santana's "Black Magic Woman," the Allman Brothers' "Whipping Post," and – on the eve of the 12th anniversary of his passing – Gary Moore's "Still Got the Blues," with Don ringing out an incredible guitar solo during the songs homestretch!
After seeing Half Tempted perform during their childhood years, the members of Sweet Desire got to share the stage with Half Tempted for an exciting night of rock at McGarvey's last month. This turned into a special show quickly, as Half Tempted ringleader Ron Dalansky joined Sweet Desire onstage to play guitar on The Sweet's "Ballroom Blitz." Sweet Desire – singer Jordan McCaulley, guitarist Kenton Lewis, bassist Joshua Simpson and drummer Trey Boore – celebrated their classic rock roots as they mixed classic-inspired original songs with a variety of classic rock favorites and curios. The group dug deep for a rendition of Cactus' "Evil," did the Beatles' "Day Tripper" and the Doors' "Roadhouse Blues" (with Kenton wailing harmonica), and celebrated Led Zeppelin by covering "The Ocean," converting Jimi Hendrix's "Voodoo Chile" into a Led Zeppelin "The Rover" jam, and blending Diamond Head/Metallica's "Am I Evil?" into Zeppelin's "Communication Breakdown." Sweet Desire provided constant excitement and stage movement, instrumental fireworks, and even tossed lollipops to audience members at set's end. Half Tempted then picked up the ball and ran with it, firing off their charged blend of 1960s, 70s and 80s classics. Ron Dalansky on lead vocals and guitar, Jim Mincin on guitar and vocals, Todd Batzel on bass and Doug Stephens behind the drum kit kept the audience cheering, grooving and dancing with tunes from AC/DC, Kiss, Thin Lizzy, Poison, Cream, Black Sabbath and more. And after Ron joined Sweet Desire during their set, Jordan and Kenton from Sweet Desire joined Half Tempted on renditions of Bad Company's "Shooting Star," Led Zeppelin's "Whole Lotta Love" and AC/DC's "Highway to Hell" (with Phil "Philly Grooves" Wagner joining in on guitar). The excitement of watching musical generations mixing and rocking out made this a memorable night.
I saw several bands for the first time in recent weeks, including last month's debut performance of The Bomb Cyclones at Altoona's 4D's Lounge. This group features several established area music names: Mellissa Vella on lead vocals and Kenny Karlheim on guitar and vocals (both also known as the acoustic duo Mellissa & Kenny), lead guitarist Rich Johnson, bassist Bill Nusom and drummer Paul Caracciolo II. The Bomb Cyclones introduced a fresh and upbeat blend of rock, soul and funk favorites; with numbers from Stevie Wonder, Elle King, Tracy Chapman, Collective Soul, Sublime, Lady Gaga, Amy Winehouse, the Rolling Stones and many more. Handling most of the singing, Mellissa showed a deep, soulful and versatile voice – taking on everything from Chris Isaak's "Wicked Game" to Fleetwood Mac's "The Chain" and "Gold Dust Woman" to the Allman Brothers' "Soulshine." Bill sang lead several times on numbers from ZZ Top and Lynyrd Skynyrd. The Bomb Cyclones' performance was strong from start to end, and the group stirred up increasing cheers and dance floor activity as the night progressed.
Also at the 4D's Lounge, I took in the doubleheader of Hot Fudge Mondaes and Bad Luck Lover Boys in late January. Hot Fudge Mondaes was bringing the power-pop-punk fury on the stage as I arrived. Now the tandem of singer Jake Mowery, guitarists Breydon Bremer and Micah Button, bassist Kevin Neely and drummer Christian Wesner, Hot Fudge Mondaes did rowdy originals such as their recently-released single "Sorrow," "So F***ing Fun" and others, and broke out tunes from Fall Out Boy, Nirvana, Jet, My Chemical Romance and more. Bad Luck Lover Boys kept the crowd fired up with their mix of pop punk and alternative rock favorites, plus catchy original tunes. Singers and guitarists Chris Diehl and Matt Godissart, bassist and singer Adam Lingenfelter and drummer Brad Hengst provided nonstop action with originals like "Movie Song," "Corey's Hangover," "London Fog," "She's Why I Smile" and more, plus covers from Blink-182, Ramones, The Killers, Green Day, Fall Out Boy and more.
I did a Centre County Saturday night triple-header early last month; first returning to the LaunchPad in Philipsburg to catch my first look at venue owner Shawn Inlow's "house band," StoneMan, as they did a live recording before a packed house. Shawn devised a unique arrangement for StoneMan's performance; eliminating the perceived "proscenium arch" between band and audience by arranging speakers within the ceiling in a way that the musicians can be immersed within the audience, and a balanced musical mix can be heard throughout the room. This created an exciting atmosphere as StoneMan – Shawn on lead vocals, Steve Dixon on lead vocals and piano, Richard "Doc" Horton on keys, Jason Sopic on drums and guest Andy Sleboda on guitar – shined on a mixture of keyboard-driven original tunes plus a tasty variety of classics. Shawn freely moved about the room and engaged the audience as he sang and serenaded, and the group sounded strong on catchy original numbers like "What's Good For You," "Second Wind," "Bottom Rung" and more. They did Pink Floyd numbers such as "Time," "Have A Cigar" and "Pigs (Three Different Ones)," Steely Dan numbers such as "Black Friday" and "Pretzel Logic," The Who's "Getting in Tune" into the Beatles' "Come Together," plus tunes from Steve Winwood, Bob Dylan, Johnny Rivers, David Bowie, Bruce Hornsby, Paul McCartney & Wings, and – for the encore – Little Feat's "Willing."
From the LaunchPad, I then headed to The Bar in Boalsburg to catch my first look at The Stevedores during the latter half of their performance. This duo is named after the first names of both performers, Steve Crawford on vocals and guitar, and Steve Buckalew on vocals, mandolin and fiddle. The Stevedores entertained a relaxed audience with a mix of folk, blues and bluegrass numbers. I enjoyed their variety, as they did the 1955 roots country number "Sweet Little Miss Blue Eyes," Bob Dylan's "Don't Think Twice, It's Alright," the pairing of Eric Clapton's "After Midnight" followed by the Patsy Cline hit "Walking After Midnight," The Band's "Down South in New Orleans," Gram Parsons' "Ooh Las Vegas" and more. The Stevedores' presentation was casual and laid-back, and their vocals and musicianship were strong.
As The Stevedores' performance ended around midnight, that gave me enough time to zip into downtown State College to finish the night witnessing John Solo's weekly Saturday night show at The Brewery. The performance name of longtime area musician John Cimino, John Solo sang and played acoustic guitar on a wide variety of classics and hits, with Scott McKenzie accompanying with rhythms on the cajon. Not using a setlist, John left his muse and audience requests guide his journey as he played nonstop the whole night. He did tunes from Jason Mraz, Johnny Cash, The Cars, Beatles, Tom Petty, Prince, Nirvana, Elton John, Steve Miller Band, Foo Fighters and many more. Various highlights surfaced along the way, including John's crowd sing-along mash-up of Oasis' "Wonderwall" and "Champagne Supernova" with Green Day's "Boulevard of Broken Dreams" sandwiched in between, his "pterodactyls" take on The Proclaimers' "(I'm Gonna Be) 500 Miles," a sing-along version of Elton John's "Rocket Man," and John honoring crowd requests for Blue Oyster Cult's "Burnin' for You," the Doobie Brothers' "Black Water" to end the night, and – when somebody yelled it out – the full-length edition of Lynyrd Skynyrd's "Free Bird!" John and Scott handled all of it well, sounding sharp and keeping it fun with the crowd.
I witnessed three bands for the first time during a heavy-hitting triple-bill in late January at McGarvey's. This show marked the debut of new Altoona-based quintet A Starlite Gray, who were wrapping up their set as I arrived. A Starlite Gray features former Naildriver frontman Matt Watson and drummer Andy Melusky, joining forces with former This Calling/4 Days Dirty guitarist Joe Neary, Hot Fudge Mondaes guitarist Breydon Bremer and Tyler Valentine on bass. The group introduced original metalcore as they did songs from their soon-to-be-released debut EP "From Here to Eternity." What I heard sounded fierce and powerful. Hailing from the Pennsylvania-Ohio border region, Neighbor Dan followed with their brand of original doom metal. Four members strong, Neighbor Dan merged deep and dark metal grooves with progessive rock elements to craft an intriguing style and sound. Some of their original songs included "Where's My Sasquatch," their recently-issued "Meat Suit Imperative" and "Muddying the Water." Johnstown-based hardcore foursome Path Of The Flood then closed the night in fierce fashion, drilling tight and tenacious original numbers. Lead snarler Anthony Costo, guitarist Randy Lisbon, bassist Matt Baer and drummer Kory Siehl held nothing back, triggering moshpit action with their brand of hardcore aggression.
I also caught my first look at the father-and-daughter acoustic duo of John & Kiara Smith as they visited Altoona's Greenbean Coffeehouse in late January. John strummed acoustic guitar and sang, with Kiara handling most of the lead vocals. Kiara displayed a clear and peppy voice as she sang out on renditions of KT Tunstall's "Black Horse and the Cherry Tree," Linda Ronstadt's 1974 hit "You're No Good," Fleetwood Mac's "You Make Loving Fun," Carly Simon's "You're So Vain," plus songs from Alanis Morisette, Joni Mitchell, Patsy Cline and more. John sang lead on Van Morrison's "Wild Night." John and Kiara sounded good and maintained a friendly mood with the Greenbean audience; watch for their appearances on Cambria and Blair County stages.
I caught up with The Silver Linings in late January as they entertained a packed house during their first visit to Spring Dam Brewing Co. in Roaring Spring. Rick Wertz and Michelle Barnes both played acoustic guitars and sang, blending well on a wide variety of classics and favorites. Both alternated lead singing duties as well as teaming up on duets, and Rick peppered many of the songs with clever guitar-picking nuances. Everything sounded strong as The Silver Linings did numbers from Pat Benatar, the Eagles, Crosby Stills & Nash, Jimmy Buffett, Brandi Carlile, Janis Joplin and more. I enjoyed hearing some song surprises such as the Michelle-fronted version of Duran Duran's "Ordinary World," duet renditions of Collective Soul's "December," Blind Melon's "No Rain" and Soul Asylum's "Runaway Train," and the night-ending take on REO Speedwagon's "Time for Me to Fly." The Silver Linings maintained a relaxed, pleasant vibe throughout the performance; and if the crowd response is any indication, their first visit to Spring Dam Brewing Co. likely won't be their last.
My travels returned me to Spring Dam Brewing Co. last month to check in with singer, songwriter and sage Pat McGinnis. Strumming the acoustic guitar and singing, Pat entertained a nice-sized audience with several of his original songs and a variety of rock, country and folk favorites. With a smile and relaxing vibe, Pat performed some of his original favorites such as "Give Your Love Away" with its hopeful message of sharing love and taking stock in life's simple pleasures, the bluesy "Sure Feels Like She's Gone" and his celebration of canine companionship, "Walking the Dog." Pat also introduced a new (currently instrumental) number called "The Gathering Place," and did numbers from Tom Petty, Neil Young, the Rolling Stones, Grateful Dead, The Band, Dr. Hook & the Medicine Show, Sam Cooke, a request for Willie Nelson's "Good-Hearted Woman" and more.
I checked in with singer, songwriter and troubadour Alyssa Hankey last month, catching the latter part of her performance at Molly's Pub in Altoona. A prolific songwriter, Alyssa introduced several new songs, along with numbers from her latest album "Northerner" and a few select covers. Singing with her distinctively hearty voice and cadence, Alyssa performed such songs as "Darkness Coming Down" off the new album, "You Can't Take It With You," "Empty Seed" and "West Virginia." She also presented her cover selections in her own unique style, interpreting Bruce Springsteen's "Darkness on the Edge of Town," Fleetwood Mac's "Gypsy," John Prine's "Angel From Montgomery" and Jason Isbell's "Last of My Kind." When audience members called for an encore, Alyssa did two more original numbers, honoring a request for her song "1968" and finishing with "Some Boys Shouldn't Wear Cowboy Hats." Maintaining a vigorous performance schedule, Alyssa this month takes her music to locations throughout western and central PA, along with Maryland, West Virginia and even a show in Tennessee.
Lastly, I also took in recent editions of Tuesday Open Mic Night at D'Ottavio's Gran Sasso in Hollidaysburg, and Wednesday Jam Night at Altoona's Unter Uns Musical & Entertainment Society.
Tragedy struck the Johnstown music scene last month with the death of Lance Ross, the owner of the Freight Station restaurant and music venue. Police were called to the Freight Station on February 20 to investigate what was believed to be a fall injury; Ross was found inside the establishment and transported to the hospital where he died. After subsequent investigation, Cambria County Coroner Jeff Lees said that Ross suffered multiple blunt force trauma injuries as a result of a "violent assault" and his death has been ruled a homicide. Johnstown Police and the Cambria County District Attorney's office are continuing to investigate Ross' death, and are asking for the public's help with any additional information…The western PA music scene was also saddened with the unexpected passing of singer Tim Aymar on February 14. He was 59. Tim became known to western and central PA music fans as the singer for popular 1980s and 90s Pittsburgh area heavy metal bands 313, Triple X and Psycho Scream. He then attained some national notoriety in the 1990s when he teamed up with Death lead singer and guitarist Chuck Schuldiner in the progressive metal band Control Denied, which released one album before Schuldiner passed in 2001. More recently, Tim fronted Philadelphia-based power-metal band Pharaoh from 1998 until his passing, as well as the Pittsburgh-based Helios and Pittsburgh heavy rock studio project Synesthesia.
News and notes…Fire destroyed the Juniata County home of musician Ben Rapp and his family on February 11; a prominent member of the regional bluegrass community and longtime stage manager for the annual Smoked Country Jam Bluegrass Festival, Ben, his wife Elaine and four children lost everything, including a pet cat and dog. A GoFundMe campaign has been set up to raise money to help Ben and his family get back on their feet; that page can be accessed at https://gofund.me/b631a413 …The PennSoulvanians have announced they will soon enter the studio to record a five song EP; the group has begun an Indiegogo fundraising campaign to raise money to finance the project, and has so far raised nearly 75 percent of their target goal…Former Toddo and Jampact guitarist Ryan Clark has announced the start of his new band, called Coverfire…And lastly, good luck to the area bands who are in the running for awards at this year's Central Pennsylvania Music Awards (CPMA's), which will be presented at the Hershey Theater on March 30: The Snipped (Best Punk Band), The Pines and Sweet Desire (Best Youth Band), Ma'am (Best Alt Country Band/Artist) and Chris Woodward & Shindiggin' (Best Country Band).
Please send correspondence and recordings to: Jim Price, 1104 S. Catherine St., Altoona, PA 16602. You can also e-mail me at jptheprofessor@gmail.com. And if you're into social networking, look me up on Facebook. SUPPORT LOCAL MUSIC!