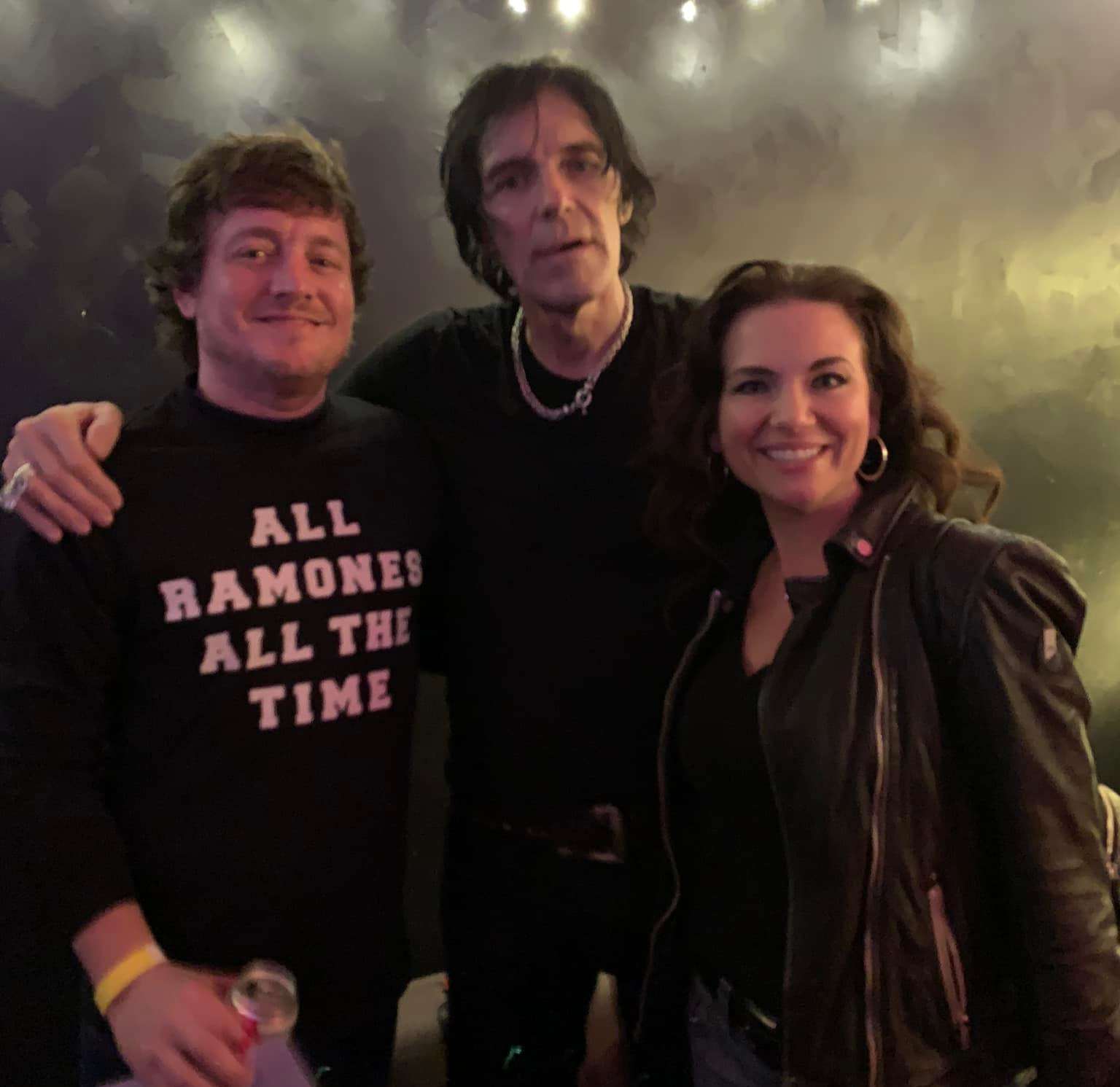 ---
By: Eric Hoffman
Greetings Rockers 'N' Rollers! Concerts continue to thrive and return to the music scene more than ever in the past two years. Last month, brought many National artists and began with drummer Richie Ramone of the Ramones at HMAC's Stage On Herr on April 2. Richie was a Ramone from February 1983 until August 1987 and is the only Ramones drummer credited as the sole composer and writer of a Ramone's song, writing six in total. A great performance with over 20 Ramones classics.
Conor Oberst and his band Bright Eyes returned to the East Coast continuing their tour in support of latest release, "Down in the Weeds, Where the World Once Was," and also played many songs from their vast catalog. Bright Eyes visited Philadelphia's Met on April 8 and Washington DC's Anthem on April 9. Comedian, Jim Breuer, visited Harrisburg's Capitol Ballroom at HMAC on April 10 with a wild fun show. Elton John played Hershey's GIANT Center on April 13 as part of his 'Farewell Yellow Brick Road Tour'. The lengthy farewell tour began in 2018, will end in 2023 and was named Billboard's Top Rock Tour in 2019.
Joan Jett and the Blackhearts began their current tour in Reading, PA at Santander Performing Arts Center on April 14. Joan Jett rocked 22 songs including, "Cherry Bomb" "Crimson & Clover" and "Bad Reputation." The band returns to Central PA on July 12 at Hersheypark Stadium with "The Stadium Tour" featuring Poison, Motley Crue and Def Leppard.
Dublin, Ireland band, Fontaines DC, are currently touring the US to support new album, Skinty Fia. The band put on an amazing performance at Philadelphia's Underground Arts on April 22. The Irish-band shares comparisons to the likes of The Strokes, Oasis, Blur, Joy Division and their fast-rising popularity is selling out shows daily. The Dead Milkmen of Philadelphia held a rare performance at Harrisburg's XL Live on April 23. The band began in 1983 and sporadically will perform live in concert. A huge fanbase gathered to hear their classic songs as well as the popular, 'Punk Rock Girl' which mentions the Philadelphia iconic punk rock store Zipperhead on South Street.
Hollywood Casino in Grantville, PA has announced a slew of summer shows: Skid Row, Lita Ford, Winger, Quiet Riot – May 22. Martina McBride June 25. Bush Candlebox – July 3. Big & Rich – July 10. ZZ Top – July 24. Collective Soul / Switchfoot – July 30. Rick Springfield, Men At Work, John Waite – Aug 20.
Sadly, the rock band Live have closed down their recording studio, Think Loud, in York, PA. Initially the 53,000 square foot building was to be put up for sheriff's sale in April 2021 but stopped when the band filed Chapter 11 bankruptcy. The four-story former factory building located at 210 York Street initially began in 2014 and opened in January 2018 by Live band members, lead guitarist Chad Taylor, drummer Chad Gracey and bassist Patrick Dahlheimer. In July 2020, lawyers for Kinsley Construction – the contractor that provided construction and design services for the Think Loud building – alleged that, for the past 7 years, the band had defaulted on $15.91 million for construction work on the building. Think Loud, was named one of the top 10 studios in the world and through the years opened their doors to numerous artists including Candlebox, Everclear, Galactic Empire, August Burns Red, From Ashes to New and Justin Angelo.
Dead & Company announced its annual summer trek of amphitheaters and stadiums across the U.S. in June and July. The band comprised of Grateful Dead founding members Bob Weir, Bill Kreutzmann and Mickey Hart alongside John Mayer, Oteil Burbridge and Jeff Chimenti. Dead & Company will visit Philadelphia's Citizens Bank Park on July 10 and Burgettstown's Pavilion at Star Lake on July 12.
Elton John's "Farewell Yellow Brick Road" tour is coming to a close this year and has many stadium dates this summer for fans to have a few more chances to say goodbye and revel in the spectacle of his live show. Elton stated, "This year will see my grand finale in North America, playing stadiums all around the country, with the most spectacular production I've ever had. Thank you for sharing this journey with me. I cherish these memories we're making together. It has been nothing short of incredible and I look forward to seeing you very soon one last time, on my Farewell Yellow Brick Road Tour." Dates include: Philadelphia's Citizens Bank Park on July 15, Pittsburgh's PNC Park on September 16 and Washington DC's Nationals Park on September 24. The "Farewell Yellow Brick Road" tour kicked off in September 2018, encompassing five continents and over 350 shows.
Eight-time Grammy Award-winner Chris Stapleton will extend his "All-American Road Show" tour produced by Live Nation with newly confirmed shows at Hersheypark Stadium on August 27 and Merriweather Post Pavilion on August 20. Hershey includes special guests Elle King and Morgan Wade.
Pitbull's new tour name says it all. Mr. Worldwide is following up last year's trek – which saw the artist playing more than 40 shows and performing to over 450,000 fans – with the "Can't Stop Us Now Tour," featuring more than 50 dates in North America. He'll be joined with Iggy Azalea and SiriusXM Globalization DJ's at Hersheypark Stadium on July 30.
The 64th annual Grammys telecast took place on April 3 with multitudes of live performances from Olivia Rodrigo, Jon Batiste, Silk Sonic, Latin superstar J Balvin with Maria Becerra, BTS, Nas, John Legend, Chris Stapleton and H.E.R. with Travis Barker and Lenny Kravitz. Billie Eilish performed as well as being nominated for Record of the Year, Song of the Year, Best Music Video and Best Pop Solo Performance. Brandi Carlisle was nominated for three Grammys and performed with the Hanseroth twins and Shooter Jennings after being introduced by Joni Mitchell and Bonnie Raitt. And Lady Gaga's solo renditions of traditional jazz fare "Love For Sale" and "Do I Love You" was a moving tribute to her 95-year-old music partner and jazz great Tony Bennett. The in memoriam-segment began with an extended tribute to Taylor Hawkins, the Foo Fighters' beloved drummer who tragically passed, causing the band to cancel their Grammy performance. Equally deserving musicians we lost this past year, included: Charlie Watts, Betty Davis, Meat Loaf, Don Everly, Ronnie Spector, Dusty Hill, Biz Markie, Mark Lanegan, Lee Scratch Perry, Shock G, DMX, Michael Nesmith.
In the wake of the death of drummer Taylor Hawkins on March 25 during Foo Fighters' South American tour, the band announced it is canceling all upcoming dates. Foo Fighters statement in full: "It is with great sadness that Foo Fighters confirm the cancellation of all upcoming tour dates in light of the staggering loss of our brother Taylor Hawkins. We're sorry for and share in the disappointment that we won't be seeing one another as planned. Instead, let's take this time to grieve, to heal, to pull our loved ones close, and to appreciate all the music and memories we've made together. With Love, Foo Fighters." Foo Fighters were set to play at Merriweather Post Pavilion in Columbia, Maryland and Lincoln Financial Field in Philadelphia.
Kanye West dropped out of both his appearances at the massive Coachella Music Festival in Indio, California on April 17 & 24. He was then replaced by artist The Weeknd who also threatened to pull out at an hour's notice due to the pay being less than Kayne West's expected paycheck. West was reportedly prepared to make $8 million plus a $500,000 production fee. Faced with the prospect of a second headline act cancelling – Coachella caved and agreed to pay The Weeknd the same money.
MAY show: Swisher Sweets – Camp Hill Sierra Madre May 5. BoDeadlys – Mechanicsburg Metropolis May 6. The Huntingdons / Super High-Tech Jet Fighters Mechanicsburg Lovedrafts May 14. Bob Mould – York Appell Center May 14. Limp Bizkit – Baltimore Chesapeake Arena May 15. Still Corners – Philadelphia Underground Arts May 18. BoDeans – Harrisburg XL Live May 20. The Virus – Harrisburg HMAC Ballroom May 21. Amyl & The Sniffers – Philadelphia Underground Arts May 21. Amyl & The Sniffers – Baltimore Rams Head Live May 22. Turnstile – Philadelphia Fillmore May 24. Luv Gods – Grantville Hollywood Casino May 27. Turnstile – Washington DC 9:30 Club May 29. Ray LaMontagne – Hershey Theatre May 31.