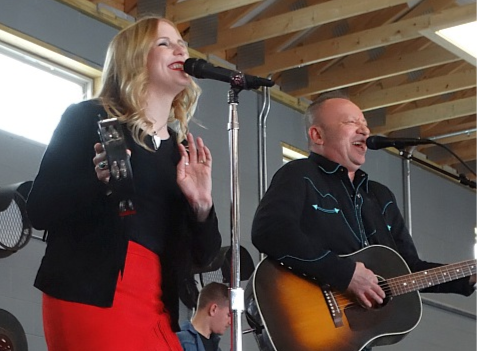 ---
By: Jim Price
Since writing last month's article, I achieved a first-time milestone…Although not all of the miles were PA Musician-related, I finally was able to drive one of my vehicles past the 200,000-mile landmark. According to my trusty mechanic, my SX4 is in great health, and now I will see if it can survive my PA Musician-related delivery and journey adventures and maybe get to 250,000 or more miles. Time and attrition will tell…
The homestretch of my vehicle's 200,000-mile journey involved traveling to the Hershey Theatre in late March for the 2022 Central PA Music Awards (CPMA's) and Central PA Music Hall Of Fame (CPMHOF) Induction ceremony event. A full list of this year's award winners can be found on the Hall Of Fame's website, www.cpmhof.com (click on "Awards"). Congratulations to all the award recipients; including my PA Musician colleague Chris Rider for winning the "Best Photography" honor, and to John Harris for receiving the 2022 Whitey Noll Lifetime Achievement Award. The thrill of seeing which CPMA nominees carried off awards provided excitement throughout the evening, and presentations of the Hall Of Fame inductees also provided big highlights, including several performances. The evening's first Hall Of Fame induction was presented posthumously to jazz great Les Brown, who was born in Schuylkill County. This was followed by the second induction to Harrisburg 1960s soul group The Emperors, who scored several big regional R&B hits, including "Karate," which reached Billboard's Hot 100 chart in 1966. Although not able to accept his induction in person, York-born bluegrass great Del McCoury and his band thanked the CPMHOF via video, and will receive their induction plaque during their annual DelFest Music Festival in Cumberland, Maryland later this month. Celebrating Del McCoury's music onstage this night was Harrisburg-based bluegrass group Seldom Said No, who themselves won the CPMA for Best Bluegrass Band; they did several of Del's songs, including his popular train song "All Aboard." The fourth induction went to The Pixies Three, who emerged from Hanover to become a popular teenage girl vocal group in the 1960s; signing with Mercury Records in 1963 and touring with such names as the Dave Clark Five and Bobby Vee. Three of the group's members – Midge, Kaye and Debbie – showed they could still belt out the harmonies as they performed their hits "Birthday Party" and "442 Glenwood Avenue." The fifth inductees this night were renowned Hershey-based improvisational jazz performers Third Stream, who have shared stages with Herbie Hancock, Chick Corea, Tower Of Power, Jeff Beck, Spyro Gyra, Eumir Deodato and others. The current group – Tom Strohman, Jim Miller, Jim Easton, John Peifer and Greg Strohman – played several selections of their improvisational jazz, including their variations on the "Flintstones" theme and "William Tell Overture." The final inductee was Live, who were not present to acknowledge or accept their award; in their place, the "CPMA House Band" performed Live's hit "Lightning Crashes" as the event reached its end.
The outdoor live music season is slowly coming to life…My outdoor live music season began last month at Riverside Park in Williamsburg, as longtime area rock-and-rollers Second Edition provided the music during the inaugural "Burg Bash" event, presented by Belly Busters (food truck) and Biddle's Brewing (coffee shop). The weather conditions were far from ideal, with wind, rain and temperatures dropping into the 40s; in spite of this weather, the townspeople came out to show their support, the band played, and Belly Busters ran out of food! Around for more than half a century and "Sounding fine since '69," Second Edition – founding member, guitarist and keyboardist Herm Arnold; bassist and singer Dan McCorkle; guitarist and singer Bob Weir; and drummer and singer Randy Lang – performed a wide variety of hits, classics and favorites that had folks up and dancing. Second Edition fired up robust rock'n'roll energy with tunes from The Rivieras, Beatles, Tommy James & the Shondells, Beach Boys, Johnny Cash, Monkees, Steve Miller Band, Robert Palmer, Elvis Presley, The Ramones, 3 Doors Down, ZZ Top, Chuck Berry and many more. I liked their versatility – at one point shifting from the Moody Blues' "Nights in White Satin" directly into the Ramones' "Blitzkrieg Bop!"
Speaking of the Ramones – One of four Ramones that are still alive, Richie Ramone, brought his band back to McGarvey's on April Fool's Day, headlining a four-band bill. I missed openers X's For Eyes and caught the last three songs of 'dadcore' rocking favorites The Snipped, before New York City's Public Nature took the stage. The trio of singer and guitarist Oscar Canas, bassist Curzio Aloisi and drummer Rex Fenton performed punk-edged rock with a melody-based angle hinting at the Beatles and New York Dolls. They sounded sharp and their songs were catchy; two of their numbers were "Sentimental" and "Find My Baby." Playing drums for the Ramones from 1983 to 1987, Richie Ramone and his band – guitarist Ronnie Simmons, bassist Clare Misstake and drummer Chris Moye – performed a mix of Ramones favorites and Richie's original songs. Opening behind the drum kit as he sang the Ramones' "Teenage Lobotomy" and "Somebody Put Something in My Drink," Richie stepped out to the front microphone for the rest of the set, singing several of his post-Ramones numbers such as "Pretty Poison," new songs like "Who Stole My Wig" and "Not Afraid," and Ramones favorites such as "Blitzkrieg Bop," the show closer "Sheena Is a Punk Rocker," the Ramones' version of CCR's "Have You Ever Seen the Rain," and many more. Richie and his band brought the velocity and enthusiasm, with the classic Ramones' count-off "One Two Three Four" ushering in many of the numbers. They were well-received, keeping the McGarvey's audience yelling approval from start to end.
Another notable event at McGarvey's in recent weeks was last month's "Remember Michael 2 Fists" show, as the area punk, hardcore and metal community remembered Michael "2 Fists" Hicks. An active colleague and friend of the punk and hardcore scene, Michael passed in April, 2007; this show marked the 15th anniversary of his passing as a number of bands celebrated his memory. I arrived just before Clearfield metalcore fivesome "Brace For Impact took the stage. Uniting former members of Not Without Resistance, Final Stand, Forever Means Goodbye and more: Brace For Impact delivered full impact with their rock 'em sock 'em hardcore assault. Featuring lead snarler Dave Steele, guitarists Travis Hudson and Ed Wilsoncraft, bassist Carl Barquist and drummer Dave Mayersky; Brace For Impact fired up the turbulence in front of the stage with original numbers such as "Scavengers Daughter," "World of Deceit," "Better Off Dead," "Control" and more. Short reunion sets by Not Without Resistance and Vengence led to the final performance of longtime Clearfield-based hardcore rockers Nine Six Nine. After an almost 30-year-run, the roster of frontman Frank Rumfola, bassist Ed MacDonald, drummer Justin Strickland and guitarist Ken Wagner tore through one last set of metalcore maelstrom, stirring pit turbulence with original numbers such as "Reacharound," "Reality" and more. The new-look SamarA, with new frontman Eric Pensyl, then closed out the night with their intense set. Also performing this night were Second Offense (playing a reunion set), Sunset Over Mars, X's For Eyes and Tower Of Ruin. A large crowd came out to show their support and remember Michael 2 Fists this night; proceeds from the show went to the Devon Pirsching Scholarship fund.
I caught three other shows at McGarvey's in recent weeks as well…One was another hardcore/metalcore throwdown featuring new Altoona-based hardcore group Street Struck, North Carolina's Fever Strike, Jacksonville, Florida-based thrashcore rockers Rhythm Of Fear and Long Island-based Extinction A.D. All four bands stirred the pit, and Extinction A.D. even challenged folks to do push-ups in the middle of a circle pit to earn free merchandise…I also witnessed the latest visit from Toledo-based funk'n'rollers Jo Jo Stella, with rising young Altoona force Sweet Desire opening…And I witnessed Jack Squat's latest visit last month, as they brought the classic arena rock and metal of the 70s, 80s and 90s.
Altoona's railroad heritage was celebrated in late March when the Sanctuary of the ArtsAltoona Center hosted a special railroad-themed night of music featuring Philadelphia-based "train song" duo Artese & Toad plus several other guests. Kicking off the evening was The Band OZ duo of bassist Bill Hunter and acoustic guitarist Don Osborn, performing acoustic-geared classic rock favorites from the Beatles, Tom Petty, Bob Seger, Eagles, Eric Clapton, Buffalo Springfield, The Byrds and more. Making music for more than 40 years, Artese & Toad – the duo of singers, songwriters and guitarists Perry Artese and Tom "Toad" Dimeo – came to the attention of show organizer and host Harald Dertinger when he found one of their songs, called "Altoona," online, and then discovered the pair's story of how they started creating train and railroad-themed songs. (The pair actually had played previously in Altoona years ago as entertainers during one of the Altoona Railroaders Museum's "Railfest" events.) They proceeded to perform two sets of those train songs, many from their albums "They Don't Write About Train Songs" 1 and 2. They did the song "Altoona," as well as "Ghost on the Track," which references Altoona's famous Horseshoe Curve landmark. They also performed such tunes as "Boxcar Willie Dreams," "Sightseeing Train," "Some Angels Ride Trains," "Voodoo Train" and their album title track "They Don't Write About Trains Anymore." Artese & Toad sounded fine through it all, with crisp playing, bright harmonies, and a storytelling style of songwriting that engaged the audience. During Artese & Toad's intermission, several guests performed – including Tom Triforo singing the 1930 tune "The Town I Love So Well"; followed by the performance of two songs by Dee Hartman, Patti Burkholder and Melanie Ramsey; and Altoona's Horseshoe Chorus displaying great harmonies on their renditions of "I've Been Working on the Railroad," "God Bless America" and more. Some railroad and train-themed artwork was also on display this night. This special evening went well, and a return visit from Artese & Toad is likely to occur.
Local songwriter Nate Gates has recently been teaming up with songwriter Robert A. Wagner, member of Pittsburgh indie folk-rock pioneers the Little Wretches. The two got together in late March to perform at the Olde Bedford Brewing Company in Bedford. Nate was joined this night by Pittsburgh-based harmonica player Mike "Hounddog" Hill. This was an interesting and entertaining show, as both Nate and Robert played in a "round" format, with each performer doing 2-3 of their original songs before switching back to the other. Both displayed different lyrical approaches, with Robert using words to paint a picture of a scene, and Nate painting word pictures of ideals and concepts. Nate performed some songs off his album "Ghosts on the River," including "From the Hollar to the Hood," "Ghost on the River" and "Everybody Sees the Brick Wall Comin' But Nobody's Stoppin' the Train," as well as some newer numbers. Robert tapped his own solo catalog plus numbers from The Little Wretches – including "Saints and Souls Volunteer Firemen's Carnival," "Almost Nightfall," "It's Over Like That" and "Just Another Nail in My Coffin." By the end, onlookers gained a unique perspective about these two songwriters and their styles, as well as their ability to interact and present musical conversations.
The Central PA Humane Society presented their "Help 4 Harley" fundraiser at Roundhouse Harley-Davidson near Duncansville in late March. Stephanie & the Wild Hearts provided the musical fun, part of a pleasurable day that included a chili and wing challenge, basket giveaways and a 50/50 drawing, and at event's close, the giveaway of a 2021 Harley-Davidson Softtail motorcycle. Stephanie & the Wild Hearts have a new drummer, as longtime area drummer Mark Panek recently took over behind the kit – joining singer Stephanie Onkst, singer and guitarist Bob Onkst, guitarist Chad Morral and bassist Jacob Naugle (on loan from the band Ages). While a brisk wind blew scattered snow showers around outside throughout the afternoon, Stephanie & the Wild Hearts heated things up inside with their bright brand of outlaw country and country-rock over two sets. The group started strong with their punchy take on Miranda Lambert's "Kerosene," and proceeded with numbers from Eric Church, Dwight Yoakam, the Eagles, CCR, Nancy Sinatra, Jeannie C. Riley, Gretchen Wilson, Jason Aldean, Johnny Cash, Lynyrd Skynyrd, John Mellencamp and more. They performed their own tunes as well, doing "Jealous of You" and "We Got It All Goin' On." Stephanie & the Wild Hearts' vibrant performance added to the festive mood of the day, and the event raised needed funds to help the shelter dogs and cats at the Central PA Humane Society.
The Stone Bridge Blues Band brought electric blues to the stage of The State Theater of Johnstown last month. Performing before a projected backdrop that showed a succession of blues greats – including the late Tonya Browne and Mark Ross of Queen Bee & the Blue Hornet Band – The Stone Bridge Blues Band celebrated traditional and electric blues throughout the evening. Guitarist and singer Mike Borstnar, bassist and singer Brian Moore, harmonica player and singer Rick Rhodes, Harold Hayford on keys, Jake Moore on guitar and John Mundy on drums all displayed excellent musicianship as they brought to life blues classics from Muddy Waters, Howlin' Wolf, Freddie King, Willie Dixon, Stevie Ray Vaughan, Albert Collins, B.B. King, Allman Brothers and others. The group stretched several of their songs – such as "Got My Mojo Workin,'" Albert Collins' "If You Love Me Like You Say," the Allman Brothers' "You Don't Love Me" and Jimi Hendrix's "Hey Joe" – into instrumental jams with solo displays, instrumental "conversations" between players and more. The mid-sized audience of blues enthusiasts appreciated it and delivered hearty cheers after each song. It was a treat to witness the Stone Bridge Blues Band doing their thing on a bigger theater stage setting this night.
After Stone Bridge Blues Band's performance ended, I headed a few blocks away to Johnstown's Freight Station, where Hair Force One brought their never-ending "Decade of Decadence" hair band rock tour. The cast of singer Victor Synn, guitarists Michael J. Cox and Milo Nuttz, bassist Peter Fitzwell and drummer Shawn Toppuver delivered their "headbanger's ball" to a packed house; mixing 80s hair band favorites from Poison, Twisted Sister, Kix, Ozzy Osbourne, Quiet Riot, Motley Crue, Def Leppard, AC/DC and more. They kept the dance floor churning the entire time I was there, and when the crowd demanded one more at night's end, Hair Force One responded with Guns N'Roses' "Paradise City" to close the show. Evidenced by this night, Hair Force One's time machine to the "Decade of Decadence" shows no signs of slowing down any time soon.
Every so often, the start of my monthly PA Musician delivery duties coincides with downtown State College's "First Friday" activities, enabling me to catch spotlighted live music performances at various downtown locations while I deliver the magazines. Colder weather during the return of "First Friday" in April forced the scheduled entertainers, Caledonia, to relocate their performance into the indoors lobby of the State Theatre. This was my first time seeing Caledonia as they performed totally unplugged (no amplification); singer and guitarist William Ryan, fiddle player Dan Collins and mandolinist Adam played a variety of groove-driven, folk-flavored numbers. Guest Luke Cimbala joined in on cajon during a few songs. Caledonia did some original tunes, and also included their rendition of Simon & Garfunkel's "Mrs. Robinson." At one point, William switched off to banjo while Dan played the acoustic guitar. An audience of music fans and passersby enjoyed the performance plus complimentary vegetables, meats and cheeses. Caledonia has been playing Wednesday nights at Zeno's in State College; watch for their appearances around the area.
For the first time since before COVID-19, I caught a show at Café 210 West in State College last month; a double-bill featuring rising local favorites Ma'aM and Pittsburgh's String Machine. Seven members strong, String Machine kicked off the show with their unique brand of freewheeling indie folk rock. Singer and multi-instrumentalist David Beck, singer Laurel Wain, cellist Katie Morrow, trumpet player Ian Compton, keyboardist Dylan Kersten, bassist Mike Law and drummer Nic Temple performed original songs, including several from their latest album "Hallelujah Hell Yeah" such as "Soft Tyranny," "Dark Morning" and "Touring in January." String Machine's melodies and arrangements were often unpredictable with shifts in tempo and instrumental layering; which kept things interesting throughout their set. Their vocals, harmonies and overall enthusiasm quickly won the Café 210 audience. Ma'aM has posed the questions "Are they country? Are they punk?" in their promotion, and their set this night answered yes to both…plus a wild and crazy stew of swing, grunge, metal, hints of Elvis and soul, and more! The cast of singers and guitarists Araelia Lopatic and Tiger Cabus, keyboardist and trumpet player Daniel Thomas, bassist Jeremy Mertz, drummer Spencer McKee, and harmonica and piano player Nate Cutshall threw out the rulebook, mixing and shifting between multiple flavors during their set – following a swinging honky-tonk opening song with a driving punk rock tune, and Ma'aM's adventure was on! Anything went with this group; every song was different, and the Café 210 masses cheered wildly after each one. This all led up to the encore – Ma'aM started with a heavy, thunderous and grunge-driven rocker that finished with Araelia screaming and collapsing to the stage floor. She then stood back up and returned to the microphone to finish the night strumming and crooning Ma'aM's current online single, the mental health-themed "Upside Down Room," a mostly mild-mannered song that suddenly veered into a wild midsong distortion-rock cacophony before Araelia crooned it to the end, with the crowd erupting in crazed applause! Needless to say, Ma'aM presents a musical thrill ride – experience them for yourselves when they host their second "Burning Ma'aM" event on May 21 in Woodward (northeast of State College).
After time away with members on the disabled list, Stormy returned to action last month in front of a jubilant, packed house at the Argonne Café in Hollidaysburg. The audience was clearly happy to see this group back in action, as singer and harmonica player Mark Montrella, guitarist Brandon Stewart, keyboardist Charlie Leiden, drummer Ray Fedeli and singer Carole Fedeli entertained the house with their mix of classic rock and hits. The group was just finishing up their first set with Traffic's "Low Spark of High-Heeled Boys" as I arrived. Carole sang lead on much of the second set, fronting the group on tunes from Patsy Cline, Carole King, John Prine, Fleetwood Mac, and sharing singing duties with Mark on Sonny & Cher's "The Beat Goes On." Stormy's party reached its crescendo in the third set, as more folks began dancing and grooving in their seats – even to the Brandon-fronted rendition of Tom Waits' "Heartattack and Vine!" This led up to the ecstatic finale, with much of the Argonne crowd singing along and dancing in a circle to the Beatles' "Let It Be," before sending the show home with a fun-filled rendition of the Fab 4's "Lady Madonna." Stormy is a favorite at the Argonne, and they return there on May 14.
I caught up with solo artist Greg Burley as he entertained last month at Altoona's Iron Pint Brewing Co. Armed with acoustic guitar, Greg was in good form this night; his strong and rugged voice worked well over the expanse of the song material he performed, spanning classic rock and hits, folk and country numbers. Greg has forged his own distinctive style and sound over his years as a solo performer, and I enjoyed his unique arrangements on a number of songs – such as his take on 4 Non Blondes' "What's Up," as well as versions of Peter Frampton's "Baby I Love Your Way," Fleetwood Mac's "The Chain," R.E.M.'s "Man on the Moon," the Doobie Brothers' "Jesus Is Just Alright" and "Black Water," and more. He also pulled out a few tunes you don't often hear, such as Warren Zevon's "Carmelita," Neil Young's "Harvest Moon" and his finisher this night, Willie Nelson's "Roll Me Up." Greg clearly enjoyed playing this night, as he did the entire three-hour show without taking any breaks, and his efforts were well-received by the Iron Pint onlookers. He returns to the Iron Pint on May 28.
Other shows I saw in recent weeks included the return of Penn State Altoona's Hard Freight Café open mic event in late March at the campus' Misciagna Family Center for Performing Arts…The Band OZ with guest saxophone player Ron Bankert, as they played their monthly first Sunday "OZ-fest" show at Altoona's Unter Uns Musical & Entertainment Society…Felix & the Hurricanes during one of their weekly Sunday shindigs at Altoona's Black & Gold Tavern…And the return of Tuesday Open Mic Night at D'Ottavio's Gran Sasso in Hollidaysburg (when two-thirds of the Backyard Rockers shook the rust off instruments for the first time since last September).
News and notes…Since his passing in 2020 occurred just before the COVID-19 lockdown and a public event couldn't immediately take place, a celebration of the life of State College music great Mark Ross will take place on May 29 at Café 210 West; the "party" for Mark will start at 1 p.m. with an open mic, followed by a performance by the Blue Hornet Band and an assortment of other guests…The Huntingdon County Arts Council and the group Simple Gifts will again present the annual Folk College event at Juniata College in Huntingdon from May 27 to 29…After filling in for Jackie Brown over the past year, Joy Marie will take over singing duties with the Gill Street Band on a full-time basis, and the group will now be known as Joy Marie and the Gill Street Band…Post Traumatik now has a new drummer, as Tyler Sprankle replaces Gregg Shotts; his official debut with Post Traumatik happens during this month's Millvale Music Festival in Pittsburgh…Lewistown area hard rockers Mindspell have a new drummer, as Jamie Lane takes over behind the kit…Alyssa Hankey has released her new album, "The Northerner"…State College's Midstate Select has released their debut album, "On the Road to Lonesome"…And the area music scene mourned the passings of two musicians in recent weeks: Longtime Johnstown musician Gordon "Gordy" Haluska passed from brain cancer on March 28 at age 66. Gordy was well-liked, as he enjoyed singing and playing his guitar with musical friends at local venues around Cambria County… And Bedford musician Michael Clapper passed unexpectedly on April 12 at age 71. A singer, songwriter and guitarist, Mike was a member of several bands through the years, including Kun-Tajus and Borrowed Time. Mike was the brother of Jeff Clapper of Felix & the Hurricanes, and also the father of singer Sarah Mellott.
Please send correspondence and recordings to: Jim Price, 1104 S. Catherine St., Altoona, PA 16602. You can also e-mail me at jptheprofessor@gmail.com. And if you're into social networking, look me up on Facebook. SUPPORT LOCAL MUSIC!