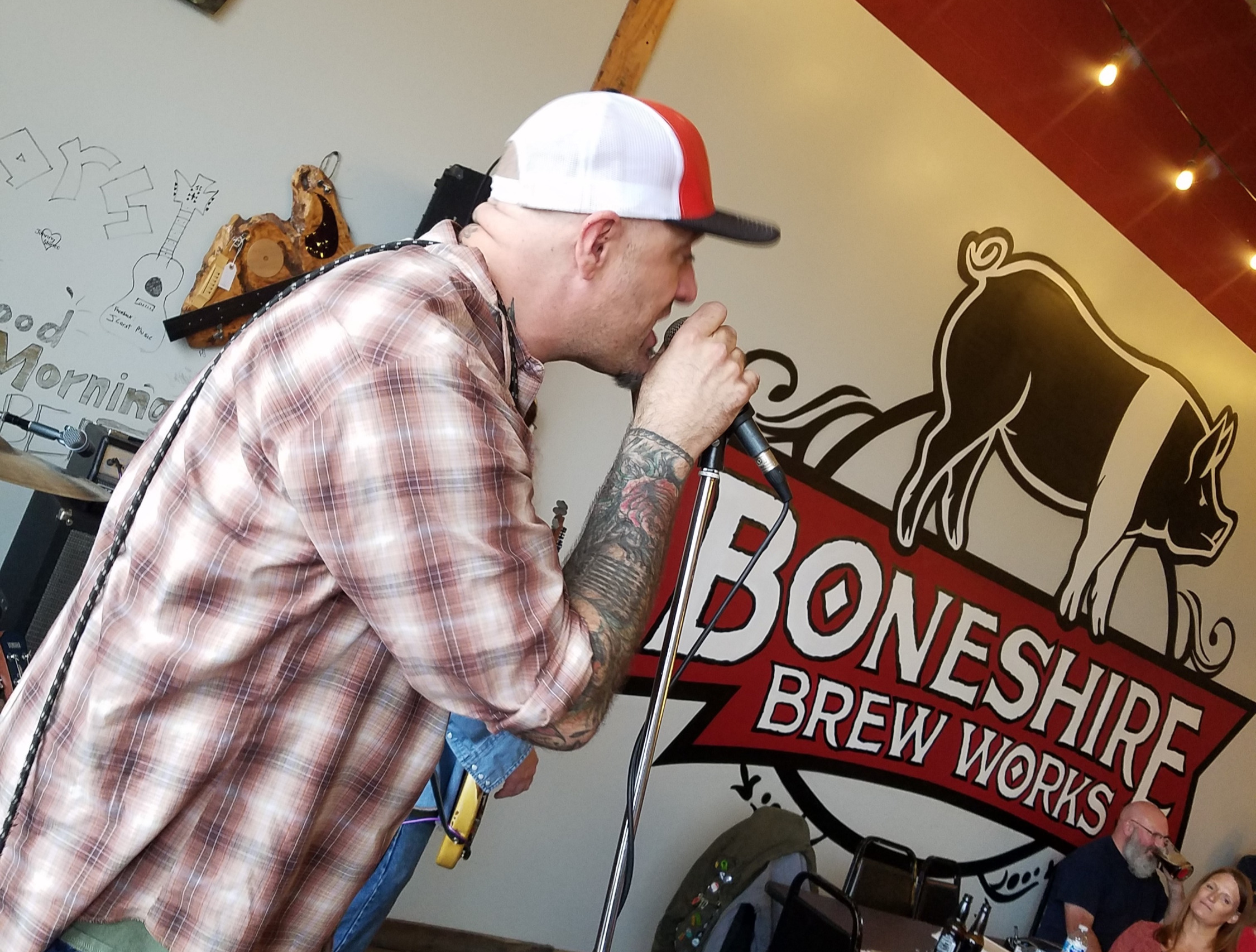 ---
By: Rachel Rocks
Rocktober definitely did not disappoint. Plenty of music all around me in every direction I wanted to go! I unfortunately wasn't home much this month, but when I was I took full advantage of all of the fun around me! This month is a month full of reunions and family getting together, kids coming home from college, etc.. Thanksgiving Eve does not disappoint with way too many choices to decide where to go! Make sure and check out every ad and every schedule and make sure you're getting out to the party that will help kick off your holiday season!
This month I kicked off my fun with a trip to Chick's for Yak Bone. Once again these ladies did not disappoint! It was quite the wild party when I arrived with skulls, mustaches, beads and stickers everywhere.. and I mean EVERYWHERE! Yak Bone doesn't only provide one heck of a party on the stage, but they always make sure and include the entire crowd! It was a blast from beginning to end! So many laughs and just overall a great time. Yak Bone plays so many of your favorite sing-a-long party songs that easily get people up and dancing. They play music from the 60s all the way to the present, so you never have any idea what they're going to sing next, but whatever it is will surely cause mayhem on the dance floor! As more and more venues are closing, we have to remember the ones we still have. Chick's has been a non-smoking venue for a while now, and they have free popcorn!! They usually have bands on Friday nights, but they also have special events at different times too.
My next night out was a special Thursday night for 105.7 the X's Bike Night at Blarney's with LeadFoot. It was a pretty chilly night, but there were still a few die-hard bikers that showed up on bikes. Even though it was chilly, LeadFoot kept it nice and warm inside rockin' the night away. It's crazy to see Kip and Pat as the only original LeadFoot members, but they don't let that stop them! With their most recent addition, Sean Pedalsky on guitar, their lineup is back to being complete, and they just keep on rockin' throughout the midstate and beyond! Russ's range is just crazy. It's unbelievable all of the different songs he can sing. LeadFoot once again rocked the night away and kept us entertained all night long!
On a Saturday night I headed to a new advertiser, and a new venue for me, The Warwick in Hummelstown. Yes, "The Wick" has been around for forever, but it has undergone some major changes this year. Make sure and read all about it in this month's cover story. I stopped in to see E22 Acoustic at "The Wick". E22 consists of Jeff and Darrell. These two have been playing together for a while and together they really cover a wide range of music. Both of them can sing lead, so they can easily pass the responsibility back and forth. By the end of the night they were taking requests and everyone was having a great time. E22, or Element 22 can also play as a full band, but in some venues there just isn't room for everyone, so they easily can adapt to whatever music a venue is looking for.
On Saturday night I headed to Blarney's for Road Case. Unfortunately, it might actually be my last trip to Blarney's. The word on the street is that Blarney's is closing their doors after the 1st weekend in November. It's extremely sad to be losing another club. That makes 3 venues in the past few months. Cliff's, Double K, and now Blarney's. There are more and more places for acoustic duos to play with all of the breweries, wineries, etc.. but we need more clubs for our local bands! The few that are left we really have to support! Get out there and support local venues and support local bands! The music community can't afford to lose any more venues. I've been going to Blarney's since I was 15, and it was Wanda's. Even though it's changed names a 1,000 times, the one thing that never changed were the bathrooms. As I was sitting in my normal stall, I couldn't help but think of all of the memories I've had over the years, and the amount of times I've peed in that exact toilet. HAHAHA!! It's the little things in life for sure. But overall, I know I will miss the bands and all of the good times spent in that venue, and the not so good times, let's admit, not every night can be our finest moment, lol. Thank you to all of the owners, all of the bands, DJs, bartenders, managers, security and especially thanks to Ritt for teaching us just to mix Fireball and Jaeger for one super tasty double shot of deliciousness!
Road Case did my last night at Blarney's justice, it was an amazing night of Rock N' Roll done right! The guitar riffs that Chris and Clint can produce are just so awesome to see and hear! Sometimes they don't only play their own riffs, but sometimes it's a rip-roaring riff in unison. Jeff and Eric, oh I mean Ed, hold down the backline and keep everyone in line, but meanwhile Chris Redding is out front belting out the vocals. They don't play all of the songs that everyone else plays, but they do play a lot of the favorites, that you forgot existed, but you know and love! Thursday, Nov. 21st, Road Case will be opening for Molly Hatchet at XL Live, that's going to be a night you don't want to miss! Get more info at www.xlhbg.com, or check out XL Live's ad in this issue.
After Road Case I headed over to Johnny Joe's for Observe the 93rd. For only being a 3-piece it's crazy the amount of music and mayhem that comes pouring off the stage at every show! Since OT93 is from Mechanicsburg, you can technically say that Johnny Joe's is their hometown venue. They have no problems packing the place. It's cool to see all of the different ages of their fans. There are plenty of "older" people there, but they also bring out the other young adults their ages, that you don't always see out. There isn't much space to dance at Johnny Joe's but everyone was taking advantage of every single spot!
The next night out was a special Wednesday night show to Winner's Circle for the Honkytonk Medics. I haven't been to the Winner's Circle for a very long time. I honestly didn't know they were still having a band play Wednesday thru Saturday every week, but they are! They also still have free country line dancing lessons on Tuesdays and Thursdays. I always love people watching at the Winner's Circle, watching everyone boot scootin' around the dance floor. The Honkytonk Medics did a great job at answering requests and keeping all of the dancers happy. It has to be exhausting playing the same venue four days in a row, not to mention playing 4 sets each night, but the Honkytonk Medics acted like it was no big deal. I will definitely be keeping a closer eye on the Winner's Circle. It's always nice to be able to catch an extra band or two in the middle of the week!
The next show was my first Halloween Party with Emily's Toybox at Arooga's on 22. At the last minute I noticed an invite to this show, and since it's right down the street I couldn't resist. I haven't seen the full Emily's Toybox band in quite a while, and they are always a good time! Everyone was in costume when I arrived, Mike was dressed as a giant bunny! Arooga's Friday night Happy Hour is from 9-11, so it took a while to get everyone up and dancing, but once they did it just got crazy! At one point for about 15 minutes they were just going around asking people for any band name and they would randomly start playing a song from that artist. It didn't matter if it was rock, country or whatever. I was impressed because people were coming up with some pretty abstract band names, trying to throw them off, but nothing phased them! Mike told me his 1st time in the magazine was 1986. He's definitely been playing quite a few years and he has quite a list of songs scrolling through his head, that's for sure! It was a great night of shenanigans! Arooga's has a pretty cool set up with the band in an extra dining room. I wish they would do bands there more often since the venues are getting fewer and further between.
I was able to start partying early on a Saturday afternoon with Nate Myers and the Aces at Boneshire Brew Works for their 3rd Birthday Celebration. There was a great crowd at Boneshire, it was awesome to see so many people out supporting this awesome little brewery. Nate Myers and the Aces were on their last set when I got there, but at least I made it! Thanks Duane for the spin on the dance floor. I love when guys are willing to dance, it's such a rare occurrence! Nate Myers and the Aces had Chris Purcell with them at this gig. I haven't heard Chris for a while, so that was a special treat. These guys are playing all over the midstate and beyond this month! Make sure and check out their schedule at www.natemyers.com and plan your next night out on the town to get your back porch swingin!
The final show of the night was the super special DEAD! show at XL Live. This was a special show with all local bands, and I'm thrilled to say, the crowd, their fans, showed up! The opening bands were told this was a Halloween Show, so in order to play they had to come up with a band, and then as their "costume" they had to be a tribute band to the band of their choice. They started the show early at 6:20 with Sonic Highway, I was bummed I missed those guys, they are a Foo Fighters tribute band. I did make it in time for the tail end of Toxicity, a System of a Down, tribute. They were awesome and had the crowd all fired up. Next was Say Anything, I'm not quite sure who they were covering, but they were all dressed in red jump suits if that helps. Day of Baphomets I assume was a Mars Volta tribute, they were more of jam band, which is desperately NOT my thing. For something that was just pulled together at the last minute it was pretty cool and entertaining.
Finally, it was time for the headliner DEAD! Which is a My Chemical Romance tribute band. DEAD! Literally killed it!! From their 1st note they had so much energy pouring from the stage and it was amazing to see the fans pouring it right back to them. So many shows I go see people barely dance let alone jump and sing along, this crowd was jumping, screaming, singing, laughing, moshing, dancing, body surfing… just overall MOVING all night long! During their 2 hour show they literally took maybe one 5 minute break, but that was to change outfits. During that 5 minutes they took advantage of XL Live's big screen and showed a video to still keep the crowd engaged. The coolest part about this insane crowd is there were no visible "issues" that I could see. Everyone just got along and had a great time. Everyone stayed safe and didn't cause issues for the club. It was truly one of the best shows I've seen in a while, simply because it was so awesome to see everyone in the venue having such a great time. DEAD! Only comes around for special Halloween shows, so if you missed them this year, make sure and mark your calendars to check them out next year!
Just as a little FYI, the 1st Central Pennsylvania Music Awards ballots are going to be announced on November 1st. Make sure you check them out and vote for your favorites! It was crazy to see how many bands/musicians were nominated. Some of them I've never even heard of! The Central Pennsylvania Music Awards will have it's own whole ceremony like the Grammy's at the Whitaker Center on January 30th. It's going to be quite the show that you don't want to miss!
Once again it was another amazing month of music. It is scary to see so many local venues closing, but there are still plenty of places to go and support local music. Please get out there, put your phones down, and just dance like no one is watching!! If you see me Out and About please say Hi! And don't forget to like us on Facebook, follow us on Instagram, and check out our website, www.pamusician.net. We still have the hard copy, but there are also plenty of places to find us online! Have a great month! Support Local Music!!!!