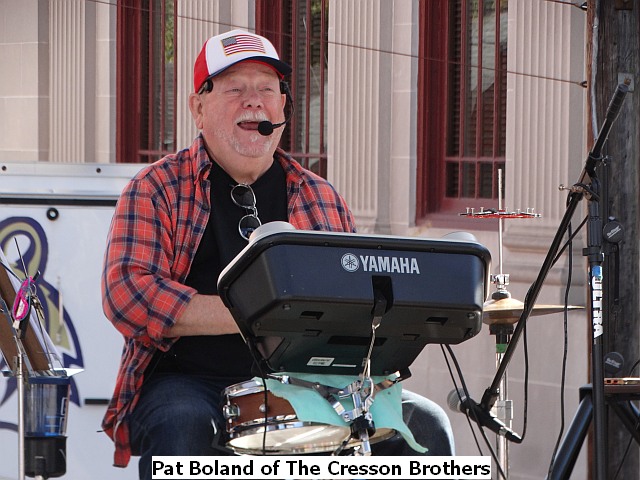 ---
By: Jim Price
Forty years of PA Musician Magazine! Yes, this month marks the 40th anniversary of founder Whitey Noll's endeavor to publish a magazine about the local music industry in central PA. That music scene has seen its changes, ups and downs over PA Musician's first four decades, but with Josh Noll now carrying the torch, Whitey's magazine and legacy live on.
Midway through PA Musician's fifth year, I came on board…As I marked my latest birthday last month, I continue to wrap my brain around the fact that I have spent more than half my life as a part of this publication! But I love what I do, and looking at the list of 21 different events I witnessed since last month's deadline, it doesn't look like I'm slowing down any time soon!
One of those events included a roadtrip to the Pittsburgh region last month to see German guitar legend Michael Schenker – touring in celebration of his 50th anniversary of making music – performing at Jergel's Rhythm Grille in Warrendale (north of Pittsburgh). Openers Images Of Eden had already performed by the time I got there, but Mr. Big frontman Eric Martin and his band took the stage shortly after my arrival. Flanked by lead guitarist Paul Pesco, bassist PJ Farley and drummer Jason Hartless, Eric performed material from his Mr. Big arsenal. Some of the songs included "What If We Were New," "Alive and Kickin,'" "Dancin' With My Devils," "Take Cover" (which Eric dedicated in memory of Mr. Big drummer Pat Torpey, who passed in 2018), and the group's version of Cat Stevens' "Wild World." The crowd then went wild as The Michael Schenker Group (MSG) entered the arena and launched their performance with two numbers from the 1980 self-titled debut album – the dramatic instrumental rocker "Into the Arena" and "Cry for the Nations" – before playing the first of several numbers from Michael's well-known prior band UFO, "Doctor, Doctor." Wielding his Flying V guitar, Michael showed his mastery on the strings early and often; flanked by singer Ronnie Romero, bassist Barend Courbois, rhythm guitarist and keyboardist Steve Mann and drummer Bodo Schopf. They did songs from throughout Michael's catalog, including earlier classics like "Armed and Ready," "Assault Attack" and "Looking for Love," and newer numbers such as "We Are The Voice," "Under the Red Sky," "Sail the Darkness" and the new single "Emergency." They peppered the main set with two more UFO classics; "Lights Out" and the set-closer "Rock Bottom," the latter showcasing Michael's extended guitar solo fireworks. When the crowd yelled for the encore, MSG responded with five more from the UFO catalog – "Shoot Shoot," "Let It Roll," "Natural Thing," "Too Hot to Handle" and "Only You Can Rock Me." At age 67, Michael showed that he still has the fire and passion for rocking audiences; I'm glad I finally saw him in concert!
My busy summer schedule prevented me from taking in any fairs this year until the very last week of summer, when I was able to make it to the annual Harmony Grange Fair near Westover. Live music is always part of this event, and on this night the entertainment was Indiana County-based quintet Somebody To Love. Comprised of singer Lynne Jones, guitarists and singers Chuck Potthast and Dave Serene, drummer Wally Stapleton, and bassist and singer Ryan Long (who I last saw years ago as a member of Johnstown nu-metal rockers Lost Ledny); Somebody To Love did a variety of hits and classics from throughout the rock'n'roll era. They pulled out some songs I hadn't heard in a while, such as Linda Ronstadt's "It's So Easy," Fleetwood Mac numbers like ""Say You Love Me" and "Go Your Own Way," Orleans' "Still the One" and many more – including the song they share their name with, Jefferson Airplane's "Somebody to Love." This group was solid and vocally strong; Lynne even broke out the flute on renditions of Seals & Crofts' "Summer Breeze" and Marshall Tucker Band's "Can't You See."
Just four days later, I encountered Somebody To Love again as they were one of several performers during downtown Ebensburg's annual PotatoFest celebration. Again this group sounded strong, and surprised me with the strong Lynne-fronted rendition of Led Zeppelin's "Stairway to Heaven!" As I savored various potato-based cuisine from festival vendors, I caught parts of two other performances as well – including the Tree duo of Matt and Jen Harnett as they performed at the Penn Eben Park gazebo. Matt sang and played guitar while Jen worked the fiddle; they blended Irish, folk numbers, fiddle tunes and a few pop classics to the delight of passers-by, onlookers and some costumed Star Wars characters. I also saw Ebensburg's WanderLost for the first time as they performed at the South Center Street Tent. Formed last year, WanderLost features singer and keyboardist Dustin Rainey, bassist Mike Kokus, drummer Jason Olear and Dan Hutton on sax, flute and synthesizer. WanderLost showcased their tasty brand of original jazz-toned rock, performing many of Dustin's originals such as "Rudy" (from his former project Spoonchatter)," "Friends and Enemies," "The Devil Drowns Them Out," "Whoa," "Outside the In Crowd" and more. They also did versions of Weezer's "Say It Ain't So" and Fiona Apple's "Criminal." Their songs were catchy, and Dustin's keys plus Dan's sax and flute accents gave WanderLost's presentation sparkle and shine.
Following PotatoFest, I headed to Railroad City Tattoo in Altoona for their 30th anniversary outdoor four-band bash. Punk rock was the show's prominent flavor, kicking off with strong, high-octane performances by The Snipped and X's For Eyes. The Snipped awakened the arriving crowd with their high-velocity set, rocking "dadcore" numbers from both of their albums. X's For Eyes maintained the brisk tempo as they fired off their intense, rapid fire, original punk-rocking anthems. Performing on the same day as the release of her new album, "Dumb and In Luv," Suzi Moon and her band next lit up the crowd with their sassy and flambuoyant set. A southern California native now based in DC, Suzi mixed personality, melody, spit, vinegar and attitude into a captivating performance as she sang numerous high-powered original songs, including several from the new album. Some of her tunes included "Special Place in Hell," "99 Miles to Pasadena," "I'm Not a Man," "Family Memories," "Animal" and more. Suzi's presentation was fearless and entertaining, and she had the large crowd yelling approval by set's end. Headlining was Fat Wreck Chords recording group Teenage Bottlerocket, who kept the music high-velocity and fun as they played tunes from throughout their career – including songs from their latest album, "Sick Sesh!"
Nashville-based family performers Rockland Road returned to Delgrosso's Park in Tipton to perform during the park's season-closing Harvestfest in late September. The Martin family – singer and guitarist Paul (former singer for Exile), wife Jamie (daughter of Duane Allen of The Oak Ridge Boys, and their multi-talented sons March and Kell plus daughters Texas and Tallant – played a variety of numbers with the emphasis on country. They showed their versatility by doing 1970s classics like Chicago's "Wishing You Were Here," Little River Band's "Reminiscing," Orleans' "Dance With Me" and Dave Mason's "We Just Disagree," but also did some of their original songs including "Nothing Better Than You" and the gospel-rooted "Take Me to the King." The group honored Paul's and Jamie's country lineage with songs from Exile and the Oak Ridge Boys, including the latter's "Elvira" where Jamie croaked out the low notes. Texas then sang lead on the final two songs, Lee Greenwood's "God Bless the U.S.A." and Stephen Stills' "Love the One You're With." Vocals and vocal harmonies were exceptional, and the "musical chairs" of instrumental chores among the musicians kept things upbeat and interesting.
I caught two days during the two-weekend Bedford Fall Foliage Festival in downtown Bedford early last month…Grimacing when the weather forecast said rains from former Hurricane Ian would deluge the festival's first day, I braved the moisture anyway to witness the later afternoon performances. Turnout was expectedly light in the soggy conditions, but live music prevailed on the two stages. I first saw Zac Grace and his band on the downtown Gazebo stage. Backed by Ben Eberhart on guitar, Brad Lego on bass and Eric Wertz on drums, Zac sang upbeat country numbers, mixing original songs with favorites from Randy Houser, Garth Brooks, Brooks & Dunn, Kentucky Headhunters and more. And on the River Stage, Jim Donovan & the Sun King Warriors finished out the day with their brand of "roots rock with two tons of drums." Not letting the rain dampen their spirits, Jim and the Sun King Warriors entertained the umbrella-clad revelers with upbeat original songs like "The Last Dance," "You Got to Believe It" and "You Are My Everything," their variations on tunes from Stevie Wonder, David Essex and others, favorites "Back to the Earth" and "Send Me On My Way" from Jim's former group Rusted Root, and – keeping true to the "two tons of drums" billing – their "Elephant in the Room" display as Jim, drummer Joe Marini and hand percussionist Bryan Fazio cut loose on a wild percussion jam.
Indoor music was happening in Bedford during both weekends of Fall Foliage. After the festival's first day finished, I dried off indoors as singer and songwriter Devin Sherman performed at Bella Terra Vineyards. Devin worked the acoustic guitar strings and sang a variety of his original tunes, classic rock numbers, a few blues songs and some folk tunes. Some of his original songs this night included "Village News," "My Own Damn Blues," "Appalachian Wind," "Think Again" and "Plant A Garden." He tapped into blues songs from Howlin' Wolf and John Lee Hooker, did a wide selection from the classic rock catalog with numbers from Jimi Hendrix, the Beatles, Traffic, Tom Petty, Grateful Dead, Pink Floyd and others. Devin also did some 90s numbers from Weezer, Radiohead, Soundgarden and Oasis, and ventured into folk territory for songs by Tony Rice and Doc Watson. Devin's music was well-received by the folks in attendance; following one of his instrumentals, a woman raved, "I caught myself in a great zone!" Devin's music and some tasty Block House pumpkin ale put me in a great zone too!
After Devin finished, I headed up the road to the Bedford American Legion to catch my first look at Chasing Karma, rocking the Legion's "Fall Harvest Bash." A packed house was already enjoying the party, as Chasing Karma – singer Ronnie Sheirer, keyboardist and guitarist Jeff Goss, guitarist Travis Ickes, bassist Tim Aungst and drummer Johnny Jones – filled up the dance floor with festive 1970s and 80s rock and pop favorites. This group was tight and polished, keeping the music and energy constant as they did tunes from Billy Idol, Tom Petty, The Knack, Cars, Simple Minds, Loverboy, Duran Duran, Escape Club, Beastie Boys and many more. Ronnie took control of this crowd and rallied them onto the dance floor throughout the night, and he and Chasing Karma never gave them a reason to want to sit down. This band fires up the party – remember the name Chasing Karma!
The weather and attendance were markedly improved when I returned the following weekend for the final day of Bedford's Fall Foliage Festival. I saw the entire musical line-up this day, starting with local solo performer Samantha Press as she played near Fort Bedford Museum. Singing and playing acoustic guitar, Samantha demonstrated her unique performing style, varying intensities on her guitar plus her vocal phrasings as she smoothly transitioned between songs. She mixed together songs from Townes Van Zandt, John Prine and others, even her own unique variation on Pink Floyd's "Time." I then headed to the River Stage to see The Jaded Lips – singer and guitarist Mike Wertz, bassist Hunter Karns and drummer David Applas mixed up rocking and funky grooves over their selection of original tunes, rock and soul favorites. They made audience heads bob with feisty original tunes like "Black Lashes," "Lockdown," "Whiskey Breath" and "Save Me," as well as numbers from Led Zeppelin, Black Keys, Sly & the Family Stone, a funk medley and more. I then ventured to the downtown Gazebo Stage for my first look at John Gresh's Gris-Gris. Five members strong from Pittsburgh, this group specializes in New Orleans-styled R&B plus American roots music. Namesake John on keys and vocals is joined by Pittsburgh guitar great Jimmy Adler, sax player Larry Siefers, bassist Mike Sweeney and drummer Bob Peckman. John and Gris-Gris generated happy vibes with their takes on such numbers as Van Morrison's "Tupelo Honey," "Down in New Orleans," Ray Charles' "I Want to Know," The Band's "The Shape I'm In" and Dr. John's "Right Place, Wrong Time" and "Such A Night." Following them were The A'cappella Kinda Guys. Formed 35 years ago while the members served in the Air Force, this all-vocal a'cappella group – Jim Vanvleet, Chuck O'Donnell, Jeff Welch and Dennis Tice – get together in Bedford each year to perform and write songs about area people. One of their new songs this year – "The Dennie Huber Show" – paid homage to festival favorite and entertainer Dennie Huber. The A'cappella Kinda Guys also performed the songs "Schadenfreude," "Another Irish Drinking Song," "Hannah Is A Horrible Person" and more. I also caught a little bit of The Vogues' annual Fall Foliage Fest performance, as founding member Chuck Blasko and his group did several of their hits, including "5 O'Clock World," "The Land of Milk and Honey," "Magic Town" and more. Finishing up the music at the River Stage was Lock Haven's Chris LaRose & the Hex Highway Blues Band with their brand of vintage blues and roots-based music. Namesake Chris sings and plays guitar; joined by bassist and singer Emily Neblock and drummer Tyler Mangold. They tapped into blues and roots classics by T-Bone Walker, Lloyd Price, Carl Perkins, Robert Johnson and Elvis Presley; but also broke out takes on Donovan's "Season of the Witch," Buffalo Springfield's "For What It's Worth," Janis Joplin's "Piece Of My Heart" and more. Local guest Kenny Fetterman joined in with harmonica on several numbers as well.
I also returned to last month's annual Hartslog Day festival, which happened along Main Street in Alexandria (Huntingdon County). Live music again was part of this festival, and took place under a tent across the street from Hartslog Heritage Museum. After first arriving, I caught a few songs from roadside busker Wolfgang Moon, who sounded good strumming and singing tunes from Kenny Rogers, the Beatles, Looking Glass, Elton John and more. Then performing at the tent as I arrived were the Unusual Suspects String Band. R.B. Powell on banjo, Bridget Allen on guitar and Larry Mutti on autoharp performed a variety of folk, bluegrass and country numbers. All three sang; with R.B. singing on Flatt & Scruggs' "The Ballad of Jed Clampett," Bridget singing on Hughie Cannon's "Bill Bailey," Bill Monroe's "Blue Moon of Kentucky" and Hank Williams' "Jambalaya," and Larry providing the voice on Bill Staines' "Roseville Fair," Si Kahn's "Wild Rose of the Mountain" and "Will the Circle Be Unbroken." Armed with acoustic guitar, Nick Miller finished the day with his eclectic set of original songs, folk and rock classics. Some of Nick's selection included Bob Dylan's "When the Ship Comes In," the Talking Heads' "This Must Be the Place," Tom Petty's "Wildflowers" and a total acoustic rendering of Pink Floyd's "Time."
I checked out the first day of downtown Ligonier's three-day Fort Ligonier Days festival last month. I saw three performances, starting with Westmoreland County country performers Renegade Ridge at the downtown gazebo stage. Led by the powerful, full-bodied voice of Clint Erb, this group did great work on their selection of classic country numbers, tapping the catalogs of Buck Owens, George Jones, Merle Haggard, Travis Tritt and more. I then took in solo performer Acoustical Bruce, entertaining at the West Main Street stage. The stage name of singer and guitarist Bruce Guay, Acoustical Bruce performed folk and pop numbers from such names as Dan Fogelberg, John Denver, the Eagles, John Prine, and the National Lampoon parody song about Neil Young, "Southern California Brings Me Down." Pittsburgh-based 1980s tribute group I Want My MTV closed out the day's music at the gazebo stage. Five members strong, this group played rock and pop favorites of the 1980s MTV era, including songs from Dire Straits (opening their performance with "Money Or Nothing," which poked fun at MTV), Simple Minds, Bananarama, Scandal, GoGo's, Bangles, Romantics, Honeymoon Suite, Loverboy, Joan Jett and others.
And downtown Hollidaysburg presented its annual PumpkinFest last month, which featured a variety of music and entertainment on two stage areas. The Joy Drummers were under way on the Diamond Stage when I arrived. Six members strong this day, the Joy Drummers performed West African drum music using djembes, ashikos and dunduns (African bass drums). Some of their numbers included the west African harvest dance "Kassa," "Tiriba," "Moribayassa" (the "crazy woman" dance) and more. The Hollidaysburg Area High School Drumline then demonstrated their precision percussion skills, introducing a succession of rudiments and exercises. Down the street at the Pumpkin Stage, I then saw local singer and songwriter Stephanie Everett, who played a mixture of Celtic and Irish-flavored folk numbers and original songs. Stephanie switched between acoustic guitar and fiddle as she sang; and explained the inspirations behind her original songs, which are often inspired by the natural world. Some of her songs included "Seasons," "Ocean Breeze," "The Railroader's Life" and "Ride the Elephant" (about not being afraid to try something new in life). The Cresson Brothers then finished the day's music back at the Diamond Stage. Named after the hometown of all three musicians, the Cresson Brothers – brothers Pat Boland on drums and Tim Boland on keys, along with Bruce Schettig on acoustic guitar and vocals – performed a variety of 1960s, 70s and 80s hits. Pat and Bruce did most of the singing, and the group did numbers from the Classics IV, Steve Winwood, Pure Prairie League, Jimmy Buffett, Nilsson, the Rivieras, Leon Redbone, Van Morrison and more. Bruce showed his acoustic guitar skills and stylings as well, especially on a version of Mason Williams' 1968 hit "Classical Gas."
The ArtsAltoona Center hosted their outdoor Fall Art Market event last month. Live music provided the entertainment as numerous artisans displayed and sold their various arts and crafts. I was both performer and spectator this day, as the Backyard Rockers duo of Rich Dasch and yours truly kicked off the music. It was Rich's second performance since being sidelined by a significant health issue earlier this year. (Our third member – singer, bassist and guitarist Mo Yon – continues to recover from his 2020 health issue, and wasn't able to perform this day.) As I played hand percussion, sang backing vocals and buzzed out some kazoo, Rich did nice work singing and strumming acoustic guitar on numbers from Tom Petty, The Band, Johnny Cash, Marshall Tucker Band and more. For the second day in a row, I saw The Joy Drummers in action as they performed more West African drum songs, and solo acoustic artist Bill Wandersee finished the day with his performance of music from the 1970s and 90s – including numbers from Billy Joel, Nick Lowe, Grateful Dead, Jimmy Buffett, Counting Crows, Oasis and more.
Bluegrass and folk sounds filled the Casino at Altoona's Lakemont Park last month for the inaugural "Corks & Hops" benefit, raising funds for the Mountain Lion BackPack Program, which provides weekend food for disadvantaged schoolchildren in the Altoona area. Cumberland, Maryland's JiggleBilly opened the night with their blend of bluegrass, folk and Celtic-toned sounds. Singer and guitarist Briana Merkel, mandolinist Dave Dub, fiddler Heather Twigg and fill-in upright bassist Trish Imbrogno performed several original tunes plus their grassy take on Corey Hart's "Sunglasses at Night." Northern Virginia's The Plate Scrapers followed with their upbeat and jovial set of progressive folk and bluegrass sounds. Banjo player Derek Kretzer, guitarist Andrew Jordan, upright bass player Kevin Johnson, dobro player Jody Mosser and fiddler Robbie Mann played original numbers such as "Dishes," "Old Friends and Good Times," "Moonlight," "Truckers Aspirin" and more. The Plate Scrapers' presentation was pleasant and lighthearted, and their musicianship was precise and impressive. And Binghamton, New York-based Americana folk-rockers Driftwood finished the night with their adventurous brand of acoustic music. Violinist and singer Claire Byrne, acoustic guitarist and singer Dan Forsyth, upright bassist Joey Arcuri, banjo player and guitarist Joe Kollar and drummer Sam Fishman work elements of instrumental experimentation and groove into their mixture of folk and acoustic rock, often working between quiet and intense moments in their songs. Driftwood mesmerized the audience with numbers such as "Deputy Rottingham," "It's About Time," "Buffalo Street," "New Year's Day" and more. Driftwood fed off the audience's excitement and went above and beyond to keep them engaged. Keeping with their tradition, Driftwood left the stage and brought their instruments directly out into the crowd to play their last song of the night, a version of Spencer Davis Group's "Gimme Some Lovin.'"
Three bands and a large crowd showed their support during last month's "Dog Cancer Bites" benefit at Altoona's 4D's Lounge, raising money for Dog Cancer Bites, a nonprofit organization that helps families pay for pet cancer treatments. Jimmy Mowery opened with a solo set, mixing original songs with rock, pop and country favorites. Jimmy's brother, Jake and Hot Fudge Mondaes then took the stage, setting up for a special moment as both brothers performed together on the same stage for the first time on a version of Sum 41's "Fat Lip." Hot Fudge Mondaes fired up the crowd and dance floor with originals plus songs from My Chemical Romance, Jet, Bowling For Soup, Fall Out Boy, Rage Against the Machine and more. And Sunset Over Mars closed the benefit with their mix of original songs and modern rock and alternative favorites. The group did several songs from their forthcoming debut album, expected out by year's end; including "Stereo," "The Good and the Bad," "Going Home" and more. They also kept the dance floor busy with songs from Maroon 5, Good Charlotte, Twenty One Pilots and more.
Local theater provided a live music highlight last month, as P&J Productions presented The Who's "Tommy" at Altoona's Mishler Theatre. Based on the Tony award-winning stage production and The Who's iconic 1969 rock opera, "Tommy" brought the music and story of "deaf, dumb and blind" kid Tommy Walker alive on the Mishler stage, courtesy of a full cast of area actors, dancers and musical performers. Some of the cast included Ian Brumbaugh as Tommy, Michelle Barnes as Nora Walker, Mike Wertz (The Jaded Lips) as The Hawker, Carol Fedeli (Stormy) as The Acid Queen, Dave Moses as Uncle Ernie and director Will Jones as The Pinball Wizard. Conducting the pit orchestra was Doug Stephens (Half Tempted); that orchestra included musical director and keyboardist Eric Foose, guitarists Rick Wertz and Ed Kaplan, bassist Kelly Detwiler, Harold Delozier on drums, horn players Scott Pappal and Kelly Myers, and Beth Carpenter on keys.
When the Uptown Jazz duo of Dr. Dave & Erika made their debut last month at Roaring Spring's Spring Dam Brewing Company, it led to pleasant music and an onstage family reunion of sorts. As keyboardist and singer Dr. Dave Villani and singer Erika Marino-Ankeny performed jazz and pop favorites, some happy and unexpected surprises ensued. Visiting from Florida, Erika's father, Angelo, joined in to sing several times on the James Taylor hits "Fire and Rain," "Her Town" and "You've Got A Friend," as well as the show-finishing rendition of Neil Diamond's "Sweet Caroline." Erika's sister Angela also joined the fun, stepped up to join Erika in singing Alicia Keys' "If I Ain't Got You," Journey's "Don't Stop Believin'" and Alannah Myles' "Black Velvet." In addition, one of Dr. Dave's piano students – The Pines' keyboard player Alex Snyder – played keys on Paul McCartney's "Maybe I'm Amazed" as a young singer named Skyler provided the voice. It all amounted to a major treat for the audience; Dr. Dave & Erika return to Spring Dam Brewing Company on November 5.
Other shows I caught in recent weeks included several at McGarvey's – including the punk-rocking triple-bill of Altoona's Abstentious, Frostburg, Maryland's The Downstrokes and longtime Pittsburgh punk rockers Submachine…The double-bill of rising young rock forces The Nerves and The Pines…The psychedelic, retro-rock flavors of Lucid Yooth & the Cubensis Lenses…And the acoustic double-bill of solo performers Brittany Boyles and Azia Barnett…And I witnessed a recent round of the Giants Of Science's party mayhem at the 4D's Lounge.
News and notes…Mellissa Vella & Kenny Karlheim, Matt Otis & the Sound, Chris Vipond & the Stanley Street Band, Sweet Desire, Jim Donovan & the Sun King Warriors, the U.S. Sound Theater, the Pennsoulvanians and The Jaded Lips will donate their talents during the return of "Patched Together: A Day Of Music to Benefit the Healing Patch," taking place Nov. 19 at Altoona's Bavarian Aid Society…Grammy Award-winning Blair County musicians Mike Reid and Paul Winter have been added to this year's ballot to be considered for induction into the Central Pennsylvania Music Hall Of Fame; the two musicians are among 75 names being considered for selection during the 4th annual Hall Of Fame ceremony happening March 30, 2023 at the Hershey Theater…Area rockers Downshift have gone on indefinite hiatus after a six-year run on area stages, as several band members focus attention on other situations…Drummer Damian Falatek has rejoined the roster of area Alice In Chains tribute group Deny Your Maker; his first performance with the group will happen during the Toys for Tots fundraiser at the Root-Hovett Hall near Patton on Dec. 3…Roadkill announced that Tim Myers is now their new drummer, replacing Clayton Miller…Pittsburgh's Synesthesia has announced the addition of guitar player Collins Carlin…And the building that housed Gallitzin live music venues Frank's Pier and Mug Shotz was torn down late last month.
Please send correspondence and recordings to: Jim Price, 1104 S. Catherine St., Altoona, PA 16602. You can also e-mail me at jptheprofessor@gmail.com. And if you're into social networking, look me up on Facebook. Happy Thanksgiving, and continue to SUPPORT LOCAL MUSIC!