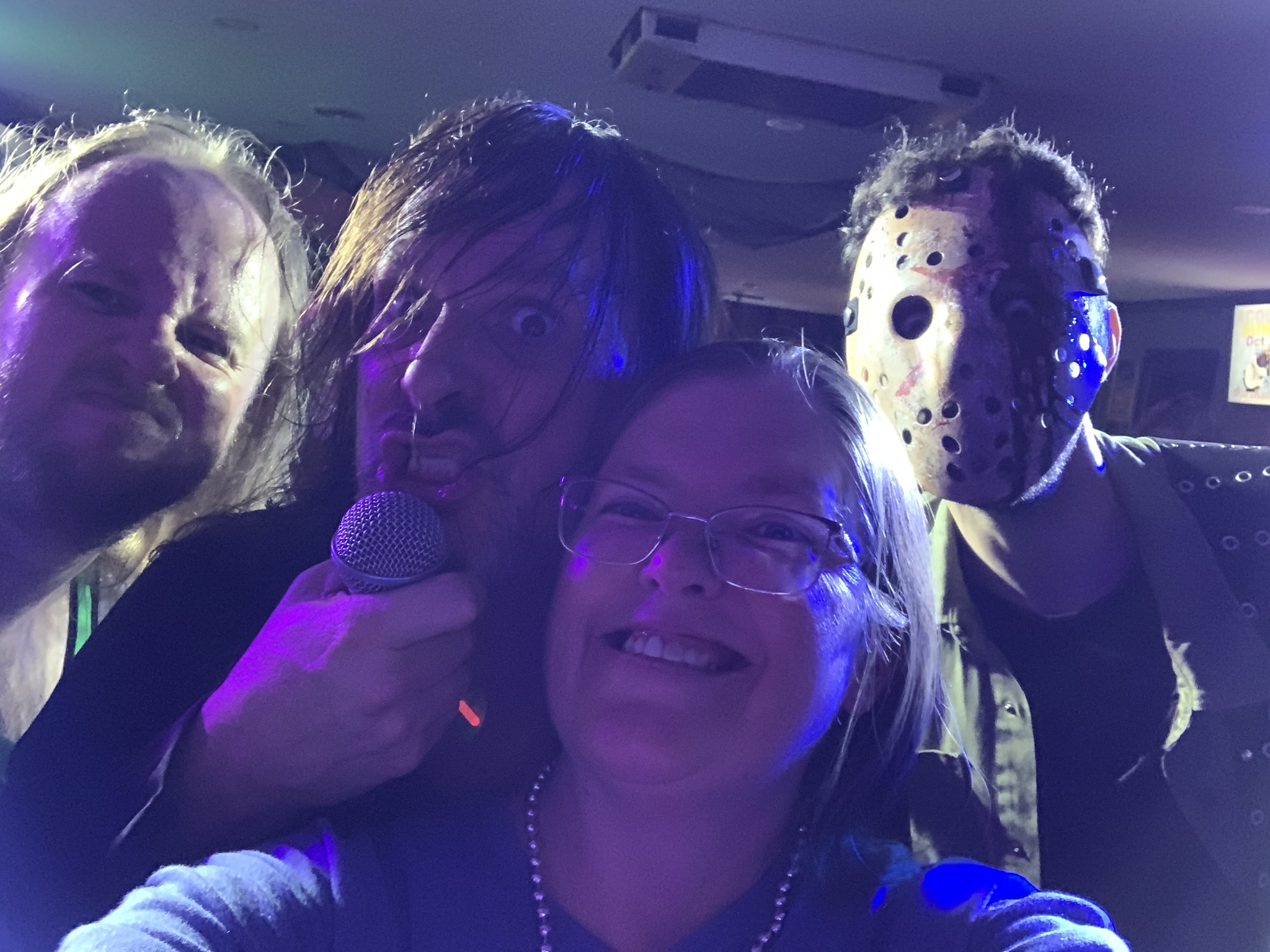 ---
Rocktober definitely did not disappoint. It was as insane as I expected. Even though I had two weekends out of town for work, I still managed to see quite a bit, and had one heck of a month!!
This month started out extra fun/odd, when I was able to take my son with me to listen to live music in a bar! And watched him drink beer, shoot pool, and listen to Matt Jameson at the Falls Crab Shack. Having a 21 year old is terrifying, yet fun! It was cool for Zack to see Matt in his full rockin' form, in a bar, surrounded by friends and fans.
The following weekend kicked off Friday with a trip to Lovedrafts in Mechanicsburg for Nineties Entertainment System (NES) and Midnite Riot. It was definitely a wild party kind of night! NES plays, you guessed it all 90s music. When I go to their shows, I'm always amazed at how many times I say to myself, "Man I love this song!!" The 90s are definitely my jam! Midnite Riot closed out the night, with one heck of a riot! These guys and gal kick the level up a notch and get you having the remix of the "Best Night of Your Life!" Playing all the hit favorites of the 80s, 90s, and beyond, they keep you on your feet, dancing and singing the night away. It was awesome hearing both of these bands together on the same bill. It was so much fun! Check out Midnite Riot's schedule in this issue and get out there and you can also have the best night of your life!
As if that wasn't enough fun for one night.. For some reason my car didn't want to get off at my exit, so I zoomed up the highway a little further to Hollywood in Grantville for a little bit of Downtown Sound. I've heard a lot about them and wanted to check it out for myself. The talent of this band is crazy. So many vocalists, and overall fantastic musicians! One of those musicians on bass was the one and only Rod Goelz. It was awesome to see him in his element rockin' with his band. They played such a wide variety of music, and the dance floor was hopping out at Hollywood.. And when I say "hopping".. If you've ever been to Hollywood when the dance floor is packed, it literally "hops".. It gives just a little, and often makes one wonder.. "Are we falling through?!?" Alas, the floor didn't give out before my legs.. And I made it home safe and sound.
Saturday was a busy, fun-filled musical Saturday. The fun kicked off bright and early with an afternoon show with Matt Jameson at the Shermans Creek Inn's Roadhouse Pavillion at Appalachian Harley Davidson. It was a beautiful day, and plenty of people stopped in to enjoy the music, the brews, and the chews! After that show we tore down and then set up again at the Tattered Flag's Rocktoberfest! Unfortunately it was also their last day in business, but thankfully people poured in to help show their support and love to Tattered Flag. We arrived at Rocktoberfest in time to hear the last couple sons of Ben Pierson from Sound Method. I never heard Ben play solo before, so that was an awesome, special treat. Matt pulled his energy together, and finished the day strong. If you have a favorite brewery, restaurant, local business in your town that you love, don't wait til their last day to support them.. Get out there and support the small businesses in your area as much as possible!
Tuesday night Zack and I hit the road again, and I introduced him to the Grotto Pub and Nate Myers and the Aces! He had an absolute blast and loved everything about the Grotto, so much so, that he went back the next week by himself! Nate Myers and the Aces play the Grotto Pub every Tuesday from 7-9pm. They play the first bit themselves, but before too long Nate starts calling up the different musicians on stage to join in the fun. Depending on how many are there, at times there could be 3 or even 4 guitarists playing at the same time.. Bass, keys, ukuleles, it doesn't matter! If you have talent and you want to join in the fun, Nate and his crew make sure you get it done! It's so awesome to see these open jams take place. So much talent in one room, it's truly overwhelming. It reminds me of the good ole days hearing Dad jam with his friends, or even just pickin' while sittin' on the couch. There was always music somewhere when Dad was around. Man, I miss hearing him play, but I'm so glad my love of music can continue by listening to other musicians, and I'm so glad that Zack can appreciate how awesome it all is too! Hopefully he'll get the itch and pick up his own guitar and start playing more.
On a Friday night I took a trip down to Hollywood York for Deep Space 90s. As I said earlier, I lov e the 90s and it's been way too long since I caught these guys! They always put on one heck of a show, and I'm glad when I got there they were already rockin' the night away. Unfortunately I was there early so all of the tables were full with people sitting and enjoying the show, but didn't quite get the courage to get up there and shake their booties! There were a couple of brave souls that couldn't resist the temptation, and I'm sure that by the end of the night that dance floor was packed with crazy people!
On another beautiful Saturday afternoon I was able to witness Matt Jameson playing at the Millerstown Fall Fest in support of the Millerstown Community Pool. This was the same event that started it all.. Mary Kissinger, a longtime family friend, asked me to play my ukulele at this benefit 2 years earlier.. I was terrified, and wouldn't do it without Matt by my side, so the first year we played together, and formed Staying Vertical. When I stepped down and didn't have the time to be a "rockstar" Matt luckily stuck with it and played the last 2 years solo at Mary's event, and started his career as a solo performer. So to help celebrate this special occasion, I brought the ukulele and played a few songs at his break. It reminded me again of how hard, stressful, terrifying it is to play on stage. Mad props to all musicians that continue to share their talents with the world. I'll stick to my living room couch! I'm obviously super happy Matt has stuck with it and continues to entertain anyone who will listen. I absolutely love hearing him play!
The next Saturday was another crazy one. It all started sharply at Noon with the .5k "The Race for the Rest of Us" hosted by The River 97.3, in support of the Harrisburg River Rescue. It was cold and rainy, but I still convinced Michele to come join in the fun, and we "raced" in the rain for a great cause. Like Glenn Hamilton said, "they get wet for us, so we can get wet for them!" The .5k was super stressful with a Heinekin or water to start the race and a Mr. Sticky's sticky bun halfway through! It might of been soggy, but it was still delicious! Glenn has some very hilarious pictures posted of the event on 97.3's website and Facebook page.
After we took a wee bit of time to dry off, we headed out to the 4th Annual Children's Miracle Network Music Festival at the Mechanicsburg Men's Club picnic grounds."Space" aka Eric Dengler does one heck of a job organizing this event every year. Even though it was still very chilly, damp, and sometimes even raining, there were still a good amount of people there rockin' out and enjoying the show. Luckily they have a nice huge pavilion that can fit the bands and their fans easily. Plenty of space to rock out and stay dry! Michele and I got there in time to hear Road Case finish their set. These guys bring such an awesome energy to the stage and are always fun to watch and great to listen to! Stricken continued to rock the stage next. As long as you danced, banged your head and had a good time, you could stay warm! Stricken does an amazing job performing all of your favorite Disturbed songs, but when David belts out "The Sound of Silence" it's always one of the moments that makes the whole venue stop and really listen to every note! After Stricken we were getting a little too chilly, so it was time to move on. Hopefully next year Space gets the break from Mother Nature he deserves and it's a beautiful Fall Day and the place gets packed with tons of money raised to support the Children's Miracle Network.
Last but not least of our days adventures we went to Jigsy's for the end of Matt's set. Jigsy's recently opened their new lounge downstairs. If you're a big sports fan that is definitely the coolest place to see your favorite game, or just hang out with your friends. It is open to the public with huge TVs and even comfy seats to sit in! For those that might not necessarily want to watch sports, there are also a few PA Gambling machines down there to keep you entertained. All food and beverage service is served in the lounge, so trust me, you definitely won't go hungry or thirsty! Jigsy's service is top notch!
Another Tuesday and another trip to Falls Crab Shack for Matt Jameson, this time we had a special treat, and Brian W. Griswold played during Matt's break and amazed us all with his talent! He broke through his stage fright wall by coming to the Wednesday Open Mic night at Blue Sky, and Matt invited him to come play at his break. Derek Henry was awesome enough to give Matt the opportunity on several occasions to play during his breaks, and it really helped Matt break into the scene, and now Matt is paying it forward. Brian is starting to get his own shows booked at multiple venues throughout the midstate. His voice sounds a lot like Chris Stapleton, and when I saw that for Halloween he dressed up as Chris Stapleton, I thought that was hilarious! He's definitely creeping his way into the scene, and I'm sure you'll be seeing him everywhere before ya know it! Some of my biggest advice to people getting started is get out there and play the open mics, meet your peers, and become friends, help each other, it's what makes the world go round!
I started out my next weekend on a crazy note working with John Waite at Mt. Airy Casino up in the Poconos. What a cool guy, and boy can he sing! I have a blast covering shows for BRP Entertainment. It always amazes me seeing shows go from the planning stages, all the way to the big performance, and everything in between. It just fascinates me when everything goes perfectly, and when it doesn't.. Well I also love brainstorming solutions that make everyone happy! It's what I do.. As the HBIC it's my duty to keep everything as orderly as I possibly can while remaining cool, calm and collected.. HA!
When I got home Sunday I saw a Facebook post from Keith Randall, wearing his PA Musician Magazine merch, and giving kudos to the magazine in his post, letting people know about Keith n' Sonya's Roadshow performance at the Rotunda in Annville from 3-6pm. All that awesome promotion, I couldn't help myself, I had to go check out their show. They had quite a few people out listening to their show on a beautiful Sunday afternoon. Keith n' Sonya both share the vocal responsibilities so the versatility of the songs they can cover is pretty amazing. Sonya also kept blowing me away, playing a different instrument in almost every song! The mandolin, the fiddle, tambourine, saxophone… that woman is awesome! They also recently added in their bass player Murf. They are constantly working on learning new material, but they are ready to rock any venue big or small, they want to party with them all! You can check out their ad in this issue to get all the info you need to get them booked at your venue or private party.
On a Thursday night I found myself at Sturges to listen to Chuck Britton and friends. Chuck has been playing music for years, but recently has been getting back on the stage more and more! He has also played at few open mics to get his feet wet again, and has also played during Derek's breaks a few times too! Chuck added to his sound a bit with a friend on electric guitar and he also had a cajon player joining him. The three guys sounded great together. It was an awesome way to get an early start to the weekend.
I ended my month with a slew of Matt shows; he played at the Carlisle Moose, Fat Bat Brewing, and Antietam Brewery in Hagerstown Maryland! It was my first time seeing him at all three locations. I'm one of those, curiosity kills the cat kinda people, I hate missing any of his shows and talking to new fans, old fans, and anyone who will listen. At this point a lot of his followers have also become my friends, and I love hanging out while he works so hard entertaining us all night! Fat Bat Brewing in Hanover is a cool bar. I absolutely love all of their art on the walls. It just has a really cool vibe. The crowd was great and it was awesome to hear so many people singing and clapping along and truly appreciating the music. There were no TVs in the bar area, it was all about music, just the way it should be!
After Fat Bat, Matt and I stopped in at Jen-Jen's Rhythm n' Brews for Penntera!! It has been way too long since we had the opportunity to bang our heads with these fine gents! It's always a special treat when acoustic shows end early enough that we have the time to catch a rockin' show afterwards. Penntera had the place packed! I had a blast letting loose and banging my head for a while! Jen-Jen's now have their full schedule in this issue! Just flip the magazine over to the back page, and check out all of the bands they have coming throughout November! Jen-Jen's is conveniently located off of Route 15 in East Berlin, and they have plenty of parking for everyone.
Well that's finally it for this month. November, the month to be thankful is next! Congrats to the PA Musician Magazine aka Mom, Robin Noll, celebrating 41 years of the PA Musician Magazine! This is issue #481 of the Pennsylvania Musician Magazine. Mom has been the master behind the magazine all 41 years, and she's still going strong! Pressuring me to get my article done month after month. No one can possibly understand the blood, sweat, and tears behind the magazine more than her. Cheers to Josh for taking over the reigns, and keeping Dad's legacy alive! To think, I was looking forward to retirement, more than 5 years ago! Kinda crazy! November marks my 18th year as a writer/photographer for the magazine!! I'm finally an Adult! This is my 217th Out and About article!!!! I'm so thankful for all of the friendships I have made and the people I have met, thanks to music and this magazine. We are truly one big musical family. Thank you all for your continued support and for continuing to read my article month after month. We wouldn't be without all of you. Please get out there and support small businesses and live music! And don't forget to check out our new awesome website at www.pamusician.net.