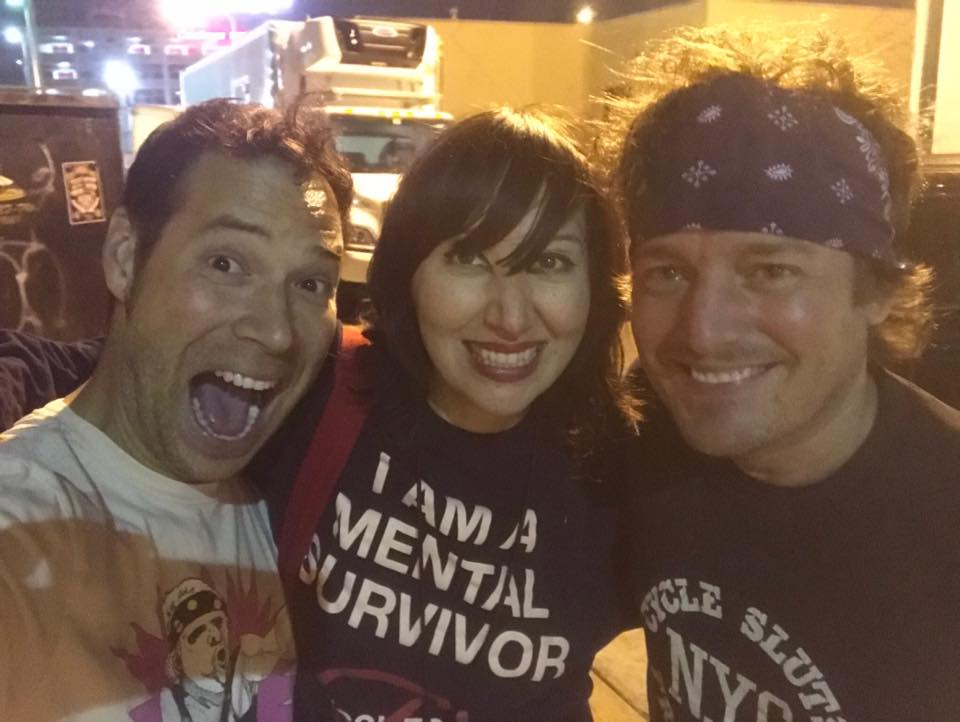 ---
Greetings Rockers 'N' Rollers! Ozzy Osbourne began the month by starting his "No More Tours 2" at the PPL Center in Allentown. 'The Prince of Darkness' said in a recent interview, "This is the last big world tour. I would still like to do one-off shows or a string of shows in the future, but as for long world tours, this is it." The show was great and Osbourne was phenomenal, his voice sounded awesome and his energy remarkable. He began with "Bark at the Moon" followed by all the classics including three Black Sabbath songs. Osbourne will turn 70 years of age in December and plans to spend more time with his family. The present tour continues until October 13th with a final show in Las Vegas.
September 8th included two National shows in one night at Philadelphia. First, alternative band Gene Loves Jezebel visited Kung Fu Necktie for an early show. The band founded by identical twin brothers Jay and Michael Aston were most known for their songs, "Jealous" "Desire (Come and Get It)" and "The Motion of Love." There are currently two incarnations of the band due to a falling out between the Aston brothers in 1997. This night was Jay Aston's version including original members James Stevenson and Peter Rizzo. Philadelphia was a very intimate show attended by life-long fans. Brother Michael Aston will also visit Philadelphia's Electric Factory on September 29th at part of the Lost 80's Live tour featuring Wang Chung, Bow Wow Wow, Naked Eyes, A Flock of Seagulls and Dramarama.
It was then off for the second show of the night, the Yeah Yeah Yeahs at the parking lot of Electric Factory. The band appeared as part of the "215 Block Party" presented by Goose Island Beer Company. The NYC garage punk band Yeah Yeah Yeahs haven't created any music in years and only perform one-off gigs. But they are still incredible and continue to put on one of the best concerts ever with singer Karen O unreal stage antics. Their first three albums all earned a Grammy nomination for Best Alternative Music Album. The Yeah Yeah Yeahs played only two shows in 2018, this Philadelphia show and the Ohana Festival in California
Lastly, FIDLAR brought their current North American 25-date tour to both Philadelphia and Washington DC. The skate punk band has been selling out many of their shows with the crowd going insane in the general admission pit. FIDLAR have gained a solid following of punk fans and always deliver with hit songs, "Cheap Beer," "West Coast", "No Waves" and "Cocaine." The band is supposedly releasing a third studio album very soon.
NATIONAL NEWS: After a performance of "Detroit Rock City" on the season finale of "America's Got Talent" September 19th, KISS announced it is going on one more world tour to close out its lengthy career. There are still no dates, venues or any real specifics about the "End Of the Road World Tour." "This will be the ultimate celebration for those who've seen us and a last chance for those who haven't. KISS Army, we're saying goodbye on our final tour with our biggest show yet and we'll go out the same way we came in… Unapologetic and Unstoppable." This is not the first time KISS has said goodbye, as the group did a farewell tour with its original lineup in the early 2000s, but Paul Stanley and Gene Simmons decided to keep the moniker and act alive afterwards.
Depeche Mode brought an end to its Global Spirit world tour that accrued over $202 million in box office earnings during a 15-month span. The veteran English band performed for 2.5 million fans at headlining dates in stadiums, arenas and outdoor venues worldwide – as well as a half-million more at the festivals – in support of its 14th studio album 'Spirit'. At 130 shows, it was the longest-running tour in Depeche Mode's multiple-decade history. The Global Spirit tour covered more than 30 countries on three continents during its run.
U2, which is amidst the European leg of its eXPERIENCE & iNNOCENCE Tour, cancelled their concert in Berlin after singer Bono lost his voice during the performance. A note on U2's website from Adam Clayton, Larry Mullen, Jr. and the Edge apologized for the cancellation saying, "Bono was in great form and great voice prior to the show and we were all looking forward to the second night in Berlin, but after a few songs, he suffered a complete loss of voice. We don't know what has happened and we're taking medical advice." U2 did 50 shows in 2017 with some $316 million grossed worldwide.
"The Orwells have disbanded," an announcement on the official Twitter page for Chicago-based rock band The Orwells read August 29th, after it apparently succumbed to mounting outrage following members being accused of sexual abuse. Claims from numerous accusers were revealed August 26th, alleging sexual misconduct and violent/destructive behavior at shows from band members Mario Cuomo, Henry Brinner and Grant Brinner. The majority of the accusations are levied against vocalist Cuomo, and many involve alleged sexual encounters, onstage and offstage, with underage girls.
The family of the late rock star Prince is suing a doctor who prescribed pain pills for him, saying the doctor failed to treat him for opiate addiction and therefore bears responsibility for his death two years ago. Prince Rogers Nelson died of an accidental overdose of fentanyl April 15th, 2016. Authorities say Dr. Michael Schulenberg admitted prescribing a different opioid to Prince in the days before he died, oxycodone, under his bodyguard's name to protect the musician's privacy. According to the complaint, Prince's family seeks unspecified damages in excess of $50,000.
Aerosmith frontman, Steven Tyler is again demanding that President Donald Trump stop using the band's songs at rallies. Tyler's attorney sent a cease-and-desist letter to the president, a day after the song "Livin' on the Edge" was heard at a Trump rally in West Virginia. It's not the first time Tyler has asked Trump to stop using Aerosmith songs. Tyler sent the Trump campaign two cease-and-desist letters in 2015 for its use of the band's music. Tyler tweeted it isn't a political issue, he just does not let anyone use his songs without permission.
Live Nation's The Met Philadelphia, the new venue for live performance on North Broad Street, unveiled its initial run of shows, starting with a December 3rd opening night concert by Bob Dylan. The Met Philadelphia's initial schedule also includes Weezer, Ween, Lindsey Sterling, Kurt Vile & The Violaters, James Bay, Amos Lee, among others. The new venue is a $56 million restoration project of the historic Philadelphia Opera House by Live Nation. The original structure was built by Oscar Hammerstein in 1908 and was once the largest theater in the world.
Maroon 5 is a frontrunner to perform during Super Bowl LIII in Atlanta, Georgia on Feb 3, 2019. The band is currently on tour to promote their 2017 album, "Red Pill Blues." In 2015, singer Adam Levine, said he and his band were very interested in performing the highly coveted halftime show, stating they "very actively want to play the Super Bowl." Maroon 5, NFL and sponsor Pepsi, have yet to comment on the report.
Famed Philadelphia nightclub the Electric Factory has been sold to AEG, with the announcement saying the iconic name and Ben Franklin face as its logo will be retired and a new name announced soon. AEG is already advertising shows including H.E.R. and Clutch. The staff remains intact except for one person pursuing other opportunities. "Keeping the staff was informally part of the deal and we thank AEG for that," the rep said. Electric Factory has hosted legendary artists, going back to Jimi Hendrix, Janis Joplin, Frank Zappa, Van Morrison, Cream, Rod Stewart, B.B. King, The Grateful Dead, Neil Young, Bruce Springsteen, Prince, Bob Dylan, Adele, Radiohead, Lady Gaga, David Bowie, Amy Winehouse, and many others too long to list.
UPCOMING CONCERTS: Southern Culture on the Skids Philadelphia Johnny Brendas October 12th. Bulletboys / Enuff Z Nuff Harrisburg Club XL October 13th. Public Image Limited Philadelphia Union Transfer October 16th. Teenage Bottlerocket Lancaster Lizard Lounge October 24th. Sebastian Bach Lancaster Chameleon October 24th. Psychedelic Furs Jim Thorpe Penns Peak October 28th.