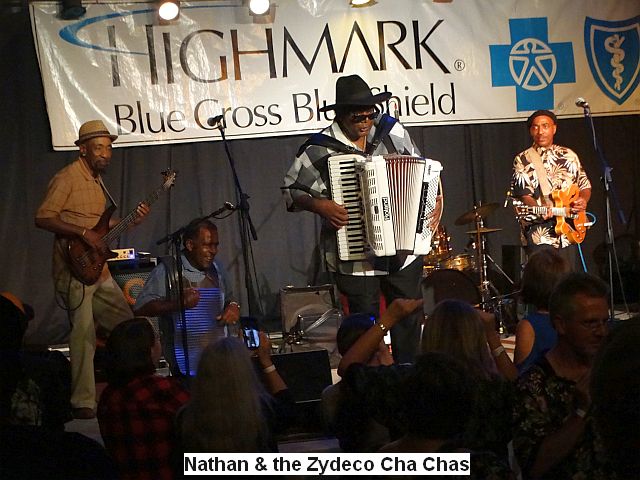 ---
By Jim Price
Live music in central PA will begin to migrate back indoors with the arrival of colder fall temperatures this month. In the meantime, though, outdoor fall festivals and late season outdoor concert events continue to happen as autumn leaves start to change color.
The Johnstown Area Heritage Association closed the book on their outdoor concert season last month by bringing Louisiana zydeco music back to the Flood City, presenting Nathan & the Zydeco Cha Chas at People's Natural Gas Park. The night opened with Louisiana native Joe Dedon and his western PA-based swamp rock group Crawdad Joe & the Mudbugs. Playing guitar, Joe brought a big, full voice up front, flanked by Chris Volpe on keys and trumpet, Mark Randall on bass and Scott Wilson on drums. Crawdad Joe & the Mudbugs warmed up the Johnstown crowd with a mix of original songs and Louisiana/swamp rock favorites such as "Iko Iko," the Neville Brothers' "Fyo on the Bayou," Creedence Clearwater Revival's "Born on the Bayou," Hank Williams' "Jambalaya" and more. When Nathan & the Zydeco Cha Chas subsequently took the stage, it became clear from the get-go that Johnstown still loves its zydeco music! Namesake Nathan Williams, Sr. on vocals and accordions, his brother Dennis Paul Williams on guitar, Clarence Calais on rubboard, Junius Antoine on bass and Djuan Francis on drums quickly stirred up the dance floor with their lively zydeco party. Nathan broke the ice early and often by venturing down from the stage and into the audience with his accordion, sitting and playing alongside audience members and making the crowd part of his party. The enthusiasm and energy steadily intensified as the group performed many of their original songs, plus Louisiana favorites such as Jerry Lee Lewis' "Whole Lotta Shakin' Goin' On," Fats Domino's "I'm Walking to New Orleans" and more. When the crowd quickly demanded an encore at set's end, Nathan & the Zydeco Cha Chas were happy to oblige, ending the night with one more spirited instrumental Louisiana-flavored jam.
Recognized as the birthplace of the banana split, Latrobe hosted the three-day Great American Banana Split Celebration in late August. Pittsburgh's Lovebettie was part of that celebration, as they entertained during the event's first day, Friday, in downtown Latrobe. Singer, keyboardist and Latrobe native Alexandra Naples, guitarist/singer C.T. Fields, bassist Nick Quinn and drummer Shawn King mixed Lovebettie originals with select covers, plus new material from Alexandra and C.T.'s new country-driven project Willow Hill. The group did established Lovebettie favorites including "Downpour" and "Are You Out There," introduced Willow Hill numbers such as "More Like a Memory" and "Can't Have My Best," and also did numbers from Tom Petty, Stealer's Wheel, CCR, Tracy Chapman, Elle King, Cage the Elephant and more. Alexandra's sultry voice was in excellent form, and she and her bandmates delivered a tight, clean performance. As this day of the festival doubled as a pep rally before the kickoff of the scholastic football season and the local rivalry between Greater Latrobe and Derry Area, the cheerleading squads of both schools came to the front of the stage to sing and cheer along as Alexandra and Lovebettie did 4 Non Blondes' "What's Up," before the group ended their performance with one of the new Willow Hill original tunes, "Don't Let the Door Hit Ya." The combination of Lovebettie's performance and scholastic furvor made this day a good time – and yes, I did indulge in a celebratory banana split!
Craft beer and live music fans converged on Altoona's Railroaders Museum in late August for the annual Rails & Ales Brewfest, a fundraiser for Altoona Community Theatre. As visitors sampled among more than 80 different craft brews from local and regional brewers, D.D. & the Pub Crawlers and Shallow 9 provided the music (with Lauren & Joe entertaining during a V.I.P. session prior to the main event). Leading off, D.D. & the Pub Crawlers brought their brassy mixture of rock, funk, ska, soul and more. The group set the tone with their upbeat, happy vibe; singer Dana "D.D." Martino, bassist Art Martino, new guitarist Matt Hunter, drummer Todd Harshbarger, keyboardist Tim Boland, and the four-piece horn contingent of sax players Anthony Martino and Lyndsay Reilly, trumpet player Adam Lingenfelter and trombonist Nick Martino displayed abundant energy on the railcar stage as they did numbers from Sam & Dave, Amy Winehouse, Peter Gabriel, LaBelle, Less Than Jake, Mighty Mighty Bosstones, Chicago, Aretha Franklin, James Brown, Big Bad Voodoo Daddy and more. Shallow 9 then stepped up the dance party vibe with their performance, delivering a near-seamless mix of energized pop, funk, disco and hip-hop favorites. Guitarists Ryan Weaver and Greg Larrimore, bassist Mitch Neuder and drummer Todd Harshbarger (pulling double-duty with both bands) set the launching pad for lead singer Erika Marino and lead rapper (and soundman) Mike Stanley to stir up the party. Shallow 9 kept the crowd happy with hits from Cee-Lo Green, Michael Jackson, House Of Pain, Outkast, DNCE and more, and also strung together rousing funk and hip-hop medleys along the way. The combination of craft brews, music and non-rainy weather made for another successful Rails & Ales. (For the record, my favorite brew of the day was Robin Hood's Blue Sky-PA.)
The Railroaders Museum last month hosted a special showcase presented by Altoona's Greenbean Coffeehouse. Greenbean regularly hosts a weekly Thursday Open Stage night, and they spotlighted the talent that regularly performs each week with the Open Stage in the Park event. A variety of Open Stage artists graced the railcar stage this day – performers I got to witness included singers and guitarists Keith Lucas, Michelle Barnes, Brother Jack and Joe Caroff; a cappella singer (and show emcee) Garrison Bailey, young dance group Simply Dance; the duos Ted & Tina (sax player Ted Ellis and singer/keyboardist Kris Tina Reiter), Cloudy Days and The Extra Miles; and young indie rock trio Wilted. In between recent cross-country tour dates, Altoona rockers Walkney capped the event with an energetic set that spotlighted a number of new original songs. Singer, guitarist and ringleader Derek Mrdjenovich, lead guitarist Rogan Allen, bassist Nate Nagle and drummer Dave Applas fired off new pop/punk/rock numbers such as the single "Lucia Rose," "Unhappy," "Jealous," "Venom" and "Don't Stop Lovin.'" The group also broke out their own heated twist on Tom Petty's "Mary Jane's Last Dance," and introduced a song inspired by Derek's recent American Idol experience, "Ready." The inaugural Open Stage in the Park was well-attended and a huge success, and Greenbean Coffeehouse hopes to grow it into an annual event.
If you read my column regularly, you might already know it's a no-brainer that Johnstown's Cambria City neighborhood becomes my home away from home during Labor Day weekend, and such was again the case this year as I took in two days of the annual Cambria City Ethnic Festival. The festival was again comprised of several mini-festivals spaced out among various churches and other venues along Chestnut Street in Cambria City, with live music happening on five different stages. After arriving on Saturday, I first encountered Johnstown trio Tree during the homestretch of their performance on the ACRP "Irish Corner" stage. Singer/guitarist Matt Harnett, violinist Jen Harnett and drummer Mike Dixon played Irish folk, pub and sea shanty favorites to an appreciative crowd until an arriving thunderstorm cut their outdoor performance short. Fleeing the storm, I quickly headed up Chestnut Street to the indoor safety of Ace's Lounge, where the Tom Katz were under way. The trio of singer, keyboardist and accordion player Tom Voytas, guitarist and singer Jack Duvall and drummer Tom Romanak sparked dancing with their variety mixture of classic rock, soul, oldies and more. Once the storm moved on, I headed back outdoors and proceeded to the Ethnic Fest Block Party stage outside BottleWorks Ethnic Arts Center, where Pittsburgh's Chase & the Barons were entertaining. capturing back-to-back performers at the Ethnic Fest Block Party outside of BottleWorks. Singer, guitarist and band namesake Chase Barron, Mike Saunders on guitar, Jacob Rieger on bass and Jake Stretch on drums blended flavors of classic and modern rock, pop, punk and funk into an energetic set. They mixed original tunes with select covers from the Beastie Boys, Bill Withers, DNCE, Talking Heads, Herbie Hancock and more. Chase & the Barons maintained a loose mood, while delivering their set with abundant energy and a touch of wit. Local singer/songwriter Denise Baldwin followed them with her short set of covers and interpretations. Wielding 12-string acoustic guitar, Denise displayed a potent voice and creative arrangements on such numbers as Dream Academy/Sugarland's "Life in a Northern Town" and her tribute to Aretha Franklin as she performed "A Natural Woman." I next headed to the St. Mary's stage to catch a few songs from the Johnstown Classic Rockers, before another thunderstorm moved in and ended their performance prematurely. After that storm, I returned to the ACRP stage to catch my first look at Pittsburgh-based Irish group The Wild Geese. Featuring singer/guitarist D. Finnegan, multi-instrumentalist Andrew Morrison, fiddler Megan Reilly, bassist George White and drummer/percussionist Bill Buchko; The Wild Geese performed a mix of traditional Irish folk and pub songs, along with a few original tunes. Their performance was lively, and the group mixed in abundant humor and told Irish stories along the way. I then traversed seven blocks back up Chestnut Street (I get my cardio in at this festival!) to the Ethnic Fest Block Party tent to see Pittsburgh's Bill Toms & Hard Rain with the Soulville Horns. The former lead guitarist for Joe Grushecky and The Houserockers, Bill sings and plays guitar in Hard Rain, alongside guitarist Tom Breiding, bassist Tom Valentine, keyboardist Johnny Cool, sax man Phil Brontz and drummer Bernie Herr. Accompanying the group this night, the Soulville Horns feature Phil along with trombonist Steve Graham and trumpet player J.D. Chaison. Together, these musicians played feisty, hard-driving blues-rock as they mixed original song material from Bill's albums, including his newest, Good for My Soul. With Bill belting the gritty lead voice, the group frequently rode the songs to intense peaks that kept the crowd yelling for more. I finished the night at Ace's, where Octane slammed the lid on the evening with their set of high-octane hard rock. Singer Mike Prebehalla, guitarist James Forish, bassist Dave Bambino and drummer Chris Jimerson kept fans rocking with tunes from Journey, Metallica, Three Days Grace, Bon Jovi, Papa Roach and more.
Weather conditions were greatly improved for Ethnic Fest's final day, Sunday. I arrived while the Irish Pretenders performed at ACRP. The group celebrated Irish folk, pub and war songs, with singer/guitarist John Skelley sharing stories and histories about the songs. Some of the numbers performed while I was there included "The Wild Colonial Boy," "Brennan on the Moor," "Kelly the Boy from Killane," "Big Strong Man" and more. While headed up Chestnut Street afterward, I stopped by a tent outside the Hungarian Reformed Church to enjoy some food; a lone accordionist (whose name I did not catch) serenaded diners and passers-by with folk instrumentals. This is one of the special things I like about Cambria City Ethnic Festival, the possibility of local Cambria City residents sharing their musical and other creative talents on porches, street corners and under tents like here. I soon arrived at Holy Cross Lutheran Church, where Rewynd was wrapping up their performance. Featuring singer/guitarist Pat Mollohon, bassist/singer Bob Palmer and drummer John Kot, Rewynd performed classic and southern rock favorites. My next stop was the Ethnic Fest Block Party tent, where Pittsburgh's Charlie Barath Duo was performing. Namesake Charlie sang and played harmonia, with "Memphis Mike" Metzger playing guitar and singing. These two celebrated the blues, performing a mixture of original songs and traditional blues numbers from such names as Blind Willie McTell, Muddy Waters, Jimmy Reed, Willie Dixon and more. A semi-finalist at the International Blues Challenge in Memphis earlier this year, Charlie showed his mastery on blues harmonica and shared stories about his music and early blues artists. I closed out my Ethnic Festival experience by checking out That Oldies Band at St. Mary's pavilion. Featuring a cast of Johnstown music scene veterans dating back to the 1960s, That Oldies Band celebrated vintage rock'n'roll hits from the 1950s and 1960s.
I spent part of Labor Day as both audience member and performer during the annual Ox Roast Festival hosted by the Blair County Game, Fish & Forestry Association near Altoona. I was first an audience member, catching part of the performance by Altoona-based duo ReWired. "Cousin Mike" Wieland on lead vocals and guitar and Rick Guyer on drums performed acoustic rock and pop favorites from the catalogs of CCR, Old Crow Medicine Show, John Denver, Jimmy Buffett, The Who and more. Mike showed a steady and sturdy singing voice while Rick provided the firm drumbeats behind him. Afterward, I became a performer with my Backyard Rockers bandmates Rich Dasch and Mo Yon, having fun with our own takes on tunes from Neil Young, Steve Earle, The Band, Elton John, Greg Kihn Band, Green Day, Bob Dylan and more. Besides music, this festival served up ox roast sandwiches and other tasty menu items, vendors, children's activities, and shooting ranges for gun enthusiasts.
The heavy rains that caused widespread flooding across the state early last month also impacted the sixth annual Route 22 Rock & Blues Festival at Lincoln Caverns Campground near Huntingdon. The forecast for heavy rains and thunderstorms prompted cancellation of the Friday night leg of the festival, but Saturday's leg proceeded as scheduled. My own band, the Backyard Rockers, was part of the day's slate, and I caught performers before and after our performance. Upon arriving, I caught bits and pieces of Slow Music for Slow Minds, the brainchild of Hollidaysburg's Jason Weyandt. Jason generated a mostly electronica flavor, performing original compositions on synthesizer and vocoder, as well as a few unplugged numbers on ukulele. Performing between scheduled acts was Sharky, the unique aquatic alter ego of area musician Tom Brunner. Decked in a shark outfit and armed with megaphone, the finned performer entertained and – in a few cases – bewildered festival-goers with a crazed cabaret that mixed avant-garde original tunes with twisted takes on popular songs; all sung, shouted and growled with a comedic edge. Sharky used backing rhythm and electronica tracks, while playing guitars (including a shark-shaped axe), sirens, samples and other objects at his disposal. Following my own band's performance, I watched Rich Edmundson as he presented his free-form acoustic performance, generating song material and words on the spot and indulging in some extended acoustic jam interludes. Dylan Miller then performed a set of original numbers and early blues classics. Armed with acoustic guitar, Dylan did songs off his recently-issued Carrion EP such as "I'll Go" and "Your Smile," and performed newer original songs such as "Wrong Side of the Tracks," "Born Alone Die Alone" and "Wallflower." Dylan also did early blues numbers from Robert Johnson, Mississippi John Hurt and others. As rain arrived and began to intensify, On The Brink took the stage to showcase their original song arsenal, including numbers from their just-issued self-titled debut CD. This group has expanded to a quintet since their debut performance at last year's festival; joining singer/guitarist Ed Brinkel, bassist/singer Dana Brinkel and drummer Nate Woods are cellist Kirsten Leigh and violinist Lisa Wolf. The Blacksnakes followed with their set of scorching electric blues, as many festival-goers huddled under tents to escape the rain. The Blacksnakes presented a dual guitar threat this day, with young axeslinger Ty Fowler joining lead guitarist Jason Feathers, setting the stage for frequent dual guitar solo displays, harmony leads and more. The two guitarists, singer Brian Elliott, bassist Hunter Karns and drummer Nate Woods mixed blues classics with original blues numbers such as "Bottom Shelf Woman," "Walking Dead Blues" and more. As darkness arrived, The Crooked Line took the stage to perform their blend of folk and bluegrass-flavored original music. The trio of singer/guitarist Chris Strait, banjo player Bob Baronner and Justin Dorsey on upright bass demonstrated strong vocals and harmonies as they did songs from their first CD and forthcoming follow-up, plus select covers that included Jimi Hendrix's "Redhouse" and Johnny Cash's "Don't Take Your Guns to Town." And I saw most of Mama Corn's set as rains grew heavier; the soggy conditions didn't dampen the spirits of singer/guitarist Bruce Forr, banjo player/singer Jeremy Nelson, singer/dobro player Johnny Stevens and upright bass player Bryan Homan, who delivered their bluegrass-flavored original songs and grassed-up takes on popular songs with their trademark wit and humor. I finally fled the rains and mud before the day's final group, The Perkolators, took the stage. Hats off to the hardy music fans who came, camped and stuck around during the rain deluge, and kudos to show organizer Mike Houck for pulling off this year's festival in spite of the dismal weather forecast.
Bacon connoisseurs and live music fans descended upon Johnstown's Richland Township Volunteer Fire Company last month for their annual Fall'n BaconFest. The two-day event spotlighted bacon and pork cuisine, and featured live music both nights. I caught part of Itch's performance on Saturday evening. Singer/harmonica player Greg Cveykus, lead guitarist James Forish, bassist Colin McCally and drummer Doug Lohr entertained this "baconalia" with a mix of rock and country favorites. During their first set, Itch triggered dancing with numbers from Neil Young, Aerosmith, Big & Rich, Lynyrd Skynyrd, Steve Earle, Johnny Cash, Poison and more. One of their highlights was their merger of Jet's "Are You Gonna Be My Girl" with The Who's classic "My Generation."
Indoors, two area bands marked CD releases with special shows; including this month's cover feature group The Chrome Hearts, who celebrated the release of their debut CD Oh No in late August at Altoona's Catholic War Vets club. Singer Stephanie Onkst, singer/guitarist Bob Onkst, Greg Larrimore on lead guitar, Brian Baum on bass and Doug Fetter on drums spotlighted tunes from the CD with a few country and rock'n'roll favorites thrown in. Stephanie and Bob shared insight and stories about the songs and their inspirations; "Kickin' Up Dust" was inspired by Loretta Lynn, while an odd encounter at a gig brought about "Lookin' at My Boots." The group did other CD tracks such as "Drunkensville, USA," "Money," "Black Sheep" and their 'psychobilly' title song "Oh No." The Chrome Hearts also covered favorites from Luke Bryan, Miranda Lambert, Anders Osborne, Eric Church, the Eagles, Gretchen Wilson, and the night-ending edition of the Doors' "Roadhouse Blues." The Chrome Hearts kept it fun throughout the evening, and even presented a food spread for revelers to enjoy.
Altoona's Post Season returned to the live stage last month after more than a year away, celebrating the release of their brand new self-titled CD during an all-ages event at Altoona's SK8-1-4 Action Park. Sistercell and August Winters opened up the evening, before Young Lungs took the stage. Singer Meg Wills, guitarists Myles Mahoney and Scott Ciambotti, bassist Tyler Miller and drummer Jordan Bosland fired off new original power pop/punk-driven numbers, plus select covers from Maroon 5, Blink 182 and more. Post Season – singer Dan Tippery, guitarists Bryan Thanh and Canyon Gargon, bassist Chuck Bernard and drummer Conor McNamara – then came out firing on all cylinders, eager to introduce their new songs. The group provided feverish, nonstop energy as they delivered pop/punk-flavored tunes off the new CD such as "Numb to This," "Another Day," "Never Tell Me the Odds" and more. Dan frequently thanked the fans for their support, and launched himself into the crowd to do some surfing during Post Season's last song.
I took in the third set of Johnstown's Stone Bridge last month as they rocked at the Windber Hotel. Stone Bridge is comprised of three alumni of former Johnstown heavy rockers Rennis – singer/guitarist Craig Stiles, bassist/singer Steve Stull and drummer Darren Byer. They fired up the heavy rock and metal of the 80s, 90s and 2000s – doing numbers from Tool, System Of A Down, Linkin Park, Danzig, Monster Magnet, Type O Negative, Rage Against the Machine, Motley Crue, Iron Maiden and more. They pulled out some tunes you don't often hear bands cover, such as Monster Magnet's "Powertrip," Iron Maiden's "22 Acacia Avenue," Motley Crue's "Live Wire," and Craig delivered a convincing Peter Steele vocal on Type O Negative's "Black No. 1." Though not packed, the folks in attendance this night appreciated Stone Bridge's metal, and several folks danced and grooved.
And I caught two shows last month at McGarvey's…One was a triple-bill featuring Off The Top Rope, Silver Screen and Reign Of Z. I missed Off The Top Rope, but saw Johnstown's Silver Screen, who came on strong with their set of powerhouse original songs and select rocking covers. Singer/guitarist Stephen Platt, lead guitarist Ben Ressler, bassist Alex Richardson and drummer Austin Danel brought forth grunge-rooted original tunes from their Inertia EP such as "Labelled Off," "Make Believe" and "Bar Swing," as well as a few new songs that will be on their next album. They also tapped into the Nirvana catalog for "Come As You Are," and also did numbers from Jimi Hendrix and Rage Against the Machine. Five members strong, Pittsburgh's Reign Of Z finished the night, launching a wall of sound that blended elements of classic and symphonic metal, power metal and metalcore. Singer Zosia West ran the gamut from soaring and siren-like singing to aggressive snarls and monstrous growls – flanked by guitarists Steven Lords and Zach Cunningham, bassist Stephen Berg and drummer Nick Kramer. Reign Of Z did an all-original set; among their songs was the group's new single "Dysmorphia."
I also saw Pittsburgh punk rock force The Cheats last month as they headlined the Turbojugend Rail City Party at McGarvey's, which also featured earlier performances from Dragline, Thunder Vest, The Snipped and Owned By A**holes. The seasoned cast of frontman Todd (Porter) Cheat, Philthy Phil on bass, Devin Holiday on guitar and Kyle Cheat on drums drilled high-octane, punk-fueled heavy rock to the gathered throngs, delivered with velocity and reckless abandon.
News and notes…The "Undisputed King of Pittsburgh Rock'n'Roll," Norman Nardini, was honored with his own day last month, as Pittsburgh mayor William Paduto declared September 8 as Norman Nardini Day in recognition of Norman's 50 years of making music and serving as musical ambassador of the Steel City…Erie's famed rock room, Sherlock's and Park Place, closed its doors in mid-August after more than three decades as a centerpiece in Erie's live music scene… We at PA Musician express speedy get-well wishes to Harpo singer and keyboardist John "Lloyd" Kistner as he recovers from a stroke suffered in August; a benefit show for John will take place on Oct. 7 at River Street Jazz Café in Plains (near Wilkes-Barre), and will feature performances from Suckerpunch, Bon Jovi tribute 7800 Fahrenheit and AC/DC tribute Halfway to Hell…The third annual Zombietown USA zombie festival happens Oct. 5-6 in downtown Altoona; performing during this year's zombie apocalypse will be Agent Smith/Agent In Chains, the Backyard Rockers, Elaini Arthur, Ed n'Born, Downshift, One Adam 12, Post Traumatik and Hair Force One…The Trick Or Feed Benefit happens Oct. 26 at McGarvey's in Altoona, and will collect non-perishable food donations to benefit the Altoona Food Bank; performing will be Hate Grenade, Fyre, Oceans to Ash and Klockwick, with comedy by Steve Kifer…Fyre has a new guitarist, as former Awaken From Ruin axeslinger Logan Yalonski takes over the helm recently vacated by Zach Kensinger… Keyboardist/singer Adam DiFlaviano and bassist Kris Civils have left The McCaulley Project to form a new band with singer and guitarist Kip Woodring and drummer Rick Guyer; the new band is called Back in the Day…And three former members of Altoona alternative rockers Rain Must Fall have formed a new project; the Kensinger/Bickel Band features former Rain Must Fall members Michael Kensinger on lead vocals, Jarret Bickel on guitar and Hunter Karns on bass, plus drummer Rob Bonsell and keyboardist Qwan Clark.
Please send correspondence and recordings to: Jim Price, 1104 S. Catherine St., Altoona, PA 16602. You can also e-mail me at jptheprofessor@gmail.com. And if you're into social networking, look me up on Facebook or Google+. SUPPORT LOCAL MUSIC!