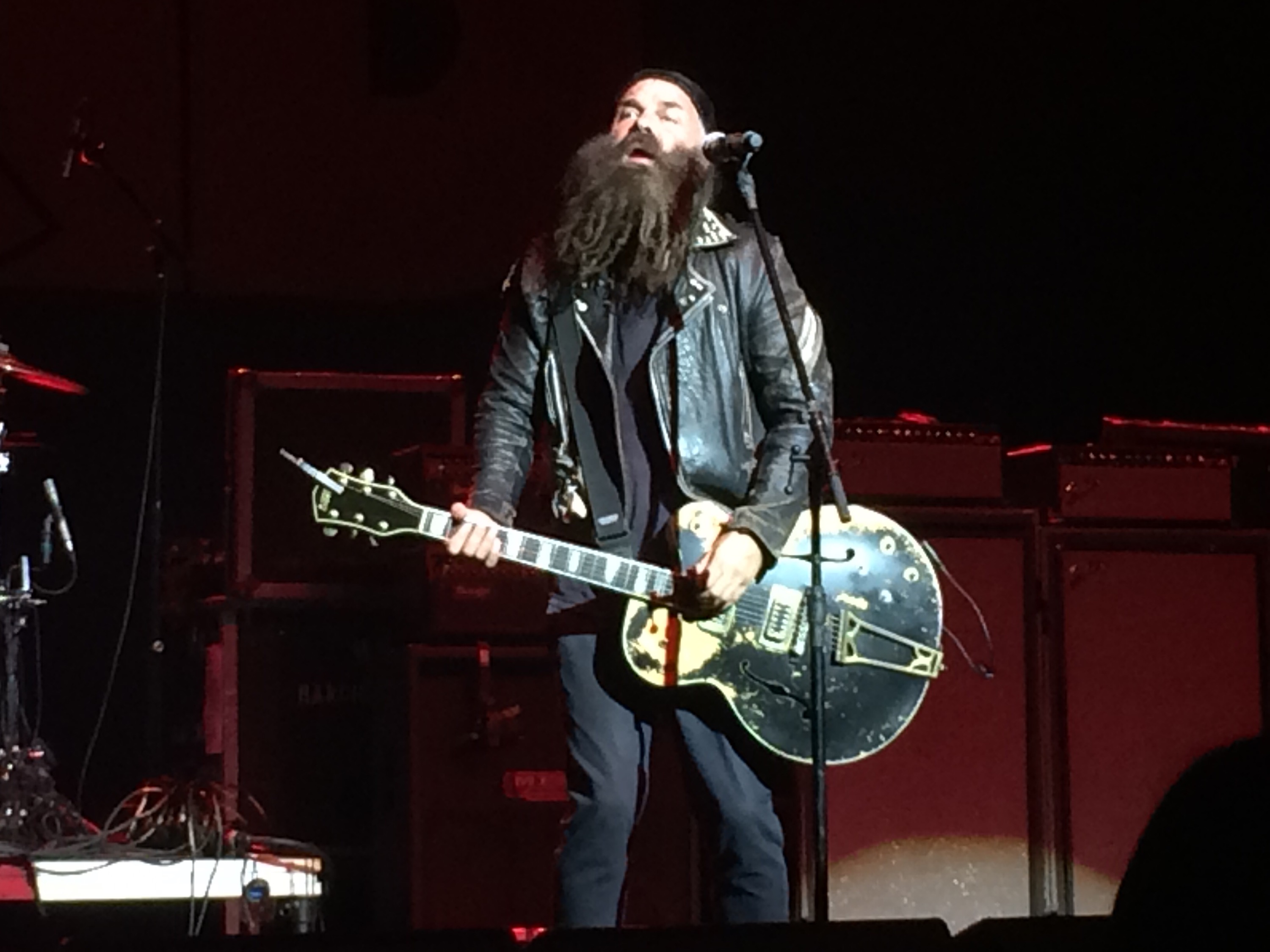 ---
By: Eric Hoffman
Greetings Rockers 'N' Rollers! Last month began with legendary punk band Social Distortion bringing their 40th anniversary tour to Lancaster's Freedom Hall. The band blazed through a 50-minute set (there was no encore) consisting of 13 songs, including hits "Bad Luck," "Cold Feelings" and "Story of my Life." Mike Ness and company have visited the mid-state many times over the years playing Lancaster's Chameleon and the infamous Harrisburg Club Met show. My thanks to Brandon at Chameleon Club for making this concert possible. Chameleon Club has been doing a great job bringing larger shows to Freedom Hall over the years including; Flogging Molly, Pop Evil, Sevendust, Skillet, Dropkick Murphys, Primus, Clutch, Sum 41, Sublime and Halestorm.
A show highlight of the month was seeing Future Islands perform twice in three days. The Baltimore-based synthpop band played the annual Make The World Better festival at Philadelphia's Dell Music Center on September 5th and then a free surprise show at Baltimore's Union Craft Brewery on September 7th. Future Islands continue to be one of the best live acts performing today, primarily in part to the eccentric antics of lead singer Sam Herring. The band has 5 studio albums in their 13-year history and have been recently performing sporadic concerts.
Harrisburg's XL Live continues to bring great National acts to the area with notable shows: The Supersuckers played on September 12th with The Hangmen and Bad Luck Charms. A great rock 'n' roll event in which LA's Hangmen stole the show. The Hangmen established nearly 33 years ago and continue as a quartet with lead singer Bryan Small and his lurid love songs with unsentimental blasts. Their trademark dual-guitar attack combines the classic-rock drive of the Rolling Stones and AC/DC with the hard-charging swagger of Johnny Thunders' Heartbreakers and the sinister allure of the Cramps. I truly can't wait for The Hangmen's next tour. XL Live also brought upcoming acoustic folk artist, JS Ondara. The 27-year old musician from Nairobi, Kenya received a green card and moved to Minneapolis nearly 7 years ago. This past February he released his remarkable debut album, Tales of America, which is gaining huge recognition with songs like "Saying Goodbye" and "American Dream" It was a very moving performance full of emotion and true artistry. On a side note, Ondara cites Bob Dylan as his musical hero, which is why he chose to live in Minnesota and why he wears his signature fedora.
Lastly, iconic punk-rockers Rancid brought their East Bay ska-punk music to the East Coast with a show at Baltimore's MECU Pavilion on September 21st. The tour also featured Pennywise and Suicidal Tendencies with The Aquabats and Angel Du$t on select dates. While legendary punk bands like The Clash, Ramones and New York Dolls may all be gone, Rancid continues to carry the torch and played their classic songs including "Roots Radicals," "Time Bomb" and "Ruby Soho." The band just finished their current tour but return for a one-off show on October 19th opening for The Misfits at NYC Madison Square Garden.
NATIONAL NEWS: Metallica may be considered the biggest all-time touring band.The numbers speak for themselves: Metallica sold nearly 22.1 million total tickets and grossed some $1.4 billion since 1982, dwarfing huge rock bands of the era including AC/DC (14.3 million tickets) and Ozzy Osbourne (10 million,13.2 if counting Ozzy plus Black Sabbath). The closest competitor on dollars grossed is Guns 'N' Roses, with nearly $800 million grossed largely thanks to the band's mammoth "Not In This Lifetime" reunion tour. After 38 years, Metallica's statistics puts them in select company, just behind U2 – which until recently held the all-time touring record on its "360" run. The band show no signs of slowing down joked original drummer Lars Ulrich, "I keep thinking and forcing myself to think all our best years are still ahead of us 'What's your favorite record?' It's the next one, the one we haven't recorded yet."
Ric Ocasek, founding member and frontman of Rock and Roll Hall Of Famers The Cars, was found dead Sept. 15 in his New York City home. He was 75. Police reportedly received a call at around 4 p.m. to Ocasek's townhouse and he was pronounced dead at the scene. Ocasek and The Cars were inducted in 2018 to the Rock And Roll Hall Of Fame for a career that included 13 Top 40 singles, and Ocasek moved on to a successful career as a producer after The Cars broke up in the late 1980s. He was currently separated from wife Paulina Porzikova, a former supermodel he met on the set of the video shoot for "Drive" in 1984.
Eddie Money, known for hits including "Two Tickets To Paradise," "Baby Hold On" and "Take Me Home Tonight," died on September 13th after battling stage 4 esophageal cancer. A statement from the family said he died peacefully in Los Angeles. He was 70. The husky-voiced, blue collar performer also starred in a reality TV show on AXS TV network called "Real Money" that debuted in April 2018. He continued to tour throughout his life, averaging 2,113 tickets sold over shows in the last three years. The family statement read in part, "It is with heavy hearts that we say goodbye to our loving husband and father. We cannot imagine our world without him. We are grateful that he will live on forever through his music."
Next month, Bob Dylan, will be touring the U.S. with more than two dozen dates booked coast to coast. Dylan broke the news to fans with a simple post on his website proclaiming "Bob Dylan and his Band are touring the U.S. this fall! Tickets go on sale starting this Friday, September 13th! More shows to be announced!" As for the setlist for the fall tour, that's anyone's guess. It's likely he might play some of his standout tunes like "Don't Think Twice, It's All Right," "Blowin' in the Wind" or "Maggie's Farm." Dates include: Nov. 12th, 2019 – Baltimore, Md., University of Maryland Baltimore County – UMBC Event Center. Nov. 15th, 2019 – University Park, Pa., Pennsylvania State University – Eisenhower Auditorium and Nov. 21st, 2019 – The Met Philadelphia, Pa., Pennsylvania.
Green Day, Fall Out Boy and Weezer are hitting stadiums together next year on the "Hella Mega Tour." Presented by Harley-Davidson, the trek kicks off in Europe followed by the 20-city North American leg, including Hersheypark Stadium on Aug 13th and Philadelphia's Citizens Bank Park on Aug 29th. The Interrupters will appear as special guest on the tour. Five-time Grammy Award-winning Rock and Roll Hall of Fame inductees Green Day unleashed their brand new single "Father Of All…," which is the lead track on their forthcoming 13th studio album of the same name, out Feb. 7th.
Ed Sheeran sets the all time touring record. Consisting of 893 days and 255 shows with a staggering 8.9 million tickets sold and a massive gross of $775.6 million – the most ever by any tour. On average, Sheeran played a stadium or arena twice a week for two and a half years. Sheeran surpassed U2's eight-year record gross of $735.3 million on the "360 Tour," which ran from February 2009 through July 2011. The final stop of his record-breaking "Divide Tour" was in his home county of Sussex, England. He called the moment "bittersweat" and said "this is my last gig for probably 18 months." The 28-year-old prodigiously talented musician, known for songs "Shape of You" and "Perfect" performs solo and has the ability to bring millions of transfixed fans singing in unison in a way unmatched by any artist.
Tool announced a fall tour and the release of its long-awaited, fifth full-length album, Fear Inoculum, (Aug 30). The six-week trek visits Philadelphia's Wells Fargo Center on November 18th and Washington DC Capital One Arena on November 25th. Maynard James Keenan and the band sell an average of 14,000 tickets and gross more than $1 million per show. Fear Inoculum, is Tool's first studio effort since 2006's 10,000 Days. The hard rock band formed in 1990 and has four multi-platinum albums to its credit and has won three Grammy Awards.
UPCOMING SHOWS: The Ocean Blue – Washington DC Union Stage Oct 4. The Menzingers – Wilkes Barre Gallery of Sound Oct 6. The Distillers – Philadelphia Union Transfer Oct 7. Plague Vendor – Washington DC U Street Music Hall Oct 11. Tom Keifer (Cinderella) – Pittsburgh Jergel's Grille Oct 17. The Misfits – NYC Madison Square Garden Oct 19. Tegan and Sara – Philadelphia Kewsick Theatre Oct 26. White Reaper – Washington DC U Street Music Hall Oct 31.