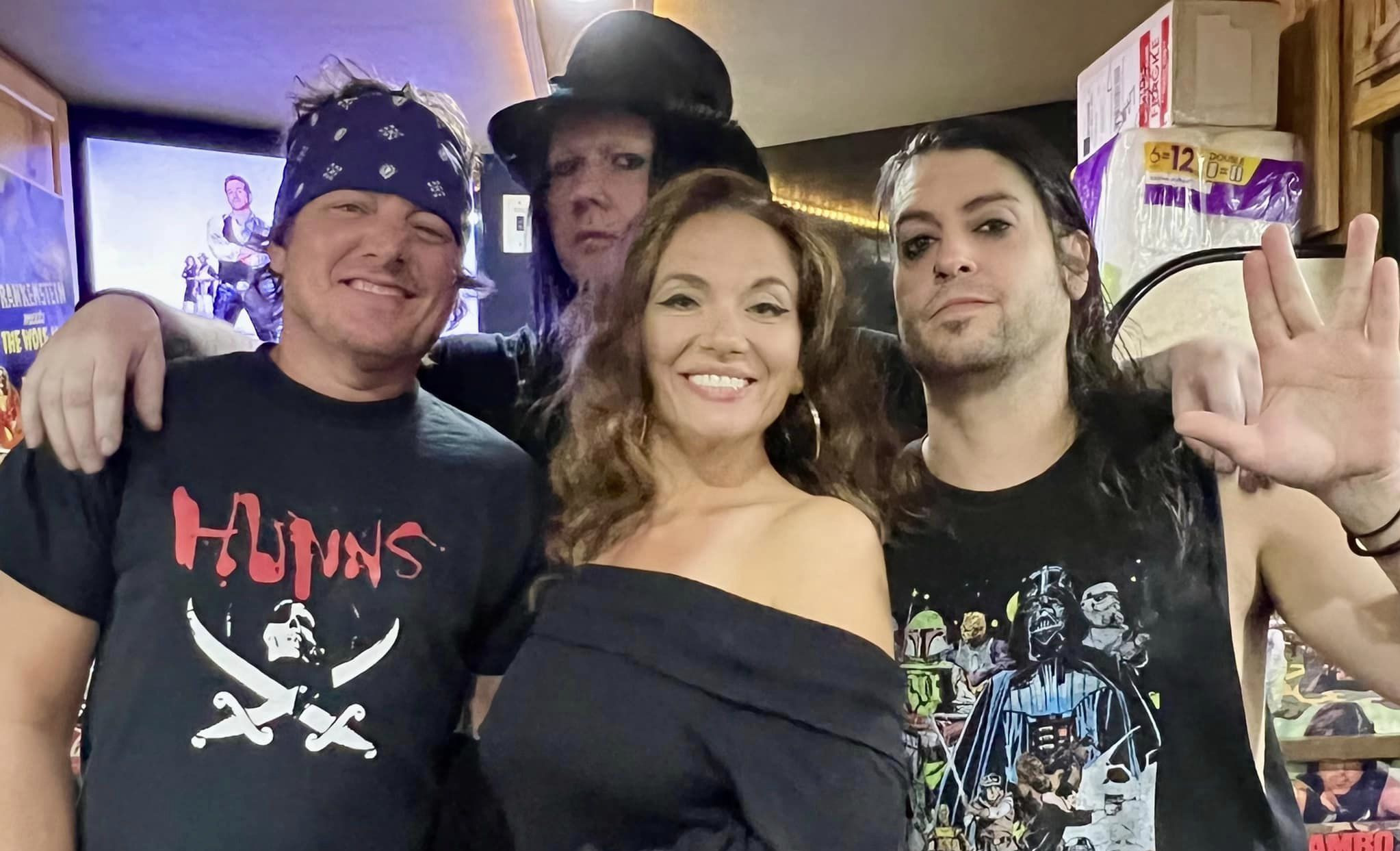 ---
By: Eric Hoffman
Greetings Rockers 'N' Rollers! Young punks, WYLDLIFE, returned to the stage for the first time in a year at the Pet Shop in Jersey City, NJ. A phenomenal, packed show which included The Ravagers from Baltimore. WYLDLIFE are a New York stripped down-garage rock and roll band that plays tribute to the punk and power-pop movement of the late 1970's. They play again at the Fear City Fun Festival November 11th – 13th at TV Eye in Brooklyn, NY.
There were plenty of great National shows in Central PA this past month, including Mike Campbell & The Dirty Knobs at Harrisburg XL Live on September 7th. Campbell is well-known for his history as lead-guitarist in the Heartbreakers for 41-years. Campbell began his career in 1970 forming a band with Tom Petty called Mudcrutch. In 1975, they became The Heartbreakers and remained until Tom Petty's passing in 2017. Campbell co-wrote many of the band's hits with Petty, including "Refugee," "Here Comes My Girl," "You Got Lucky," and "Runnin' Down a Dream."
Local legend, Jeffrey Gaines, returned to his hometown with an intimate performance at HMAC's Stage On Herr on September 9th. The Disco Biscuits played two huge outdoor shows at XL Live's Southstage. Congratulations to promoter, John Harris Jr., on one of his largest successful endeavors.
Hardcore band, Anthrophobia, joined the Berks County Rock & Roll Hall of Fame on September 10th. The band played an amazing set to a massive crowd of fans at First Energy Stadium in Reading, PA before receiving their award.
The iconic, Tom Jones, appeared at the Hershey Theatre on September 13th and sang fabulous at the age of 82. Jones' set consisted of 20 songs including hits, 'It's Not Unusual' and 'What's New Pussycat.'
North Carolina rockabilly band, Southern Culture on the Skids, returned to the mid-state on September 15t to the beautiful York Capitol Theatre. And Harrisburg University brought, Nathaniel Rateliff & The Night Sweats, to Harrisburg's Riverfront Park on September 20th.
Horror punk artist, Wednesday 13, currently in midst of 33-date tour visited the East Coast with shows at both Baltimore's Soundstage and Mechanicsburg's Lovedrafts. My thanks to Reading, PA promoter, Frank Phobia, to experience a band unfamiliar to myself and the opportunity to meet the band on their tour bus after the show and discuss music.
September's concert highlight had to be the return of Australian punks, Amyl and the Sniffers, on the 24th in Washington DC. An incredible show which began at 12:30am at the infamous 9:30 Club. The amazing songs and energy this band exudes continues to carry them worldwide playing every major market and gaining huge popularity. Amyl and the Sniffers have caught the attention of Foo Fighters and Green Day, both who have had them support on tour. Amyl's current tour 'Comfort To Me 2022' consists of 16-North American dates and the band will perform 106 shows in 2022. Amyl and the Sniffers will begin next year in the Dominican Republic Jan. 28th – Feb 4th at Destination Chaos playing with the likes of Iggy Pop, Descendents, Parquet Courts, The Bronx, The Chats, Bouncing Souls and others.
Lady Gaga's "The Chromatica Ball" made its stop at Hersheypark Stadium on Aug 28th, and became the highest grossing show in Hersheypark Stadium history. Hersheypark Stadium's previous highest-grossing record was held by The Rolling Stones in 2005. The 20-stadium tour recently ended in Miami on Sept. 17th and included stops in Germany, Paris, London, Tokyo, New York, Chicago, Boston and more. Mother Monster herself posted on her Instagram account about the Hershey milestone, "Tonight was the highest grossing show at HERSHEYPARK STADIUM IN HISTORY since The Rolling Stones in 2005," adding she never thought she'd see the day that one of her shows would set such a record.
Bauhaus has announced the cancellation of their remaining North American tour dates as frontman Peter Murphy enters rehab. "It is with the utmost regret that the Bauhaus performances in North America have been canceled for the remainder of the year," a spokesperson for the group said in a statement. "Following a string of critically-hailed reunion shows across continents, Peter Murphy will be entering a rehabilitation facility to attend to his health and well-being." The band reunited in 2019 for the first time in 13 years for three nights at the Hollywood Palladium. Back in 2019, Murphy suffered a heart attack that led to the cancellation of several dates from his residency at New York City's Le Poisson Rouge.
Morrissey will be returning to the U.S. for the first time in three years with 13 dates beginning in mid-November. The former-Smiths frontman recently wrapped up a residency at The Colosseum At Caesars Palace in Las Vegas, which saw dates running through September 2021 and last July. Dates include: Washington DC Anthem on November 28th and Philadelphia Met on December 3rd.
Seminal feminist punk band Bikini Kill, forced by COVID-19 to cancel a slew of 2022 dates on its reunion tour, will head back on the road in 2023. The run through North America includes 16 rescheduled shows, including two shows in Silver Spring, Md. Fillmore April 4 & 6 and Philadelphia Franklin Hall April 7. The band embarked on an ambitious international reunion tour in 2019 for its first full shows since 1997. The trek was halted in 2020 by the pandemic and then earlier this year the band called off more dates after multiple members of the group were diagnosed with covid.
Rihanna will be headlining the Super Bowl Halftime Show in Feb 2023. The music icon, 34, shared an image on Instagram hinting she will perform. "Rihanna is a generational talent, a woman of humble beginnings who has surpassed expectations at every turn. A person born on the small island of Barbados who became one of the most prominent artists ever, " said Jay Z, who's company Roc Nation promotes the half time event. Rihanna has a total of 14 No. 1 songs on Billboard but notably hasn't released a new album in six years since her eighth studio album, Anti. Last year's Super Bowl halftime consisted of Dr. Dre, Eminem, 50 Cent, Mary J. Blige, Snoop Dogg and Kendrick Lamar. The Super Bowl takes place Feb 12 in Glendale, Arizona.
Jerry Allison, an architect of rock drumming who played and co-wrote songs with childhood friend Buddy Holly and whose future wife inspired the classic "Peggy Sue," died at the age of 82. The last surviving member of Holly's one-time backing band The Crickets passed away on August 24th. Allison, born in Hillsboro, Texas, met Buddy Holly in junior high, and they started playing together in roller rinks in the early 1950s, predating the rise of rock music. The two wrote numerous hits together as teenagers, including "That'll Be the Day," "Everyday" and "Maybe Baby."
OCTOBER CONCERTS Yeah Yeah Yeahs – NYC Forrest Hills Oct 1. Morcheeba – Washington DC Lincoln Theatre Oct 2. Fontaines DC – Baltimore Rams Head Live Oct 3. The Killers – State College Bryce Jordan Oct 4. Turnstile – Washington DC Anthem Oct 9. L7 – Philadelphia Union Transfer Oct 10. Viagra Boys – Pittsburgh Mr Smalls Oct 15. Dead Boys – Harrisburg HMAC Oct 20. The Super High-Tech Jet Fighters – Lancaster ABAG Oct 21. Del McCoury Band – Sellersville Theatre Oct 21. DEHD – Washington DC Black Cat Oct 23. The Bronx – Philadelphia TLA Oct 25. FIDLAR – Washington DC Black Cat Oct 27. Tegan and Sara – Washington DC 9:30 Club Oct 30.