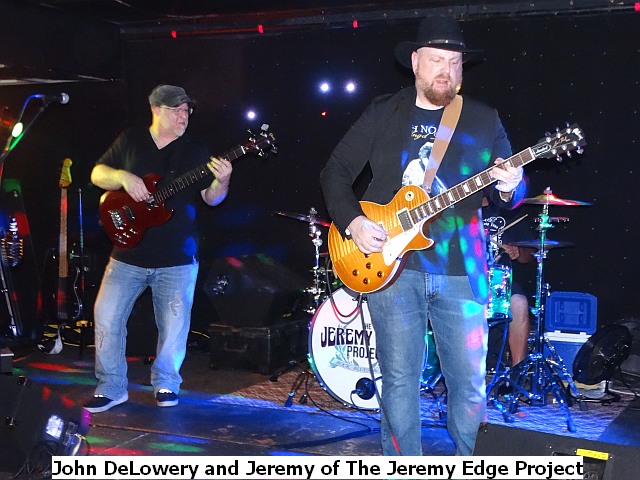 ---
By: Jim Price
The summer festivals, fairs and concerts are in the books, and – with winds and cooler temperatures whisking summer out the door on September 22 – autumn has arrived. Although outdoor fall festivals will provide outdoor music through a good chunk of October, most live music will make its way back indoors by month's end.
Summer's final weeks brought plenty of outdoor live music highlights…After two years away due to COVID-19, the "Pickin' For Wishes" Bluegrass Festival returned in late August to the Cresson Sportsmen's Club, raising funds for the Make A Wish Foundation of Greater Pennsylvania and West Virginia. Four groups provided the music, with each group performing twice in rotation. Young Keyser, West Virginia-based trio Centerfire Bluegrass kicked off the music. Two-thirds of this group are teenagers – 16-year-old singer and guitarist Christian "CJ" Evans and 19-year-old banjo player Cole Hamilton – along with 20-year-old Robby Weaver on doghouse bass. Centerfire Bluegrass played traditional-styled bluegrass during their two sets, doing numbers from such pioneers as Flatt & Scruggs, Ralph Stanley, Don Reno, Bill & James Monroe and others. They also played the title song from their forthcoming debut album, "Best Mountain Boys in the Land." Besides displaying very good instrumental skills and vocal harmonies, Centerfire Bluegrass' presentation was pleasant and personable as they cracked jokes in between songs to break the ice with the audience. With members from Bedford and Somerset Counties, the Hickory Bottom Band presented their pleasant mixture of traditional bluegrass numbers and their grassy takes on hits from the past four decades. Four of the band members sing; Christina Bollman and Roger Grimm picked and strummed homegrown Shaffer guitars (handcrafted in Salemville, Bedford County), Mark Bollman played mandolin, Tim Custer picked banjo and Dan Smith worked the upright bass. Offering enthusiastic playing and strong harmonies, the Hickory Bottom Band did songs off both of their albums; including their bluegrass versions of The Cascades' "Rhythm of the Rain," CCR's "Have You Ever Seen the Rain," Dan Seals' "On a Night Like This," the Harry Nilsson-popularized "Everybody's Talkin'" (the title track of the group's latest album), and "Over the Rainbow" to close out their second set. Morgantown, West Virginia favorites The Hillbilly Gypsies entertained the audience with their energetic mix of old-timey bluegrass, mountain music and stellar musicianship over their two sets. Quickly choreographing their moves in and out around a single microphone, the group – singer and guitarist Trae Buckner, singer Jamie Lynn Buckner, banjo player Levi Houston Sanders, fiddler Robbie Mann and upright bass player Niko Kreider – fired off traditional bluegrass numbers from Bill Monroe, Flatt & Scruggs, Jimmy Martin, the Stanley Brothers and others, as well as their old-timey bluegrass takes on Marshall Tucker Band's "Fire on the Mountain," Vince Gill's "High Lonesome Sound" and the Grateful Dead's "Brown-Eyed Women," their fast-firing "Deadly Medley" and more. Their instrumental precision was again amazing, especially Robbie's fiddle-playing and Levi's intricate banjo-picking. And Mama Corn brought their cordial blend of traditional bluegrass, original songs, and grassed-up versions of popular numbers. Singer and guitarist Bruce Forr, singer and banjo player Jeremy Nelson, upright bassist and singer Bryan Homan and Johnny Stevens on vocals, dobro and harmonica played their original song favorites such as "About A Minute Ago," "Someday Knock on Wood," the Bryan-fronted "The Hanging of Alfred Andrews," "Shenandoah Mountaintops" and more. They also did grassy takes on Crosby, Stills & Nash's "Helplessly Hoping" and Manfred Mann's "Fox on the Run." Mama Corn kept it friendly and jovial while demonstrating tight musicianship and sharp harmonies. At the end of the day, Pickin' For Wishes raised $32,500 for the Make A Wish Foundation – enough to make 8 wishes come true for area youngsters and families in need!
Ride The Song closed out the Summer Concerts in the Park season under the pavilion at Tyrone's Reservoir Park in late August. All four members – multi-instrumentalists Tim McMillen, Jeremy Jack and Kevin Steiner plus dobro player Steve Shilling – shared lead singing duties, plus blended their voices for nice harmonies through their mix of folksy original numbers and acoustic favorites. Jeremy lightheartedly tried to "defy the laws of physics and tune a banjo" before leading the group on one of his original songs, "Ain't No Grave," and also sang on renditions of "Wagon Wheel" and John Prine's "Spanish Pipedream." Playing acoustic guitar, mandolin and cajon (box drum), Kevin led the group on his original song "Fishbowl in My Hand," as well as Marshall Tucker Band's "Can't You See" and Lynyrd Skynyrd's "Simple Man." Playing acoustic guitar and harmonica, Tim sang lead on versions of George Gershwin's "Summertime," Deep Elem Blues," Peter Green's "Black Magic Woman" and Jamey Johnson's "In Color." And Steve fronted the group on "Down Home Girl" and one of his original songs. Ride The Song's performance was pleasant and upbeat, with their cordial presence and humor keeping folks happy.
I enjoyed some live country music in recent weeks, including area country favorite Ricky Lee's solo show in late August during the 55th annual Williamsburg Farm Show. Accompanied by his "band in the box," Ricky sang a mixture of his original country songs and several favorites. Ricky did a number of patriotic-themed original songs, including "Home Free," "The American Dream," "Looking for America," "My Hometown," "She's an American Soldier" and "In God We Still Trust." He also performed songs such as his new number "Real Life," "Bridges That You Burn," "Ordinary Man," "Who's Counting," "Good Life" and "The Songs I Sing Are Country." And he did popular numbers from Craig Morgan, Luke Bryan, Travis Tritt, Alan Jackson, CCR, John Mellencamp and others.
I also saw rising local country performer Mike Williamson during his show at Altoona's Trianon Bar & Grill in late August. Opening the show was Junior Dowling, who set the mood with country favorites from Garth Brooks, Travis Tritt, Dave Fenley, Diamond Rio and others. Celebrating the release of his new 3-song EP "Summertime State Of Mind," Mike sang many of his modern-edged country original songs and popular country favorites to a sizable and enthusiastic crowd. He started with "Stompin' Grounds" off his full-length debut CD "Almost There," and proceeded with the new EP's title track, before later doing the EP's other two songs, "Margarita Senorita" and "Party Like Hardy." Mike also did "Same Kinda Crazy" for his fiancée Amber, and sang other originals such as "Bet It All On You," "Workin' On You," "Damn Right Kinda Night," "It Don't Work Like That" and more. Mike displayed a strong voice, abundant passion, a positive vibe and a continuous appreciation for the audience; and the folks in attendance responded with hearty applause that grew louder as the show progressed.
The Pennsylvania Roundhouse Rally 2022 summer series closed out its season during Labor Day weekend at Roundhouse Harley-Davidson near Duncansville. The Friday leg of the rally featured Altoona area favorites The Pennsoulvanians and Shallow 9. With Kent Tonkin handling bass duties this night, the Pennsoulvanians kicked off the music with two sets of their grooving mix of original soul, hip-hop, R&B, folk rock, reggae and more. Numbers such as "Pennsoulvania," "40 Acres," "Day Has Come," "Girl You Deserve to Be," "Third Time" and the single "Swagger" drew more people onto the dance floor as the Pennsoulvanians proceeded. Shallow 9 then filled the dance floor for the night's duration with their two sets of high-octane, dance-inducing music. Singer Erika Marino-Ankeny, singer and guitarist Ryan Weaver, lead guitarist Greg Larrimore, bassist Mitch Neuder and drummer Todd Harshbarger kicked into their groove early and never let up; triggering dance floor action with favorites from Blink-182, Commodores, Rolling Stones, Prince, Paula Abdul, Maroon 5, medleys and more. The Saturday Roundhouse Rally music got under way with Rodeo Radio, the country-rock project of Rogan Allen. Singing and playing acoustic guitar, Rogan did tunes from Kenny Wayne Shepherd, Bruce Springsteen, Eagles, Classics IV, Marvin Gaye, Glen Campbell, Chris Stapleton and many more. Johnstown's Octane followed with full-force, high-octane rock. Singer Mike Prebehalla, lead guitarist Kenny Murdick, rhythm guitarist Ian Kordish-Murdick, bassist Dave Bambino and drummer Chris Jimerson fired up the Roundhouse crowd with tunes from Skid Row, Volbeat, Alice In Chains, Guns N'Roses, The Offspring, White Zombie, plus Van Halen, AC/DC and Metallica medleys and more. Octane's execution was tight and powerful, and Mike showed excellent vocal range through it all. New York-based Aerosmith tribute Last Child capped the night with their celebration of the "Bad Boys of Boston," playing hits and classics from throughout Aerosmith's career. Singer Bobby Mann as Steven Tyler, guitarist Mike Gallello as Joe Perry, guitarist Scott Bittner as Brad Whitford, bassist Mick James as Tom Hamilton and drummer Tommy Frustieri as Joey Kramer convincingly delivered Aerosmith classics like "Back in the Saddle," "Toys in the Attic," "Dude Looks Like a Lady," "Mama Kin," "Walk This Way," "Same Old Song and Dance," the group's title tune "Last Child," "No More No More," "Draw the Line" and many more, keeping the huge Roundhouse crowd dancing and grooving. For the finale, Bobby sang and played keys on "Dream On" to finish the night.
I could only make it over for one day this year, but the final day of the annual Labor Day weekend Cambria City Ethnic Festival provided its fair share of enjoyment, with music and food happening at several locations along Chestnut Street in Johnstown's Cambria City neighborhood. I first arrived at the ACRP's Irish Corner, where Altoona's Rail City Pipes & Drums performed outside. Both playing bagpipes, Tim Gatehouse and Matt Evans performed a variety of traditional Celtic, Scottish and Irish music. Hungry for Irish cuisine, I then entered the ACRP basement to savor Irish stew and a Reuben sandwich while Bo, Tucker, Brian and Jake Moore performed acoustic classics from the Rolling Stones, Waylon Jennings, The Band, Johnny Cash, the Beatles and more. After returning outdoors to take in several songs from the Irish Pretenders and their selection of Irish and Scottish folk and pub songs, I then made my annual pilgrimage to the St. Mary's church pavilion to enjoy the culinary "grand slam" of pirohi, halupki, halushki and kolbassi, while the Tom Katz fired up the dance floor area with classic rock and hits spanning the 1950s through 70s. Rain began at this point, turning into a torrential downpour as I then made my way to the Venue Of Merging Arts (VOMA) and BottleWorks performance tent to see the VOMA House Band. Featuring musicians who regularly take part in VOMA's monthly Blues Gathering events, the VOMA House Band – Randy Penrod and Jeff Perigo on guitars, Dave Distefano on drums, Scott Jeffreys on bass, Mike Meketa on keys, and TK Mundok on lead vocals – provided an unforgettable finale to this year's Ethnic Fest! For their second and final set, these musicians performed The Doors' classic 1971 album "L.A. Woman" in its entirety before a packed tent crowd. What made this set especially amazing was that these musicians didn't rehearse this album together prior to performing it – they took and learned the songs individually, and put it all together on the stage in excellent fashion! The VOMA House Band took the audience on an exciting journey through the album, with TK – in the Jim Morrison role – offering background and insight on the songs and album as they went along. The VOMA House Band owned the "L.A. Woman" album for the festival's final hour and made it their own.
After the Cambria City Ethnic Festival wrapped up, I stuck around the Johnstown vicinity to catch up with longtime local favorites The Desperadoes as they hosted a Labor Day eve jam at their home stage, Southmont Gardens. Now the trio of singer and guitarist Mark Middleton, plus the father-and-son rhythm tandem of bassist Mike Suppes and drummer Eric Suppes, The Desperadoes – sans setlist – entertained a good-sized crowd with a wide variety of classic rock and pop hits. Their journey this night included numbers from the Rolling Stones, Beatles, Eagles, Nirvana, Allman Brothers, Lynyrd Skynyrd, Badfinger and many more; and they pulled out unexpected classics like Dave Edmunds' "I Hear You Knockin,'" Firefall's "Just Remember I Love You," Chambers Brothers' "Time Has Come Today," Nilsson's "Jump Into the Fire" and Pink Floyd's "Breathe" into "Time." The Desperadoes also welcomed several guests – including James Forish singing and slinging guitar on Jimi Hendrix's "Hey Joe," guitarist Joe Tirpak and singer Denise Canby sharing their talents on Grand Funk Railroad's "Some Kind of Wonderful," Poco's "Crazy Love" and Chuck Berry's "Johnny B. Goode," and young singer and guitarist Sarah performing on tunes by Weezer, Smashing Pumpkins and the Cranberries.
I returned to Johnstown the following weekend to check out the third annual Homegrown Music Festival at Lorain Borough Park, raising funds for three local charities through the Community Foundation of the Alleghenies. Jeff Webb and the Delectable Sound kicked off the afternoon with their mix of original songs and select covers, blending elements of soul, funk, rock and blues. Namesake Jeff on keys and lead vocals, Josh Covert on guitar and trumpet, Scott Jeffreys on bass, Dom Peruso on drums, Dan Hutton on sax, and backing singers Kelly Mednis and Ra'Anee Watson performed several original numbers, along with songs from Stevie Wonder, the Black Pumas, Sharon Jones, Bill Withers, Beatles and more. Next was Habatat with their all-original blend of funk, soul and jazz grooves. Singer and guitarist Ryan Woods, the trombone-playing tandem of Mere Kae Pouewells and Tom Buchko, guitarist and trumpeter Josh Covert (pulling double-duty this day), drummer Justin Banks and bassist Kris Lupher crafted progressive song arrangements, a wide variety of rhythms and angles, and three- and four-part harmonies on their song selection. The host band, Even The Odds, next performed a variety of rocking favorites. Newly-added singer Tommie Inscho joins singers and guitarists Scott Roberts and Kurt Weidlein, bassist Jason Miller, guitar and keyboard player Sam Adams, and drummer (and festival organizer) Mike Hype. Even The Odds triggered some of the day's first dancing with tunes from Dave Matthews Band, Foo Fighters, Smashing Pumpkins, Outfield, Romantics, Talking Heads, Ramones and others. Silver Screen followed with their set of hard alternative and classic rock. Nowadays the roster of singer Stephen Platt, lead guitarist Ben Ressler, rhythm guitarist Kody Ofsanko, bassist Robbi Rummell and drummer Austin Danel filled the dance floor with tunes from Kiss, Red Hot Chili Peppers, Three Doors Down, Pearl Jam, Wild Cherry, Bad Company, Pink Floyd and more; they also broke out an original song that will be on their next album, "Daydream." And Shiva Skydriver closed out the show with their mix of electric folk rock original songs and covers. Kelsey James and Ed Skero both sing and play guitars, with Kelsey also playing harmonica. The pair introduced originals such as "Radiate," "Nymeria" and "Sugar Kisses," and did select covers from the Talking Heads, Blondie, plus a version of the Bee Gees' "Stayin' Alive." When the crowd called for an encore, Ed introduced an "old folk song" – The Who's "Baba O'Riley." Proceeds from the Homegrown Music Festival benefit Operation: BeYoutiful, the Luke Patton Memorial Foundation and the Jessie Tree Fund.
After the Homegrown Music Festival concluded, I stayed in Johnstown and ventured a few blocks away to Slammin Sam's, where Inside Out was rocking a busy house. Approaching their 30th anniversary as a band, Inside Out had a partial reunion of founding members to kick off their last set, as bassist Ron Gallucci joined singer and guitarist Tim Frick and drummer Ben Frick – plus guitarist Cody Williams and bassist Dustin Helsel – to perform "Can't Stop A One Way Ride" off Inside Out's self-titled 1993 debut album, along with "Lit," a tune from the group's sister project Blood Union. Other guests joined Inside Out as well, as Rust guitarist and singer Aaron Wolf fronted the group on Dio's "Rainbow in the Dark" and solo performer Ian Jeffreys sang lead on a hard-rocking version of Cypress Hill's "Insane in the Brain." Between the guests, Inside Out kept the house loud and rowdy with tunes from Motley Crue, Def Leppard, Disturbed, Five Finger Death Punch and more.
Altoona's Rockin' the Yard summer concert series finished its 2022 season with last month's Oktoberfest, which again took place at the Jaffa Shrine's upper lot. German cuisine was offered up by the Unter Uns Musical & Entertainment Society while traditional German music played through the sound system early on. Singer and songwriter Matt Wagner led off the afternoon, performing a wide variety of original songs and popular favorites. From his original song arsenal, Matt did such songs as "I Will Be Okay" and "Crazy in Love," and he covered numbers from the Hollies, Elton John, Tom Petty, INXS, Tracy Chapman, Dave Matthews Band, Neil Diamond and more. Next was Altoona's Uptown Jazz, a jazz and pop project featuring four esteemed Altoona area musicians. Shallow 9's Erika Marino-Ankeny sings lead vocals, Dave Villani plays keys and sings, Randy Rutherford plays guitar and Paul Turner plays drums. Opening with Bobby Troup's classic "Route 66," Uptown Jazz did numbers from Bonnie Raitt, Dusty Springfield, Diana Krall, Norah Jones, James Taylor, Carole King and more. Erika revealed a different side of her musical persona, delivering a vibrant jazz singing voice; and the rest of the cast backed her with tasteful arrangements and skillful playing. A surprise highlight was the arrival of guest Felix Kos of the Hurricanes (who played later), joining in on guitar while Randy switched to bass on a rendition of Santana's "Europa." Proceeds from Rockin' the Yard's Oktoberfest benefited Combat Vets and Shriners Childrens Hospital.
Italian food and music ruled the afternoon during last month's Italian Food & Heritage Festival at DelGrosso's Park in Tipton. As always, this festival blended tasty Italian food with an Italian musical flavor. This year's featured group was The Cavaliers from Pittsburgh. Together 25 years, The Cavaliers – singer and guitarist Bob Marshall, bassist and singer Dan Pollice, keyboardist and singer Mary Ferro and drummer Joe Patrick – performed a variety of Italian pop favorites, a few polkas, standards and rock'n'roll numbers. Some of their songs included "Volare," "La Paloma," "Piccolo Fiore," "La Tarantella" and "Pepino The Italian Mouse." The Cavaliers also did renditions of Van Morrison's "Brown Eyed Girl," Jimmy Buffett's "Margaritaville" and The Spaniels' "Goodnite Sweetheart." Also performing at the festival was The Faiella's father and son strolling acoustic duo.
Indoors, national recording group Tantric returned to McGarvey's last month, headlining a triple-bill. Cumberland, MD-based rockers Anger Box started the evening with their set of hard-hitting originals. Singer Nick Boren, lead guitarist Dave Ullery, bassist Jimmy Crawford and drummer Chris Spiker drilled rigid, heavy-hitting modern rock numbers such as "Patience," "Your Shadow," "Save Yourself" and "I'll Find You," as well as their take on Tool's "Sober." Baltimore heavy-hitters Silvertung followed with their high-powered set. Now the lineup of singer Speed Vincent, lead guitarist Marc Marchetti, bassist Jimy Grime and drummer Andy Romeo, Silvertung kept action constant as they fired through original songs such as "Devil's Advocate," "Justify," "Done My Best," "Déjà vu," "Wise Up," "Ain't That A Bitch" and more. Tantric then showcased their brand of hard-hitting alternative metal, mixing material from throughout their career. Singer Hugh Ferreira fully invested in his music and words on the stage, packing emotion behind his lyrics and baring his soul for the crowd to witness. Backing him were lead guitarist Sebastian LaBar (son of former Cinderella guitarist Jeff LaBar), bassist Jaron Gulino and drummer Jon Loree. Some of Tantric's numbers this night included early favorites like "Breakdown" and "Astounded," along with "Alone," "Just Once," "Live Your Life" and others.
Metal music also stormed to the forefront at McGarvey's during Labor Day weekend with the triple-bill of Grampian, Black Sun and Doctor Smoke. Work duties kept me from seeing Grampian's opening set, but eyewitness accounts reported that their performance was strong. With singer Todd McKeone's birthday as a catalyst, Altoona's Black Sun brought their adventurous metal, fracturing the galaxy and slaying mythological figures along the way. Todd, guitarist Jason Feathers, keyboardist Jae Smith, bassist Dave Mollica and drummer Nate Woods took their doom-esque numbers – such as "Under Mountain," "Thrall," "Oskorei," "Perception" and others – and rode them to intense heights. From the Ohio-PA border region, Doctor Smoke delivered a stunning set in their first visit back to the Altoona area in several years. Against a backdrop of cemetery gates and skulls, lead singer and guitarist Matt Tluchowski, lead guitarist Steve Lehocky, bassist Jeff Young and drummer Cody Cooke brought doom-styled metal thunder as they did songs off their latest album "Dreamers and the Dead." Some of their numbers included "Reborn Into Darkness," "These Horrid Things," "This Hollowed Ground," "The Willow," "Blood and Whiskey," "Permanent Night" and more. Matt displayed a perfectly sinister voice up front, plus the facial expressions and onstage persona to match. Doctor Smoke's thunder and intensity slammed the exclamation point on the night.
The Jeremy Edge Project made their Altoona area debut in late August at the 4D's Lounge. Group namesake and Candlelight Red guitarist Jeremy explores classic blues and blues-rock avenues with this Project; singing and playing guitar alongside John DeLowery on bass and Ray Gieda on drums. Jeremy showed his guitar skills early and often, delivering fiery solo work on Jimi Hendrix's "Voodoo Chile" and "Redhouse," Robin Trower's "Bridge Of Sighs," Free's "All Right Now" and "The Hunter," plus numbers from the Black Crowes, Stevie Ray Vaughan, ZZ Top, Led Zeppelin and others. The group also did a few songs off the self-titled Jeremy Edge Project album from 2020, as well as a few new songs such as "Cold Day in Texas." The Jeremy Edge Project is set to release a new album this fall, and they return to the 4D's Lounge on November 12.
Another recent highlight I witnessed occurred during the double-bill of area young gun rockers Sweet Desire and The Pines last month at McGarvey's. Both bands' styles rooted in the classic rock of the 1960s and 70s set the tone for a magical moment during Sweet Desire's set, when the group invited The Pines up to the stage to join together for a rendition of The Doors' classic "Roadhouse Blues." Sweet Desire's Jordan McCaulley and The Pines' Daman Mills shared singing duties, with Daman breaking out the harmonica midway through! It was exciting to witness as both groups pooled their youthful energies into a Doors classic created more than three decades before any of these musicians were born. Both bands seized the moment, made the song their own and had a blast doing so, as a large and appreciative crowd up in front of the stage cheered them on.
Other bands I saw during recent weeks include performances of The Jaded Lips and the Pennsoulvanians (with new bassist Aaron Kenawell) last month at McGarveys, as well as the hard-hitting double-bill of Clearfield punk-fueled rockers Less Than Zero and The BSXpress in late August at McGarvey's.
The western PA music scene was saddened recently with the unexpected passing of Somerset-based musician, singer and songwriter Michael Reich on Labor Day at age 63. A Johnstown native, Michael worked in radio before becoming a professional musician. He released an initial album with a band project called Segue in 1989, before releasing three solo albums in the early 2000s. He attended and performed at the annual Millennium Music Conference in Harrisburg several times.
News and notes…Jimmy Mowery, Hot Fudge Mondaes and Sunset Over Mars will perform during the "Dog Cancer Bites" benefit on Oct. 8 at Altoona's 4D's Lounge, raising money for the nonprofit organization Dog Cancer Bites, which helps pay for cancer treatments for pets of financially-disadvantaged families…Popular regional entertainer Zupe has joined up with Grammy-nominated accordionist Alex Meixner to acquire Music Publishers of America, which includes the historic Vitak-Elsnic music catalog, considered the world's premier publisher of American polka music…Three members of the Altoona area arts and music community – Tomrisha Shanice of High Profile Talent Agency, Sascha Frost of Deus Ex Machina and Phil Wagner of Dark Raven recording studio – have joined forces to form Dark Raven Records…The organizers of the annual Rock For Life charity concert series and its associated events are seeking a new venue after being informed last month that the concerts will no longer take place at the Iselin Ballfield in western Indiana County; since 2000, the two-day Rock For Life has raised money to help out needy individuals – particularly children – in western PA who are suffering from life-threatening and debilitating health conditions…State College-based heavy metal rockers Befell performed at last month's four-day Louder Than Life music festival in Louisville, Kentucky; performing on the same day as Slipknot, Shinedown, Lamb Of God, Mastodon and more…Former Heaven Tonight singer Scott Robleski is coming out of retirement to take over singing duties with Williamsport-based 1980s hair-band rockers Hairbourne…And Altoona-based singer and songwriter John Peacefire has released his new album "Foregone Prophecy."
Please send correspondence and recordings to: Jim Price, 1104 S. Catherine St., Altoona, PA 16602. You can also e-mail me at jptheprofessor@gmail.com. And if you're into social networking, look me up on Facebook. SUPPORT LOCAL MUSIC!